In June of 2010, the Johansen family gathered at the Staples Center in Los Angeles to watch the NHL Entry Draft. Their eldest son, Ryan, was a candidate to be selected early.
"I remember my whole family was shaking there," says Ryan's younger brother, Lucas, who was 12 at the time. "They want the best for Ryan obviously, and I'm just sitting in my chair kind of like, 'What are you guys freaking out about?'"
When Ryan's name was called—he was taken fourth overall by the Columbus Blue Jackets—even Lucas, for whom the magnitude of the day's events mostly didn't register, got a bit excited.
"I remember giving him a little hug," says Lucas. "Seeing him go up on stage, it was something I said to myself that I wanted to do."
That's about all Lucas remembers of his older brother's draft day. He wishes, he says, that he'd paid more attention, especially now that he's in his draft year himself. But it's fitting that Lucas Johansen didn't take all that much from that day: the 18-year-old defenceman with the Kelowna Rockets is doing his best to carve his own path to the NHL, away from his brother's shadow.
---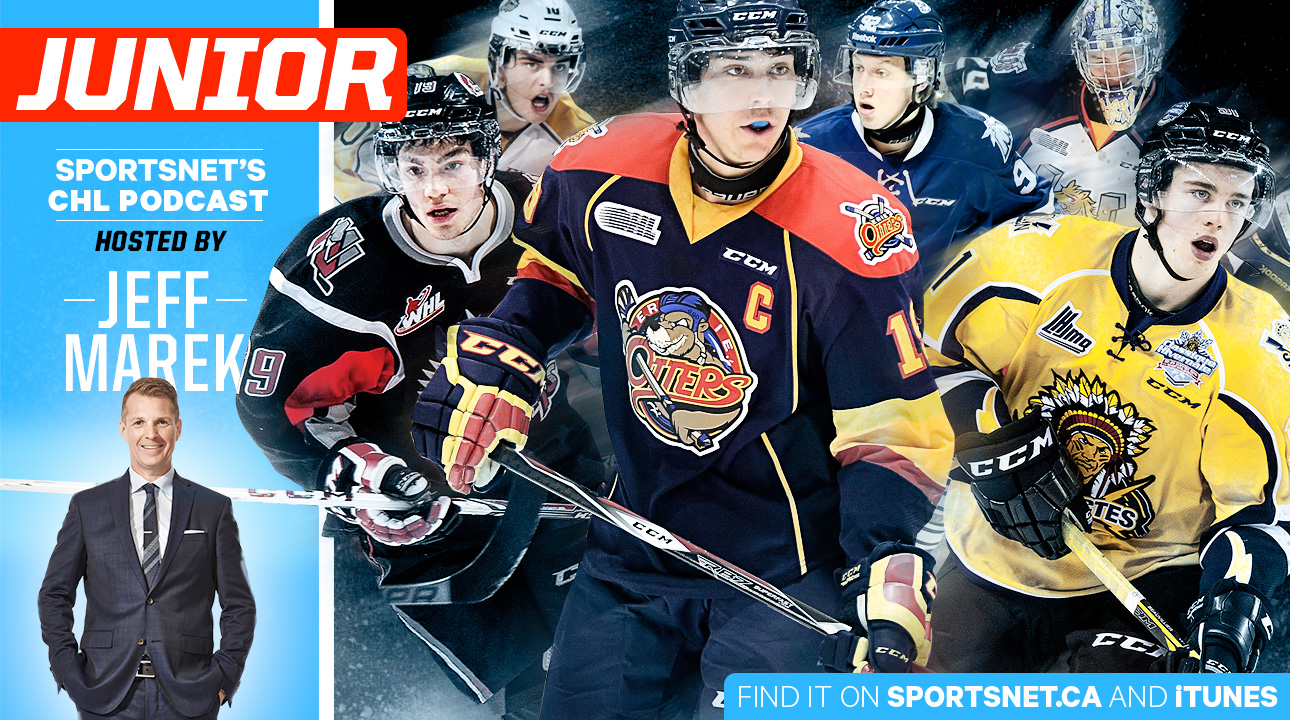 Jeff Marek hosts Sportsnet's weekly CHL podcast, a one-stop shop for news, analysis, opinion and interviews covering the WHL, OHL and QMJHL.
Listen now | iTunes | Podcatchers
---
That shadow looms large, of course. Ryan, a centreman who was traded from Columbus to the Nashville Predators in January in exchange for defenceman Seth Jones, has become a star in the NHL, and a major contributor on the ice in his new home of Music City. Most recently, he's been a key part of the Predators' well-timed offensive surge.
Lucas, by contrast, has been a little less heralded than his brother. Anyone who pays attention to the Rockets' success has been aware of his defensive acumen, but Lucas hasn't experienced quite the same meteoric rise up the draft standings that his brother did.
NHL Central Scouting listed Lucas at 38th in their January midterm rankings, though his performance has been steadily improving as he's gotten more playing time, and he's been contributing at both ends of the ice in his team's current playoff run. So far he's registered two goals and two assists in the first round of the WHL playoffs.
The Rockets were leading the rival Kamloops Blazers 3–2 in the series going into Game 6 on Saturday night, but the Blazers pulled off a 4–0 victory to force Game 7. The winner-take-all matchup goes Monday night at Prospera Place.
Last year, Lucas made it all the way to the Memorial Cup final with the Rockets. Since emerging as a skilled two-way defenceman, the six-foot-one, 176-pounder who calls Port Moody, B.C., home, seized an opportunity for more ice time after a number of Kelowna's top D-men moved on after last season. He's also taken on something of a leadership role—not that he's all that vocal in the dressing room.
"I don't try to talk too much," says Lucas of his influence on the team's young defensive core. "I believe in action louder than words, so I'd rather lead the way in showing them. But of course they know if they have any questions about anything, or just the whole process of the playoffs, they know they can talk to the older guys. That's exciting, knowing you have that leadership role."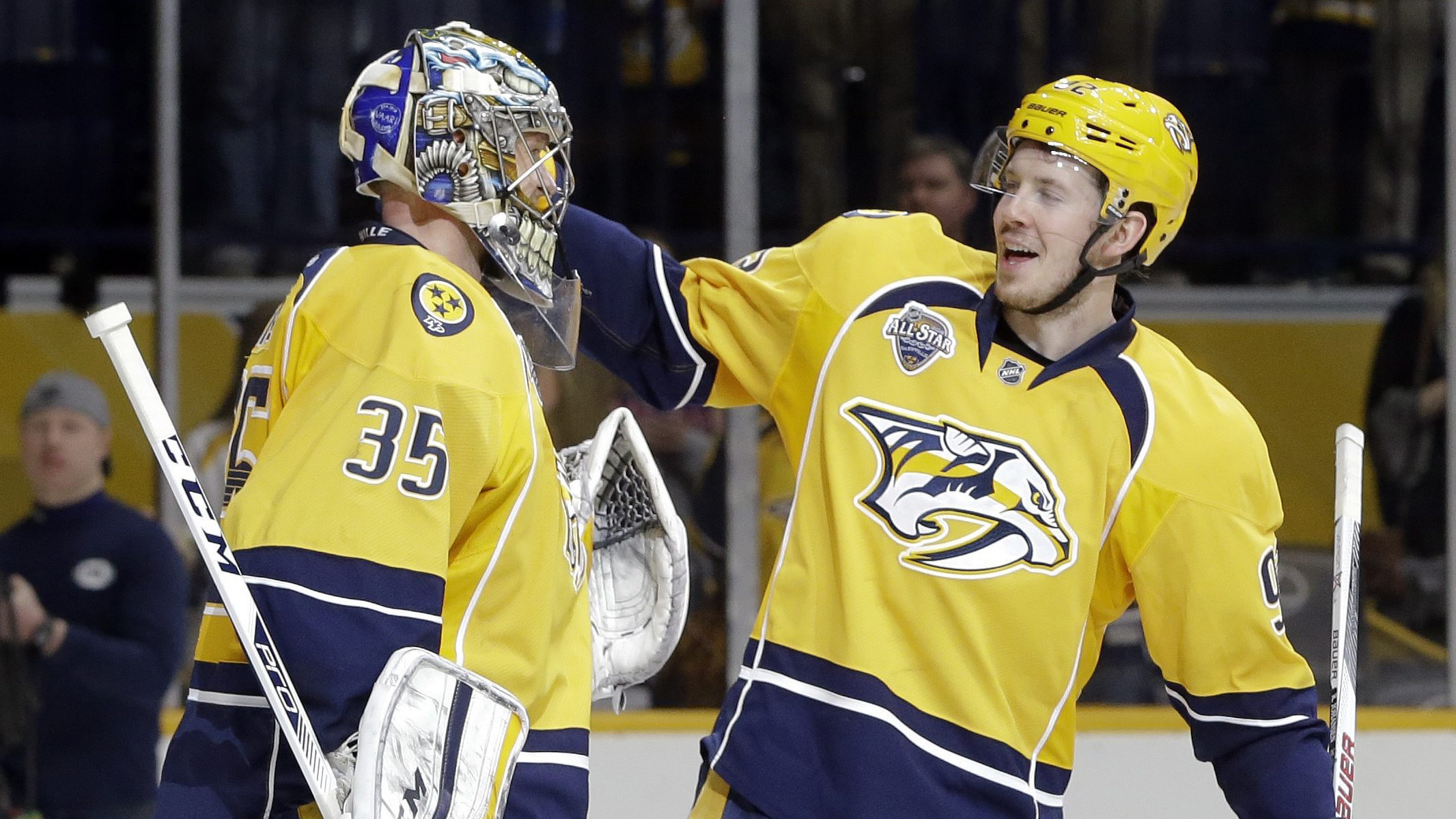 Big brother Ryan congratulates another important Predator, goalie Pekka Rinne. (Mark Humphrey/AP)
While Ryan may have gone higher in the draft than Lucas is likely to be taken, the elder Johansen speaks volumes of his brother's work ethic and his distaste for losing—which he takes a bit of credit for, though not in the way you'd expect.
The way Ryan tells it, he wasn't so great at handling losses as a kid—and nobody felt that more sharply than Lucas.
"We had five years in age difference, and I was always a sore loser, so I'd always beat on him growing up," says Ryan. "I think now he really doesn't like to lose."
A more-than-typical aversion to defeat has been a boon for Lucas, who spent two seasons with the Vancouver North East Chiefs of the B.C. Major Midget League before joining the Rockets.
By all accounts, Lucas was a laid-back kid, especially compared to his older brother. But he's developed more discipline now that his aspirations have come into focus.
"When we were younger kids he would go through the motions more, and just play 'cause he liked hockey," says Ryan. "He didn't ever worry about anything; he didn't think about things too much. But now he's a tremendous worker."
The Johansen brothers mostly see each other in the off-season, when they'll train together and spend a lot of their time playing tennis. But while they'll work out together, they don't spend too much time talking shop.
"Once in a while we'll talk—mostly just about his game and how he's feeling," says Ryan. "He's always been a kid who wants to do it himself. He's always kind of been under my shadow, just because I've been through the draft and I'm in the NHL, and they're like, 'Oh, is his brother gonna turn out as well?'"
Being in that shadow, says Ryan, is a huge motivator for Lucas.
"He wants to be in the NHL with me and make his own career," he says. "For me, I love that, and I love watching him work."
If Lucas is bothered by all the talk of his famous older brother, he doesn't show it.
"Ryan has established himself, and I'm proud of him for what he's accomplished in his career," says Lucas. "We talk about how it's important that I carve my own path and enjoy the whole process of becoming a pro, because you only get to do it once. But as for Ryan's name always coming up—I get lots of questions about him—it doesn't bother me, because I'm proud of what he did and what he's doing."
Lucas may be trying to emerge from his brother's shadow, but at the same time, he's trying not to focus too much on the upcoming draft—concentrating instead on the current playoff series with the Blazers.
"It's your future in your hands, and obviously you want to do the best you can to reach the goals of being drafted in the NHL," he says. "But I try not to think about it, because I feel that if I did, I'd drive myself crazy."
That's not to say that he won't occasionally check to see where he's ranking in the various draft projections, like any teenager on the verge of being selected.
"Of course I'll look," he says. "If I'm up there with some of the names in the draft this year it's very flattering. I'll look at it but I won't pay too much attention to it. I know it's out of my control."
What he does control is his performance on the ice. Lucas says he's driven in large part by the superior class of defencemen who have emerged from the Rockets organization over the years, including Shea Weber, Luke Schenn and Duncan Keith.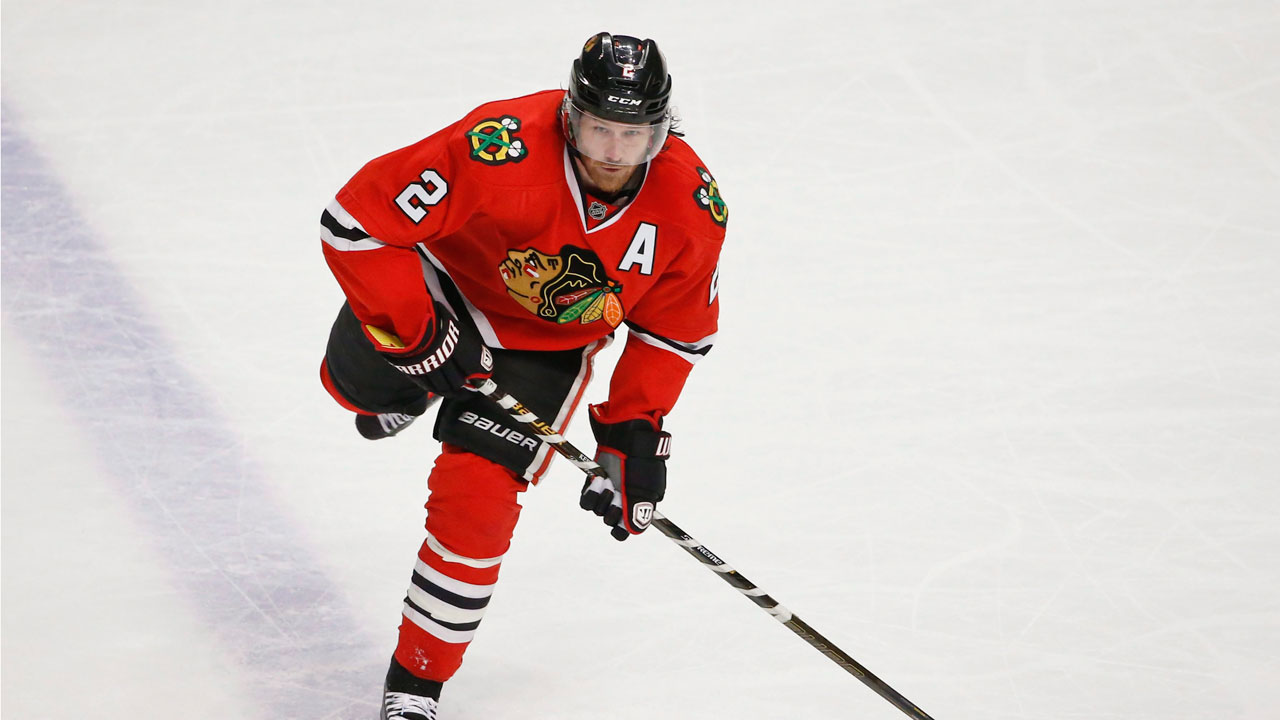 Keith leads a list of blueline luminaries who've graduated from the Rockets. (Kamil Krzaczynski/AP)
"You hope to be with that class of Kelowna Rocket players in the NHL one day," he says.
When it comes to watching tape and trying to emulate some of hockey's defensive luminaries, Lucas says he spends a lot of time watching old highlights from Nicklas Lidstrom's time in the NHL.
"It seemed like he was always a step ahead of the opposition," says Lucas, noting that he admires the Swede's efficiency.
Now that his brother is playing in Nashville, though, Lucas spends more time watching Predators games—and there's a lot he can learn, he says, from his brother's teammate Roman Josi.
"Josi is obviously different from Lidstrom," says Lucas. "He's very mobile, a very good skater, and he's fun to watch. He seems like the modern-day defenceman."
For now, though, Lucas is focused on the playoffs and making it back to the Memorial Cup.
"We can talk about them all day," he says when asked to assess the strength of the Blazers, who'd been on a bit of a tear en route to the playoffs.
"It's our experience and our will to win that's gonna help us win this first series and the ones after that," he adds.
As the draft approaches, and Lucas continues to develop into the kind of well-rounded D-man who can be a difference-maker for an NHL team, his brother says he's just looking forward to someday facing off against him under the big lights.
"Everything we've always done, we've tried to beat one another," says Ryan. "He's starting to catch up to me now, so I might be in some trouble."