Liam O'Brien learned how to skate in Cole Harbor, N.S., first played organized hockey in Montreal and has been on the move ever since—Halifax, Wilcox, Sask., New Brunswick and Toronto. He's currently taking a creative-writing course through Acadia University's online division and is enrolled at Bishop's University taking business administration.
I remember a time when everything was falling into place for me, a time when I expected things to go just the right way.
When I was 15, things fell into place on the ice. Back in April 2010, my major midget team, the Notre Dame Hounds of Wilcox. Sask., were up against the Mississauga Reps in the final of the Telus Cup. We ran into a hot goaltender, Malcolm Subban, who made 55 saves for Mississauga. But things fell into place. I beat him high glove and that goal stood up as the game winner. It came at 7:56 of the third period. The feeling was surreal, when the clock hit 00:00, the journey was over, I had won a Telus cup, it was time for the next step.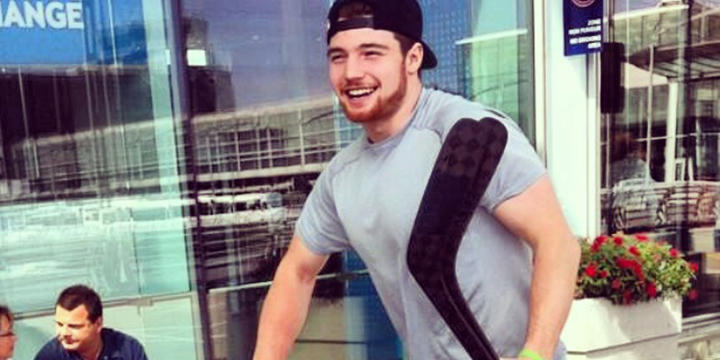 I remember the date of the flight: Sunday June 7, 2010. I was flying back to Saskatchewan from Quebec City. I had just been drafted 10th overall by the Rimouski Oceanic. I had my Rimouski draft sweater No. 10 for the year and hat tucked safely in my carry-on bag. I thought about playing in Rimouski, where Sidney Crosby had torn up the Q, being born in the same city and area as him made it that much better. I thought about winning a championship there. I thought about the NHL draft. I was feeling good about myself. Everything was going to fall into place for me, because things had.
Looking back I realize how realize young and naive I was. Over the next few months, I would find out something very important: Major junior hockey is a business.
I still had stars in my eyes when I attended my first training camp back in 2010. As a 16-year-old, I was fortunate to play 60 games and was able to score my first QMJHL in only my second game against the Lewiston Maineiacs. I guess they didn't get over that—they folded not long after. That goal was the highlight of my season—I only scored one other that year. Although I played limited minutes it was still a positive experience. I had the opportunity to learn under great coaches. I made a particular connection with our assistant coach, Donald Dufresne, an ex-Canadiens defenceman who had coached Sidney in Rimouski when he was 16. Donald spent countless hours with me after practice, helping me improve my skating and skills.
I considered my rookie season an "adaptation year." The biggest adjustment is trying to fit in with guys who are 19 and 20. Being a 16-year-old in major junior can be very solitary. Especially when you are an Anglophone but, fortunately I was placed with a great billet family.
Christian and Isabelle had already had tons of experience billeting players, like Patrice Cormier, Eric Neilson and Sidney. Christian and Isabelle took extremely good care of me. I was able to be a big brother to their three young kids Maxence, Rose and Marianne. I remember coming home every day from the rink and Maxence would set up his little nets and get all fired up to play hockey with me. The kid never wanted play, though, he just wanted to fight because of all the fights he would watch at the game. He would say "LIAM ! BATAILLE!" and drop his gloves and stick, and and even take his helmet off and come after me! It was a special feeling being a role model for those three and It was home away from home.
I trained hard in the summer of 2011, harder than I ever had before. I was going into my NHL draft year and the idea of being selected drove me through every workout, every day. It turned out I over-trained. By the time I went to camp that August I was already exhausted. In hindsight I learned a big lesson. More isn't better.
The coaching staff had changed over the summer and it was important for me to create a positive first impression. I did the exact opposite. I got off on the wrong foot and never was able to earn the trust of the coach.
Hate is a strong word but that is what I felt. None of the extra work I did with Donald Dufresne as a rookie seemed to matter to my new coach. It was his team now, and I quickly realized that. My passion for game was tested—I stopped having fun playing the game I loved. Not where you want your mind to be in your draft year.
For better or worse, my parents and I decided I should request a trade. It was a nerve-wracking period. I was filled with self-doubt.
I'll never forget my last game in Rimouski: December 30, 2011. We beat Quebec 3-0 and the Colisee was packed. I was playing well and picked up an assist on the second goal, but in the third period the coach kept me nailed to the bench. I knew right then, when he was rolling on the other forwards, that I had been traded. Even while the game was going on, my mind wandered with all of the possibilities. I thought about where I might land. I was hoping it'd be closer to home. Maybe even Halifax where my Notre Dame teammate Andrew Ryan had landed, nine picks after me in the draft. That would have been another case of things falling into place again. This time, though, they didn't.
Yannick Dumais, the GM, told me in a thick French accent where I was headed. "Liam, you have been traded to the Rouyn-Noranda Huskies." I am sure I let a few "f-bombs" fly. I could not be traded any farther from home.
My departure from Rimouski was difficult. Saying goodbye to teammates was hard, but saying goodbye to my billets' kids was emotional. Call me soft, but they were like family. That night I flew in a small prop plane to Northern Quebec. It was cold, dark and snowy. I was greeted at the airport by assistant coach Connor Cameron and Marcus Power. That night was a blur.
But my experience in Rouyn-Noranda was terrific from the start. I loved playing for Andre Tourigny until his departure to Colorado last summer. I was finally given a role, I was given the opportunity to use my strengths and I felt apart of something. I quickly adapted to the long winter months and connected with the community. Yeah, I didn't get picked up in the NHL draft in June of 2012—again, it's a business. NHL teams judge you on what you do, not what you might do if you had a chance.
Still, I had no regrets about landing in Rouyn. We made it into the second round of the playoffs all two of the three seasons I was there. Best of all, the team named me captain in the fall of 2013 and I scored 20 goals. I felt I was playing where I belonged.
The biggest contributing factor to my favorable experience in Rouyn was my billet family. I will never forget meeting "Johnny" for the first time. This loud tattooed man hugged me like I was his son. He loves when I say this, but the first time I met him I swore he drank a few red bulls or something!
He and his quiet girlfriend Mel were such a stark contrast to my family in Rimouski. Every day was filled with us yelling at each other and calling each other funny names. I probably shouldn't mention because I'm sure my mother will read this, but I swear it was like having a younger brother—and Mel would just make sure he didn't get too out of line. She was a saint.
After two and a half years of living under their roof, I developed a relationship well beyond billet family and player. Rouyn-Noranda and the home of Johnny and Mel had become my new "home away from home."
I was able to get in two and a half great seasons in Rouyn. I'm not gonna lie—if you look up my stats, my highest number would be my penalty minutes, so we don't need to talk about that. I would always rather talk about the team. In my 18- and 19-year-old years we had strong teams. We were brothers in Rouyn and stuck up for each other exactly like you would for family. I don't know what it was, but the chemistry was always there. It's not like that everywhere.
This past June, while driving my brother to the QMJHL draft, my agent called to notify me of my trade to the Sherbrooke Phoenix. As a 20 year old, I understood that there was a possibility of being traded but this came completely out of left field. As I sat in the car trying to process this new information, my mind raced to the reality that it was now time to say goodbye to yet another family. Was the second time around easier ? Not at all.
I hit another home run being placed in a great billet home in Sherbrooke. Martin and Denise are an older couple who have been billeting players for years. It's only going to be a year that I'm with them and I'm a different person at 20 than I was at 15 out at Notre Dame or 16 in Rimouski. I'm not a kid anymore. It's not surrogate parenting or anything like that. I know I'll connect with Martin and Denise but it will be as adults.
I'd be remiss if I didn't mention my parents. They've been there for me every step of the way and now that I am with Sherbrooke it is a much easier flight to come watch me play. I have been away from home for six years and miss my hockey playing siblings Kate, Rowan and Callum. But my experience of playing four years of major junior hockey has shown me that trades are part of the business and that billet families play a vital role in the lives of all CHL players.
I'm only 20 years old, and I mean as I said I have been away from home since I was 14 years old. Opportunities get thrown at you all the time, I've learned to appreciate them as much as possible and live within the moment without looking forward, because things change pretty quickly in junior hockey. Getting traded, having to say goodbye, these are things you learn about in the business that's junior hockey.