The one thing about major-junior hockey that you know with absolute certainty: All things will pass.
So it is with the OHL's most prolific line in recent memory, the London Knights troika of Christian Dvorak, Mitch Marner and Matt Tkachuk. They've torn up the league this year, combining for 338 points so far. "It's been really great playing with Matt and Devo but we know we're only going to be together for as far as we go in the playoffs," Marner says.
True enough.
They all hope to go their separate ways next fall.

Dvorak is guaranteed not to be back. The centre turned 20 last month and will either make the roster of the Arizona Coyotes next season or start an apprenticeship in the AHL. The latter seems more likely but you couldn't rule out the Coyotes giving at least a trial run to a pivot who has 51 goals and 119 points in 57 games this year and owns a plus-57 over that stretch. Arizona drafted Dvorak in the second round in 2014, 58th overall, even though his numbers in his first season in the OHL didn't jump off the page: six goals and eight assists in 33 games.
It might turn out that the biggest impediment to his making the NHL next season will be a player he'll be skating against on Friday night: Erie's Dylan Strome, who was the Coyotes' first-rounder, third overall, last June. And that dynamic between Strome and Dvorak will be an interesting subtext in the two remaining regular-season games between Erie and London, which will decide who winds up with top spot in the Western Conference, and in the playoffs when, if form holds, the teams would meet in the third round.
Marner's name is the first or second dropped when Toronto Maple Leafs fans talk about the team's future. Sometimes he bumps William Nylander, other times Nylander bumps him. The fourth-overall pick in last year's draft, Marner will either make the Leafs line-up next year or be back with the Knights—even though going to the Toronto Marlies next fall might be the best fit for his development, there's no going to the AHL because he'll still be CHL-eligible as a 19-year-old.
Marner could well fit into that category of players who have nothing left to learn or prove in major junior but have to return there because of the NHL's agreement with the feeder league. That he's able to shift from centre over to right wing might improve his chances at making the big step up sooner rather than later.
---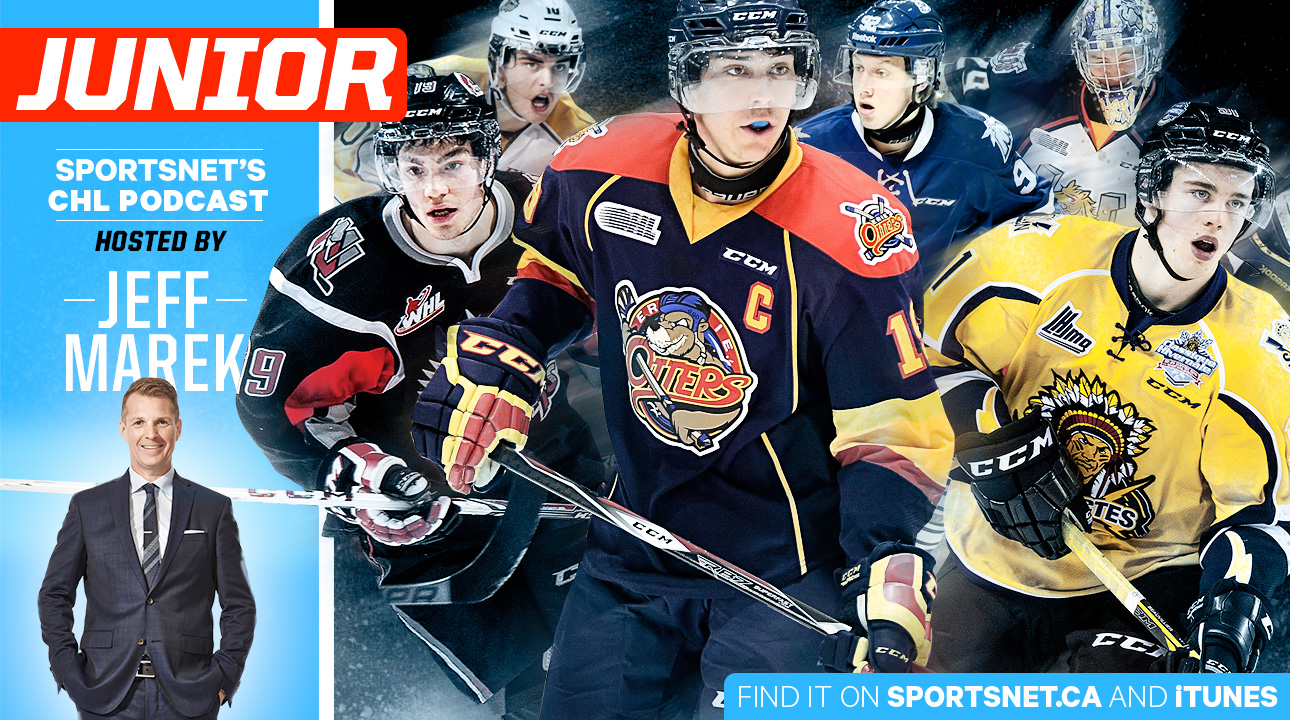 On this weeks' podcast, Jeff and Sam Cosentino preview the Erie-London games and Otters sniper Alex DeBrincat joins the show.
Listen now | iTunes | Podcatchers
---
Dvorak and Marner were known commodities coming into the season, but NHL scouts have made the Knights appointment viewing because of Tkachuk, the son of former NHL veteran Keith Tkachuk. Tkachuk the Younger, 18, was ranked as the top North American skater by Central Scouting back in January.
"There's a lot to like about his game," one scout said this week. "He has really solid hockey sense and can go get the puck down low. He has a great work ethic. If you can project physical growth, then his upside is first-line power forward and really most drafts don't have too many of those. He's more of a player who can finish chances when he's set up with the puck rather than someone who can create the chances for himself, but again, that's still a player that you need."
Said another scout: "He's really effective at this level but the one question that you have is about first-step explosion. Can he get it? It comes down to physical maturity. If he has room to grow and get stronger, then he definitely can. But some kids don't… the early-maturers. So that's what teams are going to be looking at when he goes to the combine. He will play in the league and has a great shot at stepping in next season."
"It's his first year in the league, but it wasn't like [Tkachuk] was a rookie like other first-year players," Marner says. "He played in the USHL before London. He was playing against college players, guys who were 20 or even 22. It wasn't a step up for him like it would be for [someone] who had played minor midget before [coming into the OHL]."
Tkachuk won over Central Scouting when he played on the U.S. team at the world juniors. By the numbers and the eye test, his WJC performance compared favourably with that of another late-birthday draft-eligible winger who played with the Knights, Patrick Kane. Tkachuk was a fixture on the first line and power play for the bronze medalists and tied Auston Matthews for the team lead in scoring with 11 points in seven games.
Really though, Tkachuk couldn't have been in better position to impress scouts than he has been in London this year.
"We didn't play together on a line until October, really," Tkachuk says. "Before that Devo and Mitch were centres on our top two lines and I had played a little with each. I didn't really have a set line. Then Dale [Hunter, the Knights' coach] put the three of us out there. We had been out on the power play a few times before that but not regularly. In November we all had a huge month and the team got on a roll. We just were a good fit together. Mitch likes to have the puck on his stick, slow the game down and create chances for us. Devo and I work behind the net. I like setting them up from back there."
"When we were first out there as a line I knew that there was a chance that this could be something really special," Dvorak says. "I knew they're both phenomenal talents. We all play a 200-foot game and we all like to move the puck and we have a good sense of where the other guys are going to be when we're out there. It's just good chemistry. I don't know that you can make that happen or if it just comes together naturally."
The remaining regular-season games between London and Erie figure to be the biggest of their respective seasons and the last two match-ups were decisive wins for the Knights who had trailed the Otters all season but closed and finally caught up to them. Though the statistics might suggest a different story, the Knights aren't a one-line team.
"What makes them so tough is the fact that they're a four-line team and their other lines could be top lines for teams in the league," Erie coach Kris Knoblauch says.
Maybe, but right now Dvorak, Marner and Tkachuk are the best show in major-junior hockey. It's just too bad the run will be limited to this spring.