With Matthew Tkachuk and his hockey path, the dots connect as seamlessly as the tic-tac-toe scoring plays between the top NHL Draft prospect and his London Knights linemates, Christian Dvorak and Mitchell Marner.
Every step for Tkachuk, who plays left wing and wears No. 7 like his father Keith did while scoring more than 500 goals and 1,000 career NHL points, has been about being inculcated by a good support system. It started in St. Louis where his parents housed young Blues players such as David Backes, Phil McRae and Lee Stempniak, giving their first-born some de facto older brothers. That has come full circle for the 18-year-old first-year OHLer who is No. 1 in NHL Central Scouting's midterm North American rankings.
"Having those guys around was important to me for just seeing what it's like to be young and going through the league [NHL] for the first time," said Tkachuk, who is fourth in OHL scoring with 23 goals and 93 points across 48 games. "Whenever I see them, I will talk to them, and they'll talk to me. They remember me, they remember the good times. I think it was just as fortunate for them to have that.
"In London, the biggest thing for me for adjusting has been that my billet family has been so great," added Tkachuk, who fits the prototype of a skilled power wing at 6-foot-1 and 195 lb. "They've done great making life run smooth."
---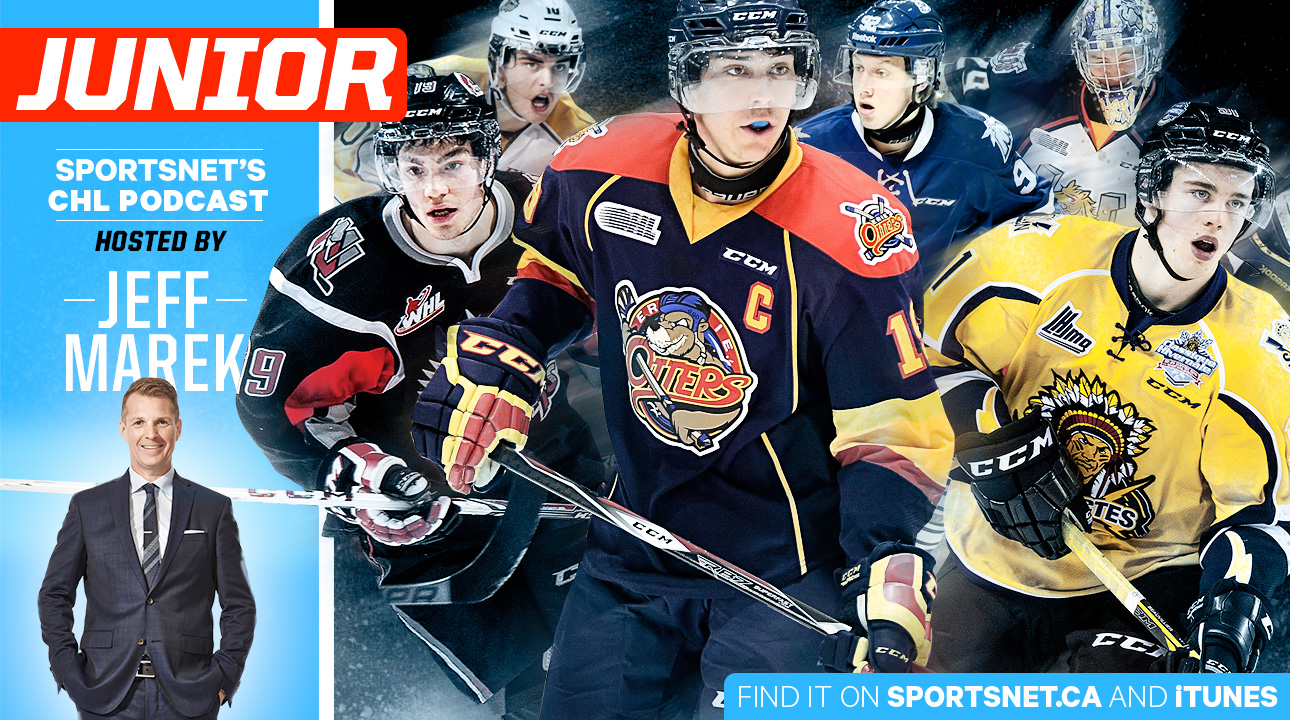 On the latest podcast, Mitch Marner joins Jeff for wide-ranging discussion, including what it's like to play on the CHL's top line.
Listen now | iTunes | Podcatchers
---
There are prospect watchers who wonder how much of Tkachuk's place in the scoring race and myriad draft rankings owes to playing with Dvorak and Marner. The line, deservedly, has carte blanche in London. Some of Marner's power-play shifts rival the Kentucky Derby's claim on being the most exciting two minutes in sports.
Fixating on that could belie that there is a reasonable chance Tkachuk, depending on the organizational depth of the team that hands him a sweater in Buffalo on June 25, might be the first of the three to be in the NHL full-time. The St. Louis native seems mature enough for the jump, physically and competitively. Of course, there's the longer-term questions about a player's ceiling.
"He moves the puck well, he's great around the net," Knights coach Dale Hunter said last Saturday after Tkachuk had five points in a 5-1 win against the Ottawa 67's. "He has no fear to his game. That's why he scores tons of goals and gets so many points.
"There's no selfishness among them," Hunter said of the Dvorak-Tkachuk-Marner trio, which has combined for 301 points. "That's why they are hard to defend."
Vancouver Canucks GM Jim Benning recently anointed Tkachuk, who helped Team USA to a bronze medal at the world juniors, the best draft-eligible player "from the [faceoff] dots in." Tkachuk developed that by combining his reach and strength with learning to read the ice.
"As I got bigger, through youth hockey, being able to protect the puck down low gave me a lot of confidence to—I guess—stall a little bit, wait for my teammates to get open and find the seams."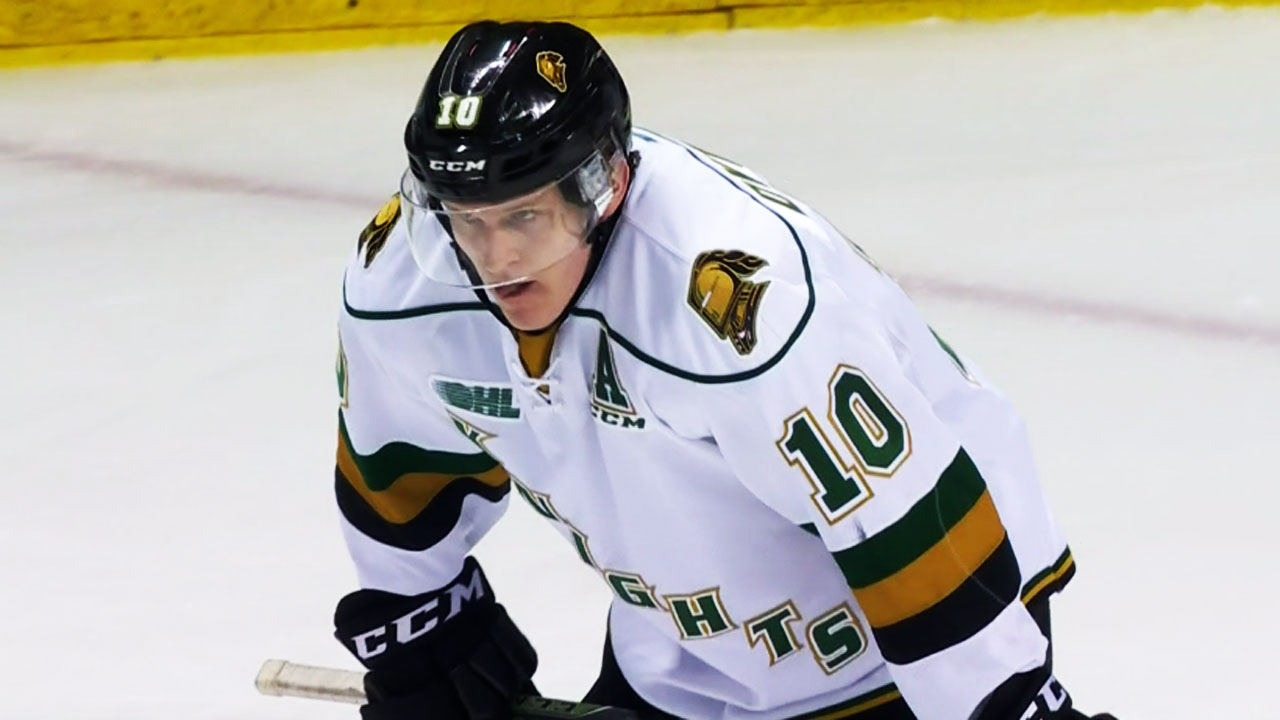 Christian Dvorak leads the OHL in points per game. (Aaron Bell/OHL Images)
The St. Louis native spent two years with the U.S. National Team Development Program, de-committing from Notre Dame midway through 2014-15. It's doubtful many hockey fans in Canada need a primer on the NTDP by this point, but having an age-appropriate centralized program seems more in tune with the simple notion, 'teenagers age.' Canadian teenagers, for all their junior hockey opinions, don't have an option tailored to under-18 players.
"You learn to be a pro there," Tkachuk said. "You learn to win with the best players in the country. You learn how to partake in hockey life and that's what I want to be, a hockey player. That was the best thing I could have done for myself at the time.
"In London, it's a busier game and practice schedule," he added. "In Ann Arbor [where the NTDP was based before moving to Plymouth, Mich., in 2015], we're practising every day. Working out every day. Here your workout schedule is thrown off a little bit. Time management is huge. I've got pretty good with managing my time. That has helped me a lot too."
Tkachuk also plays with an edge that surely induces bile among 19 OHL fanbases, but causes a different Pavlovian response from NHL scouts. He had a two-game slew-footing suspension three weeks ago, but that's not going to be a demerit in his draft profile.
"He gets under the best players' skins on the other teams and he is one of the best players on our team," said Marner, the Toronto Maple Leafs' top junior prospect. "Every night he comes in and brings it."
Marner and Tkachuk's rapport reflects how the hockey world is getting smaller. They played together for the first time when they were in the atom age group—or squirt, in American hockey argot.
"We were in Toronto for a tournament when we were nine or 10 and Mitch came on our St. Louis team for it," Tkachuk recalled. "We were all pretty close-knit and we were just adding Mitch. He was probably the best player at that tournament."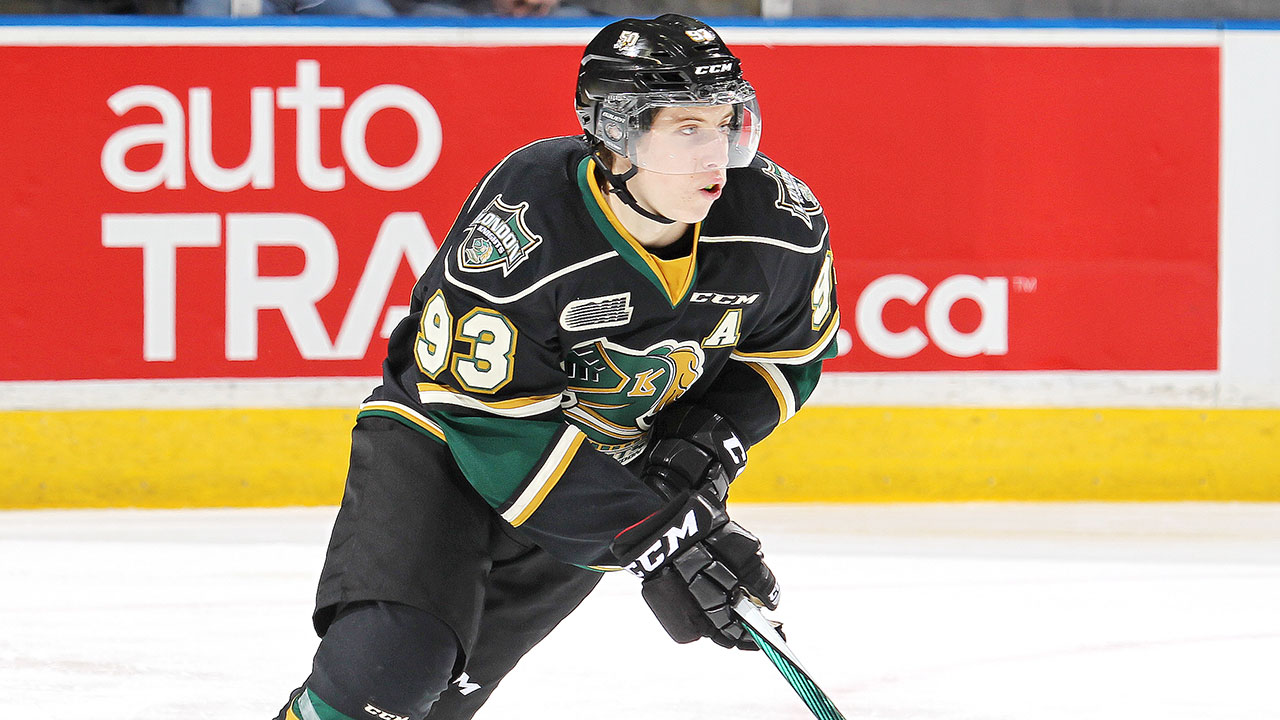 According to Prospect-Stats.com, Marner leads the OHL in primary points per game. (Claus Andersen/Getty)
Tkachuk is tethered to a few NHL hubs beyond his hometown. Beyond his Blues tie, one can conjure up conjecture about him going to the Leafs. After all, he is the linemate of Marner. Leafs director of player personnel Mark Hunter is also a Knights owner and vice-president.
Given the influence Tkachuk credits to each parent, it's obligatory to point out the Winnipeg Jets are also in the lottery zone.
"My mom is from Winnipeg and her dad, my [maternal] grandpa [Don Oster], still lives there. He's always checking to see what's happening
"I don't pay attention to it too much," Tkachuk added. "It would be cool if it happened, but anywhere is nice at this point."