HALIFAX – When Luke Green sits down in the Saint John Sea Dogs' dressing room, he doesn't have to look far to see what it'll take to hear his name called early on NHL Draft day in June. Teammates and fellow D-men Jakob Zboril and Thomas Chabot both went in the top 20 in last year's draft—Zboril 13th to the Boston Bruins, and Chabot 18th to the Ottawa Senators.
"It's the same thing I told Chabot last year when he wanted to be a first-rounder," says Sea Dogs GM, Darrel Young. "Outwork Zboril because he's going to be a first-rounder, do better than him. Every day you've got somebody in practice that you want to be better than."
---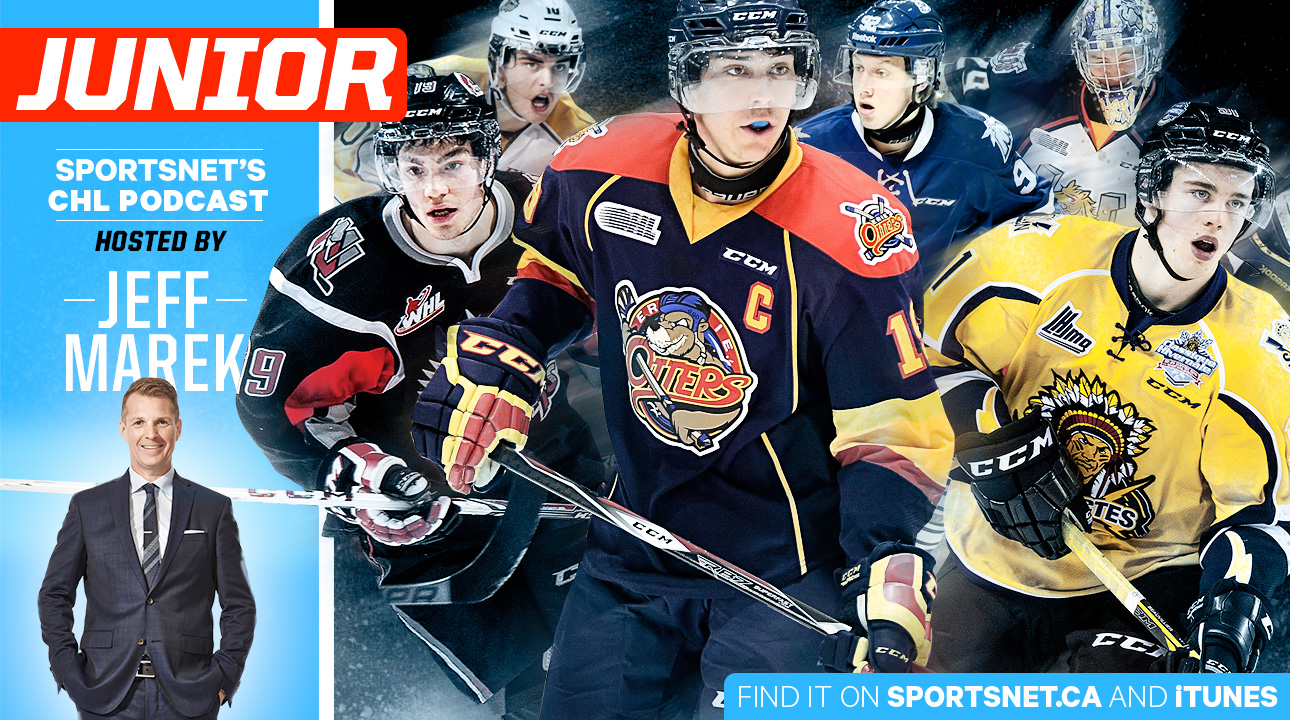 Jeff Marek hosts Sportsnet's weekly CHL podcast, a one-stop shop for news, analysis, opinion and interviews covering the WHL, OHL and QMJHL.
Listen now | iTunes | Podcatchers
---
Green joined the Sea Dogs to start the 2014–15 season after Young used the first pick of the 2014 QMJHL draft on the smooth-skating, offensively minded defenceman from Bedford, N.S. He finished his rookie season with 36 points, second among rookie D-men, and entered his sophomore campaign with a focus on his play away from the puck. This year he's evolved into more of a two-way defenceman, a process accelerated by the arrival of Matt Murphy via trade from the Québec Remparts in December. The tandem form a shutdown unit, paired against the opposition's top lines on a nightly basis.
"That was a big step up for myself. I didn't really get to see much of that time last year," says Green. "It's nice to see the coaching staff trusts me out there against the best players in the league."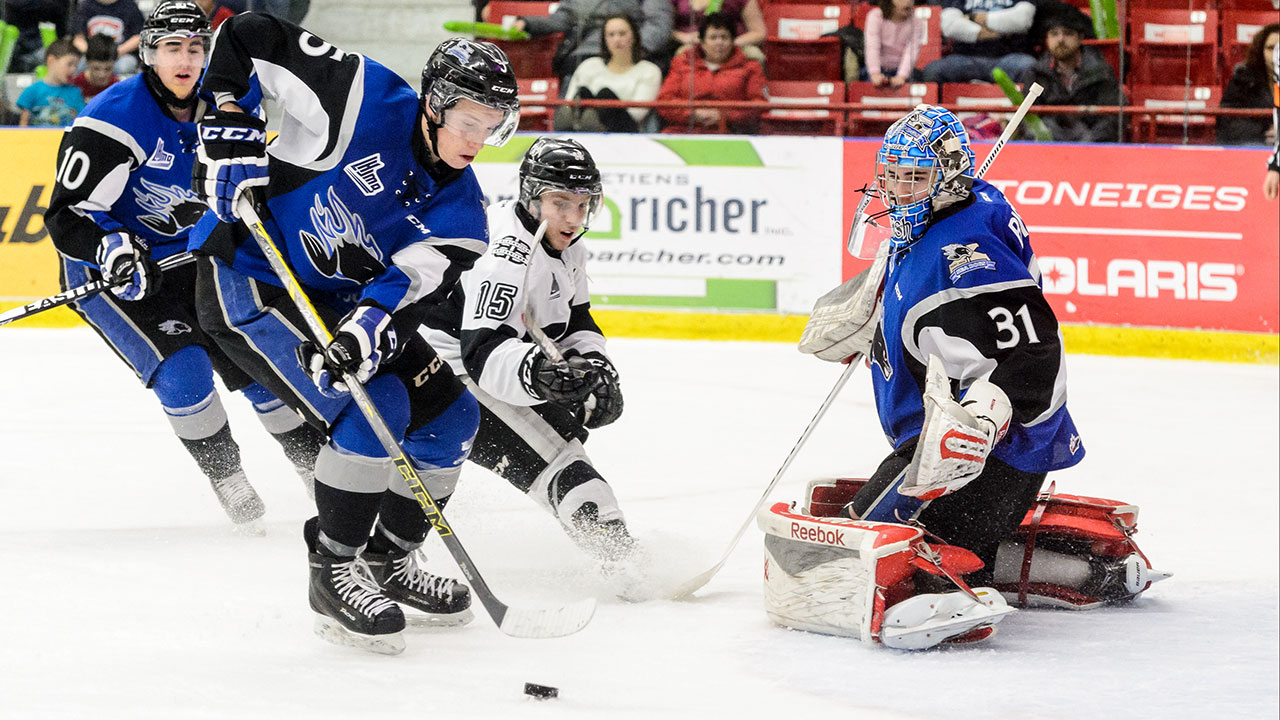 In his draft-plus-one season, Chabot has already matched his points total in 23 fewer games. (Minas Panagiotakis/Getty)
Saint John went 13-1-2 in Murphy's first 16 games with the team, a streak that, combined with a free-fall from the Moncton Wildcats, propelled the Sea Dogs to the top of the Maritimes division. They will clinch with one more point. Young attributes Green's shutdown role as a big part of the team's success during the streak.
Through 56 games, Green has 10 goals and 25 assists, one point shy of the 36 from his rookie season. The point totals haven't taken a huge leap forward, but one telling stat on the other side of the puck is his plus-minus ranking going from zero to 19 this season.
"A lot of scouts I talk to want to see more points from him, more of what he did last year freelancing. But the fact is he's playing better defensively," says Young.
But Young would also like to see Green utilize his offensive skills and not be afraid to use his right-handed shot more as the season winds down. "[He needs to be] solid in our end and try to be a little more creative on the power play. He's got great skill and he's got to use it," says Young.
One scout describes Green as "a little bit harder to judge" because Zboril, Chabot and Murphy limit his offensive opportunities. But he says Green has similar attributes—albeit not as high-end—to Samuel Girard, a draft-eligible defenceman with the Shawinigan Cataractes.
Green joined Girard at the CHL/NHL Top Prospects Game in Vancouver late in January, the only two D-men from the Q invited to the event. "It was definitely a lot of fun," says Green. "I like to compare myself to guys like that and I thought I fit in really well."
NHL Central Scouting Services has Green ranked 37th among North American skaters in its mid-term rankings. That's one spot behind Chicoutimi's Frederic Allard and a few spots ahead of Girard, ranked 40th.
History of QMJHL first overall picks in the NHL
Being the first overall pick of the QMJHL draft doesn't make a player a lock to go in the first round of the NHL draft. Of the 10 first overall picks from 2004–13, four went on to be first-rounders, two went in the second round, three went in the fourth and one in the fifth.
It's worth noting the Sea Dogs selected first overall in three consecutive years from 2005 to 2007 and went with a defenceman each time. Of the three, only Després (now with the Anaheim Ducks) has cracked an NHL roster. Grant and Sauvé have combined for only 10 NHL games.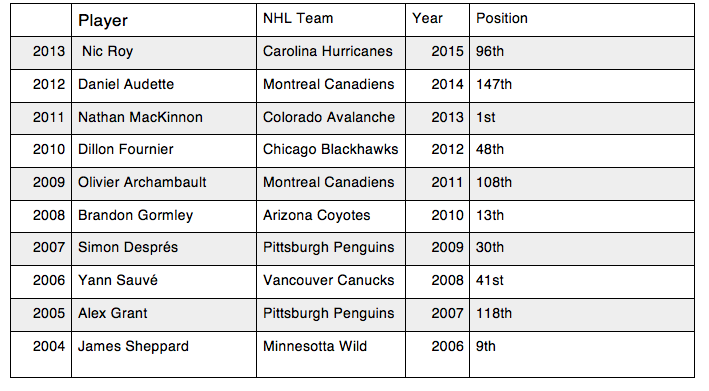 Green vs. Chabot and Zboril
Both Zboril and Chabot have missed chunks of the season for pro camps and the world juniors (Zboril played with Czech Republic and Chabot with Canada). Chabot has increased his points per game in each of his three seasons in the Q; Zboril has seen his points per game dip slightly, but his strong skating and physical edge are what make him such a dominant defenceman.

If we compare the numbers of all three players in their draft-eligible seasons, we'll see Green's numbers are similar to Chabot's and Zboril had the best points per game mark. Both Green and Zboril were rookies last season, although Zboril is a year older, joining the team as the fifth overall pick of the 2014 CHL Import draft.

From a size perspective, all three are similar. Green measures six-foot-one, 186-lb., Chabot is six-foot-two, 188-lb., and Zboril is six-foot-two, 185-lb. Green underwent a growth spurt over the summer and put on weight and got stronger while training with his brother Matt, also a member of the Sea Dogs.
"We made sure every pound of muscle we gained, we got a little bit faster too," says Green.
As someone who's been drafted and experienced pro camps, Chabot stresses the importance of the defensive zone to Green. He tells him in the Q it may not seem as important since the game isn't as fast as in the NHL. In the NHL, there's a higher chance any mistake will be costly.
"He skates really well, he's always making a good first pass. That's what NHL teams look for right now, good puck-moving 'D' and good skaters," says Chabot. "He should be a high draft pick."