Travis Dermott is bent on making up for missed time as his Erie Otters aim for a title in the year 2016 AM (After McDavid). The puck-moving defenceman, whom the Toronto Maple Leafs drafted in June and signed in July, is returning from a five-game head-checking suspension in time for league-leading Erie's 3-in-3 weekend.
The Otters' slate includes a nationally televised road game on Sunday against the talented Niagara IceDogs. As someone who played for Team Canada in the World Junior Championship, Dermott knows about adapting back to the OHL after absences from the Otters.
"It has been painful sitting out—to say the least," said Dermott, 19, who has four goals and 36 points across 41 games for Erie. "I cannot wait to get in there. There's nothing I could ask for more to get into the groove and the lead-up to the playoffs.
"I just kind took it easy," Dermott added in reference to how he eased back into the OHL in January after returning from the WJC. "When you try to do too much, oftentimes it ends poorly. I came back and knew my teammates would be there if I made mistakes and tried to keep everything easy until I could get into a groove and start making as much as difference as I could on the ice."

Dermott has played only three and a half periods in February. Erie, which is 3-3-0-0 over its past six games, has also been operating without defenceman T.J. Fergus (mononucleosis) since the start of this month.
"I was really impressed with how good Travis was when he came back," Otters coach Kris Knoblauch said. "The world juniors didn't go quite as well as wanted, personally and as a team, so I think he was extra-motivated.
"A lot of times when they come back from the world juniors, their play dips. The intensity is not still there [relatively] and the games don't mean as much. But Travis, I really thought he was playing some of his best right after he came back.
"Obviously, his leadership and his skill brings a lot to our team."
---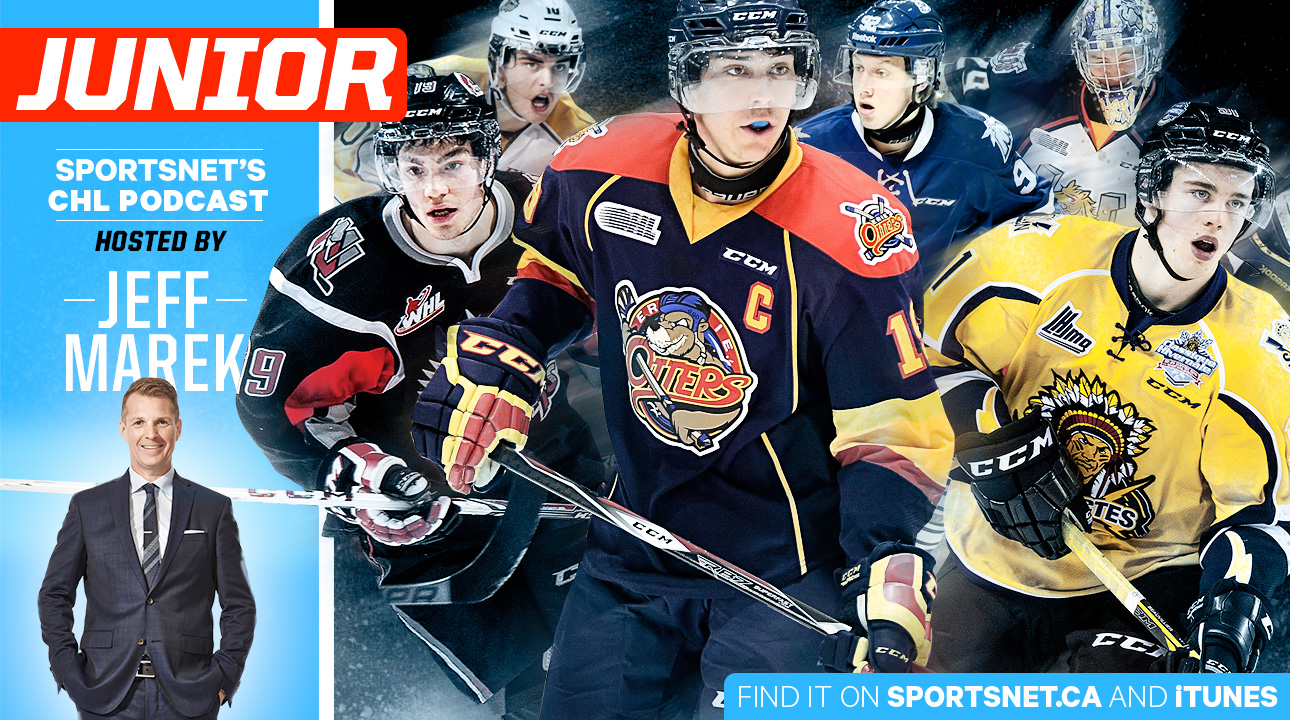 On this week's pod, Jeff is joined by catch Mitch Marner, Sam Cosentino and Damien Cox.
Listen now | iTunes | Podcatchers
---
Dermott and Fergus's absences have factored into to Erie's lead in the Midwest Division over the Knights and Rangers shrinking. The other side of the coin is that there might some long-term benefit to rookies Mitchell Byrne, Taylor Egan, Jordan Sambrook and Josh Wainman, a call-up from the Junior A Lindsay Muskies, picking up more shifts recently.
"Wainman really impressed me and he really impressed our coaches," Dermott said. "I think they ran with the little extra responsibility. Maybe they made a few more mistakes but they probably came out of it with more confidence. I know that when I wasn't getting as much ice time as I'm getting now you have to step up, and that's what I feel they did."
The Otters have embraced proving they are more than a team that was elevated in 2013-14 and '14-15 by a star ensemble and the once-a-generation omnipotence of Connor McDavid. They have allowed just 150 goals, tied for fewest with London, even though Dermott and fellow 19-year-old Darren Raddysh are the sole defencemen who were regulars last season.
"Everyone bought into the game plan that Knoblauch had for us," Dermott said. "I don't think anyone expected us to be doing this well, at the start of the year. We obviously hit a rough patch the past few games. But it's looking up for the stretch 'til playoffs."
One plot point of the race for first overall is that Erie, the Kitchener Rangers and London Knights all feature prominent 2015 Leafs selections. Dermott has three matchups left against the Mitch Marner-led Knights and and one on March 4 against the Rangers and right wing Jeremy Bracco, a fellow second-rounder. The Newmarket, Ont., native whose childhood bedroom was a shrine to all things blue and white is aware those games pique more interest than the typical OHL contest.
"I know that people are looking more intently when I play those either of those two guys. It's kind of cool, that little bit of hype. I love having that little different aspect of the game in the back of my mind."
Many players still in junior demur from answering when asked whether they monitor the news with their NHL organization. Dermott acknowledges that he pays attention to the Leafs' rebuilding.
"It's hard not to keep up with it," he said. "I follow Toronto on Twitter so every time something happens, my Twitter feed is blowing up. It's cool to see that they're making changes in the right direction. I obviously trust that they're doing the best to win."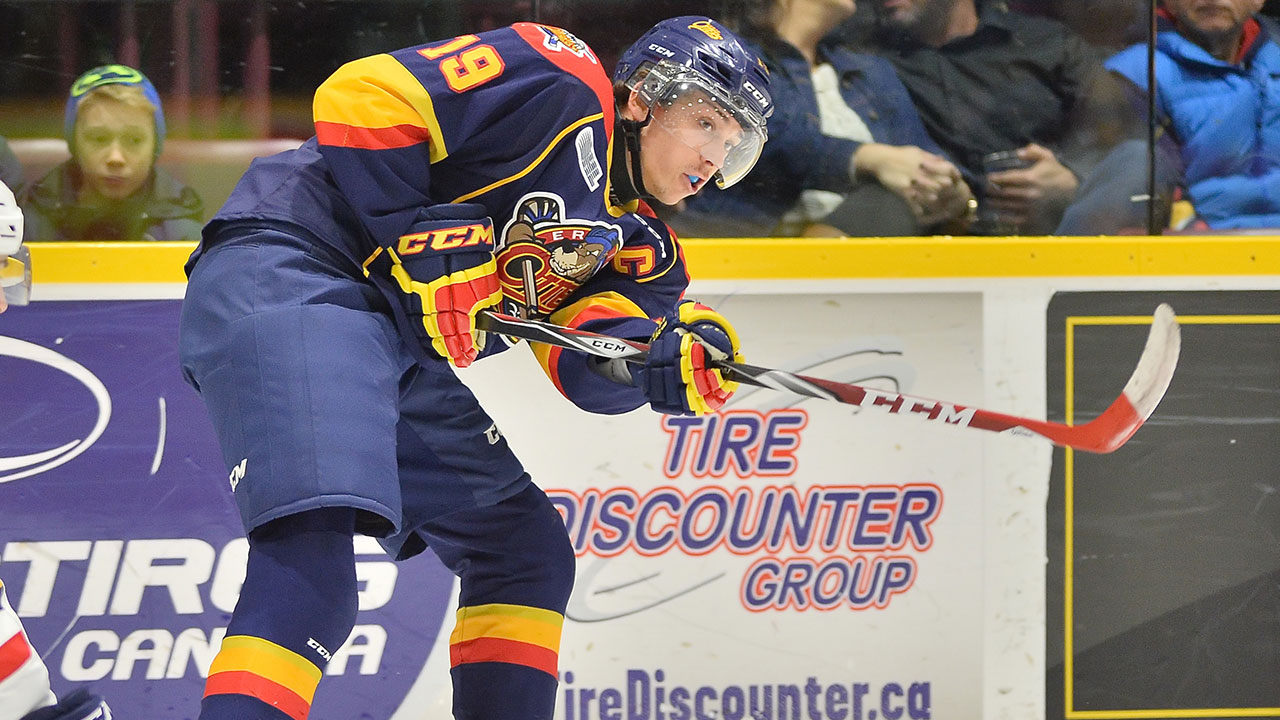 Dylan Strome leads the Otters in scoring with 88 points in 44 games, good for fourth overall. (Terry Wilson/OHL Images)
Dermott will be close to the nerve centre of Leafs Nation next season. He's on track to be a first-year pro, beginning an apprenticeship with the Toronto Marlies, who play just a streetcar ride away from the Air Canada Centre. Dermott has a rough outline about what the OHL-to-AHL progression involves. He was an Otters rookie in 2013-14 when current Marlies forward Connor Brown was the OHL player of the year after a 45-goal, 128-point season.
"We hung out a bit that year and we've hung out a bit in camps," Dermott said. "It is cool having him there and not being completely lost when I take part in Toronto festivities."
Meantime, with Dermott back, the Otters are out to show they have not lost their winning edge.