The first half of the tournament went according to script for one of the favourites – and not so much for the other. The Petes were 2-0, whereas the Pats were winless after their first two games.
Mike Blaisdell, right-winger, Regina Our coach, Bryan Murray — the best coach I ever had by the way — I think he thought you wanna give the boys some rest after a long year. We took it a little too easy, maybe, before that tournament.
Bart Hunter, goalie, Regina We had a few days of no practicing. I was so sunburnt I could hardly put my equipment on. The guys were just having fun. Whatever the temperature was, it was very hot. When we got back to practicing, I seriously had a hard time moving because I was so sunburnt. [Laughs.]
Blaisdell Our practices weren't real demanding. We went in there hoping we were refreshed again. That kind of backfired a little bit. We were fighting the puck a little bit in the first couple games.
Hunter Probably 10 of guys on the team were Regina guys. It was easy for the Regina guys, especially, to go out and find a place to go and have some fun.
Murphy At that time in Peterborough, we were a well-coached team. First, we had Gary Green and then we had Mike Keenan, who did an outstanding job. We were always prepared very well.
Brophy He was definitely 'Iron Mike.'
The trend continued as the scene shifted to the Queen City when Peterborough handed Regina another loss. There was plenty of aggravation for the Pats — from losing a lead to Keenan getting an illegal equipment penalty called against Wickenheiser for having a hole in the palm of his glove.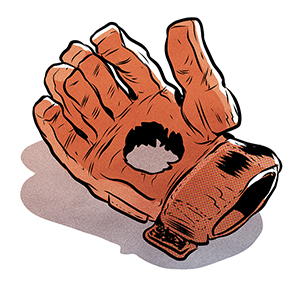 Hunter What I remember is us blowing a 3-0 lead against Peterborough. We were up 3-0 after the second and they came back and beat us 4-3. If we win that game, we're probably not in this situation.
Blaisdell They were an awkward team to play. They took us out of our rhythm a bit. If anybody would have tried to run-and-gun with us — up and back and really try to open the game up — I think we'd have won that tournament easy.
Mike Keenan, head coach, Peterborough They thought, certainly, they were capable of winning. They had home-ice advantage. We were well prepared.
Blaisdell When they played against Doug [Wickenheiser], they kept a guy right above him all night — just five to 10 feet off him, but just above him so it was hard to get him the puck. He was barely open. So, he was a bit frustrated with that.