Nick Merkley takes a pass at the far post, and two Brandon Wheat Kings descend on him. The Kelowna Rockets' leading scorer holds on to the puck for a split second, then strings a pass—through two defenders—to a wide-open Rourke Chartier, who's skating toward the other post. Chartier has time to count out a full Mississippi before hammering it home.
That's assist No. 2 on the night for Merkley. Later, he scores a short-handed goal on a breakaway he manufactures after burning past a defenceman on the right wing. He adds a fourth point, another assist, before the final horn. And the Rockets win again.
---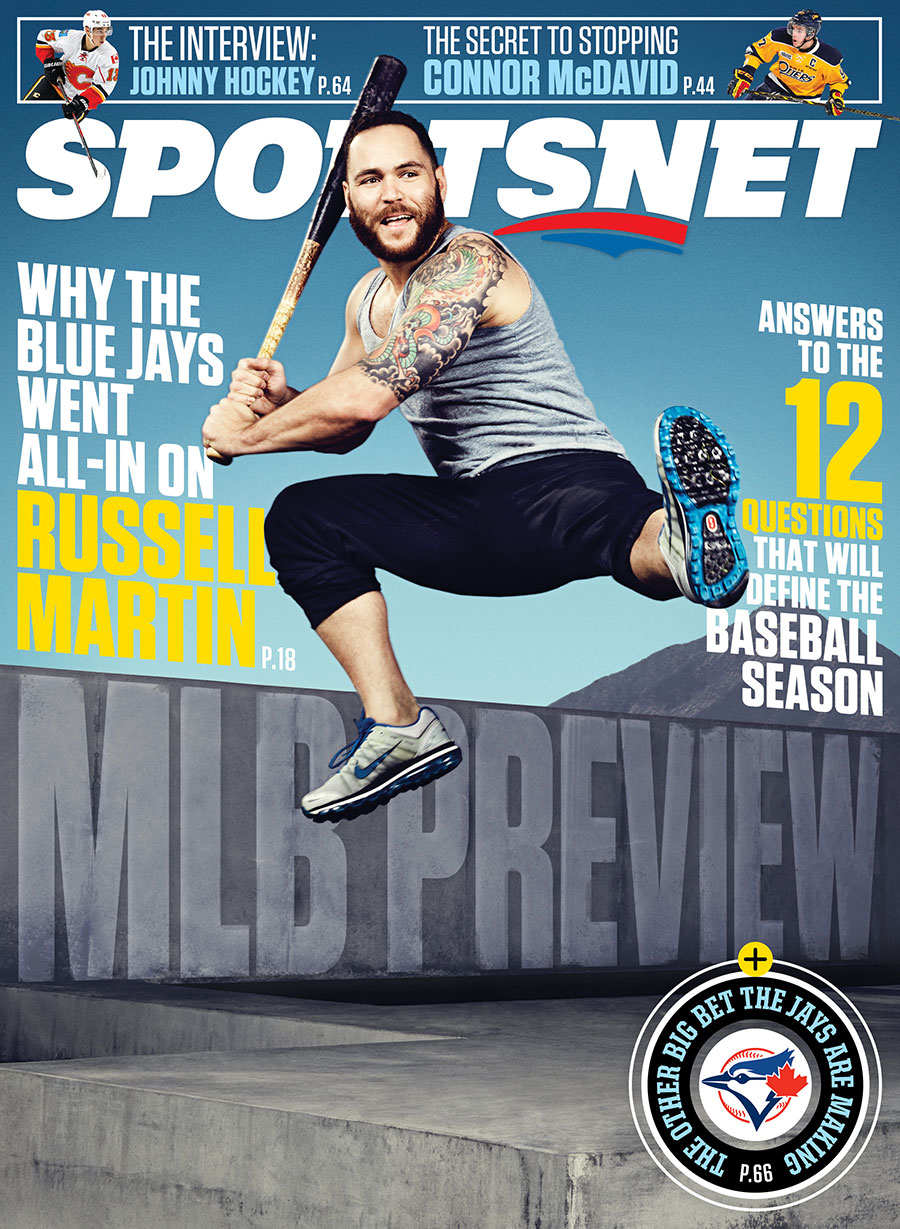 Sportsnet Magazine's MLB Preview:
Why the Blue Jays went all in with Russell Martin, and answers to the 12 questions that will define the baseball season. Download it right now on your iOS or Android device, free to Sportsnet ONE subscribers.
---
This 2015 NHL Draft is among the most hyped and talent-filled we've seen in years. It's home to the one-two punch of Connor McDavid and Jack Eichel, who are dominating headlines. So you're excused if you haven't heard a lot of buzz about Merkley, a 17-year-old undersized forward who's a projected top-15 pick in June and who's quietly been leading his Rockets to the top of the Western Hockey League's Western Conference standings. But this is a guy to watch, according to a veteran on the NHL's Central Scouting staff: "He passes the puck as well as anybody in junior hockey. He sees the ice as well as anybody, too." Rockets coach Dan Lambert echoes that point: "He makes plays and you sit there going, 'Wow, how did he know that guy was there?'"
On a team that beefed up this winter for a Memorial Cup run by adding a pair of 19-year-old first-round NHL draft picks, it's the young right-winger who remains the Rockets' No. 1 playmaker. So it's about time you got to know Nick Merkley.
The kid who wears No. 10 for Kelowna grew up in the Calgary suburb of Lake Bonavista, and he developed his hockey vision on a couple of frozen lakes near his house. That's where Merkley and older brother Jay, a centre for the Swift Current Broncos, spent entire winter days, deking each other out, firing pucks and working on their celebrations.
He had the typical upbringing of a future pro athlete—his parents trucked him from sport to sport (lacrosse, soccer and hockey, mostly) while he changed in the car. Around age 11, he chose hockey. It was always hockey first, in part because it was his father's passion. Merkley's dad had him on skates at age two. "I don't really think I had any other option," says Merkley. "I've loved it my whole life. It's the only thing I'd ever want to do."
As a youngster, he wore No. 4, a tribute to Bobby Orr. An odd choice considering the Boston Bruins defenceman retired before Merkley was born, but Merkley's dad showed him tapes. At 10, his hockey bio on the Lake Bonavista Breakers team program included a grinning mug shot and details about his idol, concluding with: "I want to be just like him."
Merkley first met Orr when he was 10. He won a contest and got to skate with Orr, though they didn't talk much because he was one of dozens of fellow contest winners. But at the CHL/NHL Top Prospects Game in January, Merkley played on Team Orr. "That was awesome," he says. "I got to know him a lot better. He said not to focus too much on what's in the crowd and who's in the crowd, just play the game and remember how you got here."
Merkley hasn't played like a guy who's crumbling under the pressure of junior hockey, though. His 25 goals and 33 assists last season earned him WHL Rookie of the Year honours. And he doesn't seem to be gripping his stick any tighter this year, despite the scout-filled stands; he's on a nearly assist-a-game pace, and is sixth overall in league scoring.
It helps that now, in the words of coach Lambert, "Nick doesn't have to carry the team anymore." No CHL team bolstered its roster for a post-season run more effectively than the Rockets. In December, they added defenceman Josh Morrissey, the 13th-overall pick by the Jets in 2013. And in January, Oilers top prospect Leon Draisaitl became a Rocket. The centreman put up 45 points in his first 29 games in Kelowna.
They're getting added production from Chartier, a San Jose Sharks fifth-round pick in 2014, too. That's in no small part because the 18-year-old pivot is on a line with Merkley. Chartier combined for 37 goals in 130 games his first two CHL seasons. Yes, he's bigger, better and stronger now, but his 47 goals in 55 games alongside Merkley surely have something to do with being on the receiving end of some sweet passes.
Among Merkley's own improvements since last season is his skating. He is quick and strong on his feet, and he's one of the best in the league at skating full-tilt with his toes out, as if he's slowing down or stopping. "It makes a lot of D-men hesitate," Lambert explains. "Then he gains a half-step and he can get to the corner or get to the net. He's one of the better guys I've ever seen at doing that at such a high speed."
After practice, you'll find Merkley working with skills coach Kim Gellert. They'll practise one-timers or controlling the puck out of his skates. Says one scout: "His work ethic is off the charts." And it shows in games, he adds: "He's one of few kids who wants the puck and can be a difference-maker."
If there's a knock against Merkley, it's his size; he's a shade under five-foot-11 and 191 lb. Scouts don't think that will hold him back, though, because he's also chippy and he plays bigger than he is. "I like to get physical once in a while," he says.
Merkley is soft-spoken. Trying to find out what hockey fans should know about him ahead of the draft doesn't yield a lot of long sentences. He says he doesn't talk much in the dressing room, either. Motivational speeches? Not his thing. He likes country music, his average at school is about 75, he wears a lot of plaid, watches a lot of Netflix, plays a fair bit of Xbox, and loves food. He says he has a "sweet set-up" because his billets make him homemade mac and cheese before games, and his grandma sends him a lot of meals. "She's Italian," he points out. His favourite thing about the Calgary Stampede is the deep-fried Oreos, and he downs an ice cream sandwich before every game, which has become a bit of a superstition. And yes, he knows that isn't healthy.
Merkley's description of himself as a hockey player isn't much different from his description of himself as a person: Competitive and hard-working are features of both. Off the ice he's also "caring, I guess."
After a 30-minute conversation, Merkley says everything's been covered. Hockey fans will now know what they need to know about the kid from Lake Bonavista come draft day in June, and ahead of what he hopes will be a run for the Memorial Cup. "I think that about sums me up."