The Windsor Spitfires were in search of a solution. The team, having a tough go during the 2006-07 campaign, had seen its blue line corps cut down by injuries and, one way or another, those spots needed to be filled. But no matter how creative assistant coach D.J. Smith and the rest of the staff got in their quest for an answer, nobody was prepared to bring up the name Mickey Renaud.
The second-year Spitfire was a centre who had exceeded expectations by earning a top-six role. He was also in the midst of his draft-eligible season, when players hoping to catch the eye of NHL scouts typically want to offer their best look every night. Having the 18-year-old Renaud flail about out of position during such a critical moment in his career didn't seem like the best way to serve the young man's — or the team's — interests.
But that concern either never occurred to Renaud or simply didn't qualify as something worth worrying about. Citing the fact he'd played a little 'D' at lower levels, Renaud told Smith he'd happily slide back. With desperation overriding the coach's skepticism, the move was made. "He played five games on defence [and] he was our best defenceman." Smith says. "Kids these days, in their draft year, they're worried about every shift; their agents are calling if they miss a shift. This kid didn't care, [he] went back and played defence."
Renaud's versatility may have come as a surprise, but his instinctual desire to help the team did not. That attitude was a huge reason why the Calgary Flames drafted the workmanlike Renaud in June of 2007, and why he'd become a hometown captain of the Spitfires by the start of the next season. The way Renaud carried himself is also why, nearly 10 years after his sudden death brought an entire community to its knees, his name headlines a league trophy, is permanently inked in tattoos and still induces smiles from those who knew him.
As Windsor gathers to watch its boys pursue the Memorial Cup this week, minds will surely drift back to the Spitfires club that went all the way just 15 months after losing its beloved leader. That 2009 championship was dedicated to a unique youngster who found a way to reach every person on his team and in his life. And it's that trait — among a slew of qualities — for which Renaud is most fondly remembered.
---
Memorial Cup Preview ft. Sam Cosentino
May 18 2017
It's hard to reconcile today's Taylor Hall with the one Renaud met in 2007. Even in a room packed with pro athletes who look like they've never so much as smelled a chicken wing, Hall's sculpted physique pops. But this version of Hall — a 25-year-old star with the New Jersey Devils — was a long way from taking form when he first entered the sometimes difficult dynamic of an OHL dressing room. Rookies — especially in previous eras — were often subjected to treatment that reinforced their standing on the totem pole. Not on Renaud's watch, mind you.
"He was so nice to me right away," says Hall. "I was an awkward, 15-year-old, pimple-faced kid and he made me feel welcomed."
Renaud came by his warmth honestly. His mom, Jane, was at the centre of a house with an open-door policy. The only place that had players coming and going more often than the Renaud home was the Spitfires' bench. "Such a great family," says Adam Henrique, another New Jersey Devil who spent a significant portion of his downtime in junior with the Renaud crew.
Renaud's dad, Mark, is a Windsor native who played 152 career NHL games. As the son of a former big-leaguer, Renaud had a larger profile than the average youth hockey player. Smith, another Windsor product and now an assistant coach with the Toronto Maple Leafs, knew Renaud well before the kid came to the Spits, and went out of his way to help Renaud along. "It's easy when you have a guy with that much drive," he says.
Things were already starting to come full circle by the time Renaud was an OHLer. If Smith was on the ice for a morning skate and Renaud wasn't there, the odds were pretty good you could find him somewhere around the rink entertaining Smith's toddler son, Colton. Renaud had a sister, Penny, who was more than 10 years his junior and generation gaps were just one more chasm he had no trouble bridging. "I wish I had it more in me, but he could just relate to anyone," says Hall.
As his sojourn to the blue line demonstrated, Renaud had wide-ranging abilities on the ice, too. His six-foot-three, 220-pound frame afforded him a head start and he had a high-horsepower engine. Creating breakaways was a specialty, but offence was never going to be Renaud's calling card. Hall recalls a game versus the Sarnia Sting where Renaud completely silenced Steven Stamkos. That smarts-driven checking ability was Renaud's ticket to the show.
"He was going to be a perfect player in a third- or fourth-line spot who was going to make life totally miserable for anybody he was playing against," says Tom Webster, the Windsor-based scout who drove the Flames' decision to draft Renaud 143rd overall.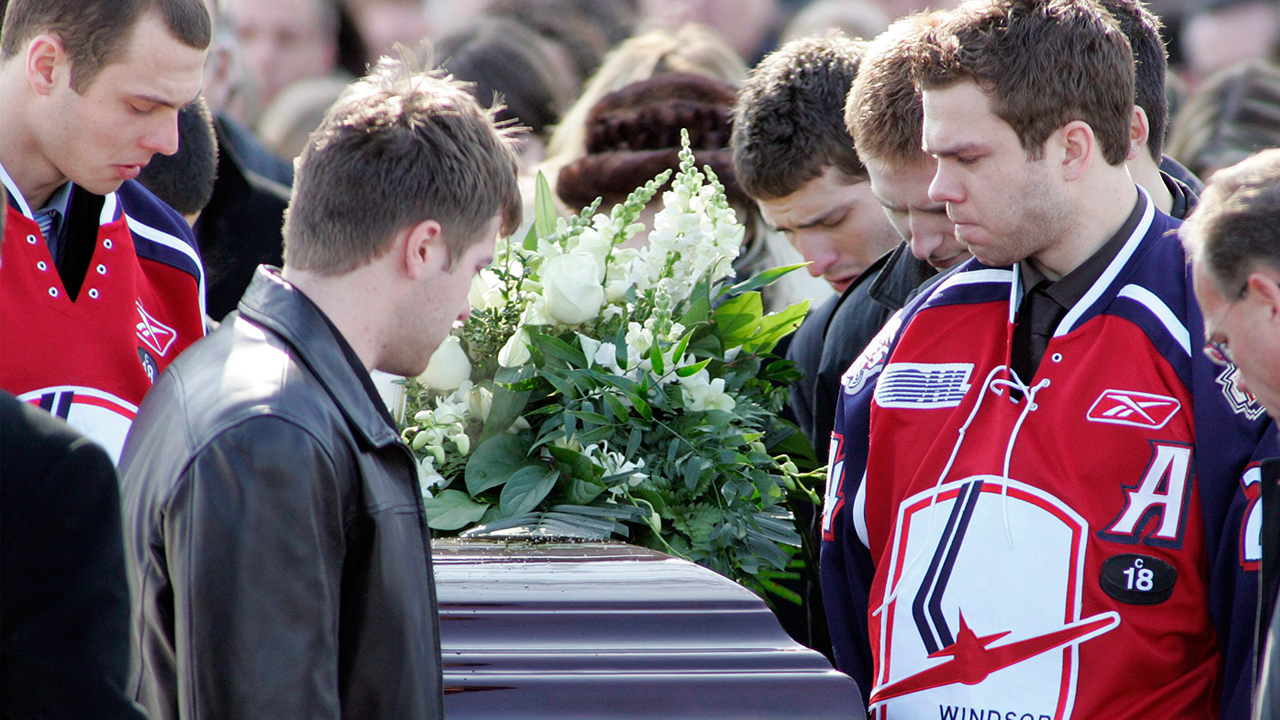 The day a 19-year-old Renaud was denied that future—Feb. 18, 2008—unfolded differently for those involved. It was Family Day and the Spits were scheduled to skate with fans in a number of shifts. The previous evening saw the Spitfires earn a big road victory in Owen Sound and Jane was filling the bellies of a few hungry boys, including Jordan Nolan, before they headed over to the rink.
"We were there, just having a normal breakfast, having a great time, talking about the night before, talking about that day's skate with the fans," Nolan recalls.
The easygoing atmosphere was shattered when, out of the blue, Renaud collapsed in a somewhat crowded kitchen. "No one really knew what was going on, but we knew it wasn't good," Nolan says.
Renaud was rushed to the hospital, and soon word started filtering out that something had happened. Exactly what, though, wasn't clear and nobody hearing a second- or third-hand story expected the worst. "It was kind of more like, someone gets hurt, well, they'll be fine, we'll see them tomorrow," says Ryan Ellis.
The tone started to change when players like Ellis, who'd already been to Windsor Arena and left, were called back. Smith and other members of the coaching and management staff had gathered at the hospital. The players continued to congregate at the rink, some still more
curious than worried. Increasingly, though, a sense of dread took hold.
"A lot of the older guys were teary-eyed," says Ellis. "You kind of look around and get the gist it was more serious."
Webster was one of the people Windsor GM Warren Rychel called. The scout didn't immediately believe the worst, either, telling Rychel — in saltier terms — to not mess around with something so serious. "He said, 'I am serious,'" Webster recalls. "'Mickey's dead.'"
That unimaginable fact began circulating around a devastated network of people. Henrique called his mom, who'd already heard via her son's billet family. Nolan phoned his dad, Ted, who was coaching the New York Islanders at the time. He's pretty sure his dad missed the start of the Islanders' outing versus the San Jose Sharks while they were talking. "I remember calling him and just breaking down," says Nolan, now a member of the Los Angeles Kings.
The Spitfires cancelled games as the entire city mourned. Roughly 1,200 people — including the jersey-clad players — came to St. Anne's Roman Catholic Church for Renaud's funeral, many still in a fog and wondering what exactly had occurred to extinguish such a bright light. "He knew everybody in the city, everybody knew him," says Henrique. "It was so much more than just the team."
Parents of Spitfires flooded into Windsor. Everybody leaned on each other — and grief counselors — for support, but some just had to exit the excruciating scene entirely. "I went home [after the funeral] to spend a few days away from everything because it was just so traumatizing," says Hall.
Ten days after Renaud's passing, the Spitfires hosted the Belleville Bulls. The captain's No. 18 sweater was hung in his locker and a candle—lit by the first to arrive, blown out by the last to leave—burned for him in the dressing room. Windsor lost to the Bulls in a shootout, then won four straight contests and finished the season 8-0-2 in the aftermath of the tragedy. The Spitfires were bounced in the first round of the 2008 playoffs, but big things lay ahead.
[relatedlinks]
During the off-season, an autopsy determined Renaud had died of a heart condition called hypertrophic cardiomyopathy. His number was retired by the Spitfires ahead of the 2008-09 campaign and the league introduced the Mickey Renaud Captain's Trophy later that season, with the intent of awarding it each year to a team captain who best exemplifies leadership on and off the ice. Individual tributes to Renaud persisted in the form of tattoos and necklaces a number of players got shortly after he died.
Windsor won the 2009 OHL title, but dropped its first two games at the Memorial Cup. With no margin for error, the Spitfires then ripped off four consecutive victories, storming back to take the title Renaud had always envisioned for them. "He would have been the guy leading the charge and we really rallied around that," says Ellis, now a Nashville Predator.
Following another national championship in 2010, Ellis was the 2011 recipient of the trophy established in honour of his lost friend. Renaud's name, number and a cross are sketched on Ellis's skin and another reminder hangs on his neck. "I'm sure, if you check around the league with guys who played with him, they still have it," Ellis says of the No. 18 necklace he wears every day.
Henrique's tattoo certainly isn't going anywhere. And while some players understand exactly what the number and Mickey Renaud autograph on his shoulder are an homage to, some only know a small part of the story. "A lot of guys still ask about it," Henrique says.
After all this time, Renaud is still helping people connect.