For a large percentage of hockey fans in this country's biggest market, Mitchell Marner of the London Knights needs no introduction. He is the Next Great Leaf, hype and hope and help-us-please-oh-hockey-gods all rolled into one. He wears No. 93, because of course he does. He's short and fast and cocky and just 18 years old, and if you type "Mitch M" into Google, his name will be suggested first, above the majority leader of the United States Senate, even during an election year.

Marner is supposed to be the light at the end of a very dark tunnel. Were his NHL arrival choreographed, he would debut just in time for sweeps week—a Maple Leafs return to the playoffs. He is, possibly, just now taking the first strides of a professional career path that will be filled with accolades, banners, endorsements and all the outsize idolatry we foist on young men who show great promise with blade and stick. Or he isn't, and is instead destined for the sad infamy of unfulfilled potential. The future isn't clear yet, only the promise.
This is the promise: On Feb. 12, Marner scored the best goal of this hockey season; a goal that appeared on—and then transcended—the usual highlight-reel cycle; a goal that gave us a glimpse of how his brain really works—and how our brains work, too.
It started as a neat little breakout play, then became something else entirely: Knights defenceman Jacob Graves saw his captain, centre Christian Dvorak, with a lane into the Niagara IceDogs's zone and hit him on the tape with a pretty stretch pass. Dvorak gained the zone and drew a defender, leaving space for Marner on his right to take the pass and then… "Marner! Magic! Scores!"
And then… "#GottaSeeIt: Marner scores hockey goal of the year."
And then… "Mitch Marner's jaw-dropping goal."
And naturally… "So Snoop Dogg wore a Mitch Marner jersey…"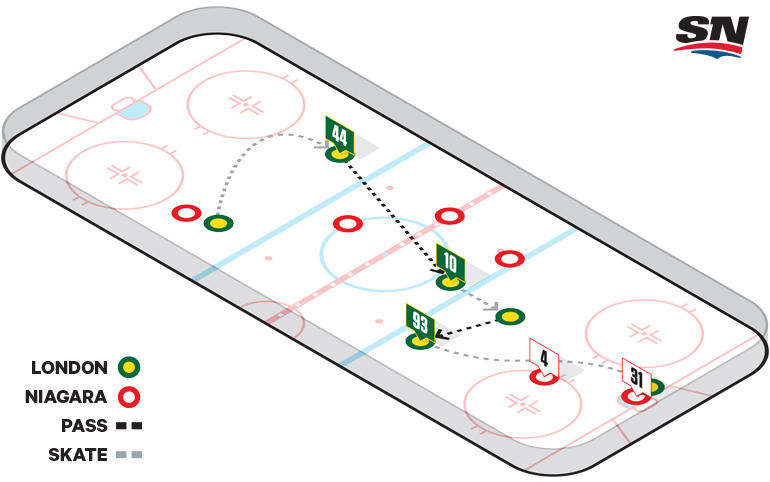 After taking that pass, Marner exhibited the sort of creativity that isn't drawn on chalkboards or concocted in practice; the type that is rarely even dreamed of by children in driveways. The game moves too fast to plan with that level of detail. In hockey, you mostly scheme in general terms to maximize opportunity. You set up in the zone, run the offence and attempt a quality shot. And you hope something happens. This is why most goals—almost all goals, if you ask a coach—are the result either of mistakes or misfortune.
But this goal wasn't anyone's fault. Not even chance's. This goal was Mitch Marner's creation. It was a quick and vicious cut toward the net combined with a forehand-backhand-between-the-legs-then-off-the-left-skate-back-to-the-stick deke that will be the only thing the hockey world associates with poor Niagara defenceman Vince Dunn for quite a while.
The finish was a simple matter of blowing right past goalie Alex Nedeljkovic then tucking the puck into the smallest of spaces between pad and post. Dunn didn't screw up; Nedeljkovic played the angle well. Both are elite NHL prospects, second-round choices of the Blues and Hurricanes, respectively. They shouldn't have been so badly outclassed. But they were.
---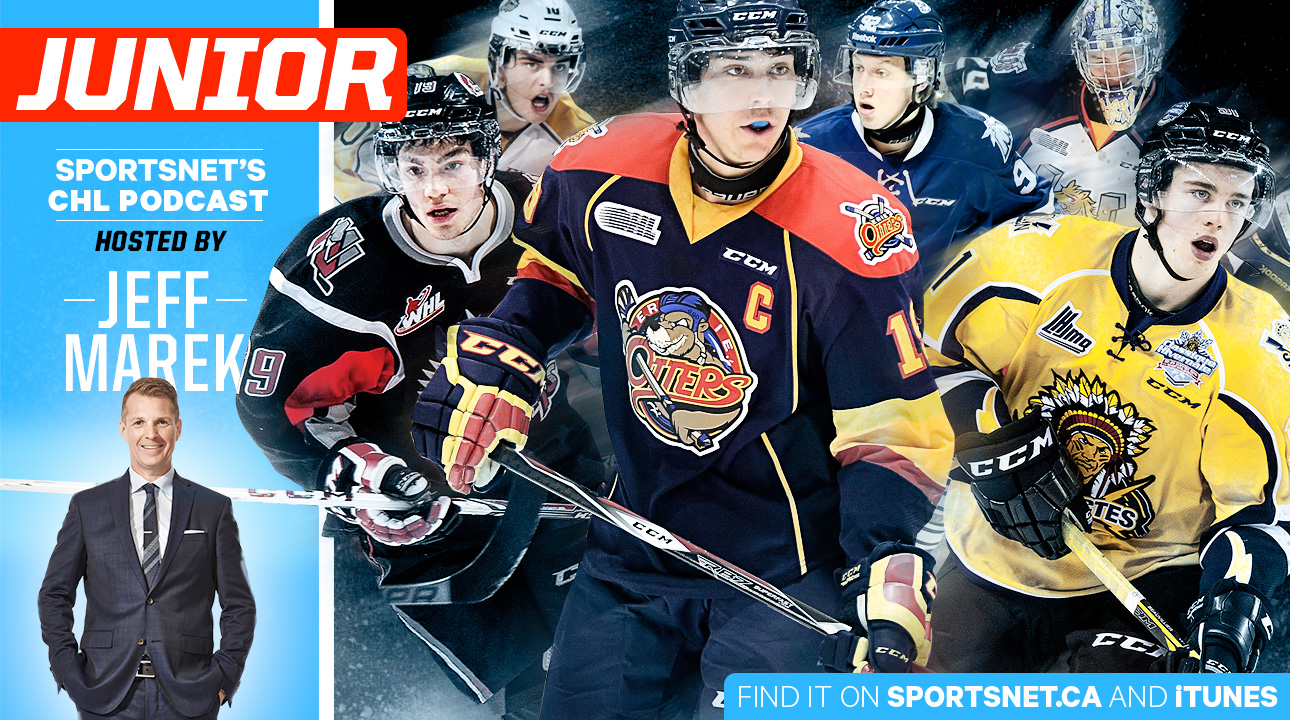 Jeff Marek hosts Sportsnet's weekly CHL podcast, a one-stop shop for news, analysis, opinion and interviews covering the WHL, OHL and QMJHL.
Listen now | iTunes | Podcatchers
---
You can develop the skills that go into an unreal goal like Marner's—quick hands, acceleration, spatial awareness, quick feet, stick-to-skate-to-stick puck tricks, net-side tuck-ins—but that won't score this goal. Marner's real talent isn't just foot speed—it's also an inhuman reaction time that all but eliminated the already minuscule delay between thought and action of elite athleticism.
This reaction time is different from a reflex, which is an involuntary response. Reaction time involves processing stimuli before executing a response.
There are ways to test reaction time—a traditional one involves a researcher dropping a ruler and a subject attempting to grab it as quickly as possible—that can offer a framework of how fast a person's neurons fire and signals travel to their muscles. But what those tests don't measure, and what is the source of awe when it comes to goals like Marner's, is what happens when you incorporate rapid problem-solving into reaction times.
It's one thing to catch a dropped ruler or for a goalie to fight off a quick shot. It's a different thing to process stimuli like a defenceman's stick and body position in relation to your current position, the puck and the path to the net, and then improvise a solution that involves playing the puck purposefully between your legs and off your skate back to your stick.
That's a level of instant reaction and creativity that just feels special, one that inspires an involuntary reflex of its own among fans. It creates an immediate impression that Marner is innately different from the might-bes and even the likely-wills, that he possesses skills that can't be taught. It lures us into the realm of hyperbole and hope and franchise-defining dreams where plays like this live.
The goal itself might be a result of Marner's reactions, but what makes it special is a result of ours. We're conditioned as sports fans to believe in the future, and to believe in it all the more the earlier that future was drafted. In recent years, Maple Leafs fans in particular have been invited to value the future over the present, the promise of next season implicit in every sweater sold with a blank back awaiting a name and a number, and in every Saturday night spent counting goals against as chips that will, eventually, be exchanged at the cashier's window for real, tangible hockey assets.
Toronto fans have been sold the idea of a hero with game-changing skill for so long that a visible hint of his impending arrival brings about a Pavlovian response. They want to believe Marner is different, is not Just Another Prospect, so they will: Could Just Another Prospect score that goal?
That might be the pinnacle of Marner's career. It might. Nothing is guaranteed with an 18-year-old OHLer; he may be hype and hope and, eventually, just disappointment. But you can't teach fans to temper their wildest dreams any more than you can teach them to do what Marner did on that Friday night in mid-February. And you shouldn't try to, either, because in this corner of the country, hope is a good thing—perhaps the only good thing.