Days or weeks after he hoisted the Memorial Cup and skated with it at the Colisée in Quebec City last May, the realization hit Michael Dal Colle. Making the New York Islanders out of training camp was a possibility, but it was a big ask at the same time. And if he didn't, then the left-winger from Woodbridge, Ont., was going to be back with the Oshawa Generals. Yeah, he'd get to watch the banner raised in the Gens' home opener, and, yeah, he'd be set to rip through the OHL after scoring 42 goals and 93 points in 56 games in the 2014–15 season. He realized that he'd be going back to Oshawa, but not that Generals team.
"They were going to be rebuilding," Dal Colle says. "It was going to be a different situation."

When Dal Colle didn't make the Islanders out of training camp last fall, some wondered if the Islanders might have missed with his selection fifth overall in the 2014 draft. Most who wondered were professional wonderers, media skeptics and the like. It's hard to figure how anyone can come down so hard on a kid when he isn't deemed ready to play for a NHL playoff team just a couple of months after his 19th birthday, but they did. And those who judged Dal Colle harshly because of that pointed to his early-season performance back in Oshawa as proof of what they would call his crashing stock—only eight goals and 25 points in 30 games.
"It was a tough transition for me, a different role, different expectations as a team," Dal Colle says.
And Dal Colle was also knocked when he was cut at the world junior tryouts for the second time in two years.
What might have been a lost season was more than salvaged when the Kingston Frontenacs traded for Dal Colle on Jan. 1. They paid a hefty price to get him: Robbie Burt, Kingston's first-round draft pick (10th overall) last spring, a second in 2017 (originally owned by Flint), a third in 2018, a second in 2019 and a third in 2022. Kingston GM Doug Gilmour's willingness to send a lot of futures to the Generals for three or four months of Dal Colle is a testament to his continuing value as a player.
"Michael gave us an instant upgrade on offence both five-on-five and on the power play," says Kingston coach Paul McFarland, who was an assistant with the Generals last season. "When the trade was made I figured the best fit for him was playing beside Spencer Watson and it's been that way since day one."
McFarland put Warren Foegele at centre between Watson and Dal Colle, and the latter has responded with the best hockey of his career: 15 goals and 31 points in 14 games since coming over.
"This team reminds me a lot of the Generals last season," Dal Colle says. "We have a big team that plays a heavy game with a lot of structure and a lot of attention to defence. That's how we won in Oshawa last spring."
---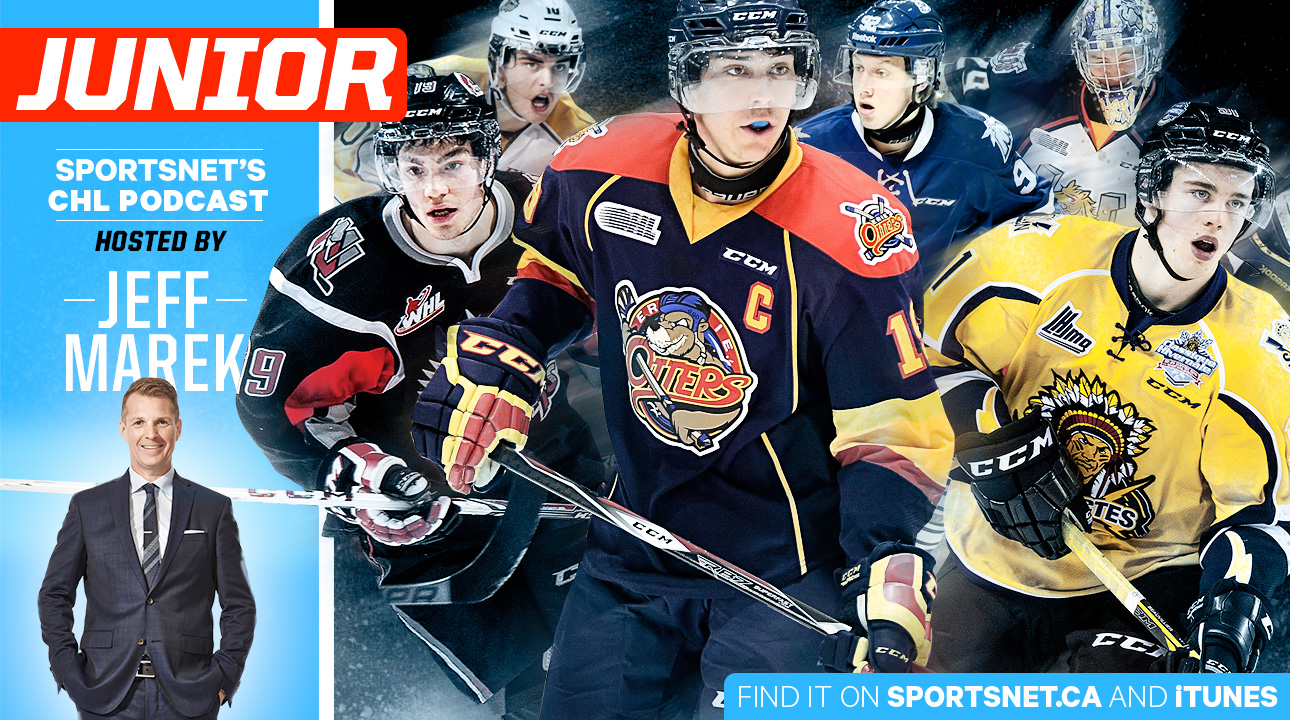 Jeff Marek hosts Sportsnet's CHL podcast, a one-stop shop for news, analysis, opinion and interviews covering the WHL, OHL and QMJHL.
Listen now | iTunes | Podcatchers
---
We'll see how those comparisons hold up after what looks like a brutally tough weekend of games for the Frontenacs—a three-in-three-and-a-half against Windsor, North Bay and Barrie. Their only break is that all three games are at home. There's no knowing how they'll stack up against the Spitfires—Kingston hasn't seen the Western Conference's second-best team this season. As promising as that match-up might be, the crucial one could be against the Colts on Monday afternoon. As it stands right now, Kingston is two points up on the Colts for first place in the Eastern Conference, so the one-seed could be riding on their Sunday tilt.
Dal Colle was the second player from the Memorial Cup–champions acquired by Kingston this season. In November, the Frontenacs plied defenceman Stephen Desrocher away from the Generals for four draft picks and others on a conditional basis.
"We knew we weren't going to have Sam Bennett back [from Calgary] and we didn't know for sure that we would have Lawson Crouse back [from Florida either]," Gilmour says. "But with Crouse back there was a window for us and a chance to win. Some naysayers will say that we paid too much to get [Dal Colle and Desrocher] but this is junior hockey and when you have a chance to win you have to take it. With Dal Colle, now we have three good lines that we can send out there and a young fourth line… an energy line that's really developing… that isn't going to hurt us and keep everybody fresh."
McFarland says that the addition of Dal Colle changed the atmosphere around the Frontenacs before he ever played a game for them. "Everyone in the room knew that Michael makes us a better team," McFarland says. "Against other teams' first lines we're able to send Crouse and [Juho] Lammikko and whichever winger is going for us and we like that. They're hard to play against."
This is demonstrably true, as is the fact that Dal Colle finds them a lot more fun to play with.