With trade deadlines in all three CHL leagues approaching and player movement starting to roll, I thought it'd be a good idea to put together a list of players to keep an eye teams look to shore up for runs at both their league championships and the MasterCard Memorial Cup.
---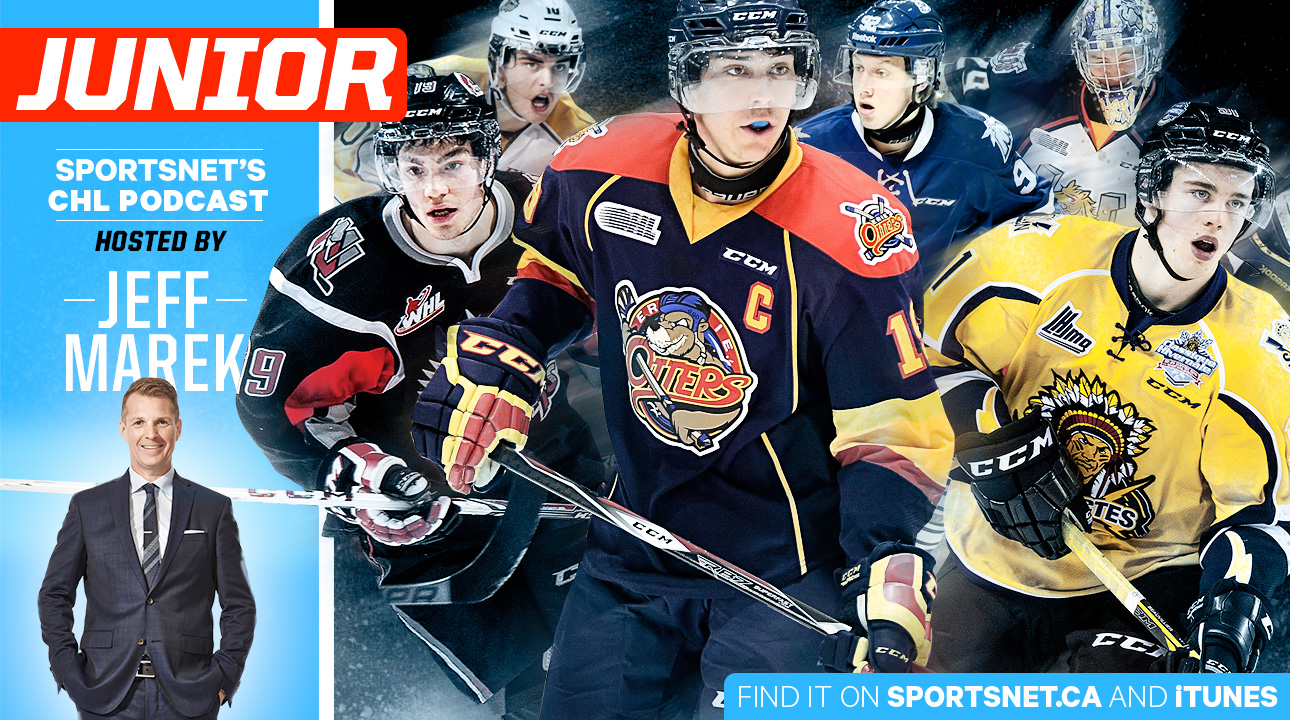 Jeff Marek hosts Sportsnet's weekly CHL podcast, a one-stop shop for news, analysis, opinion and interviews covering the WHL, OHL and QMJHL. Sam Cosentino, the CHL's top analyst/insider, joins Marek each week to discuss the latest from around the league, as do newsmakers from across the CHL. Couple that with NHLers remembering their days in junior hockey and regular updates on the latest risers and fallers for the NHL Draft, and there's really nowhere else fans need to go.
Listen now | iTunes | Podcatchers
---
Let's start in the QMJHL where the prices are high after the Michael Joly trade from Rimouski to Cape Breton. First-round picks are being handed out like Pez candy but in some ways it's still a buyers' market, with only a couple of teams distinguishing themselves as the elite squads with a shot at the President and Memorial Cups.
Timo Meier, F, Halifax Mooseheads The San Jose Sharks first-rounder is probably the most coveted player in the "Q" this deadline season and could be the difference maker. Halifax is rebuilding and this move would speed this up.
Halifax could also move Danny Moynihan, Cavan Fitzgerald and Cody Donaghey.
Nikolas Brouillard, D, Quebec Remparts The most highly coveted defenceman available. Quebec is asking for two first-round picks for him.
Dmytro Timashov F, Quebec Remparts One QMJHL GM told me you might as well treat Timashov as an overager because he isn't coming back to the "Q". Like Brouillard, the Remparts are looking for a pair of firsts.
David Henley, D, Charlottown Islanders As we saw last year on Sportsnet, Henley asked for a trade for family reasons. Recently his father's health has worsened and Henley needs to be close to his family in Val-d'Or. He'll be moved there. This is a tough spot for the Islanders from a hockey perspective, but they're doing the right thing.
Louis-Philip Guindon, G, Rimouski Oceanic The great Rimouski sell-off began with the Joly trade. There will be more.
Simon Bourque, D, Rimouski Oceanic When Charlotteown makes the Henley move they'll need to fill that spot on the back end and Bourque fits. He is available.
Francois Beauchemin, F, Rimouski Oceanic Val-d'Or is interested as they continue to load up.
Gabryel Boudreau, F, Chicoutimi Sagueneens The Sagueneens are clear sellers and the overage scorer could bring back nice pieces.
Filip Pyrochta, D, Victoriaville Tigres Look for him to move to Val-d'Or in exchange for another Czech defenceman, Daniel Krenzelok.
Philippe Cadorette, G, Baie-Comeau Drakkar There is talk the goaltender will come back to the "Q" from Norfolk of the ECHL and with the Drakkar going through a rebuild he would be a great trade piece to move things along.
Sergei Boikov, D, Drummondville Voltigeurs I'm getting mixed messages on Boikov, with some saying he's on the move while others say he isn't going anywhere. Shawinigan has a really young defence and an open import spot since it doesn't appear Alexander Dergachev is going to report so that could make some sense.
WHL

Jake Debrusk, F, Swift Current Broncos The Boston Bruins first-rounder is the most interesting player to watch at the deadline. His name has been attached to Red Deer going back to last season when Brent Sutter tried to get a head start on loading up for the Memorial Cup. Since then there has been interest from Brandon as well, but don't be surprised if the Seattle Thunderbirds get in on the bidding also. He would look great playing with Mathew Barzal and there is interest in Seattle.
Cole Sanford, F, Medicine Hat Tigers After 13 straight years of post-season appearances, it looks as though the streak will come to an end. Moving the overager makes a lot of sense.

Luke Philp, F, Kootenay Ice He's injured and not expected back until sometime in January, but the Ice captain well may be the best overager in the Dub this year. Red Deer has been interested for some time now. It wouldn't surprise me if that's his landing spot.
Dysin Mayo, D, Edmonton Oil Kings There will be teams looking for veteran blueline help (that's just about every team in playoff contention, BTW) and adding the puckmoving, right hand shot Coyotes prospect will be on top of many wish lists. Kelowna makes some sense here considering how young the Rockets blueline is.
Brett Pollock, F, Edmonton Oil Kings If you're a team in the need of goal scoring, the Dallas Stars prospect should be at the top of your list.
Brayden Point, F, Moose Jaw Warriors He's the best player in the CHL and would fetch a bundle, but as long as the Warriors are in the playoff hunt he's unlikely to go anywhere. But his name has been out there.
Joe Hicketts, D, Victoria Royals Tough one. On the one hand there is value in letting Hicketts finish his junior hockey career in Victoria as the face of the franchise, but if the Royals fall out of the race in the West do they make the move considering the king's ransom he could command?
OHL
Michael Dal Colle, F, Oshawa Generals The Islanders first-rounder has been rumoured to be on his way out of Oshawa since the rebuild began and may be the final piece for a team with Memorial Cup aspirations. His name has been attached to OHL heavyweights like London and Kingston. Considering how high prices are right now, he'll bring a fortune back to the Generals.
Dylan Sadowy, F, Saginaw Spirit The Sharks prospect is a sniper who could help a goal-starved playoff team right away. Speculation is the Peterborough Petes are interested.
Brandon Halverson, G, Sault Ste. Marie Greyhounds The New York Rangers prospect is probably the best goaltender available on the market and calls have heated up in the last few weeks. I wonder if he could be this year's deadline version of Jake Paterson.
The Greyhounds could also move veteran D-man Tyler Hore and overage depth-centre Gabe Guertler.
Matt Schmalz, F, Sudbury Wolves The Wolves are looking to unload the hulking forward. He'd be coveted by teams looking for size on the wing.
Stephen Harper, D, Hamilton Bulldogs As Hamilton retools, Harper is an obvious piece to move. I'd imagine just about every contender would try to find a way to bring him in.
Damir Sharipzyanov, D, Owen Sound Attack The big, strong Russian defenceman would help any team looking for a long playoff run. Loved by his teammates, Sharipzyanov could very well end up in London, which does have some recent history with Russian defenders (Nikita Zadorov).
Also, the North Bay Battallion may be big movers here… or not. If you know anything about GM/coach Stan Butler you know not to assume anything. And as much as he has the assets to move there's no guarantee that he will. He has three much desired pieces in forward Mike Amadio, defenceman Kyle Wood and OA goalie Jake Smith. Does he move any of them? Some? None?
Scouts Honour
Alex Debrincat, F, Erie Otters "Has to be one of the more intriguing. Overcoming size critiquing, the pace he continues to score at, creating debate about size, undrafted to OHL. World junior invite playing major junior without big name/past."
Boris Katchouk, F, Sault Ste. Marie Greyhounds "Continues to put up points, not a pure skater but gets job done, plays in hard areas and would be annoying to play against in the playoffs."
Riley Tufte, F, Blaine High School "Left the USHL to return to Minnesota high school. A big man who can skate, with hands. [He can] be a power forward with skill if he chooses. Will he leave you wanting more or show he has what it takes to be top-six forward?"
Alexander Nylander, F, Mississauga Steelheads "Will he be as dynamic as his brother? Family bloodlines, Pat Kane hands and vision."
Michael McLeod, F, Mississauga Steelheads "How much offence will he produce at next level? Brings 200-foot game. Plays hard and competes."
Luke Kunin, F, Wisconsin Bagers "Taking a step from the shadows of Eichel and other players at USNDTP last season, and playing well at Wisconsin this year."
Matthew Tkachuk, F, London Knights "Skating is a knock, not a lot of high pace but has track record of putting up points. Plays hard in areas others avoid. Hard to play against, hard in the playoffs."
Sean Day, D, Mississauga Steelheads "Will he be the story people talk about for figuring it out of never making it?"
Logan Stanley, D, Windsor Spitfires "Massive size, can skate and play mean. Who wouldn't want a big man like that shutting down top lines? How much better can his skating get?"
Max Jones, F, London Knights "Does he have high-end hockey sense or will he be a complimentary power forward?"