One of the issues with traditional scouting methods versus mass data collection is the general tendency to report events with a level of specific interest to teams: tracking only individual players or focusing mainly on scoring chances or plays in specific locales of the ice. While this may suit the purposes of an individual scout or team, it definitely leaves a lot of information on the ice.
In an effort to capture the magnitude of information available and drive home the point that computerized tracking or scouting really is the next wave of data collection, I manually tracked literally every play on the ice of Game 1 of the CHL Canada Russia Series, a 7-3 WHL win, which resulted in 1,358 data points of information.
Specifically, I tracked: pass attempts, both successful and failed; all shot attempts, on net, missed or blocked and registered, scoring chances or not; dump-ins and dump-outs; controlled zone entries; loose-puck recoveries; puck battles won and takeaways. I also recorded whether an event happened in the offensive, neutral or defensive zones, and for all events that involved a source player and recipient I recorded the specific location of each.
Because I made no attempt to time stamp all the events I was tracking, I didn't normalize any of the results I observed for player ice time, but we can definitely infer some interesting information purely from raw event counts.
Brayden Point is really good
The Moose Jaw Warriors' and WHL leading scorer looks like a massive steal for the Tampa Bay Lightning, who picked him 79th overall in 2014. Despite his small frame (5-11, 165 lb.), the team captain and absolutely dominated a game featuring 11 players picked in the first or second rounds of the NHL Draft.
Point also carried two of the least effective skaters in the game on his wings in Colin Shirley and Deven Sideroff, both of the Kamloops Blazers. Shirley ranked 17th in total event participation while Sideroff was 27th. Despite that, Shirley came away as the game's leading scorer with a goal and four points (Point had 1-2-3). Much of the credit for Shirley's production should go to Point.
Ivan Provorov is the future of the Flyers blueline
The Brandon Wheat Kings star was easily the best Russian skater. This makes sense given his lofty draft status last year—seventh overall, the highest Russian and WHL player selected. Provorov ended the game ranked sixth overall in total event participation with 62, and tied for fourth in individual shot attempts with five. He also ranked second on the Russian squad in puck recoveries with 13. There is hope for your blueline, Flyers fans.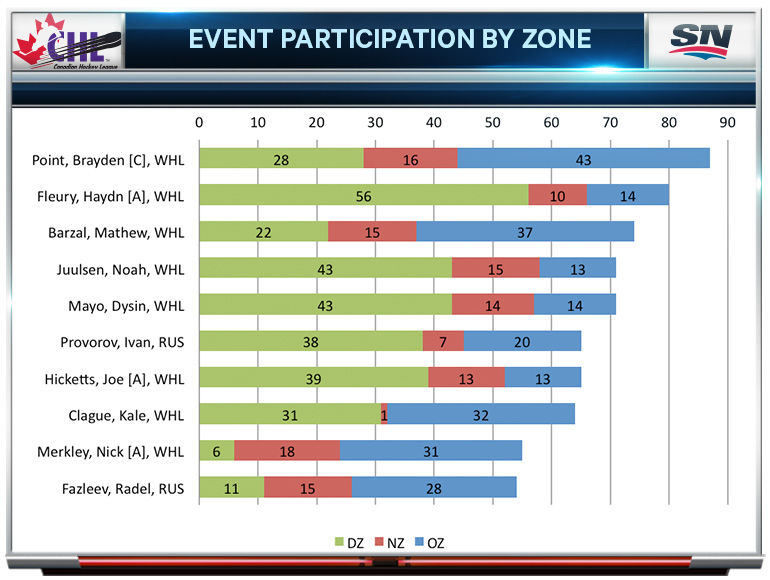 Memories of '72
There was an obvious disparity in style of play for the two sides. The WHL was content to dump pucks in and apply consistent forechecking pressure, bottling the Russians up for long stretches of play in the first half of the game.
The Russians were far more interested in making defensive-zone passes, probing for openings that would allow controlled entries into the offensive zone.
Russia was far more effective at gaining the offensive zone in control of the puck, but could not maintain possession once there. They struggled to string together passes in the OZ at even strength, and the superiority of the WHL side on the cycle was obvious.
The lesson
At the NHL level, a fairly detailed play-by-play log that tracks a variety of game events and ice times allows us to get a relatively good sense of what is happening on the ice without manually tracking every event. In junior, there really isn't a comparable amount of data, which is frustrating given that it would be useful for scouting purposes.
When it comes to shot-attempt differentials or percentages, NHL game sheets typically refer to about 100 events in any given game, or roughly seven percent of the information I obtained through this exercise. The time it takes to gather this much data manually is prohibitive. But it offers the ability to see very specifically how players perform in a variety of aspects and could help project skill sets at later points in their careers. That's extremely useful for both the analytic and scouting communities.
It will be interesting to see what happens as this level of detail is added to scouting in minor leagues in North America and Europe. In the right hands this type of information can be an extremely useful tool for roster construction and tactical planning.