The London Knights are the only team that can keep Mitch Marner from the OHL's top individual honour.
One of the league's quirks is each team gets to put forth a candidate for each honour, and there's always a certain bent appeal to seeing who the basement teams nominate for outstanding player or outstanding defenceman. A team in a down year might have as much chance of having an award winner as Blue Mountain State: The Rise of Thadland has of winning next year's Best Picture Oscar. Both do produce occasional moments of entertainment, in their way.
Marner, the Toronto Maple Leafs' great young hope, is an 18-year-old, and his regular centre, Arizona Coyotes prospect Christian Dvorak, is a graduating 19-year-old who has scored at a slightly higher rate (2.13 points per game to Marner's 2.09). It is within the realm for an OHL team to nominate the older star, however, the Red Tilson Trophy is voted on by the media, giving it a popularity-contest element.
Of the two Knights' stars, Marner has the higher profile, with Dvorak being the Klay Thompson to Marner's Stephen Curry. Ultimately, the Knights want their guy garnering the hardware, and Marner polls much higher.
---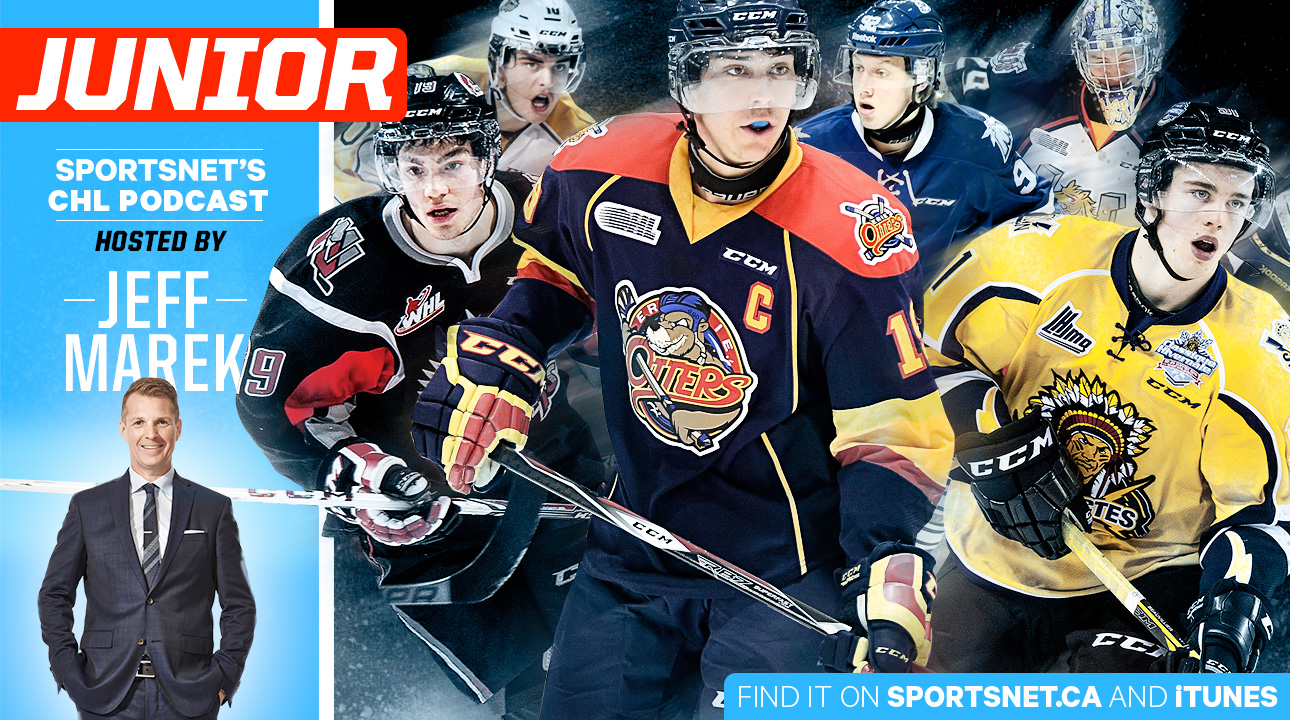 Jeff Marek hosts Sportsnet's weekly CHL podcast, a one-stop shop for news, analysis, opinion and interviews covering the WHL, OHL and QMJHL.
Listen now | iTunes | Podcatchers
---
With a fortnight left in the regular season, the front-runners for the league honours stand as follows:
Red Tilson Trophy (most outstanding player)
Mitch Marner, London Knights
Marner has been amazing in a way that goes beyond his 38 goals and 107 points across 51 games. The Knights can probably solve their Dvorak dilemma by nominating him for most sportsmanlike player. Dvorak's 25 penalty minutes are tied for the fewest among top-10 scorers.
Max Kaminsky Trophy (most outstanding defenceman)
Roland McKeown, Kingston Frontenacs
The Carolina Hurricanes prospect is the No. 1 defenceman on the soon-to-be top playoff seed in the Eastern Conference. McKeown, a two-year captain in K-town, has elevated his game in the past year to become a solid two-way player. Coincidentally, the last time the Frontenacs had the OHL's top defenceman was in 1997-98, also the last year they won a playoff round.
OHL goaltender of the year
Devin Williams, Erie Otters
In a season where there are many good goalies, and Alex Nedeljkovic has not had the best of circumstances to work under, Williams is hard to ignore. The overage is first in goals-against average (2.33) and third in save percentage (.916) whilst backing a league-leading team whose No. 4 through 7 defencemen all began the season shy of the legal voting age. Williams has also put up those numbers in a tough division, and is 7-0 in shootouts, where he's stopped 22-of-25 attempts.
Emms Family Award (rookie of the year)
Cam Dineen, North Bay Battalion
The savvy 17-year-old is threatening to win the defenceman scoring title, with 58 points across 62 games. This has long been a forward award, with NHL No. 1-overall picks Aaron Ekblad (2010-11 Barrie Colts) and Bryan Berard (1994-95 Detroit Jr. Red Wings) being the lone D-men honoured in the past 25 years. Dineen is also second in rookie scoring behind the Mississauga Steelheads' Alexander Nylander, who has 75 points while playing excess minutes.
Leo Lalonde Memorial Trophy (overage player of the year)
Kevin Labanc, Barrie Colts
It should be a repeat for the Colts; current New Jersey Devils rookie Joseph Blandisi captured the award last season. Labanc is the assists and points leader, with a 38-81-119 stat line across 59 games. The San Jose Sharks prospect often seems borderline unstoppable. The Sharks look like they are going to be rewarded for seeing enough two seasons ago to invest a draft choice in Labanc after he played a complementary role for Barrie as a late-blooming 18-year-old newcomer.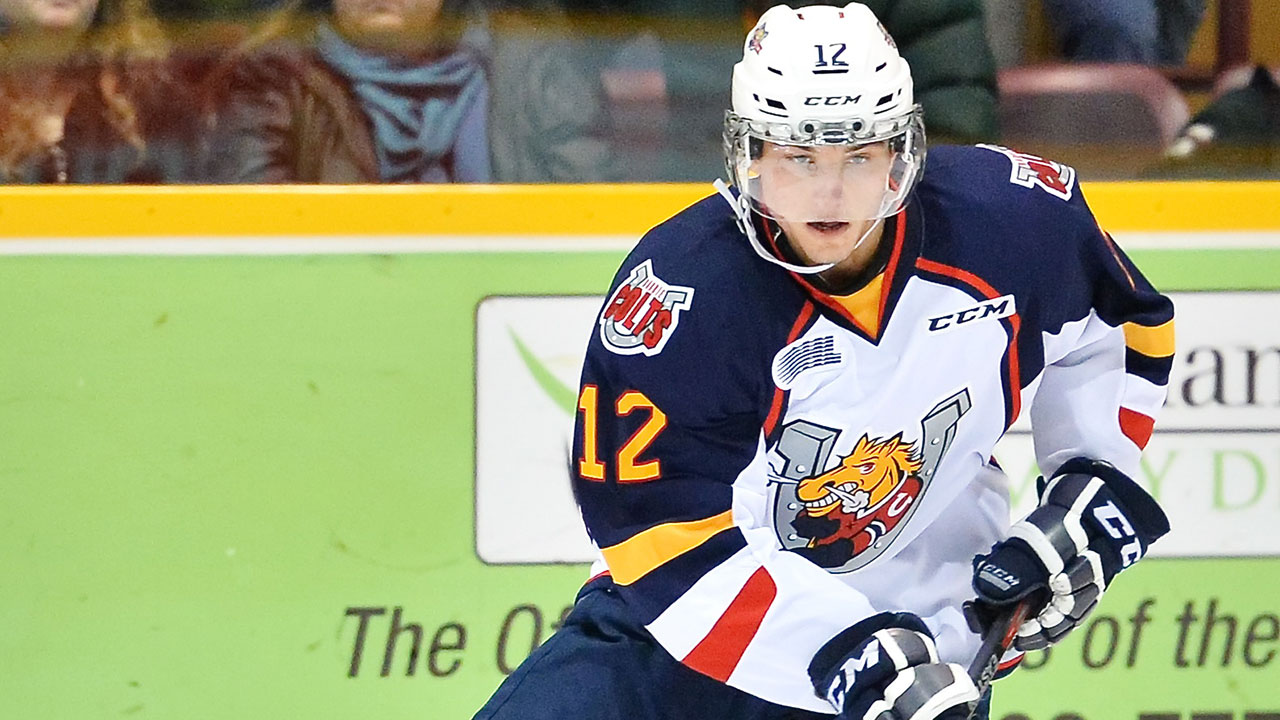 Only Marner averages more primary points per game than Labanc according to Prospect-Stats.com. (Terry Wilson/OHL Images)
Matt Leyden Trophy (coach of the year)
Kris Knoblauch, Erie Otters
There are a couple of overthinking-it candidates, but ultimately it is hard to ignore that Knoblauch kept the post-Connor McDavid Otters near the top of the league. The Otters' grip on first overall has been loosened with the London Knights now only two points back, but they are farther along than many expected. The 37-year-old Knoblauch's focus on preparation is a key element.
In North Bay, Stan Butler has kept the youthful Battalion in the top half of the Eastern Conference. Paul McFarland should draw support due to guiding Kingston to franchise records for points and wins. The Frontenacs' fulfillment of the rebuilding effort Doug Gilmour began in 2011-12 after switching from coach to GM should also get the Hockey Hall of Famer some OHL executive of the year consideration. Those who five years ago felt Gilmour was more suited to GM-ing than coaching now look very prescient.
Spitfires bid going ahead
Imagine the 30-for-30 style voice-over: What if I were to tell you there was a time when the shortlist for the MasterCard Memorial Cup bid was five teams?
As recently as 2008, a full quarter of the league was able to make presentations to host the tournament. In contrast, the Windsor Spitfires, who will make their presentation on April 18, are the only known bidder for the '17 event.
The tournament has evolved—in a good way for the profile of the CHL, mind you—to a point where only a handful of the 60 franchises have home arenas that offer the amenities and seating capacity the event demands. Even the truest purist could always make peace with having a host team that essentially bought their way into the national championship, as long as there was a competitive bidding process. Having only one bidder, this late in the game, seems rather dubious.

Logan Brown is has 66 points in 54 Spitfires games this season. (OHL Images)
The CHL, of course, is reportedly plotting a change for the '18 Cup, the tournament's centennial. That change cannot arrive quickly enough. The idea of a Cup-style play down to determine the fourth team, which has been floated by Brian Thompson of the OHL Fanboys podcast and Kitchener Rangers beat writer Josh Brown, could be junior puck nirvana.
Storm's tragic number: two
The Guelph Storm have a worst-vs.-first home-and-home against Erie this weekend, so they will soon secure the No. 1-overall choice in the OHL priority selection. Two Storm losses and/or Sudbury Wolves victories clinches it.
The consensus best player available, dual-citizen defenceman Bode Wilde, is committed to Harvard and will go to in the U.S. National Team Development Program evaluation camp. Fellow defenceman Ryan Merkley of the Toronto Jr. Canadiens is also being bandied about as a top prospect.
No surprise that our top ranked #OHLDraft eligible prospect, Bode Wilde is included on the list. https://t.co/uLMXy25WNn

— Mark Edwards (@MarkEdwardsHP) March 3, 2016
Beyond this priority selection pickings, the Storm have help on the way from the 1999-birth cohort. On Sunday, Cedric Ralph, who elicited interest from Yale University while leading the Junior A Lindsay Muskies in scoring this season, made his OHL debut.
Newcomer Cedric Ralph chooses Guelph Storm over NCAA https://t.co/YydIEUDhHe pic.twitter.com/F6kBs2dqgx

— Tony Saxon (@SaxonOnTheStorm) March 6, 2016
Nate Schnarr, a 6-foot-3 centre who's been up with Guelph occasionally, had 54 points in 45 regular-season games with Junior B Waterloo Siskins on his way to being named the Greater Ontario League's rookie of the year. Facile comparison, admittedly, but in '09-10 a tall 16-year-old centre played Junior B in that area and had 55 points across 51 games for Kitchener. His name? Mark Scheifele.
Some Flinty toughness
The Flint Firebirds deserved to have a trophy photo after they won against the Saginaw Spirit to win the I-75 Divide Cup. Mathieu Henderson's overtime goal in Flint's 6-5 victory last Wednesday sealed the season series between the state rivals.
ICYMI: The Firebirds defeated @SpiritHockey in OT to capture the I-75 Divide Cup. Recap: https://t.co/HRsuICSjij pic.twitter.com/a4NAMAfIXu

— Flint Firebirds (@FlintFirebirds) March 3, 2016
Any derision about a rebuilding team acting like it won a championship overlooks the obvious. The Firebirds have had a trying season, what with the coach firing, Nedeljkovic and Josh Wesley getting moved to Niagara, and the second coach firing that prompted OHL commissioner David Branch to impose interim management and coaching staff. That's more than most teenagers can handle.
Let them have their joy. Adding an element of soccer's local derbies or college football's rivalry games livens up hockey's too-long regular seasons.
Horses shoot back, don't they?
Barrie has a Flair for the Twitter burn. The GIFs with the Ottawa 67's were traded back and forth faster than goals in the last 10 minutes of a beer league game during Labanc's four-assist effort that helped Barrie beat the 67's 6-2 last Thursday.
@OHLBarrieColts Rematch in Ottawa coming up pic.twitter.com/lx5RhaP5hK

— Ottawa 67's (@Ottawa67sHockey) March 4, 2016
@Ottawa67sHockey You better believe it. I'd imagine this will be your reaction when you see us strolling into town pic.twitter.com/6xuIh6SxCp

— Barrie Colts (@OHLBarrieColts) March 4, 2016
The Colts and 67's meet March 16 in a possible playoff preview. The 67's get a social media star—it's the equivalent to one Schrutebuck, probably—for highlighting that coach-GM Jeff Brown owns what could be the last 1980s-vintage Jofa helmet in existence.
Canadian NHL team prospect of the week
J.J. Piccinich, RW, London Knights
The other Leafs pick in London had a fine week. Piccinich (No. 103 overall in 2014) contributed one point toward all three Knights wins. His two-way effort helped London knock off both of its main rivals, Erie and Kitchener.
New name to know
Kaden Fulcher, G, Hamilton Bulldogs
Hamilton's goalie of the future has essentially become its goalie of the present, as the 17-year-old Fulcher has started five of the past seven games. Possessing prototype NHL goalie size at 6-3 and 186 lb., Fulcher just earned his first three-start week and had a 30-save win against Guelph.
The rookie began the season with a comfy situation with the Sarnia Sting since he's from Brigden, Ont., a farm community near Sarnia, then moved in a deadline deal for overage Charlie Graham. Fulcher's late-September birthday puts him in the 2017 NHL Draft pool and grants him extra development time .