In some puck precincts, the London Knights' once-per-season visit is a Mitchapalooza.
Toronto Maple Leafs sweaters—some with DIY nameplates—dotted the stands in Kingston and Ottawa for the Knights' visit last weekend. Mitchell Marner is already drafted by the Leafs, so his visits are not as much of a licence for a sellout as Connor McDavid was in 2015. Leaf Nation, though, must check in on last summer's No. 4-overall pick, who still has cheeks as smooth as his game and is still a wispy wunderkind at a listed 5-foot-11 and 164 lb. Marner is, however, up to 101 points in 48 games.
"It's nice having support from Leafs fans; it's pretty neat to see that support in the crowd," the 18-year-old Marner said. "Last year you had scouts watching you; this year it is about fans. It's a pretty big relief hearing them cheer."
Ottawa had a Saturday matinee crowd of 5,418, nearly 2,000 more than its season average. Friday's London-Kingston game was synced with a Military Night Promotion. The turnout of 5,459 was a third above the Fronts' average, and included a section rocking Leafs blue.
London has had more than its share of star power since Dale Hunter and Mark Hunter, the Leafs' director of player personnel, took over the Knights in 2000. But the Marner following is unmatched, because Toronto.
"It's definitely more, with the media and stuff," Dale Hunter said. "But I've been lucky enough to have some great players come through here and hopefully I'll be lucky enough to have a few more."
Marner is the highest Leafs pick since a certain No. 3-overall choice a quarter-century ago—Scott Thornton in 1989, not Scott Niedermayer in 1991. For eternally optimistic Leafs fans, does making Marner a portent of hope also leave space for having an open mind about more OHL time, though?
Patience is a key, and smallish skilled players find a way. Does it matter to the Calgary Flames that Johnny Gaudreau arrived at age 21?
Marner just played an entire powerplay after taking a full shift that led to the penalty. Hilarious. Dvorak scores.

— Scott Wheeler (@scottcwheeler) February 27, 2016
The Knights have a line that the OHL sees very, very rarely. Christian Dvorak and Matthew Tkachuk each add size and attacking-zone acuity. Marner is more riveting than a season ago with his passing. During a four-assist game against Ottawa, his best pass was one down the middle of the neutral zone right by three 67's into a space filled by a speeding Dvorak, who was denied on a breakaway. What he can create on those extended shifts should not get short shrift, since it is such a treat.
---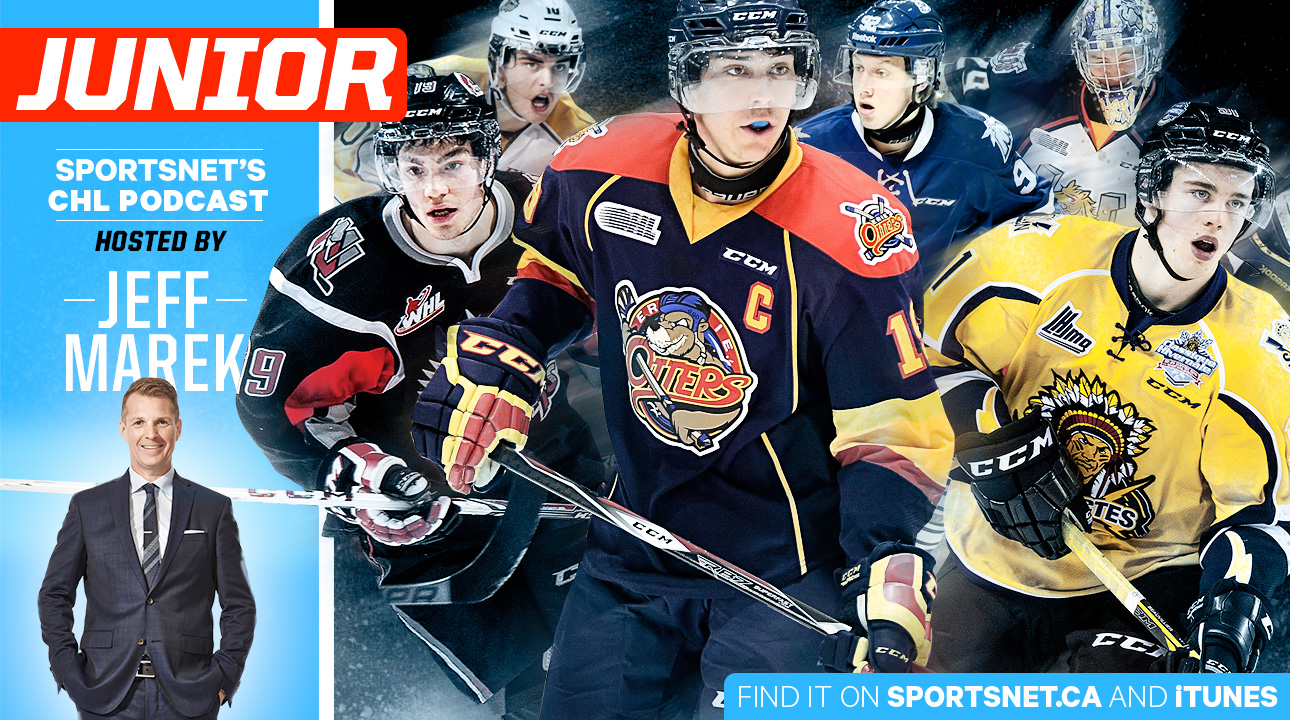 Jeff Marek hosts Sportsnet's weekly CHL podcast. The Feb. 24 edition includes an interview with Mitch Marner.
Listen now | iTunes | Podcatchers
---
A quick Tye breaker
A tip of the trivia-nerd hat thanks to the Saginaw Spirit's Tye Felhaber, a 17-year-old left wing. Felhaber set an unofficial OHL record for fastest 3-on-3 overtime goal after just 12 seconds of bonus hockey in the Spirit's 2-1 win against the Hamilton Bulldogs on Sunday.
THAT WAS OVER QUICK: Saginaw's OTW over Hamilton today marks the earliest OT victory in OHL of 2015-16…0:12 into overtime. #OHLfacts

— Brian Taylor (@OHLChampion2014) February 29, 2016
Seventy-five of 114 regulation ties—65.8 percent—have been solved in OT. Last season, with the 4-on-4 foramt, 50 of 110 deadlocks, or 45.5%, were decided by an actual goal.
The OHL was just following the NHL, but the change had been overdue since Nov. 11, 2010. Due to coincidental minors, Peterborough and Sault Ste. Marie started overtime playing 3-on-3 that night. The Greyhounds' Brett Thompson scored after 30 seconds.
Rangers lose big blueline presence
The Kitchener Rangers, who are third overall but in a No. 4 playoff position, will not have first-pairing 19-year-old defenceman Frank Hora for four to six weeks due to finger surgery. Hora was playing with an initial injury to the digit. His timeline for a return could extend into Round 2 of the playoffs.
Rangers beat Guelph, go 7-1 vs Storm this season but lose d-man Frank Hora to hand injury. https://t.co/iYQJwGhiQg pic.twitter.com/IlK1jTyauW

— Josh Brown (@BrownRecord) February 27, 2016
By my count, the #OHLRangers have lost 191 man games to injury/suspension this year. That includes 11 for Frank Hora, done for season.

— Mike Farwell (@farwell_ohl) February 27, 2016
The Rangers could reach 100 points even though the "D" pairings have been a moving target. First-year head coach Mike Van Ryn and assistant coach Jay McKee, both former NHL rearguards, have done well to patch so many holes.
Party like it's 1995
The developed world was using dial-up modems in March 1995, the last time the Kingston Frontenacs won a Eastern Division banner. Only one of the Fronts' overagers, goalie Lucas Peressini, was even alive during that month.
ICYMI: @KingstonFronts are #OHL East Division Champs with 1st title in over 20 years. READ: https://t.co/cMZ2DE5KuX pic.twitter.com/RW0eZwAMDE

— OntarioHockeyLeague (@OHLHockey) February 28, 2016
So proud of my hubby! They clinched the division title! First time since 95! Way to work boys! #ontothenextone #gofrontsgo #ohl #hockeywife

— Kelly McFarland (@KellyMcFarley) February 28, 2016
Officially, Kingston clinched on Saturday after Peterborough lost to Sudbury. Coach Paul McFarland's Fronts surely have the bar set on more than regular-season success.
Canadian NHL team prospect of the week
Brendan Lemieux, LW, Windsor Spitfires
Lemieux increased his multi-point streak to four games and helped the young Spitfires extend their win streak to five. The Winnipeg Jets prospect (originally taken No. 31 overall in 2014 by Buffalo, acquired in the Evander Kane trade) tallied six points (1G-5A, plus-3, nine direct shots) over the run of three Windsor wins, including a victory against the Barrie Colts, his old team.
Lemieux helped his centre, projected NHL first-rounder Logan Brown, get his first OHL hat trick in Sunday's 4-3 win at Sault Ste. Marie. Brown also has 12 points across his last five games.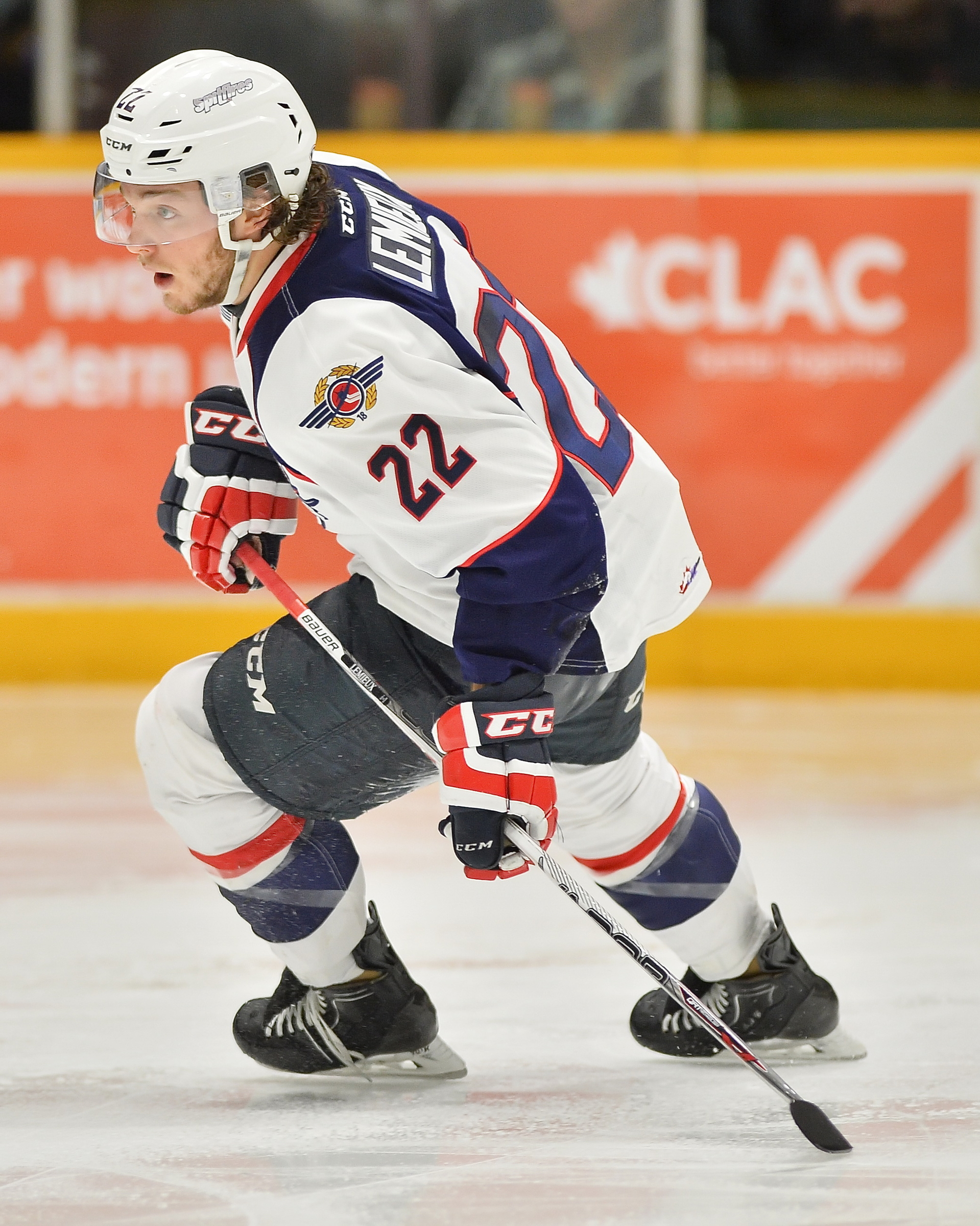 Lemieux has 44 points in 29 games since joining the Spitfires. (Terry Wilson/OHL Images)
New name to know
Sean Durzi, D/RW, Owen Sound Attack
Durzi, who has a late-1998 birthdate and isn't NHL draft-eligible until 2017, is a defenceman by trade. He has not looked out of place winging it for the Attack when needed.
The smooth-skating 5-foot-11, 185-pound rookie contributed a goal last Friday when the Attack filleted the Mississauga Steelheads 10-2, much to the delight of his rooting section of classmates and teachers from nearby St. Francis Xavier Secondary School. Adding to the synergy, Durzi's former history teacher, Jason Cormier, was recognized by the Steelheads during an in-game promotion.
Congratulations to Mr.Cormier of #Xavier, tonight's @TeachersLifeCAN #HardworkingTeacher! #TLHT pic.twitter.com/I496Qyl54w

— OHLSteelheads (@OHLSteelheads) February 27, 2016
Durzi has five goals and 10 points in 37 games. Before committing to the Attack, the Toronto native helped his rugby team reach the Ontario high school championship last spring.