Fifteen per cent of the Canadian Hockey League—nine of 60 teams—has been razed, renamed and/or relocated since 2011.
Point being, that churn happens, yet the Belleville Bulls becoming the OHL's ghost team is a gut punch, cubed. The one-year anniversary of the Bulls' sale fell on Saturday. On Sunday, the Hamilton Bulldogs unveiled new black and gold sweaters for next season, whilst besting the Niagara IceDogs 4–1 and keeping their playoff hopes alive in the Eastern Conference.
Bruiser unveiling your Hamilton Bulldogs' new look for the 2016-2017 season! #BlackandGoldUnite pic.twitter.com/fmXAGlOqSE

— Hamilton Bulldogs (@BulldogsOHL) March 13, 2016
The Bulls' identity remains vital. The Hamilton sweater revealing, not for nothing, came days after an OHL diehard, Jason Voll, snagged the last game-worn from the Bulls' team shop. It was a white David Tomasek No. 28.
The Bulldogs' sweater, to be fair, looks so Hamilton with the hit-you-over-the-head CFL cross-over. Only Hamilton would so ironically use a Pittsburgh Penguins template. At least twice, Hamilton has been used as a relocation threat during a Penguins ownership crisis.
At most any Bulldogs home game, fans rocking Belleville golds dot the cavernous lower bowl at FirstOntario Centre. One could read a political statement into those hockey 'fan-shion' statements.
Business is business, and Belleville's city council was pragmatic enough to prioritize line items, such as the ever-rising costs of emergency services in a municipality which has 92,000 people spread across a 200-square-km area. Yet as play-by-play voice and city councillor Jack Miller, as big a Bulls icon as P.K. Subban, noted, the OHL turned its back on a community partner and building block that had been part of the league since 1981-82. That is not part of the pact.
Miller's Wednesday sports comment https://t.co/i0fxK2hbc8

— Quinte News (@quintenews) March 9, 2016
The Bulls of yore were seemingly everyone's second-favourite OHL team. Between playing in the OHL's second-smallest market and rocking timeless tri-colour uniforms on one of the two Olympic-size ice sheets in major junior, the Bulls' existence evoked a bygone era. People get the dollars and cents elements that led to all this, but when does sports fandom ever start from rationality?
The @TheIntell gets a team nomination for our spot news coverage of the Belleville Bulls leaving town last year. pic.twitter.com/NvunPhmBMU

— Emily Mountney (@MMountney1) March 9, 2016
As the anniversary of the Belleville Bulls sale nears, @FootyOnTheAir checks in with former captain Adam Bignell https://t.co/URWUWx66zT

— Around The OHL (@AroundTheOHL) March 11, 2016
How the Belleville Bulls shaped who I am today (and why I'll never go to a Hamilton Bulldogs game) https://t.co/0uFIrIMdaZ

— Sarah Nolan (@sarahmarienolan) March 12, 2016
Every plot needs a villain, but one doesn't exist here. It is even harder to go on with no cue about when and where to release the rage valve. Gord Simmonds, presently a Bulldogs minority owner, did what he had to do about the Bulls' balance-sheet stasis. Commissioner David Branch's first duty to owners is to help them find either a buyer and/or better market when needed.
The Flint Firebirds fiasco looks like a swing and a whiff at the moment, yet Branch and the OHL have a very good on-base percentage. The Erie Otters are stable. The Sarnia Sting had a sweet pivot to Derian Hatcher and David Legwand in 2015. The North Bay Battalion (née Brampton) are maintaining strong Year 3 attendance while playing in a city of 56,000 whose workforce has been hit hard in the past 12 months.
How the OHL restores the Belleville Bulls, period, full stop, will speak loudly about what the league really embodies and espouses. It should be, if it's not already, a priority to find some long-term strategic plan for Belleville that works for players, owners and taxpayers, who ideally should not be co-opted into supporting a team that they chose not to support by voting with their feet as sports consumers. That solution cannot be something that would inevitably lead to a boondoggle like one unfolding in Brampton with the minor-league team that replaced the Battalion.
#Brampton businesses questioning wisdom of city councillors over $1.5M Beast bailout, says board of trade CEOhttps://t.co/8JdWf1xn9m

— Brampton Guardian (@BmptGuardian) March 12, 2016
The only Belleville blue-sky fantasy one can conjure up involves approaching an NHL franchise about expanding its sports properties to get into a 'C' market. And heat needs to keep being applied about how Belleville was left cold.
---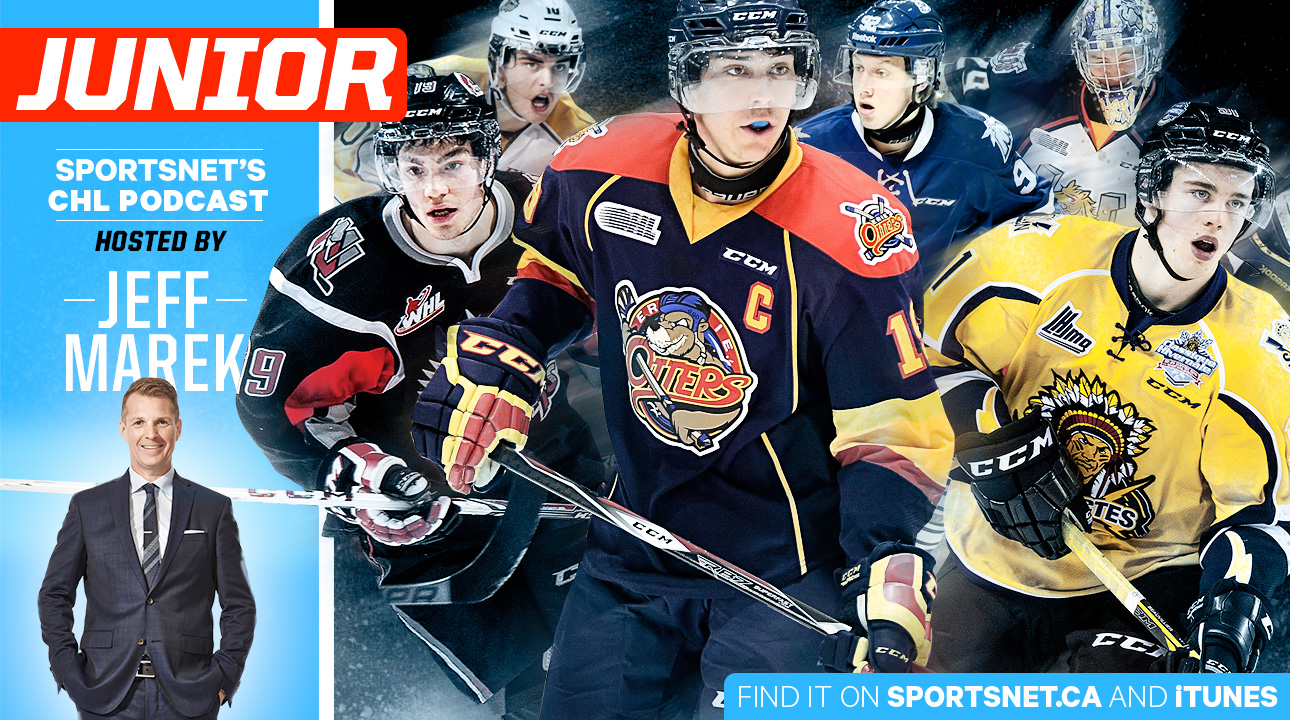 Jeff Marek hosts Sportsnet's weekly CHL podcast, a one-stop shop for news, analysis, opinion and interviews covering the WHL, OHL and QMJHL.
Listen now | iTunes | Podcatchers
---
Erie, London in dead heat
It is semi-wild that coach Kris Knoblauch's and captain Dylan Strome's Otters are the first OHL team to post a 50-win seasons thrice in a row, yet are level with the London Knights for home-ice advantage throughout playoffs. The monsters of the Midwest each have 101 points through 65 'rounds.'
Erie and London's Friday/Saturday home-and-home, which begins in Budweiser Gardens, will determine the No. 1 and 3 Western Conference seeds. The Mitch Marner-led Knights' docket starts on the road against 18th-overall Flint. The Otters' lead-in is against the Owen Sound Attack on Thursday. Knoblauch's Otters are 4-1 against Ryan McGill's Attack in what ought to be the Cranbrook Derby—each coach's CV includes a WHL title with the Kootenay Ice.
The Otters, of course, have yet to win the OHL title during this era. The other two CHL franchises that recently had at least 50 wins three successive seasons, Gerard Gallant's 2009-10 through '11-12 Saint John Sea Dogs and the '11-12 to '13-14 Edmonton Oil Kings teams that Curtis Lazar came of age of with, each won their league twice and added a MasterCard Memorial Cup title.
North stars (or, stat nerd alert!)
If there was an award recognizing being a 40-goal scorer without the 'cluster effect' of being part of a loaded lineup, North Bay Battalion centre Mike Amadio (Los Angeles Kings, No. 90 overall, 2014) and Sault Ste. Marie Greyhounds right winger Zachary Senyshyn (Boston Bruins, No. 15, 2015) would be running 1–2 in the voting.

Amadio is fourth in the league in goals per game at .738. (Terry Wilson/OHL Images)
Each has help from a supporting cast that lacks a Top 20 scorer. Amadio, whom the Kings inked to an entry-level contract on Sunday, has a Battalion-record 48 goals, fourth in the OHL. The 19-year-old has three games left to be the first 50-goal scorer coached by Stan Butler since Darryl LaFrance scored 55 times for the 1994-95 Oshawa Generals. Beyond Amadio and his 92 points (eighth in scoring), the next Battalion on the points leaderboard is D-man Cam Dineen at 40th.
Senyshyn, whose first step is catching up to both his 6-2 frame and straight-line speed in good time, is tied for fifth with 43 goals. Greyhounds scoring leader Blake Speers (New Jersey Devils, No. 67, 2015) is 26th in scoring. Speers is also a personal link between the 'north stars,' since he and Amadio were close childhood friends in the Soo.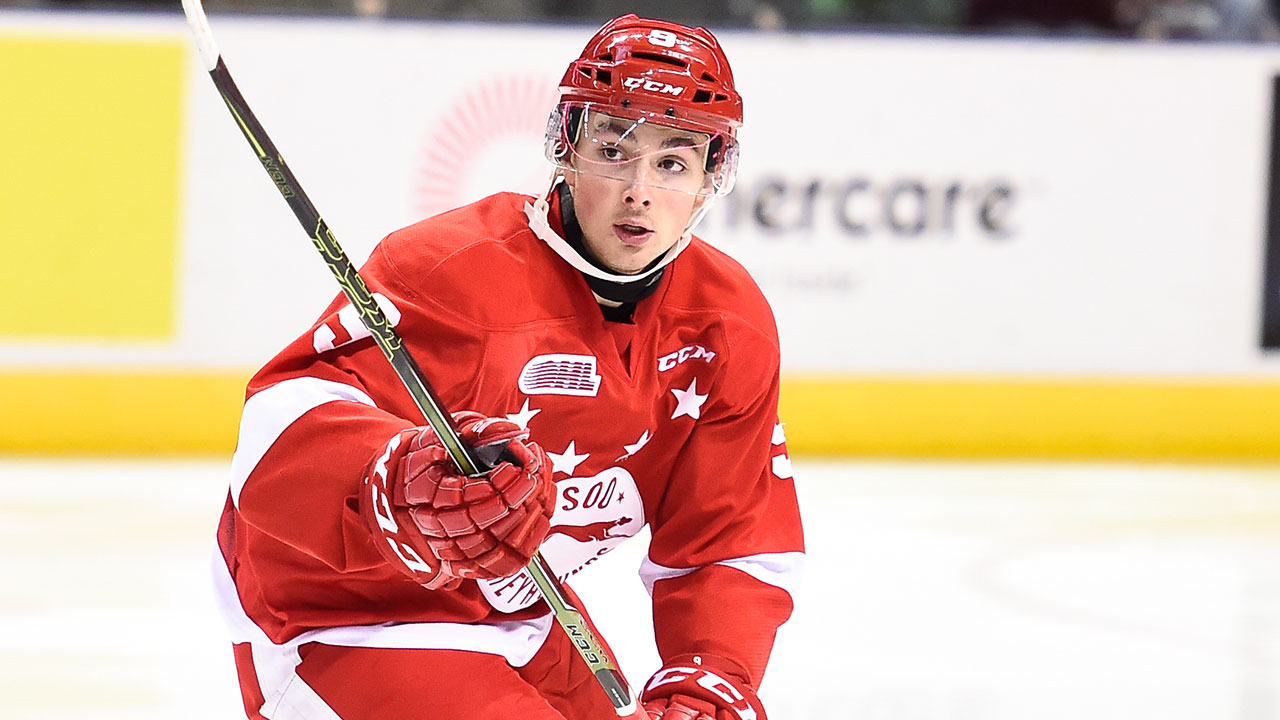 Senyshyn's averages 3.9 shots per game, 14th in the OHL.(Aaron Bell/OHL Images)
Canadian NHL team prospect of the week
Nikita Korostelev, RW, Sarnia Sting
Korostelev (Toronto Maple Leafs, seventh round, No. 185 overall, 2015) hit the 20-goal milestone and notched three points (1G-2A, +1) in two Sting wins. The Muscovite who cheekily sports a traditional goalie number, 35, has 20 goals and 37 points across 49 games. Sarnia should clinch the West Division banner and No. 2 playoff seed against cellar-dwelling Guelph on Tuesday.
New name to know
Jack Studnicka, C, Oshawa Generals
The 6-foot, 163-lb. true freshman contributed a third-period primary assist toward the Generals' vital 4-3 shootout win against rival Peterborough last Sunday. Studnicka, 17, is a two-way forward much like his brother Sam Studnicka, the Sarnia Sting's overage captain. Although the eighth-place Generals have a lot of D-zone time on the reg, Studnicka has only been a minus player in three of 20 games since mid-January.