The point totals might tell the whole story about how prolific Michael Dal Colle and Spencer Watson have been since Kingston Frontenacs GM Doug Gilmour loaded up with that trade on New Year's Day.
Dal Colle, the New York Islanders' 2014 first-rounder (fifth overall), has 15 goals and 31 points across 14 games since moving east from the rebuilding Oshawa Generals, including points on seven of nine Kingston goals in two wins last weekend. The 19-year-old had eight goals and 25 points in 30 games for the rebuilding Gens. Watson, the diminutive right winger whom the Los Angeles Kings threw a seventh-round dart at with the No. 209 pick in '14, had 17 goals and 34 points before Dal Colle arrived. Watson, also 19, has 11 goals and 27 assists in those 14 games, and has had seven multi-point outings over that stretch—one fewer than he did in his first 34 contests.
The dangerous shot column—a new thing in the OHL that the QMJHL has compiled for years—might be more telling. In Oshawa, Dal Colle was credited with 2.67 dangerous shots per game, but that has jumped to 3.50 a night in Kingston. Watson is getting his chances at roughly the same rate, even with Dal Colle firing away. He had 3.32 per game before the deal and is averaging 3.14 since.
The Frontenacs' situation is an OHL equivalent of the 2015 Toronto Blue Jays or the current Toronto Raptors. Merely winning one playoff series would exorcise demons, since the Fronts haven't won a round in 18 years. A longer run—like a trip to the OHL final—is necessary for the transformation to feel truly satisfactory.
The fact that Kingston has only 20 wins in regulation and a league-high 12 in overtime and shootouts is not necessarily a post-season red flag. The extra open ice during 3-on-3 does take two of the four Ds of playoff success, depth and defence, out of the equation somewhat. Kingston's blueline with Roland McKeown and Stephen Desrocher and goaltending with overage Lucas Peressini helps it hang around most every night. Peressini checks off the third D, dominant netminding.
As for the fourth D, discipline? Kingston is the league's second-most penalized team. But it boasts the OHL's best penalty kill at , and is even better away from the Rogers K-Rock Centre (85.5 percent).
---

Download it now: iOS | Android | Windows | Special Offer
Looking for a copy near you? Click here.
---
Tkachuk sticks with it
A reprieve from a suspension apparently spurred soon-to-be NHL first-rounder Matthew Tkachuk on to a big weekend. Tkachuk went off for six points in two London Knights wins, including his second hat trick of the season on Sunday. That was a nice turnaround from getting a spearing major/game misconduct at the end of a road loss against the Niagara IceDogs.
Before the outburst, Tkachuk was in a rut with only two goals in 10 games. The IceDogs forward who got the business end of Tkachuk's blade, overage Jordan Maletta, played in both of Niagara's next two games.
The game misconduct was apparently punishment enough in the OHL's view.
Spitfires make gains in goal
Since there's a problematic relationship between junior teams' main priority—winning—and goalies' long-term development, it is refreshing to see the Windsor Spitfires gain from rolling with 16-year-old Michael DiPietro and 18-year-old free agent addition Mario Culina.
A goalie DiPietro's age needs a 25- to 30-game exposure against quality competition more than he does playing understudy and getting a certificate in advanced bench-door opening. Canadian junior hockey's conveyor belt also doesn't keep goalies, who develop later than forwards and defencemen, in the system long enough.
---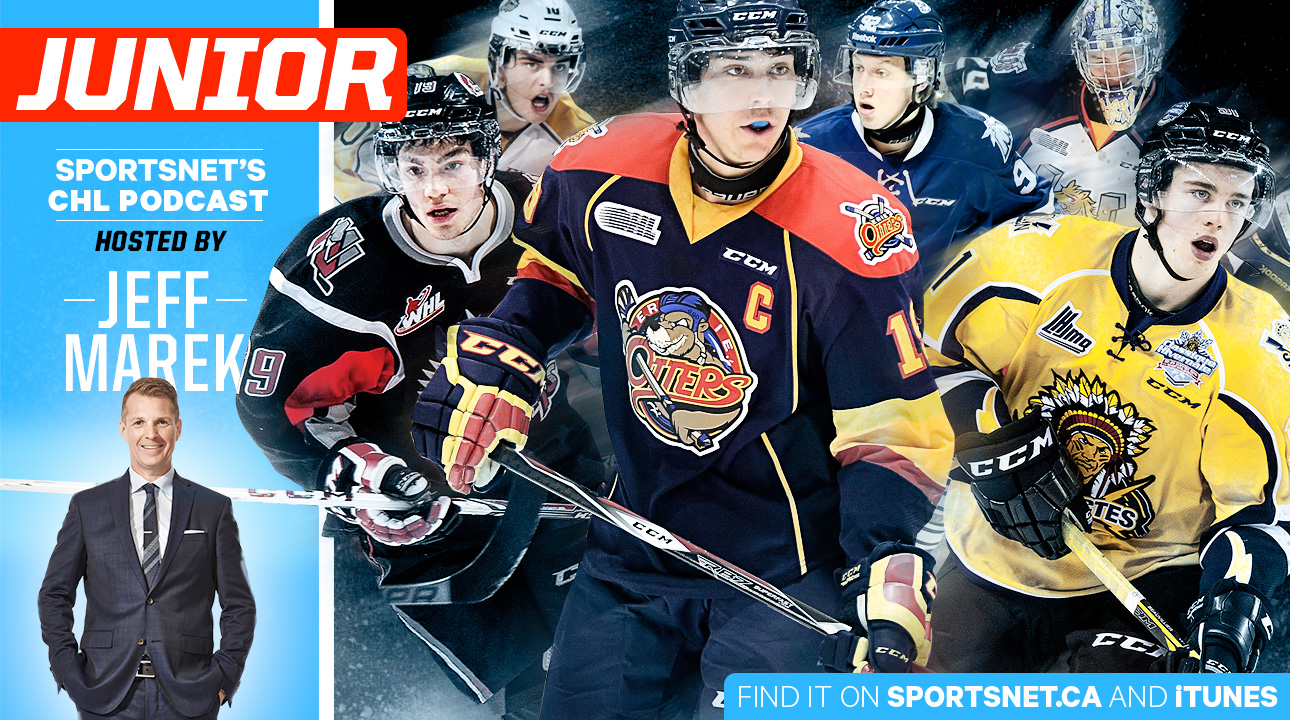 Jeff Marek hosts Sportsnet's CHL podcast, a one-stop shop for news, analysis, opinion and interviews covering the WHL, OHL and QMJHL.
Listen now | iTunes | Podcatchers
---
The 6-foot DiPietro has played 21 games and is second in average (2.36) and fourth in save percentage (.918). He is on track to be the first rookie goalie (applying the OHL's definition of rookie retroactively) to finish with a top-10 GAA since 17-year-old Patrick Killeen had a 2.76/.908 stat line for the 2007-08 Brampton Battalion. (Alex Nedeljkovic was four games' and change away from qualifying for the GAA title when he had a 2.28/.923 line for the 2012-13 Plymouth Whalers.)
Culina, formerly of the Northern Ontario League's Soo Thunderbirds, has yet to allow more than three goals in a start, even when stepping into the breach against scoring juggernauts Barrie and London. How far the Spitfires, who will be either the No. 2 or No. 5 playoff seed in the Western Conference, go with young goaltending will be a story line come March.
'U' have to be kidding
The Sudbury Wolves' annual visit to Saginaw included an all-time graphics fail.
If nothing else, the last season and half has probably helped thicken the skin of Wolves fans. Sudbury got the last laugh with a 6-3 win. Each player with an 'A' on his sweater—Anaheim Ducks-drafted blueliner Kyle Capobianco, centre Michael Pezzetta and right winger Matt Schmalz—got in on the scoring. You could look it up.
Canadian NHL team prospect of the week
Mitchell Marner, C/RW, London Knights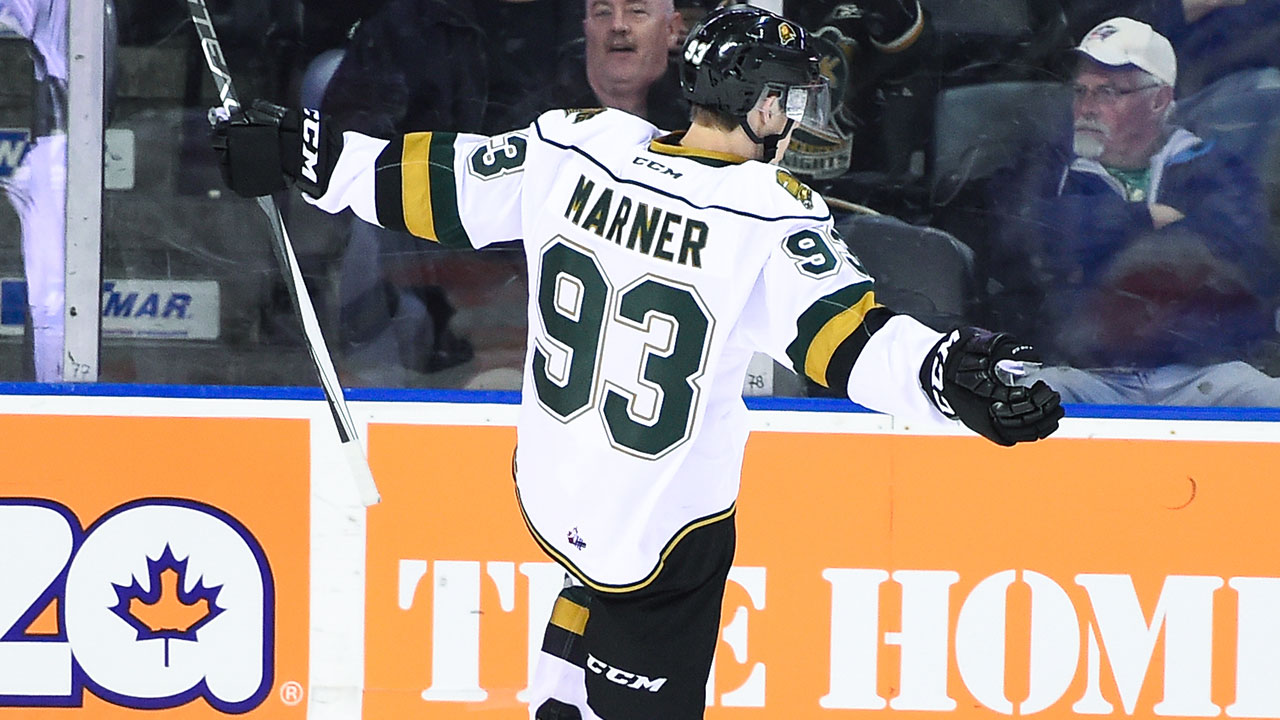 (Aaron Bell/OHL Images)
No avoiding the obvious. The Toronto Maple Leafs first-rounder (fourth overall) had eight points (1G-7A) over three Knights games in spite of having a skate problem cut into his minutes during a game against the Niagara IceDogs. London stacked its high-end forwards on one line—Marner, centre Christian Dvorak and Tkachuk—to earn four of six possible points from the week.
New name to know
Connor Hall, D, Kitchener Rangers
A head-checking suspension and broken jaw cost the 17-year-old Hall much of the first half. The 6-foot-2, 192-lb. defender has stepped up since returning three weeks ago, manning Kitchener's first pairing alongside 19-year-old Frank Hora. Hall has helped the Rangers manage while missing injured elders Brian Brosnan and Dmitrii Sergeev. That has probably also earned the Cambridge, Ont., native some NHL draft notice.