Evan Cormier nicely illustrated why the last leg of a road trip is a good time to get a read on a player, especially a goalie.
Sunday games can often seem like a setup to fail for road-weary visiting teams. Sunday, though, the Saginaw Spirit's Cormier was dialed in with a 29-save effort to beat the Ottawa 67's 3-1—a nice reversal for a goalie who had allowed six goals in his previous start. While the 18-year-old draft-eligible isn't headed to Vancouver for Thursday's BMO Top Prospects Game, the turnaround showed why Cormier is on the radar of NHL teams, as well as Hockey Canada for the 2017 World Junior Championship.
"It was important to be extra focused and extra prepared—I couldn't leave the weekend with three losses," said Cormier, who is seventh among North American goalies in NHL Central Scouting's midterm rankings. "In a situation like that I am aware the coaches are expecting a lot out of me. I try to remember what my best games were like and repeat that.
"I had a slow start this year and just need to work harder in practice and keep playing my game. I feel like I am doing that."
---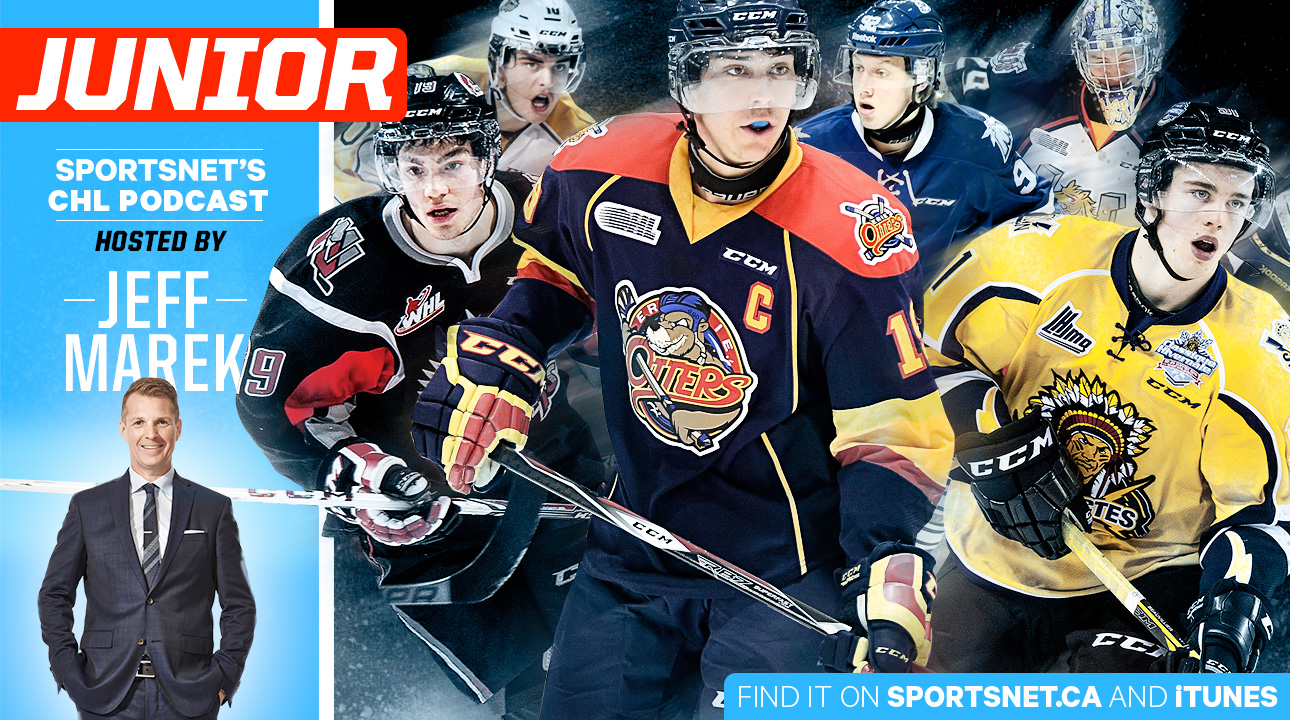 Jeff Marek hosts Sportsnet's weekly CHL podcast, a one-stop shop for news, analysis, opinion and interviews covering the WHL, OHL and QMJHL.
Listen now | iTunes | Podcatchers
---
Hockey Canada goaltending consultant Fred Brathwaite, who is based in Ottawa, noted it was important to see Cormier help his team dig in for two unexpected points. "For me, it's great to see him have a bounce-back game like that because we have a lot of short-term tournaments where you need a short memory," Brathwaite said. "To see him battle through that and get the win in the last game of a long road trip is important."
Cormier, who covers the net amply at 6-foot-3 and 200 lb., has faced more shots (1,201) than any non-overage OHL goalie. The alumnus of Canada's under-18 team should get a good audition in front of NHL talent appraisers come spring. The eighth-place Spirit will likely get a pick-your-poison playoff matchup against either Erie, London or Kitchener.
The Bowmanville, Ont., native's father, Adrian, and older brother, Aaron, were also netminders. "I didn't get my first set of my own gear until minor bantam, maybe major peewee," Cormier said. "My dad gives me all the advice all he can. They're always a big help."
Knights, Sting spill some bad blood
The London Knights and Sarnia Sting are likely to be short-benched this weekend after a line brawl with 1:21 left in the Knights' 4-1 win on Sunday. London centre Owen MacDonald was the inciter, receiving a match penalty for boarding and a double game misconduct for leaving the bench and being involved in the second fight after play was already stopped due to a fight. All three infractions can incur supplemental discipline under OHL rules. The fighting major MacDonald received almost seemed redundant.
London star Max Jones, right wing Aaron Berisha and left wing Chad Heffernan were also assessed game misconducts that can invoke automatic supplemental discipline, as were the Sarnia trio of Philadelphia Flyers first-rounder Travis Konency and 19-year-old defencemen Zachary Core and Kevin Spinozzi.
Officials got in quickly when MacDonald squared off with Konency.
The teams were playing for the second time in five days, and there was likely something simmering after Sarnia left wing Pavel Zacha and London defenceman Brandon Crawley briefly fought in the Wednesday game.
London has division leaders Erie and Windsor on tap this weekend. The Sting are also three games away from a showdown with Windsor, who they trail by nine points for that coveted Western Conference No. 2 playoff seed. The Sting are 5-3-1-0 since the Konecny deal, although the future Flyer has 15 points (7G-8A).
Spitfires supporters step up
It shouldn't quench the moral outrage that people in Flint, Mich., were allowed to drink bad water, but it's hard not to be touched at how Windsor Spitfires fans rallied in a time of need. Over the weekend, Spits fans donated some 65,000 bottles of water to help Flint deal with the crisis.
Firebirds president Costa Papista told the Windsor Star the team is taking extra precautions and are usually only using bottled water for the home team, visiting team or Gatorade mix. Whatever it is, it's all bottled.
Flint's lack of water security was, in fact, in the news before the sale of the Plymouth Whalers was announced in January 2015. Pointing that out isn't to say the sale and move should have been blocked, but it's fair to wonder whether that issue was on the OHL's radar before the approval.
Canadian NHL team prospect of the week
Rasmus Andersson, D, Barrie Colts
The signed Flames second-rounder had five assists over three contests, giving him 15 in 11 games for the month and a one-point lead in the defenceman scoring race over North Bay Battalion wunderkind Cam Dineen. Of course, being on a power play with Kevin Labanc is a license to accumulate apples, but Andersson's prescence cannot be discounted.
New name to know
Jason Robertson, LW, Kingston Frontenacs
Robertson—a 6-foot-2, 182-lb., left wing—has 27 points in 39 games, tied for the most among any 1999-born player. Robertson's production might dip now that the Eastern Conference-leading Frontenacs—Was that as weird to read as it was to type?—have two veteran-laden top lines. The Northville, Mich., native has only one fewer even-strength point than Florida Panthers-draft centre Juho Lammikko, who helped Finland win the WJC gold. Robertson had Kingston's shootout winner on Sunday.