Logan Stanley is bent on being more than a big body.
The Windsor Spitfires, who aspire to host the 2017 MasterCard Memorial Cup, are midway through Year 2 of developing the 6-foot-7, 220-lb. Stanley into a shutdown defenceman with a modicum of modern-game finesse. Of course, Stanley is also aware that becoming a serious NHL prospect means showing two-way upside.
"As a big guy, you have to be physical and have a good active stick," Stanley said during Windsor's East Division road swing, where they went 0-2-1-0. "Just because I am big doesn't mean I am exempt from other parts of the game. I have to be able to skate and move pucks and play with some skill. I've tried to work on that part.
"Having Rocky [Thompson] as my coach and [Spitfires assistant coach] Trevor [Letowski] has helped me a lot," Stanley added. "They help me with parts of my game… Rocky has worked on me with playing a simple game, being about defence and puck moving, letting the other part develop naturally. Early in the year I was just trying to jump up at the right time and was not picking my spots well."
---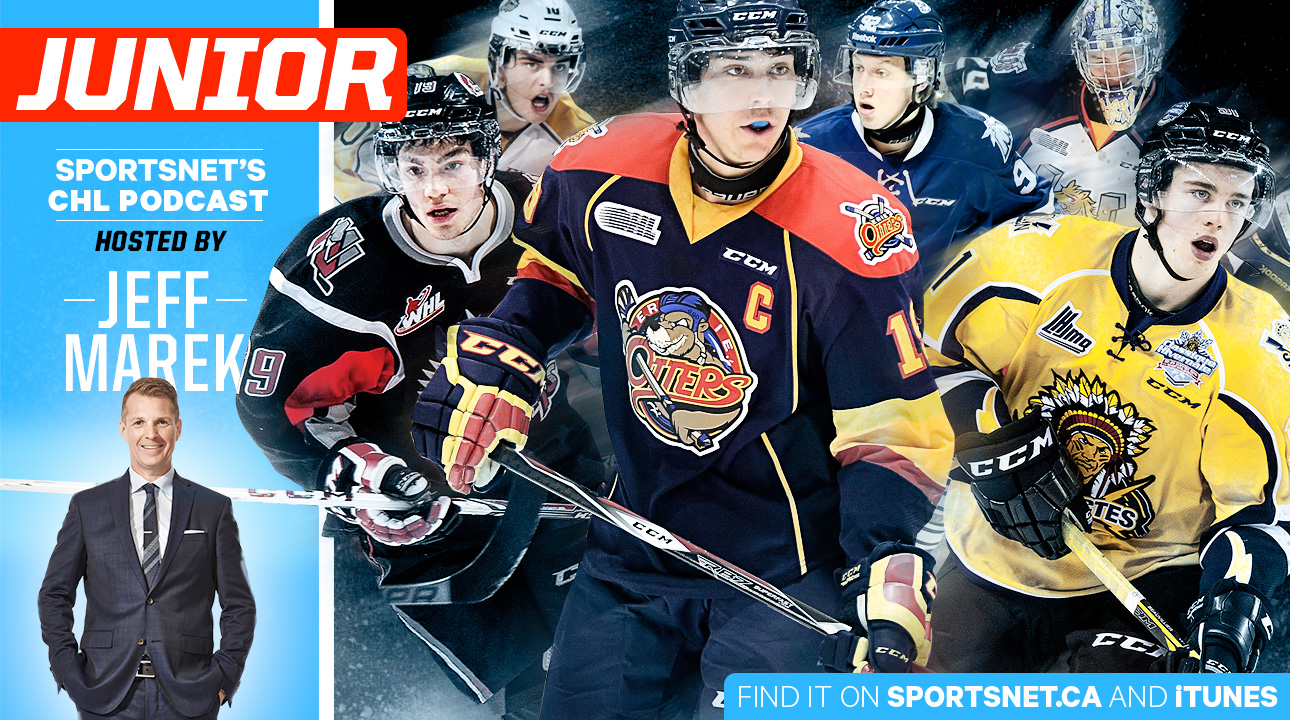 Jeff Marek hosts Sportsnet's weekly CHL podcast, a one-stop shop for news, analysis, opinion and interviews covering the WHL, OHL and QMJHL.
Listen now | iTunes | Podcatchers
---
With fellow 17-year-old Mikhail Sergachev and Stanley ranked Nos. 14 and 23 in NHL Central Scouting's Midterm Ranking, the Spitfires should have two defencemen selected early in Buffalo on June 24-25. The curiosity about how early Stanley will be selected stems from the fact that no D-man 6-foot-4 or taller was taken in the first round of the 2015 NHL Draft. Size matters, albeit not as much as it did in 2010, when 6-foot-5 Dylan McIlrath and 6-foot-7 Jarred Tinordi were first-rounders.
"I think he's done a good job over the course of the year," Spitfires coach Thompson said of Stanley. "I think at the start of the season he wasn't sure how he should be playing. He has a foundation underneath him now and he's done a good job of showcasing his abilities and playing a big man's game. He's good at moving the pucks and breaking the pucks out.
"It all depends on whether he can play," Thompson added by way of reply to the age-old question about how big a defenceman needs to be. "You look at Shayne Gostisbehere with the Philadelphia Flyers, he's a little guy [5-11, 160] but he walks the blueline. If you give you me a guy who is 6-foot-7 and walks the blueline, I'll take him every day of the week."
Stanley, under Spitfires athletic therapist and strength coach Joey Garland's watchful eye, is trying to add lean muscle mass to his elongated frame. He spent the lead-up to this season working with the University of Waterloo Warriors strength and conditioning coaches, Justin Brooks and ex-OHL player David Edgeworth.
"Filling out just takes a bit of time," Stanley said. "I think I'm doing a good job with that."
Shake-up in Saginaw
One day after an 11-4 shellacking in Sarnia, the Saginaw Spirit have appointed Moe Mantha, their Northern Ontario scout, as interim coach to replace Greg Gilbert.
Mantha, who had been coaching the French River Rapids, a first-season Junior A team, is taking the reins of a Spirit squad that is in playoff position but is 3-12-1-2 since Jan. 1. That includes an eight-loss streak, which culminated with allowing the Sting to go to 11 on Monday. His debut will be on Wednesday when the Spirit have a return game against Sarnia.
Gilbert was voted OHL coach of the year in 2011-12, when he also took over mid-season and guided Saginaw to one of the few second-round appearances of its 14-season history. First-year Saginaw GM Dave Drinkill indicated in a release there will be an "extensive search" in the off-season for a permanent coach.
The switch also means all five Western Division teams have changed coaches since the end of last season. Sarnia's change stemmed from new ownership, Flint's from relocation and Sault-Ste. Marie's and Windsor's from coaches moving up to the AHL.
Mantha last coached in the OHL with the Spitfires in 2005-06, before Bob Boughner and Warren Rychel's ownership group bought the franchise.
Sting end Hunter hex
It was a quiet week for the Sarnia Sting—apart from ending a 17-loss skein against the London Knights, taking the West Division lead, and Matt Mistele recording a five-goal game.
Since the West Division winner could draw London in Round 2 of the playoffs, Sarnia's 2-1 Saturday home win against the Knights was just shy of seminal. Sarnia became only the fourth team this season to shut out Toronto Maple Leafs top prospect Mitch Marner. Sarnia's previous win against London was March 8, 2013.
Former Ottawa Travis Konecny has 15 goals and 34 points across 19 games with the Sting, who are 13-4-1-1 since the Philadelphia Flyers first-rounder and Sam Studnicka came over from the 67's. With Windsor in a funk, Sarnia begins this week with three-point lead for the division title and No. 2 playoff seed. The Sting and Spitfires still have to play three more times.

Mistele scored five goals on Monday in that 11-4 shellacking of Saginaw, fewer than 48 hours after fellow Los Angeles Kings pick Mike Amadio had five in North Bay's 6-5 loss against Kingston. Five-goal games in the same week from picks of the same NHL team? That has to be an unofficial OHL record.
Firebirds go tropical
If Hockey Twitter had its way, the Flint Firebirds would be named the Flint Tropics after the fictional 1970s basketball team in the 2008 Will Ferrell comedy Semi-Pro. Last Saturday, Flint won all the Internets by rocking Tropics-inspired uniforms. Forward Luke Kirwan skated out wearing a ginger Afro wig bursting out of his headband, Jackie Moon-style.
(
Went to a #flinttropics #semipro game tonight, I mean @FlintFirebirds. Looking good @Lukekirwan44. #OHL #lovemesexy pic.twitter.com/TqQdboX3xt

— Natalie Shaver (@nshaver13) February 14, 2016
The Firebirds were also spot-on with the movie-referencing in-game tweets.
Little scrum in front on the Attack net. Hey, @AttackOHL #ELE pic.twitter.com/TsK6MuNDrU

— Flint Firebirds (@FlintFirebirds) February 14, 2016
New duds for 'Dogs
Far be it to suggest the Hamilton Bulldogs could have done more than crowd-source suggestions for new uniforms to replace their Montreal Canadiens colour scheme, which bears a strong association with the former AHL team. Hamilton had fans enter suggestions that will be voted on until the end of the month, but none of the three finalists pops. Plus all three potential colour combos are used by other OHL teams. Kingston and Sarnia each wear black and gold.
Thank you to everyone who voted during today's game! Voting is now open until March 1st #DogsInspired pic.twitter.com/pwEfBgLc5X

— Hamilton Bulldogs (@BulldogsOHL) February 15, 2016
Isn't the point of branding to look distinct? That was certainly the case with the Belleville Bulls' unis. Sorry, not sorry.
Canadian NHL team prospect of the week
Andrew Mangiapane, C/LW, Barrie Colts
Marner performed Marnerian marvels, but Mangiapane has been good for three almost as often as NBA MVP Stephen Curry. The Calgary Flames sixth-rounder (166th overall) has a streak of five three-point games, which includes notching multiple-goal efforts thrice in succession last week.
The Colts lost a division leaders' derby on Monday against defensively stout Kingston. Mangiapane scored both of his goals when Barrie was trailing by two. The Bolton, Ont., native also a had a third-period primary assist when the Colts tried to come back.
New name to know
Drake Rymsha, C, Ottawa 67's
The 17-year-old Rymsha lost exactly a half-season, 34 games, to a broken femur before rejoining the 67's last Friday. Throughout the weekend, the crafty centre generated scoring chances and contributed on the penalty kill, helping Ottawa win two out of three.
Drake Rymsha with two solid games after returning form injury. Chemistry with Barron is evident #2016 NHLDraft

— Daniel Deschenes (@DDeschenesFC) February 15, 2016
During Ottawa's home loss to North Bay on Monday, Rymsha was one of the more effective 67's while playing between Travis Barron and Artur Tyanulin on an all-sophomore line.