OSHAWA, Ont. – The grunts can be heard all over the practice rink at GM Centre.
A 16-year-old is pedalling as hard as he possibly can on an exercise bike with one trainer pushing his shoulders down, while another yells at him like a drill sergeant.
As the grunting gets louder and more consistent (think Monica Seles on loop), trainers, staff, media and other youth can't help but stare.
"It's the longest 30 seconds of your life," one trainer tells me.
"It's death," another says with a smile.
When the 16-year-old finally completes the 30-second burst, he throws his now red face back and gasps for air. He just completed the dreaded Wingate Test at the OHL Combine, presented by Under Armour.
Now it's my turn.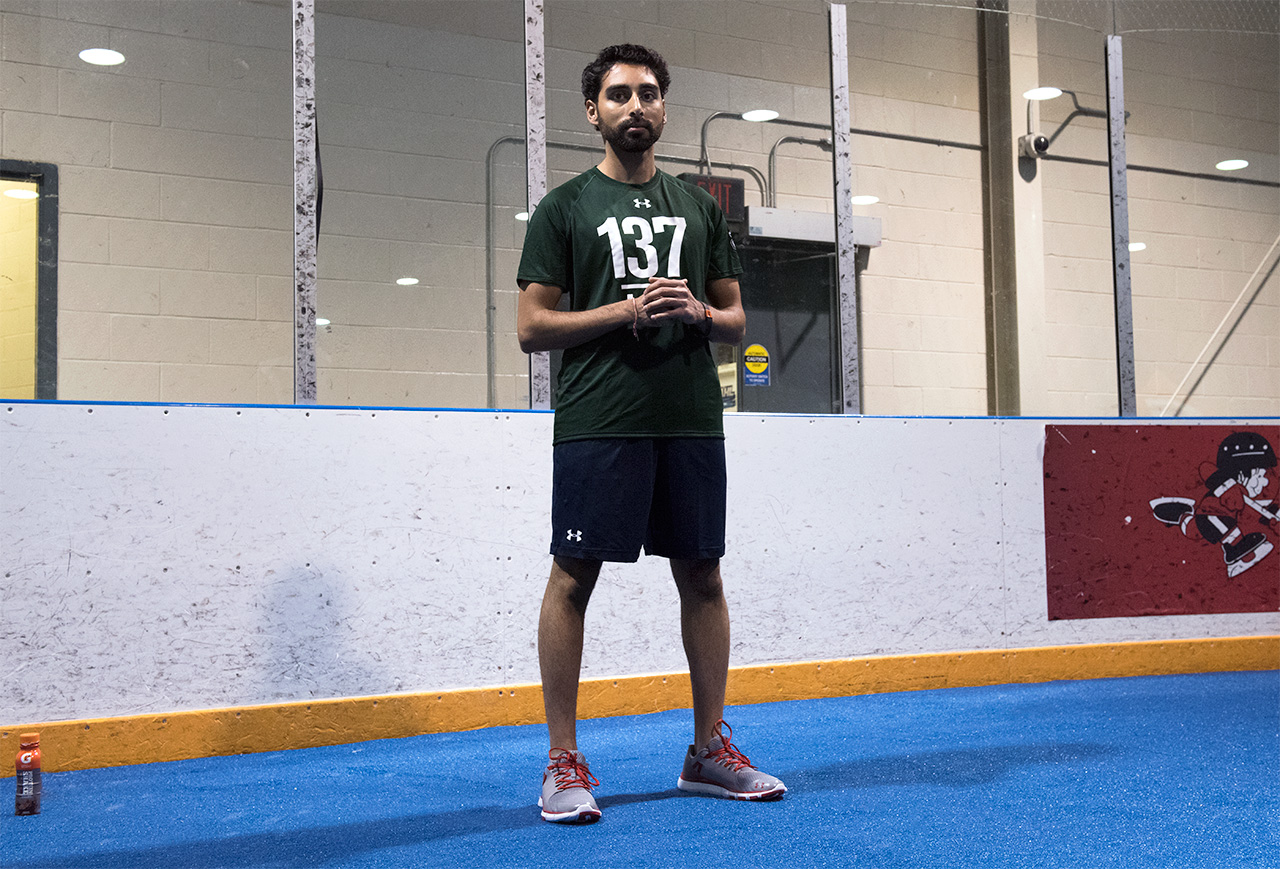 (Paul Bolasco)
I was among the media members invited to take part in the OHL Combine's off-ice component, which featured 96 2000-born players showcasing their athleticism ahead of the OHL Priority Selection.
I had thought it was going to be a walk in the park. I'm approaching 30, I go to the gym regularly, I play softball. What could these kids do that I couldn't? Then I showed up and saw the size of some of these teenagers and knew it was on.
The combine testing begins easy enough with a hand-grip strength test. Sixteen is considered too young to be assessed with bench presses and pull-ups, so this is used as a replacement. That goes easy enough for me, and it's followed by the vertical jump, medicine ball toss and standing broad jump.
By this point, I don't yet know my results, but I'm feeling pretty confident.
Next up is an agility exercise that has participants complete short sprints to their left and right. That's followed by an all-out 20-metre dash.
Then, the Big Kahuna is saved for last.
"All these tests have carryover to the sport of hockey, but if I had to pick one to look at, it would be the Wingate," says Kevin Chapman, head strength coach for the OHL's Oshawa Generals. "Hockey's a total anaerobic sport and you're definitely testing your anaerobic capacity with the Wingate. It's a 30-second test that challenges the athlete's anaerobic capacity, lactic threshold as well as overall strength."
Chapman, who's been involved with the OHL Combine for six years, says the test is designed to measure your peak power by determining how much force your body produces in watts. It's also a staple at the NHL Draft.
"That test there, you're exerting yourself and getting your heart rate up close to its max," says Chapman. "It's a tough test. There's no one way to train for it, but I think strength is a big factor. The stronger you are overall, the better you'll do on that test."
Tyler McBay, a defenceman for the Waterloo Wolves of the Alliance AAA minor midget league, says he's heard chatter among players about the Wingate. As he prepared for the combine back home, trainers would tell him it's a barometer of pure guts and that evaluators "just want to see how hard you can push yourself."
"I heard rumours that it was going to be tough," says McBay, who was pleased with his performance at the combine. "Going into it I just kind of cleared my head and said 'I'm just going to work as hard as I can.' It's a test for character."
When it's finally time for my Wingate Test, I'm pretty pumped. After all, I'm older than these kids, right? When I hop on the bike, the trainers strap my feet to the pedal with duct tape. 'OK, this is pretty serious,' I think. 'But no worries. I'm good.'
I go through a three-second practice run to gauge the heavy resistance of the weights then the clock starts.
During the first 10 seconds, everything's swell. I shut my eyes and go flat out. I actually remember thinking 'This is gonna be pretty easy.' Then, things get harder. Much harder.
I keep my eyes glued shut and focus on my breathing and pedalling. My body's giving max effort and I feel fatigue setting in. My heart's pounding on my chest and under my eyelids I see wavy blue lines. Trippy stuff. But I'm determined to not give up. Easy choice given the number of cameras and onlookers around.
I push through to the end and when my 30 seconds are up, I ease back and flash a smile. I'm confident in the final product. You know what, I was more than confident. I kind of felt like I owned the place. All was good with the world and I at least think I conquered the OHL Combine's Goliath.
A few minutes later as I'm walking to get some much-needed hydration, an elder trainer stops me to ask how it went.
"It was great," I tell him.
He laughs then asks with a serious tone, "Are you sure you were trying your hardest? It looked like you were barely moving."
Damn. Maybe I should have tried grunting.