Whether Jeremy Helvig is the man in the Eastern Conference-favourite Kingston Frontenacs' net, or the man at the moment, boils down to semantics.
Kingston coach Paul McFarland says only, "today, Jeremy's getting the first game of round two," when asked if Helvig, 18, is now a clear No. 1 ahead of overage Lucas Peressini, the 2014-15 OHL goaltender of the year. Ultimately, the 6-foot-4, 202-pound Helvig has rewarded the Frontenacs' willingness to play a long game with goalie growth. Since Christmas, Helvig has a 1.62 goals-against average and .944 save percentage, and a 16-1-0-1 record.
---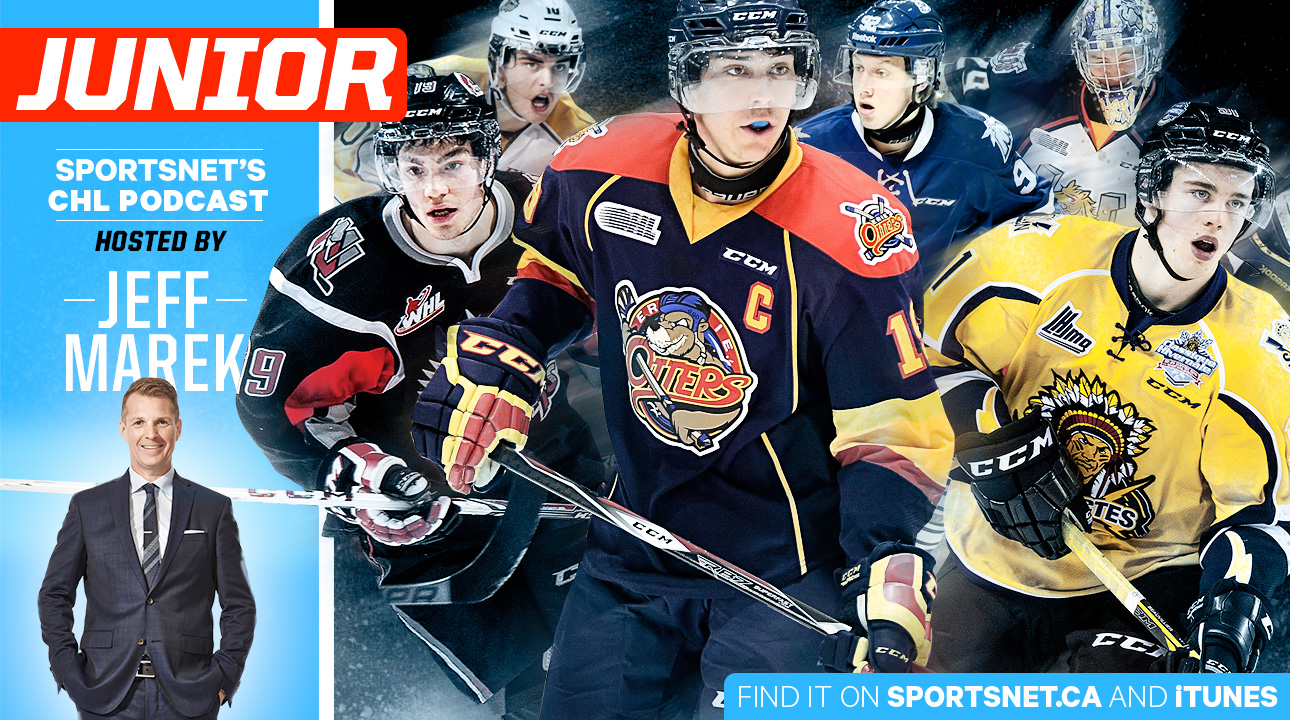 Jeff Marek hosts Sportsnet's weekly CHL podcast, a one-stop shop for news, analysis, opinion and interviews covering the WHL, OHL and QMJHL.
Listen now | iTunes | Podcatchers
---
In the five-game first-round win against the Oshawa Generals, Helvig also became the first Kingston goalie with two shutouts in a series in the club's 43-season history. Not too shabby for someone who was used in only 14 games as a rookie in '14-15.
"I definitely have a lot of confidence right now after that first series," says Helvig, whose Frontenacs host the Niagara IceDogs for Games 1 and 2 of the best-of-7 Eastern Conference semifinal on Thursday and Friday. "Oshawa is a good team and we were able, for the most part, to dominate most of that round [outscoring the Generals by a combined 27-11].
"For me, the biggest difference has been that in the off-season I just pushed myself," the Markham, Ont., native adds. "I got a connection with [goaltending consultant] Mike Lawrence and worked with him for three weeks and gained confidence and focused on being in better shape."
Dale Hunter's London Knights won the J. Ross Robertson Cup in 2013 while using both Anthony Stolarz and Jake Patterson in the playoffs. No coach will ever top the goalie guessing game the late Mark Reeds played with the Owen Sound Attack in the spring of 2011, as he used Jordan Binnington, Scott Stajcer and Michael Zador. It is within the realm of possibility that the Frontenacs could turn back to Peressini, who was credited with 27 of their club-record 46 wins.
"We have said it all year: We have two great goalies," McFarland says. "Jeremy's done a great job of pushing Lucas throughout the season, and at this point in time, he's our guy. He's slowly gaining more and more confidence and we need him to be one of our best players.
"Jeremy has a great approach every day. He never really feels too good or too bad about myself, and wants more of the net."
It was evident as far back as the 2013-14 pre-season, when Peressini and Helvig waged a backup-goalie battle, that Kingston had two promising puck-stoppers. Peressini blossomed last season, while Helvig had a 4.55/.862 stat line in limited action.
"It was a struggle at the beginning of the year, to get the wins," Helvig says. "I guess I did not have a lot of confidence."

Spencer Watson enters the second round of the OHL playoffs as the leading scorer after 15 points in five games versus Oshawa. (Aaron Bell/OHL Images)
Helvig was the second goalie selected in the 2013 OHL Priority Selection (behind Sudbury's Troy Timpano) due to his athletic hybrid style and says that Lawrence helped him plug some leaks in his mechanics.
"Last year I was letting some goals through me. We worked on some stuff to reduce the chance of the puck going through me and worked on being more calm in net."
A breakthrough came Sept. 26, when he made 38 saves and was 3-for-3 in the shootout during a 6-5 road victory over the London Knights. Helvig and Kingston also beat London 6-2 in their post-deadline matchup on Feb. 26.
"I feel like that came together after the first game of season that I played in London," Helvig says. "It was a big crowd and they have a really good team, We came out with a big win and I got a lot of confidence after that game."
The Frontenacs and North Bay Battalion are the only two teams left in the OHL playoffs with two Ontario-born goalies who have never played elsewhere in major junior. Five of the other six squads have a U.S.-born starter.
| Eastern Conference | Primary | Home | Acquired | Secondary | Home | Acquired |
| --- | --- | --- | --- | --- | --- | --- |
| Kingston Frontenacs | Lucas Peressini | ON | Trade* | Jeremy Helvig | ON | Draft |
| Barrie Colts | Mackenzie Blackwood | ON | Draft | David Ovsjannikov | CZ | Trade |
| North Bay Battalion | Jake Smith | ON | Draft | Jake Kment | ON | Draft |
| Niagara IceDogs | Alex Nedeljkovic | OH | Trade | Stephen Dhillon | NY | Draft |
| (* Has not played for another OHL team) | | | | | | |
| Western Conference | Primary | Home | Acquired | Secondary | Home | Acquired |
| --- | --- | --- | --- | --- | --- | --- |
| Erie Otters | Devin Williams | MI | Draft | Jake Lawr | ON | Draft |
| London Knights | Tyler Parsons | MI | Free agent | Brendan Burke | AZ | Free agent |
| Kitchener Rangers | Luke Opilka | MO | Draft | Dawson Carty | ON | Trade |
| Sault Ste. Marie Greyhounds | Brandon Halverson | MI | Draft | Joseph Raaymakers | ON | Draft |
Prior to Doug Gilmour becoming general manager in 2011, Kingston often relied on trading for older netminders. McFarland believes there's an added edge from having a homegrown goalie.
"Our guys play for our goalies—they believe in our goalies," McFarland says. "You can see it in how happy the guys were when they were skating toward Jeremy in the net when we won. That shows the importance of having guys grow through the system. Whether it is one or two years to become the starter, they build that relationship with the rest of their team. Any great goalie needs people to play great in front of him, and our guys have that relationship."
Helvig cites the Montreal Canadiens' Carey Price as a role model. ("He's calm in net and I feel like I am calm in net.") Both Kingston goalies are grads of the Ontario Junior Hockey League. In Helvig's age-16 season, he was with the Toronto Lakeshore Patriots when they reached the national Junior A championship.
"The first year with Junior A was great for ice time and getting to know the routine of junior hockey," Helvig says.
Helvig will turn 19 years old on May 25, the day of the MasterCard Memorial Cup final. When informed of that coincidence, he demurs, "that's the first I've heard that." Meantime, with their 1A and 1B goalies, the Frontenacs might have a few firsts ahead of them this spring.