The Owen Sound Attack wresting home ice from the loaded London Knights owes to the Bears becoming a Hunter Hockey team.
When he coached the Washington Capitals in 2012, Dale Hunter succeeded with a shot-blocking shutdown strategy. Ryan McGill's Attack are using that against the Knights, who outpaced them by 30 points and scored 102 more goals during the regular season. That's helped Owen Sound take 1-1 series tie home for Games 3 and 4 in Grey County. That's put a bit of a drama into what, in a quick once-over, might have initially seemed like a mismatch.
---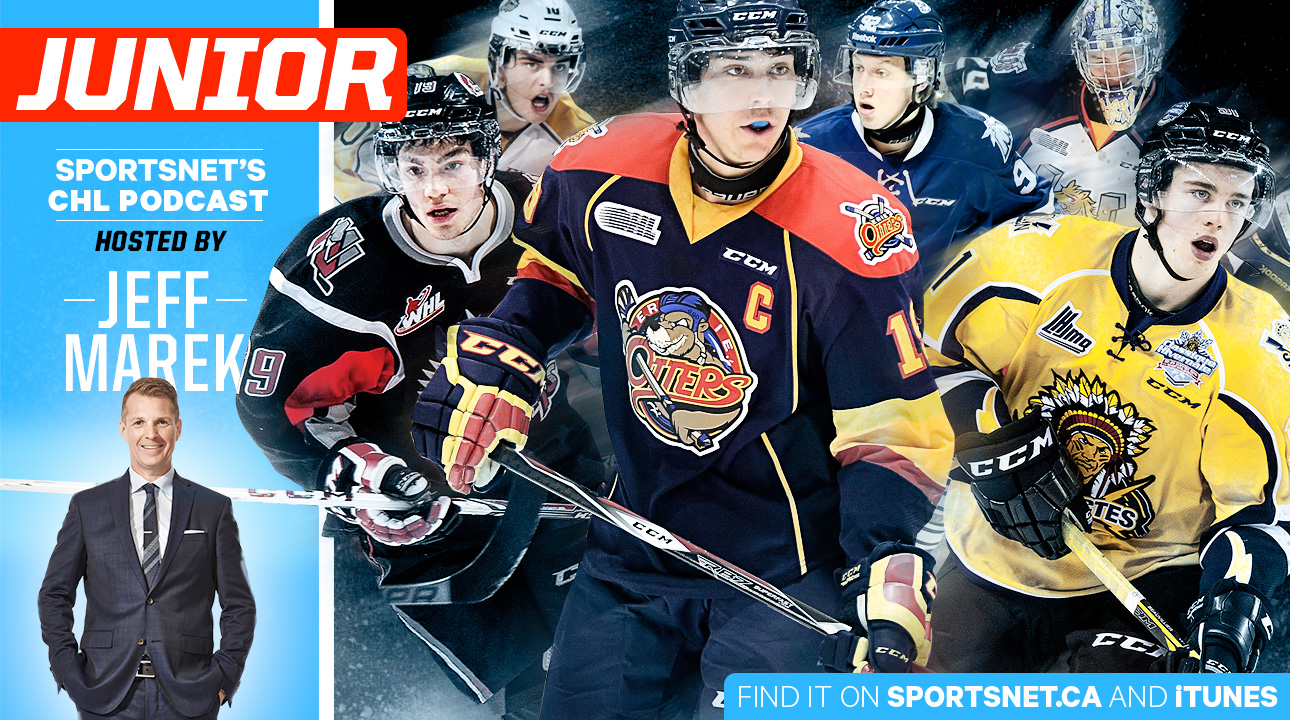 Jeff Marek hosts Sportsnet's weekly CHL podcast, a one-stop shop for news, analysis, opinion and interviews covering the WHL, OHL and QMJHL.
Listen now | iTunes | Podcatchers
---
Instead, with captain (and ex-Knight) Santino Centorame, Los Angeles Kings signee Damir Sharipzyanov, 18-year-old free-agent pickup Jacob Friend and Florida Panthers draftee Thomas Schemitsch buckling down in their own end, the Attack held Mitch Marner and London to 41 shots in 120 minutes at home.
Montreal Canadiens goalie prospect Michael McNiven has been sharp, and the Knights have been hanging out on the perimeter instead of paying the 'Bear tax' in order to get those classic greasy playoff goals.
No scoring in the 1st in London but plenty of action. If you don't know Jacob Friend, find out more. Tough as nails.

— Manny Paiva (@paivatheway) March 26, 2016
That could change, and so could the vibe for Owen Sound over the next two games. It's sometimes easier for a team to buy into the against-everybody attitude on the road. It is harder to maintain that urgency amid the comforts of home.
Coincidentally, the last time McGill guided a No. 6 seed in the playoffs, the Sam Reinhart-led Kootenay Ice upended Jake Virtanen and the Calgary Hitmen in the 2014 WHL playoffs. This series is almost like a role reversal from five years ago, when the top-seeded 2011 Attack began their OHL title run by playing the rebuilding Knights. Owen Sound never really got full control of that series, but their talent won out and the late Mark Reeds's team advanced after a 1-0 win in the decisive Game 6.
Marner, Matt Tkachuk, Max Jones and London will have to dig deep.
'Hounds Halv-way to stunning Sting
The fact that the Sarnia Sting won all three regular-season trips to Sault Ste. Marie will only be relevant if the Western Conference's No. 2 seed, down 2-0 to the Greyhounds, turns up for Game 3 with a healthy Travis Konecny and a tighter defensive effort.
Sarnia trailed after two periods in only seven of 34 regular-season games, but has been behind after two in both home losses. Konency, the Philadelphia Flyers top prospect, also missed a portion of the second for undisclosed reasons during Sunday's loss.
New York Rangers goalie prospect Brandon Halverson has stopped 72-of-77 shots to bring the young 'Hounds halfway to an upset. A division winner hasn't fallen in Round 1 since 2011, when another No. 7 seed from the north, the Sudbury Wolves, swept Ottawa.
It is wild to think Sarnia's successful season could fizzle so fast.
There will be bad blood
The North Bay Memorial Gardens was a powder keg during Game 2 between the Peterborough Petes and Battalion on Sunday. The last straw came when Battalion 50-goal scorer Mike Amadio was slashed in the mouth in the third period. Meantime, veteran Petes such as Buffalo Sabres signing Eric Cornel, overage centre Hunter Garlent and overage left-winger Greg Betzold led the way offensively in the series-tying 5-3 road victory.
Petes coach Jody Hull was also matching his fleetest centre, sophomore Jonathan Ang, against Amadio. That was a legal means of slowing Amadio down, at least temporarily.
Mike Amadio would score the first short handed goal of the #OHLPlayoffs, because why not? #LAKings #Battalion https://t.co/JjmiTW5wDR

— Kathryn Jean (@msconduct) March 27, 2016
Each team probably left the ice with some pent-up frustration. Who channels it best will have a leg up for Games 3 and 4 in Peterborough.
Streaking Sergachev
Point streaks tend not to be ballyhooed when a prospect's team is down 2-0, but projected NHL first-rounder Mikhail Sergachev has five goals and 14 points across his nine-game skein for Windsor. The Nashville Predators' Ryan Ellis used to do that for the Spitfires and, of course, the 6-foot-3, 206-pound Sergachev is more physically imposing than Ellis.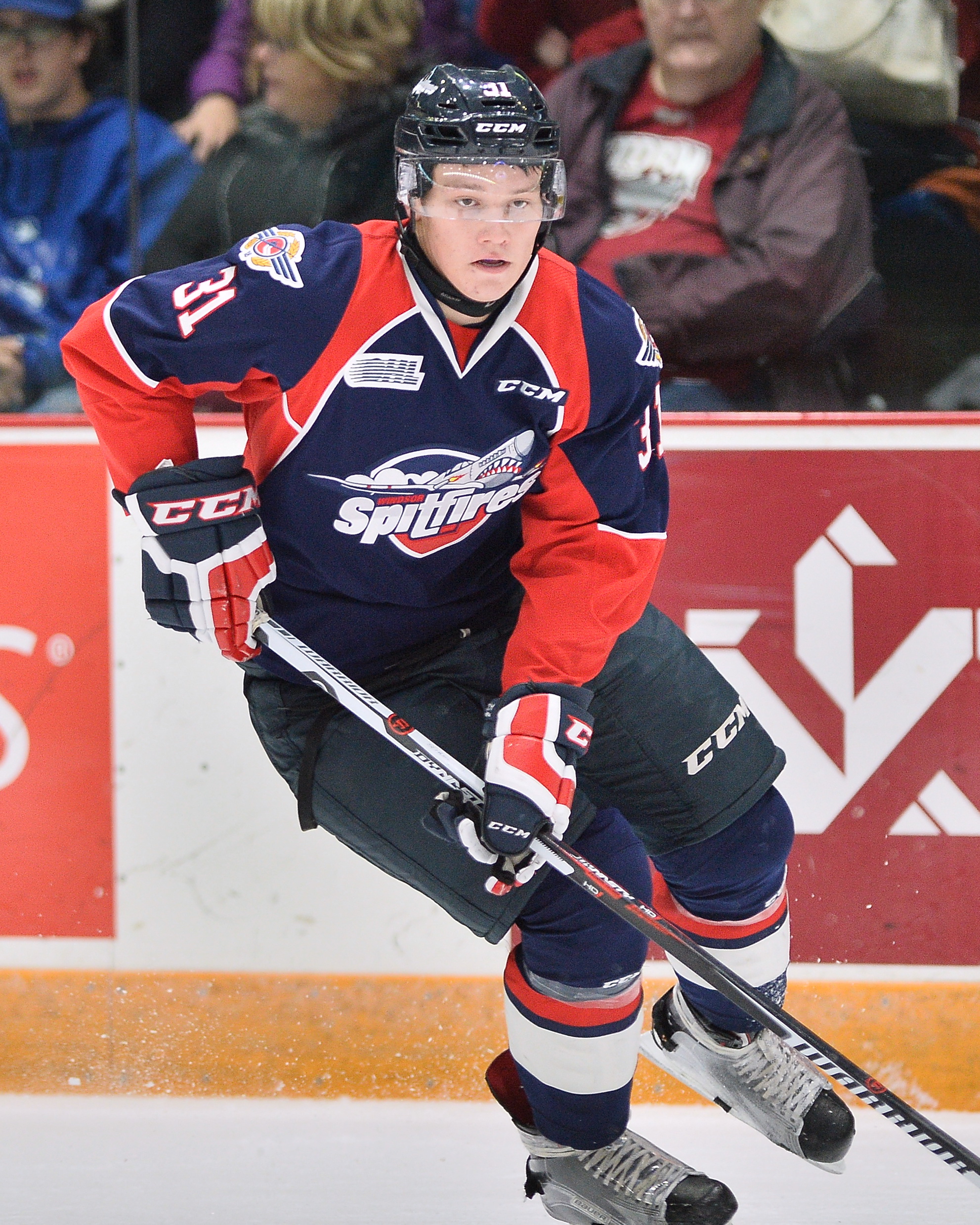 Sergachev was ranked as the No. 10 North American skater in NHL Central Scouting's Midterm rankings. (Terry Wilson/OHL Images)
Windsor, with 19-year-old Winnipeg Jets prospect Brendan Lemieux shelved for one more game due a slew-footing suspension, faces a must-win Game 3 against the Kitchener Rangers on Monday. The outcome ought not to overshadow the progress Sergachev has made in this late portion of his first OHL season.
Canadian NHL team prospect of the week
Michael McNiven, G, Owen Sound Attack
McNiven (Montreal Canadiens, free-agent signing, 2015) had his first post-season shutout with a 23-save donut in the Attack's series-tying road win against London on Saturday. McNiven has handled 38-of-41 Knights shots, and Owen Sound is home for the next two games.
New name to know
Domenic Commisso, C, Oshawa Generals
Commisso, who is on the NHL draft radar as Central Scouting Service's No. 123-ranked domestic skater, needed 14 games in the fall to net his first OHL goal. It took him just more than four periods to get his first playoff marker, as the 18-year-old centre scored twice during the rebuilding Generals' loss against Eastern Conference favorite Kingston last Saturday.
The 5-foot-11, 183-pound Commisso had 18 goals and 42 points across 66 games for a young team, displaying his progress since logging his age-16 season with the Jr. A Mississauga Chargers.