History, distinguished or dubious, doesn't decide games in the present—yet it still matters when the subject is the Kingston Frontenacs.
The 'Kingston can't win/must be cursed' narrative is convenient to reach for with the Niagara IceDogs of Josh Ho-Sang and Alex Nedeljkovic surprisingly ahead 3-0 against the Frontenacs after successive overtime wins in the OHL Eastern Conference semifinal. One more loss will leave Limestone City loyalists wondering how much longer it will be before the Frontenacs, who are in the second round for the first time since 1998 and have not been beyond it since '93, contend again. Kingston is good like that for lending new meaning to the word fraught.
@OHLIceDogs #Woooo #MakeThemSeeRed 3-0 series lead over Kingston #OHLplayoffs #Niagara #GoDogsGo pic.twitter.com/Obfew1kK4a

— Mark Cherney (@MarkCherney303) April 10, 2016
The IceDogs—with Nedeljkovic's work in net as the catalyst—have just found ways to put together more complete 60-minute efforts and eke out three well-earned wins. The series turning point might have been the Carolina Hurricanes prospect's response in Game 2 overtime, when he got payback after a three-goal, third-period lead evaporated. IceDogs coach-GM Marty Williamson's bluline has held up well, although there is an injury concern with Team Canada D-man Vince Dunn ahead of Game 4 at the Meridian Centre on Wednesday.
The Frontenacs got to the dirty area time and again during their dominant second half of the season. Their only two goals on Sunday were on redirected shots, including a late third-period equalizer that was actually tipped in by IceDogs winger Johnny Corneil. Kingston's Warren Foegele-Michael-Dal Colle-Spencer Watson line was credited with 16 of the 34 Fronts' shots, but went scoreless.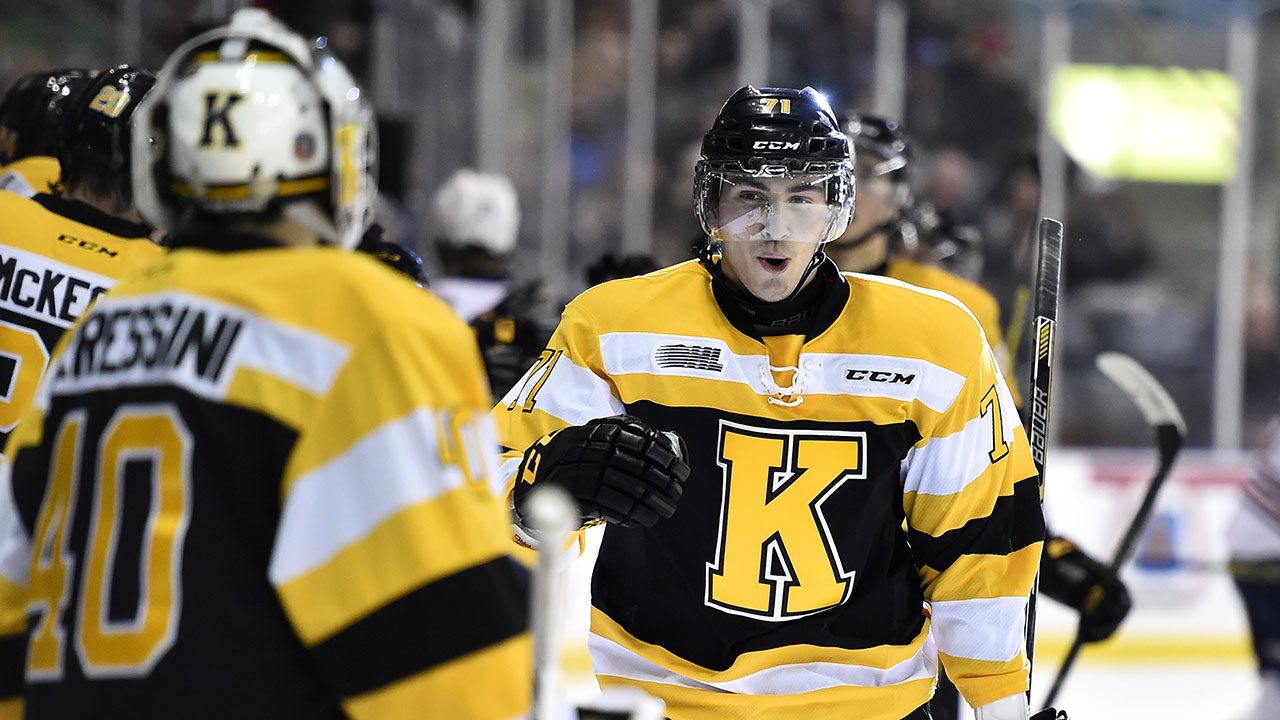 Dal Colle hasn't had a lot to celebrate in Round 2. (Aaron Bell/OHL Images)
Point being, stuff happens, and believing in sports curses is often just a defence mechanism invoked to avoid accepting defeat, or that an organization has a structural flaw. It is wild, though, how a series that everyone thought would last six games, minimum, could be the first completed matchup in Round 2.
A real Rangers killer
With all due respect to Mitch Marner and Christian Dvorak, the smoking hole in the Kitchener Rangers' boot is their penalty kill.
Rangers supporters, who are often fixated on officiating when their beloveds go up against the London Knights, might be better off wondering about Kitchener being dead last in post-season PK. Special teams stats in the playoffs are skewed by small sample sizes, but a team with a 57.1-percent penalty kill usually isn't playing in Round 2.
Kitchener, which trails London 2-0 entering a home Game 3 on Tuesday, worked at 80.1-percent efficiency during the regular season—10th in the league. The regular-season stats are supposed to get thrown out the window for the playoffs, but Kitchener hasn't stepped up this area of its game.
Saginaw, 'Sauga swing for fences
When there's a compensatory first-rounder as a fallback, teams should roll the dice with their top OHL priority selection pick.
Saginaw Spirit GM Dave Drinkill will look like a genius if—and these are names straight out of a Marvel Comics superhero movie—Michigan-committed centre Blade Jenkins and Harvard-committed defenceman Bode Wilde change course. Each prospect is committed to a two-season hitch with the U.S. National Team Development Program in Plymouth.
Getting Jenkins and/or Wilde will take work, but the investment Saginaw made in 2008 and '09 on with future NHL regulars Brandon Saad and Vincent Trocheck panned out beautifully. Saad, now with the Chicago Blackhawks, played for the USNTDP, then came to Saginaw and was the OHL's best forward in 2011-12 with 76 points in just 44 games. Trocheck capped a full four-year junior tenure in 2012-13 with a 2013 WJC gold medal and the Red Tilson Trophy as the OHL's top player before moving up to the Florida Panthers.
The Mississauga Steelheads have top-strata teammates to offer Kirill Nizhnikov, the electric Russian emigre from the Toronto Jr. Canadiens whom GM-coach James Boyd took No. 7 overall.
For the second year in a row, Mississauga Steelheads take our #1 ranked prospect. Kirill Nizhnikov. High, high end talent (1/2) #OHLDraft

— Ryan Yessie (@RyanHPscout) April 9, 2016
Nizhnikov is highly talented, makes everyone better, creative offensively, fantastic scoring ability. Owen Tippett was our #1 last year.

— Ryan Yessie (@RyanHPscout) April 9, 2016
Many fans resent that advisers and parents of the top available players call the shots a bit with the draft. However, a junior player never has as much control over his hockey future as he does at the intake point, and they are still boys. It's better to direct bile at teams that haven't made themselves a dream destination.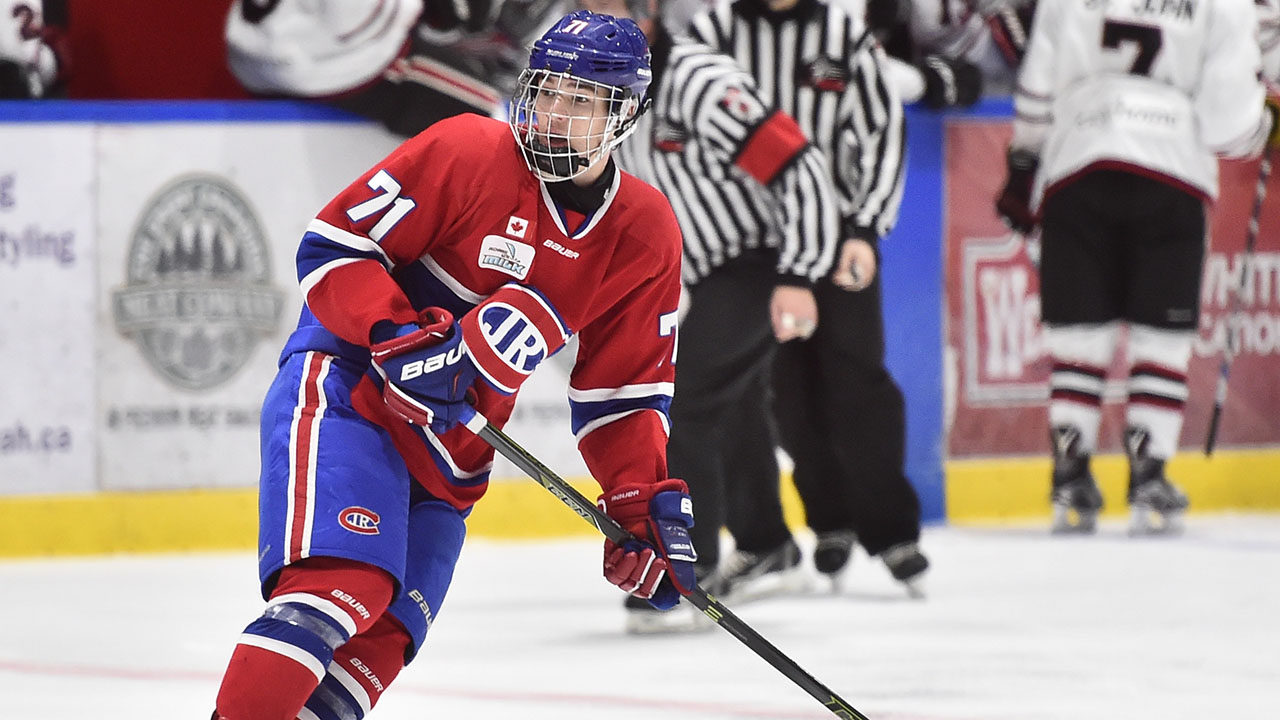 If Nizhnikov stays in Canada, he could be a huge boon to the Steelheads. (Aaron Bell/OHL Images)
Canadian NHL team prospect of the week
Mitch Marner, RW, London Knights
The Toronto Maple Leafs' No. 4-overall choice is only missing a title from his junior resumé. Marner has scored or assisted on seven of 11 London goals thus far against the Kitchener Rangers.
The Rangers did not score in either game after Marner tallied. The waterbug winger pulled London level with a short-handed goal at the end of the second period on Sunday, and had the insurance goal in the series opener.
Marner scores to make it 5-3 London. Blech. #OHLPlayoffs #ohlrangers pic.twitter.com/AKZZn0DjUF

— Mark Gillis (@Mark__Gillis) April 9, 2016
Marner has taken over the post-season scoring lead with 19 points across eight games. To think, he could still play another junior season.
New names to know
Mitchell Byrne, D, and Jordan Sambrook, D, Erie Otters
It takes three-pairing depth to win an OHL title, notwithstanding that extra TV timeouts do help a coach get breathers for his top four. Byrne and Sambrook, a pair of 17-year-old rookies, will be tested more and more the farther Erie progresses. Each was a plus-2 in the Otters' most recent win against the Sault Ste. Marie Greyhounds.