Dale Hunter would probably be as wont to answer questions about how these London Knights compare historically as he is to publicly opine on a penalty call.
Getting into that before a championship is won is considered a fate-tempter. In the absence of much else for scintillating notebook fodder, it's worth pointing out that this Knights playoff run is verging on matching that of the legendary 2005 team led by Corey Perry that won the MasterCard Memorial Cup.
The pattern in each Knights' home-ice win against the Niagara IceDogs last week was nearly identical. London twice spotted Niagara the first goal, shut them down the rest of the way and found offence by continually moving the puck until the IceDogs defensive-zone broke down. For all the ballyhoo surrounding Mitch Marner and likely NHL lottery pick Matt Tkachuk, who had a hat trick and primary assist in Saturday's 6-1 Game 2 waltz, London has continued to be taut defensively by allowing just a singleton in each of its past five games.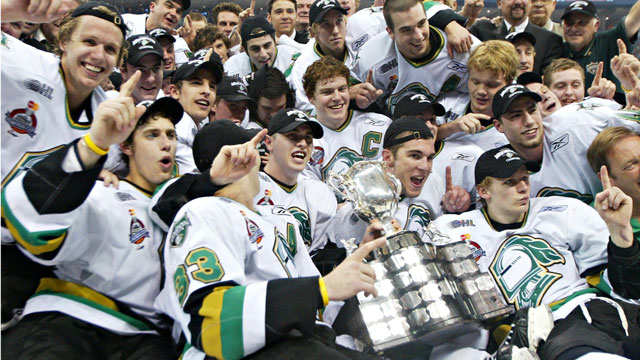 Niagara needs to change something drastically on Monday in Game 3, or else there will be a swift end to a snoozer of a spring season in the OHL.
"We've had a lot of good puck movement," Tkachuk, whose 39 points leave him two shy of Marner's league leading 41, said during Saturday's post-game press conference at Budweiser Gardens. "The [Knights defence] did a great job of getting pucks in our hands and getting pucks on net for us.
"I just think we're playing good hockey right now."
Say little when you lose and even less when you win, eh? Tkachuk certainly embodied that playoff hockey tradition on Saturday. Perhaps the IceDogs rated better than being down three goals after 40 minutes, but the Knights had rendered that irrelevant. After a period that started with Tkachuk getting to the bench late after injuring his left leg in the first stanza, he returned to contribute a redirection goal and an assist where he warded off 6-foot-3, 200-lb. Aleksander Mikolovich and teed-up Victor Mete for a one-timer.
"It's a 1-1 game, I'm not going to go out that easy," Tkachuk said.
Tkachuk (19th of the playoffs, 3rd of the game) assists to Marner and Dvorak.

Have I written that before?#OHLPlayoffs #LDNvsNIAG

— Andrew Forbes (@AndrewGForbes) May 8, 2016
Nobody can even touch London when they're playing like this. Just too good and deep

— Oshawa Generals Live (@GeneralsUpdates) May 8, 2016
London is 14-2 in the post-season. Only the aforementioned 2005 Knights have gone 16-2 in the playoffs since the OHL expanded to a 16-team format in 1998-99.
In terms of goal differential, Marner and mates have outscored teams 77-35—or by 2.63 per game. The 2005 crew boasted an 82-36 aggregate, 2.56 per outing. While the current Knights are undefeated since the first round, the 2005 team dropped Game 2 in both the third and fourth rounds.
Only four other OHL champions that were required to win four best-of-seven series have outscored teams by two goals per game. Oddly enough, the 2009 Windsor Spitfires (2.15) are the only one from that quartet that went on to capture the Memorial Cup. The 2008 Kitchener Rangers (2.30) and 2014 Guelph Storm (2.15) were runners-up. The 1999 Belleville Bulls (2.38) lost a double-overtime semifinal to the eventual champion Ottawa 67's, a host team they defeated in the OHL's second round.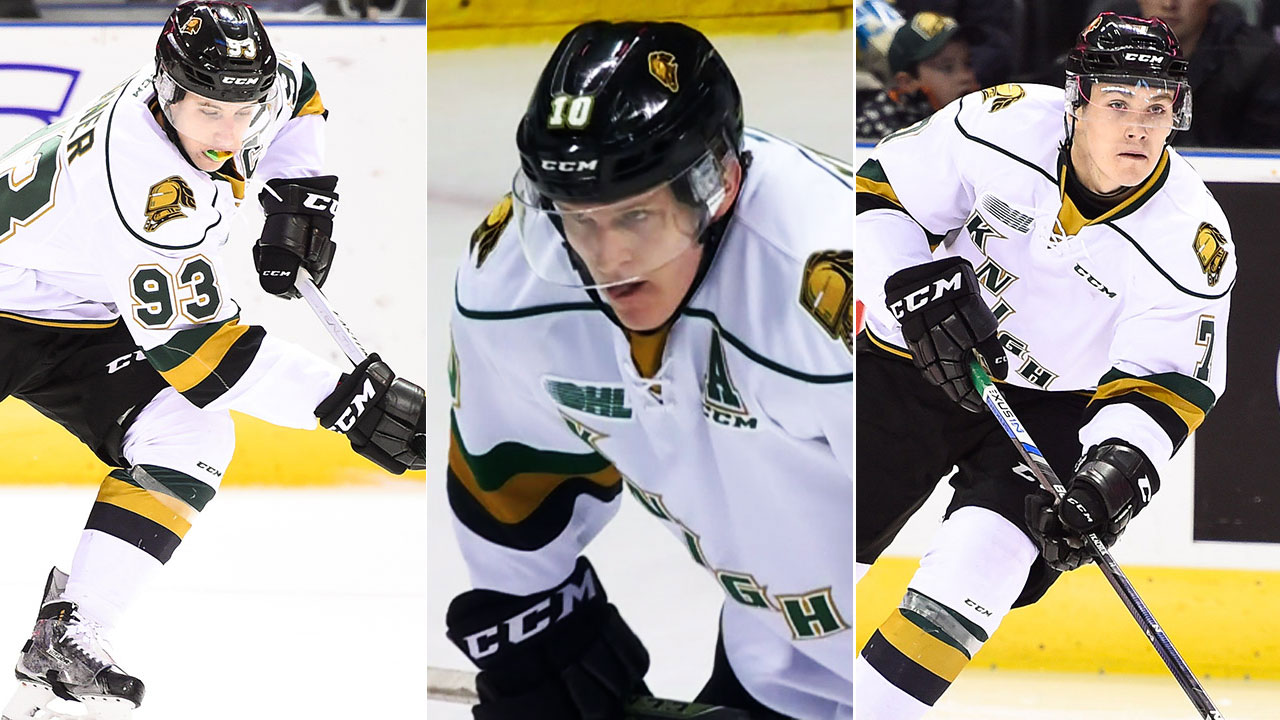 About the only vulnerability London has shown came through having 19-year-old defenceman Brandon Crawley go down in the first period on Saturday after a knee-on-knee collision. There was no penalty on the play. But London is in a position where it could afford to rest Crawley.
"It's a lower-body injury and we can't say much about what happened on the ice – the ref called it the way they called it," Hunter said.
IceDogs see red
The extra-curricular enmity between on Saturday was more interesting than the game. Or perhaps the entire playoffs, although that is not saying much.
One could watch a lot of hockey in a lot of leagues without seeing the form of protest Vince Dunn, the St. Louis Blues defence prospect, adopted after London went ahead 5-1. The IceDogs believed an offside call was missed before the goal, so Dunn went over the line by disrupting the ensuing faceoff.
Vince Dunn unhappy with the refs after a goal… and, uh, does this: pic.twitter.com/HmM5Q8lTyI

— Mitch Brown (@MitchLBrown) May 8, 2016
It was probably moot to Niagara that Tkachuk got his hat-trick goal while Dunn was gated for unsportsmanlike conduct. After the goal, someone on the Knights' bench threw the sombrero that Knights traditionally present to their first star on to the ice.
That novel way of saying 'Scoreboard!' was not lost on Niagara. Defenceman Aaron Haydon escalated the gamesmanship after the final buzzer by absconding with the puck.
Haydon's keeping the puck. Probably won't want to put that one in his trophy case.

— Ryan Pyette (@RyanatLFPress) May 8, 2016
Good news is you are an #icedogs fan is that the team hasn't been great and can get a lot better. Perlini returns on Monday as well.

— Matt and DJ (@IceDogsThisWeek) May 8, 2016
The IceDogs can take some small solace in the fact they are 11-0-1 at the Meridian Centre in St. Catharines, Ont., since March 4. Left wing Brendan Perlini's return from a three-game suspension should help on Monday. But Niagara needs a lot more than just Perlini to marshal more offensive thrust; two-way winger Graham Knott was the only IceDogs forward to record as many as three shots on goal on Saturday.
"We haven't played well enough yet," IceDogs coach-GM Marty Williamson said. "We have to play better. Hopefully we do that at home."
Each Knights' agent provocateur, centre Owen MacDonald and winger C.J. Yakimowicz, scored during the two games in London. No doubt both reminded the IceDogs of that small sample during garbage time of Game 2.
"There's frustration with certain things that are going on but you can't let it deter you from how you play," Williamson said.
Spirit shopping for import
Artem Artemov signing with HC Sibir Novosibirsk in the Kontintental Hockey League last week means the Saginaw Spirit are that much more lacking in returning scoring.
Artemov led Saginaw with 55 points after Tampa Bay Lightning prospect Mitchell Stephens (39 in 38 games) went down with an injury. The Russian right winger spent three seasons in the junior ranks, but with his window to get a NHL shot shrinking, it's not surprising he would sign to play in his homeland.
Artem Artemov will return home next season, leaving Saginaw to play in the Russian-based Kontinental Hockey… https://t.co/CpFB1K841r

— BobbyMurray (@bobbywmurray) May 6, 2016
Stephens and fellow 19-year-old Matthew Kreis are the Spirit's only returnees who have had a 40-point OHL season. Saginaw GM Dave Drinkill is still early on in his rebuilding effort, though.