BARRIE, Ont. – A higher-than-usual number of NHL scouts made it out to Game 7 of the opening-round series between the Barrie Colts and the Mississauga Steelheads. You'd have imagined that they already had a pile of intel: The scouts had the regular season, six playoff games and, for the elite players, international tournaments to evaluate the talent eligible for the NHL Draft in June. What's one more game beside more of the same?
Au contraire, reader. Said one scout in Barrie Tuesday night: "I've seen Mississauga a dozen times and where I place their top two (draft-eligible players) on my list is still in play. My list overall is still pretty fluid, so when you think it might be the last chance to see a player on it you've got to go."
As it turned out, the game was suspenseful for a couple of periods, Mississauga taking a 1-0 lead into the second intermission, with most of the credit going to the visitors' goaltender Jack Flinn. Through 40 minutes, the Colts were all over the Steelheads but in the third, the looming deluge loomed no longer and the home team rang up five unanswered goals. And the scouts had a last look at the player targeted for priority viewing in Game 7 and in all other games in this series.
---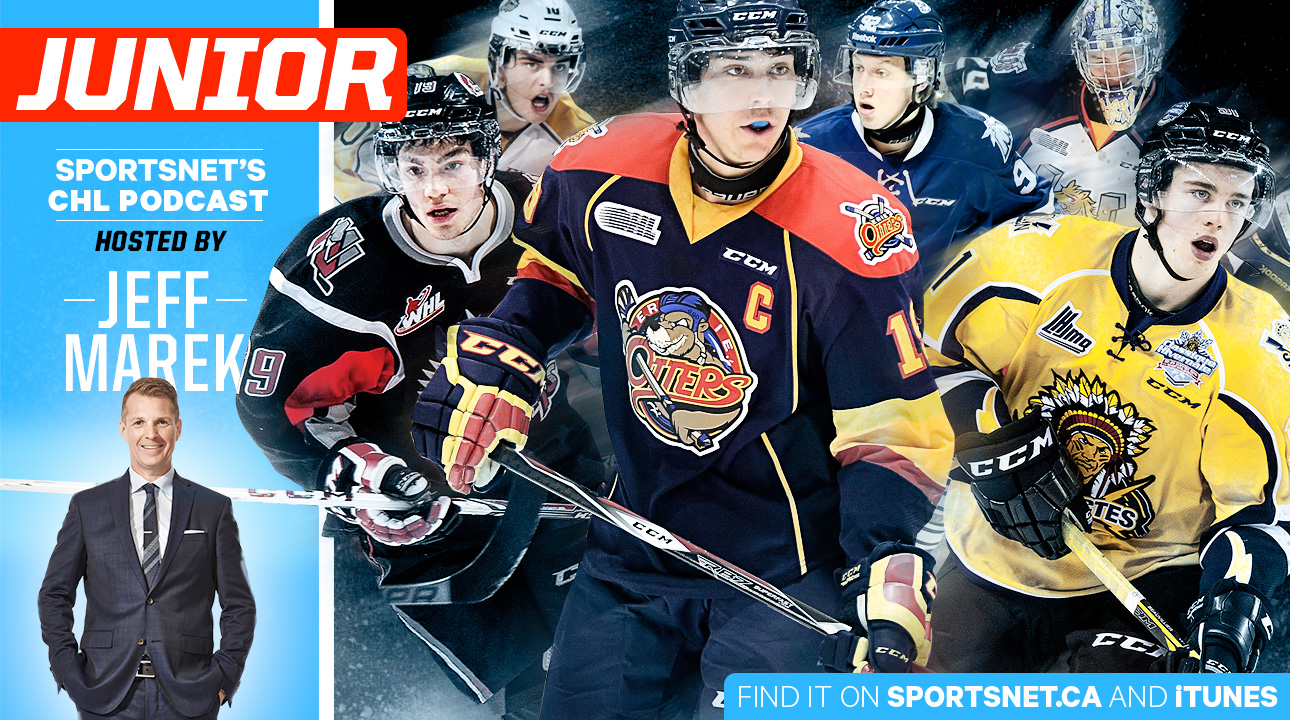 Jeff Marek hosts Sportsnet's weekly CHL podcast, a one-stop shop for news, analysis, opinion and interviews covering the WHL, OHL and QMJHL.
Listen now | iTunes | Podcatchers
---
Alexander Nylander arrived in Mississauga with a lot of buzz last fall, given that his brother William was the Maple Leafs' first-round pick in 2014 and playing with the Marlies. Some considered William a pure win for the Leafs who owned the eighth pick in that draft, saying that he was comfortably in the top five in that class, maybe as high as No. 3.
That might have been irrational enthusiasm talking but no matter—there's no knocking what William accomplished with the Marlies this season or in his cameos with the Leafs. Thus did the younger son of former NHL veteran Michael Nylander figure prominently in scouts' plans this season.
Before Tuesday night's game, the scouts had seen a lot of the little brother across seven months. "I think that he's like Willie in a lot of ways but I'd mark him down in each category—a really good skater but not quite as good as Willie, a good playmaker but not as good as Willie," one Ontario-based scout said.
"I thought the one area (Alexander) might have on his brother was energy—it seemed like he kept his intensity better. But then watching him late in the regular season, I thought he faded a little. In this league he's still a younger player and (the Steelheads) lean on him pretty heavily. He played a ton of hockey this year and it seemed like he was running out of gas."
That "ton of hockey" included Alexander's pretty impressive turn with the Swedish team at the world juniors in Finland—an expected supporting role to William was blown up by a Swiss clown's cheap shot that left the older brother concussed. And Alexander's numbers across the regular season were very solid for a draft-eligible: 28 goals and 75 points in 57 games.
If he was "running out of gas" then the younger Nylander went a pretty long way on a single tankful. And six goals and six assists in first six games against Barrie might have suggested that he stopped at an ONroute station going up the 400 before the series opened. Yet reviews were mixed. "I saw him one game (in the series) and he carried Missie," one NHL scouting director said, "but one of (my scouts) saw him another night and he was the one being carried."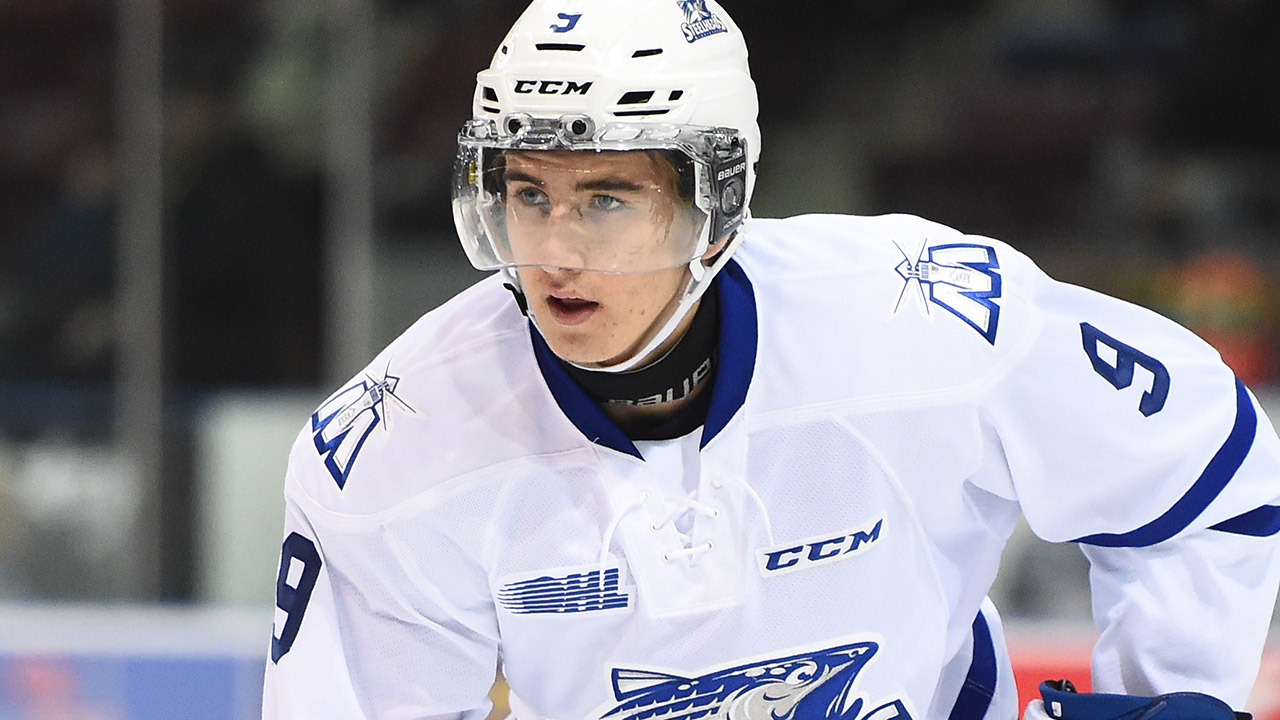 Michael McLeod is the other potential top-10 pick scouts were out to see on Mississauga. (Aaron Bell/OHL Images)
In Game 7, the needle was in the red for Nylander and he was among the carried. Skating on the left wing on a line with centre Michael McLeod and Daniel Muzito-Bagenda, Nylander looked at times tentative and too easily pushed out to the perimeter or off the puck.
Said one scout who was willing to give him the benefit of a doubt: "He's not strong and he's really upright (in his skating), but maybe you could have said the same about his brother. It wasn't a great game for him but it's one game and a tough situation."
Still, if last impressions are the ones that matter most, then Nylander's stock will trend downward however slightly on the lists of scouts in attendance in Barrie. He's not one of players Sweden is sending to world under-18s in Fargo—no explanation was given, however in the past the Swedish federation hasn't sent eligible kids playing in North America to the U-18 tournament. (Gabriel Landeskog didn't appear on Sweden's preliminary list for the same reason a few years back.) It was one of the reasons that Nylander didn't confirm that he was going to Mississauga until late August—he didn't want to scotch his chance to play for Sweden in the Ivan Hlinka.
Scouts almost certainly will have more opportunities to scope McLeod however. No doubt he'll be included on the Canadian team in Fargo, N.D.
McLeod was impressive in Game 7—he picked up a second-period goal that sent the Colts reeling for a stretch by controlling the puck down low behind the Barrie net and, with a Colts blueliner draped all over his back, neatly deking Barrie netminder Mackenzie Blackwood.
With his hockey sense and gritty game, McLeod evokes a player along the lines of Ryan O'Reilly, albeit with more dynamic skating at the same age. Said one scout: "You have to like McLeod's drive and skating. He gives you the same effort every time."
The Steeleads split up McLeod and Nylander earlier in the series, trying to spread offence around, but ran out of bodies and, yeah, gas.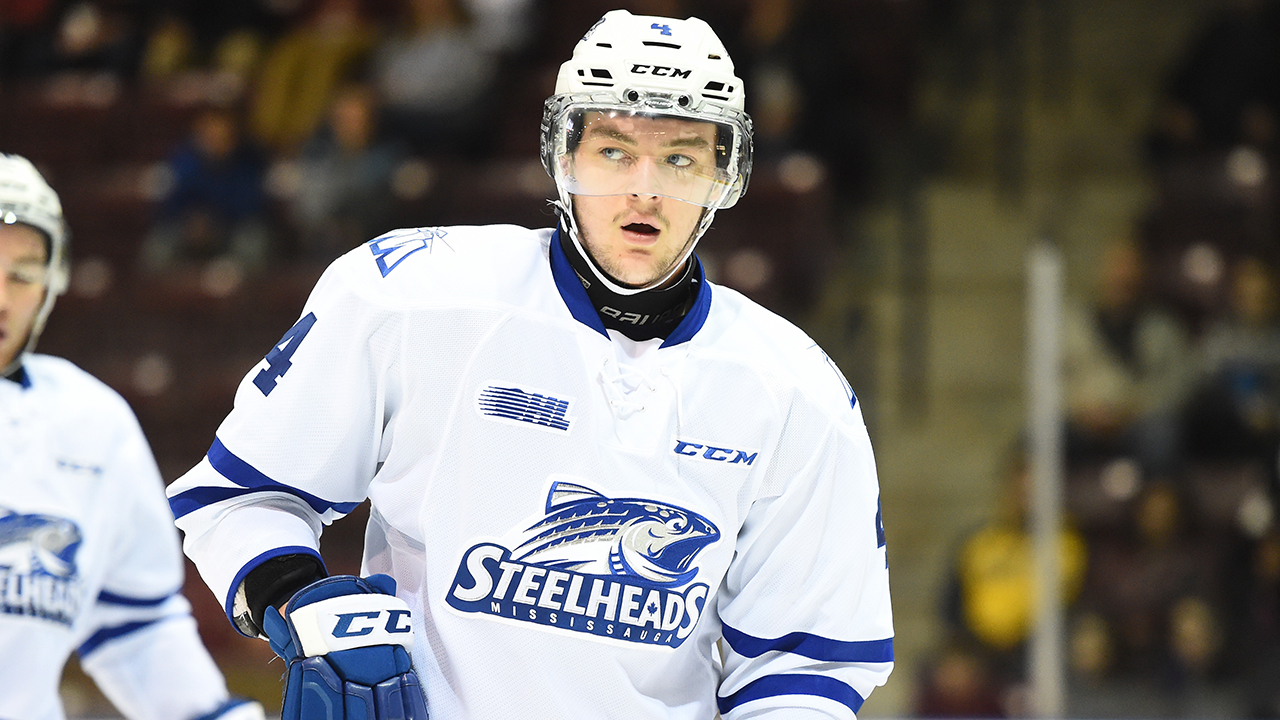 No one has dropped further in draft rankings than Sean Day. (Aaron Bell/OHL Images)
This brings us around to the most enigmatic player in the 2016 draft, Mississauga defenceman Sean Day. Even though Day was granted exceptional-player status for early entry to the OHL, he's far from a lock to be invited to play for Canada at the under-18s. And Tuesday night he did little to build his case to be included.
With the season on the line, Day's play without the puck in his own zone was the stuff that has frustrated the Steelheads for three seasons—though he has the skating and size to dominate, he works hard enough to be just a half-step behind puck carriers but no closer. "There's just no urgency to his game," a scout said. "It's all there but he just doesn't tap into it. He's great with the puck, a lot of the times anyway, from the top of the circles and up, and that starts to fool you. Someone's going to gamble on him at the draft, but it's not going to be us, at least not based on anything I'll have to say."