WHITBY, Ont. — Ryan Smyth reaches into a large, black CCM hockey bag, but no sticks or skates can be found inside. Instead, there are just plenty of gadgets.
There's a compression undershirt outfitted with sensors, and a GPS tracker that can fit in your palm. There's a small box that can be affixed to a player's hip for 3D motion capture, and many other pieces of wearable technology.
Smyth, a sports technologist for the Anaheim Ducks, is going to change the Ontario Hockey League Combine with this bag of goodies. He's confident its contents will help push the league into the future and eventually advance other North American combines, too.
"This is going to accomplish something that's never been seen before," Smyth says. "This is where combines should be at now—[where they] will eventually get to."
[sidebar]
This year's OHL combine will be entirely driven by data, says Smyth, seated at a table inside the office of Elite Training Systems (ETS), which will help facilitate the event on April 1 and 2 at Oshawa's Tribute Communities Centre. In his job with the Ducks, Smyth evaluates physical information and can merge it with hockey analytics to develop a greater understanding of each player. He's hoping to do the same at the OHL Combine.
Athletes will be outfitted with a piece of wearable technology in every activity, on- and off-ice, a first for a North American combine, according to Smyth. The tech ranges from a heart-monitoring system to a device that analyzes the wearer's form while they perform exercises. There will be tools to calculate explosive lower-body power, specifying the amount of force each leg contributes, and 3D-mapping technology will track players' bodies, analyzing movement and range of motion.
Smyth will collect all that physiological data and combine it with testing times and rep numbers, as well as height, weight and age to paint a complete portrait of each player.
"It's a way of better understanding that athlete than just saying, 'He ran 40 yards in four seconds,'" says Smyth. "Well, that's great, but what does that really mean in the long run? What's the development curve of that player as a 14- or 15-year-old and what does that translate to as an 18-year-old when they mature?"
[relatedlinks]
Teams should have an easier time developing draft strategies with these tools that could chart a player's future physical development.
"Your top guys are going to be your top guys," says Smyth. "[This technology will] show you differences in terms of where your top guys are at … but also give you insight into the later-round picks, where you're doing guesswork in a sense. It'll hone in how guys physically can perform as they age."
As such data collection becomes commonplace, organizations will be able to go through their archives and easily compare past players who've been tested with teenagers who are currently being scouted. Another benefit to tapping into this material is it will help inform strength coaches as they develop training programs for young athletes.
"We customize programs for each athlete, but adding [this data] is a game-changer because we're going to be able to understand physical loads — when to push, when to pull, when to give guys time off," says Kevin Chapman, head strength coach at ETS. "Especially at the pro level, less is more when training athletes."
The NHL stands to benefit from all of this, too, with the OHL being a major pipeline into the league. As of mid-March, 142 active NHL players (15 per cent of the league) had played in the OHL at some point.
Officials from the NHL declined to comment on the technology at the OHL Combine and how it compares to the NHL version.
[pullquote]"It's going to really change the landscape of how athletes are assessed"[/pullquote]
Travis McDonough, CEO of Halifax-based Kinduct Technologies, has worked on various combines for major North American sports leagues — including the recent NFL Combine and upcoming NBA and OHL combines — and is optimistic about what's to come.
"It's going to really change the landscape of how athletes are assessed going forward," McDonough says by phone from his office in Palo Alto, Calif. His company will be bringing technology to the OHL Combine that will help Smyth's team interpret the vast amounts of raw data collected.
"It's going to change the ways combines are done," says McDonough. "We're going to be able to see deeper layers inside the athlete's abilities and liabilities. It's going to set the new standards for all the other combines."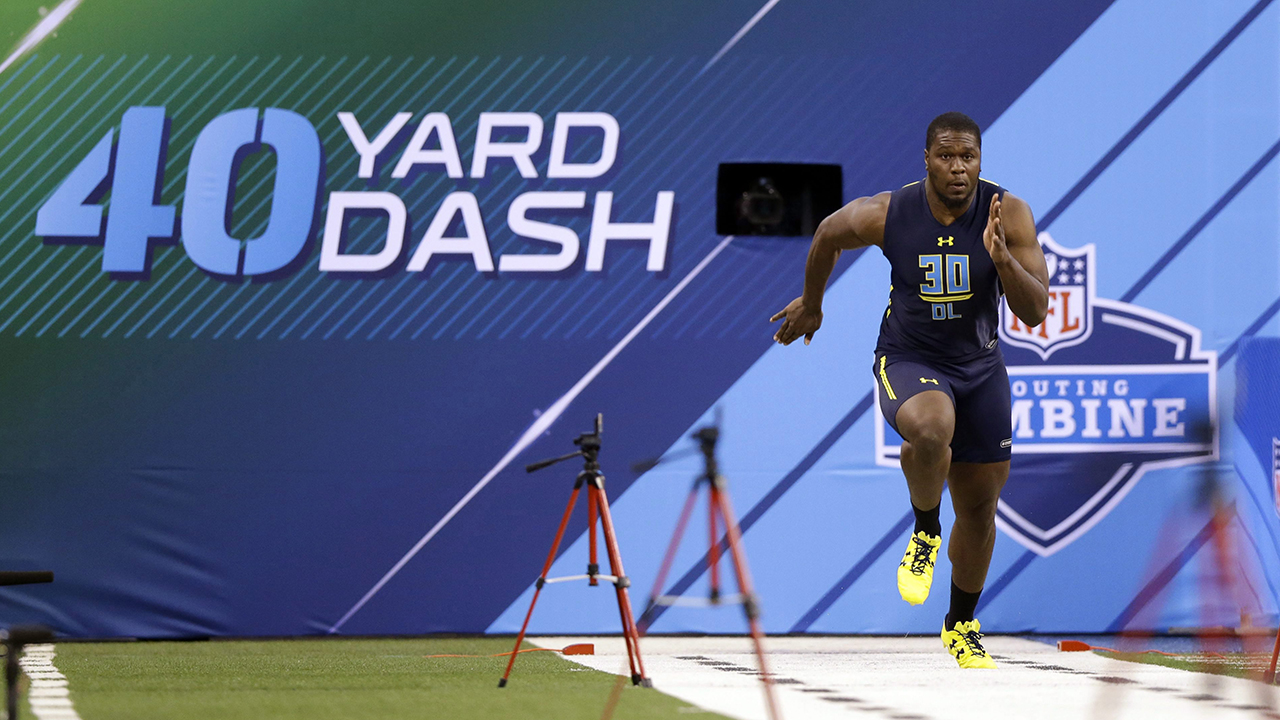 Defensive end Malik McDowell runs a drill at the NFL Combine in Indianapolis on March 5. (Michael Conroy/AP)
McDonough believes the technology used at the OHL event will be picked up by other leagues very soon. Smyth met with the Canadian Hockey League this year and success at the OHL event could potentially open the door for changes to be implemented in the CHL's other development leagues, the QMJHL and WHL.
There's already an appetite for Smyth's work. He travelled to the MLB winter meetings this past December in National Harbor, Md., and met with 16 teams, including the Yankees, Cubs and Dodgers, as well as USA Baseball and the Boras Sports Training Institute. Executives are trying to determine what new technologies will work for baseball.
"Looking at just statistical analytics doesn't give you the full picture," says Smyth. "It just gives you what's happening on the ice or in the field — that doesn't always tell you what's happening behind the scenes."
Behind the scenes is where you will find Smyth, who, if things go as planned, might need to get a bigger hockey bag in the coming days.