It will be tough to outdo the barnburner we witnessed in Saint John on Friday Night Hockey, but the OHL battle featuring the Barrie Colts and Mississauga Steelheads has the potential to be a high-scoring affair based on the season series to date.
The Hershey Centre is the site of the fourth of six clashes between the two Central Division rivals this season. The two teams have combined to score 26 goals in the three previous meetings, with at least one team putting up six goals in each contest.
---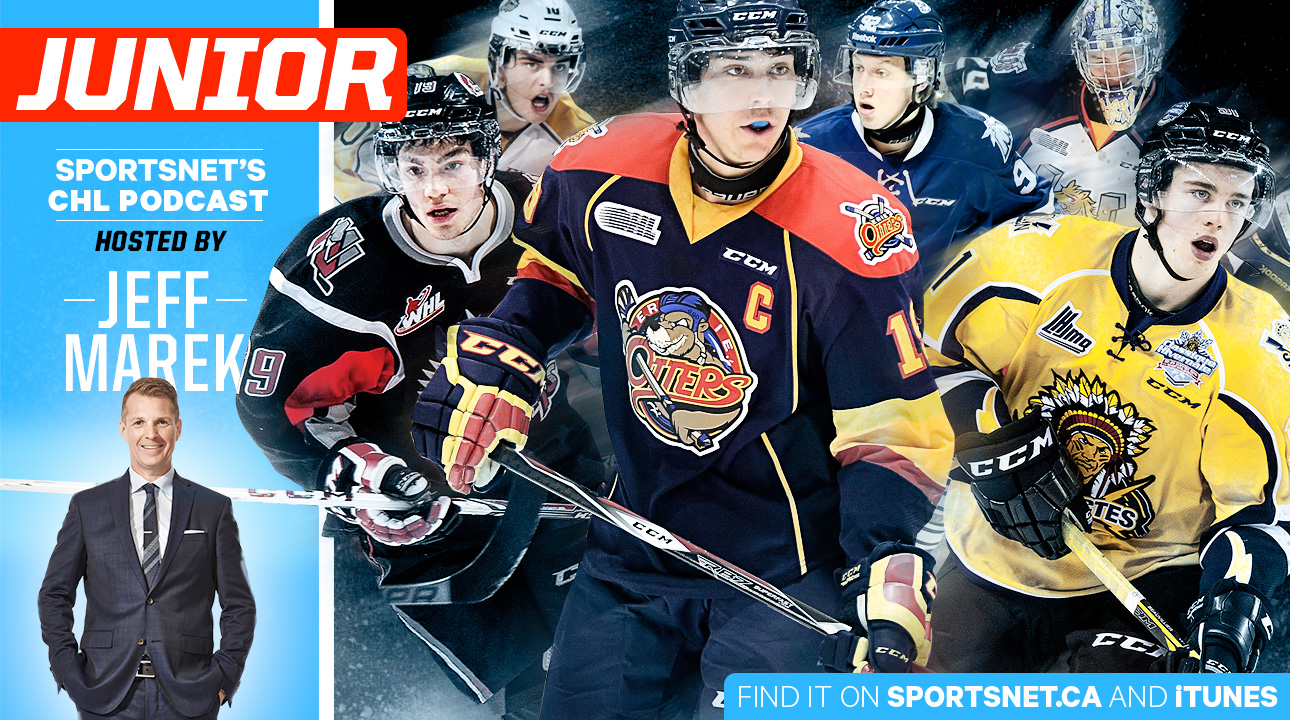 Jeff Marek hosts Sportsnet's weekly CHL podcast. This week, Jeff and Sam Cosentino discuss the Steelheads and Nathan Bastian joins the show.
Listen now | iTunes | Podcatchers
---
Barrie Colts
Barrie GM Jason Ford went all-in at the OHL trade deadline, addressing two needs. First, he added speed with the likes of Dylan Sadowy, and Keigan Goetz. Anthony Stefano was brought in from Windsor in the Brendan Lemieux trade, and he too has great wheels.
Next, Ford addressed the defence by bringing in stalwarts Greg DiTomaso and Cameron Lizotte. His most shrewd move was to acquire goaltender David Ovsjannikov, who has far outweighed the seventh-round pick that went the other way. Ovsjannikov's numbers are pedestrian, but he has helped the Colts earn points in seven of the 11 games he's played.
Barrie Colts: 26-16-0-1 (12-9-0-0 Road), 1st Central Division, 2nd Eastern Conference
Individual stats
| Top Scorers | GP | G | A | PTS | Note |
| --- | --- | --- | --- | --- | --- |
| Kevin Labanc | 41 | 28 | 52 | 80 | 2nd OHL |
| Andrew Mangiapane | 35 | 25 | 31 | 56 | 9th OHL |
| Justin Scott | 43 | 18 | 25 | 43 | |
| Rasmus Andersson | 41 | 7 | 33 | 40 | 2nd OHL D |
| Dylan Sadowy | 40 | 25 | 14 | 39 | |
In goal
| Name | Record | GAA | SV% |
| --- | --- | --- | --- |
| David Ovsjannikov | 8-7-0-1 | 3.80 | .890 |
(stats through Friday's games)
The Colts continue to play an up-tempo, run-and-gun style of game in the same manner in which their Hall of Fame head coach Dale Hawerchuk played. While Hawerchuk demands defensive responsibility, he strongly encourages his top players' creativity. Kevin Labanc has proven that last year's 100+-point season was no fluke and he remains one of the OHL's top point producers.
Speedster Andrew Mangiapane has also followed up a 100+-point season from a year ago with a 1.5 point-per-game pace this season. Both have been on fire in the goal-scoring department of late. Holdovers Justin Scott, Roy Radke and WJC gold medalist Julius Nattinen are also solid contributors.
On defence, Rasmus Andersson and Michael Webster provide offensive punch. Rookie Justin Murray has been a great find and Josh Carrick can be difficult to play against.
Team stats
Power-play percentage: 20.1% (7th in league)
Penalty-kill percentage: 82.8% (7th in league)
Goals-for per game: 4.00 (3rd in league)
Goals-against per game: 3.05 (9th in league)
NHL drafted/signed players
Mackenzie Blackwood (New Jersey, 42nd in 2015)
Rasmus Andersson (Calgary, 53rd in 2015)
Julius Nattinen (Anaheim, 59th in 2015)
Dylan Sadowy (San Jose, 81st in 2014)
Roy Radke (Chicago, 164th in 2015)
Andrew Mangiapane (Calgary, 166th in 2015)
Kevin Labanc (San Jose, 171st in 2014)
NHL Central Scouting
Ben Hawerchuk (No. 159)
Justin Murray (No. 171)
Down the stretch, the Colts expect to widen the gap between their defensive play and creating more offence. Mackenzie Blackwood is serving his second suspension of the season after firing a puck into the stands after allowing a goal in Hamilton on Jan. 15th. In fact, Blackwood has only manned the Barrie net four times since Dec. 4, earning two wins against two losses. Once he gets back to playing regularly, and DiTomaso and Lizotte start to feel comfortable, the Colts should be able to shave at least half a goal per game off their docket.
Under the radar
Andrew Mangiapane: Has top-notch speed and great offensive instincts. His shot is sneaky good and playing under Hawerchuk has allowed him to hone his best skills.
Mississauga Steelheads
Last Sunday we got a real taste of what scouts have talked about all season long when watching Mississauga. Alexander Nylander, Michael McLeod and Nathan Bastian make up the Steelheads' top line and they did not disappoint, combining for five points and a plus-7 rating in the 4-2 win over Kingston.
The young trio will be put to the test with another three games in a three-day weekend before leaving Tuesday for the BMO Top Prospects Game in Vancouver. NHL Central Scouting holds the trio in high regard as Nylander is ranked third, McLeod sixth and Bastian 19th in terms of North American skaters at the mid-term.
Up front, Josh Burnside is starting to add secondary scoring thanks in part to linemate and centreman Mason Marchment, whose strong performance in the faceoff circle allows for the line to maintain good puck possession. Rookie Owen Tippett is a shooter who plays with some jam, but there is pressure on him to keep up point production with his older linemates.
Mississauga's third line of Damian Bourne, Ryan McLeod and Daniel Muzito-Bagenda is hard-working with some skill. Everett Clark is a glue guy whose presence in the lineup makes Mississauga a much better team.
Mississauga Steelheads: 23-19-1-3 (11-9-0-1 Home), 4th Central Division, 5th Eastern Conference
Individual stats
| Top Scorers | GP | G | A | PTS | Note |
| --- | --- | --- | --- | --- | --- |
| Alexander Nylander | 38 | 24 | 31 | 55 | 1st OHL Rookies |
| Michael McLeod | 43 | 18 | 31 | 49 | |
| Nathan Bastian | 42 | 13 | 29 | 42 | |
| Mason Marchment | 39 | 13 | 24 | 37 | |
| Josh Burnside | 34 | 9 | 17 | 26 | |
In goal
| Name | Record | GAA | SV% |
| --- | --- | --- | --- |
| Jack Flinn | 23-16-1-1 | 2.77 | .914 |
(stats through Friday's games)
Defensively, Austin Osmanski is developing well and is ranked 153rd by Central Scouting. Nicolas Hague's developmental curve has been steep and he improves daily. Sean Day is wildly inconsistent, not just game-to-game but within games, yet his toolbox remains enviable. The Steelheads get really good mileage out of Stefan LeBlanc and Stephen Gibson, while Daniel De Sousa has been solid when in the lineup.
There's no need to look beyond Jack Flinn in goal. He leads the league in minutes played, saves and recorded his league-leading seventh shutout Friday night against Niagara.
Team stats
Power-play percentage: 18.4% (12th in league)
Penalty-kill percentage: 85.3% (1st in league)
Goals-for per game: 3.20 (12th in league)
Goals-against per game: 3.04 (8th in league)
NHL drafted/signed players
N/A
NHL Central Scouting
Alexander Nylander (No. 3)
Michael McLeod (No. 6)
Nathan Bastian (No. 19)
Sean Day (No. 43)
Austin Osmanski (No. 153)
Going into play Saturday, five points separate the second through seventh spots in the Eastern Conference, with Barrie holding down the Central Division lead. The entire division has games in hand on Mississauga, making these two points critical for the Steelheads to keep pace.
Under the radar
Austin Osmanski: Will find more fluidity to his game once he grows into his body. His size will always play and he has a good understanding of his position and playing within his limitations.