Eight years on, the ripple effect of Rychel-gate could have some bearing on the second round.
One anomaly of the OHL is having the priority selection draft during the second round of the playoffs, as a rearguard action against what happened in 2010. At that time, the Barrie Colts were surely not the only team that felt the Windsor Spitfires were asking a little much by holding off on drafting Kerby Rychel, son of GM Warren Rychel, with a No. 38 overall pick, but they acted on it while the teams were set to meet in the OHL final.
So the draft is on the second Saturday in April, which can make for some scheduling workarounds. Only one of the four conference semifinals will be active on Saturday. The top overall seed Sault Ste. Marie Greyhounds also scheduled back-to-back home games, ostensibly to try to burn out the Owen Sound Attack.
Join Jeff Marek and Sam Cosentino for all the CHL and NHL prospect talk you can handle.
The top four seeds on either side made it through for the second season in a row, but also for only the second time in the 20-season history of the OHL's playoff format.
Kitchener and Sarnia ratcheted up the tension toward the end of the regular season. The Eastern Conference, often depreciated as the junior varsity, is always worth following for sheer unpredictability. Both of the division winners, Hamilton and Barrie, are facing lower seeds that they could only defeat once during the regular season.
Barrie hosts Kingston in the sole series opener on Wednesday, while the other rounds commence Thursday.
Eastern Conference
(1) Hamilton Bulldogs vs. (4) Niagara IceDogs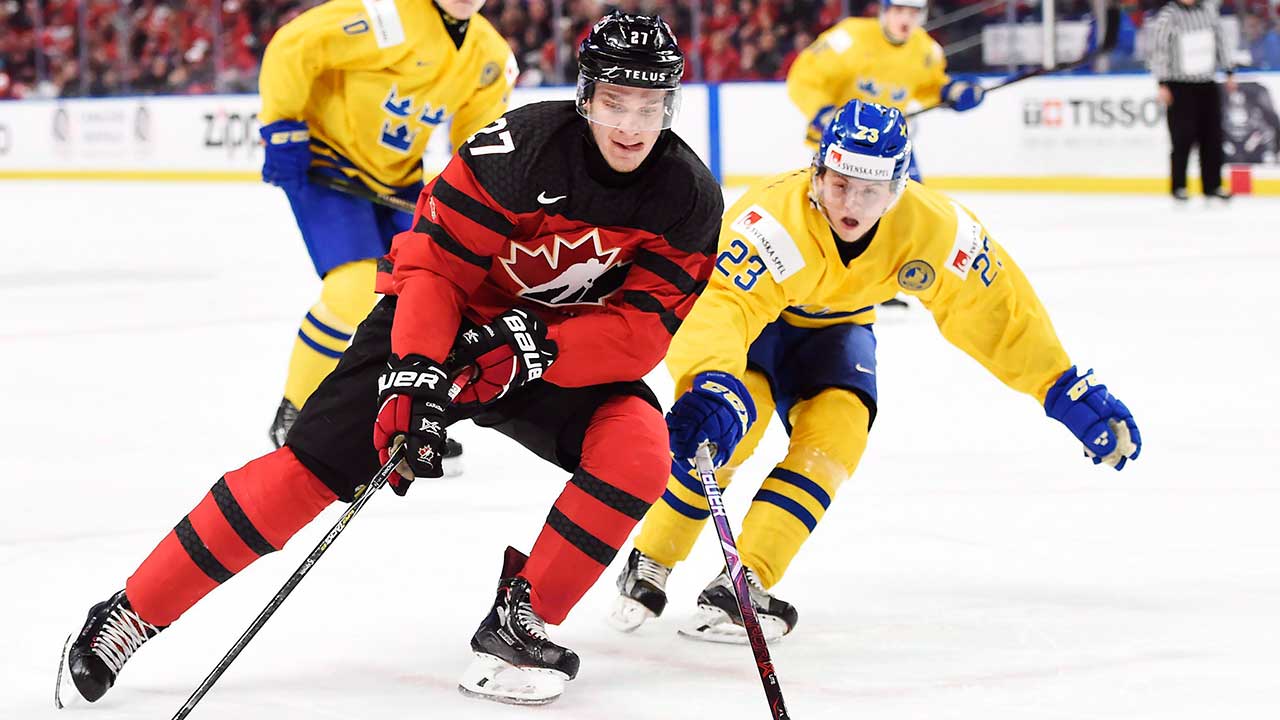 Regular-season series: Niagara 5-0-1, two wins in extra time.
Series in a sentence: Hamilton has home ice, but Niagara has had the Bulldogs' number; it could be a long series, although everyone is already dog-tired of the animal puns.
Last playoff matchup: First one in their current cities.
Last conference final berth: Hamilton, 2013 (as Belleville Bulls); Niagara, 2016.
Draft-eligible players
Hamilton: G Nick Donofrio, C Brandon Saigeon
Niagara: C Akil Thomas, D Justin MacPherson
Add seasoning (overages and 19-year-olds): Hamilton 13, Niagara 7
Player to watch
Hamilton: C Robert Thomas (STL), the Blues first-round pick, had seven points in four regular-season games vs. Niagara.
Niagara: The aforementioned Thomas, one of the OHL's best playmakers, stepped up to close out Oshawa in five games in the first round.
#TheMoreYouKnow: Bulldogs LW Matthew Strome (PHI) has watched his older brothers play in three OHL finals (Ryan in 2012, Dylan in 2015 and '17).
How they match up: The season-series record conceals that the Bulldogs arguably carried the play (43-28 on the shot counter) during an overtime loss in their last meet-up with the IceDogs 2½ weeks ago. The Bulldogs come into this round with some line-juggle bump after creating a fleet first line with Thomas, Saigeon and Will Bitten (MTL) midway through their series against Ottawa. Being the more physically mature team, especially on the back end, could have increasing bearing on the play as the series unfolds.
IceDogs goalie Stephen Dhillon had a 2.15 average and .941 save percentage during the season against Hamilton, while backing Niagara to a 5-0 record. That kind of mastery is hard to sustain, but the IceDogs will need it to have a shot. The IceDogs, 11-1 in their last 12 games, aren't conceding any offensive depth to the higher seed (13 goal scorers against Oshawa), so the Bulldogs will not be able to just focus on containing Thomas, Sam Miletic and Kirill Maksimov (EDM).
(2) Barrie Colts vs. (3) Kingston Frontenacs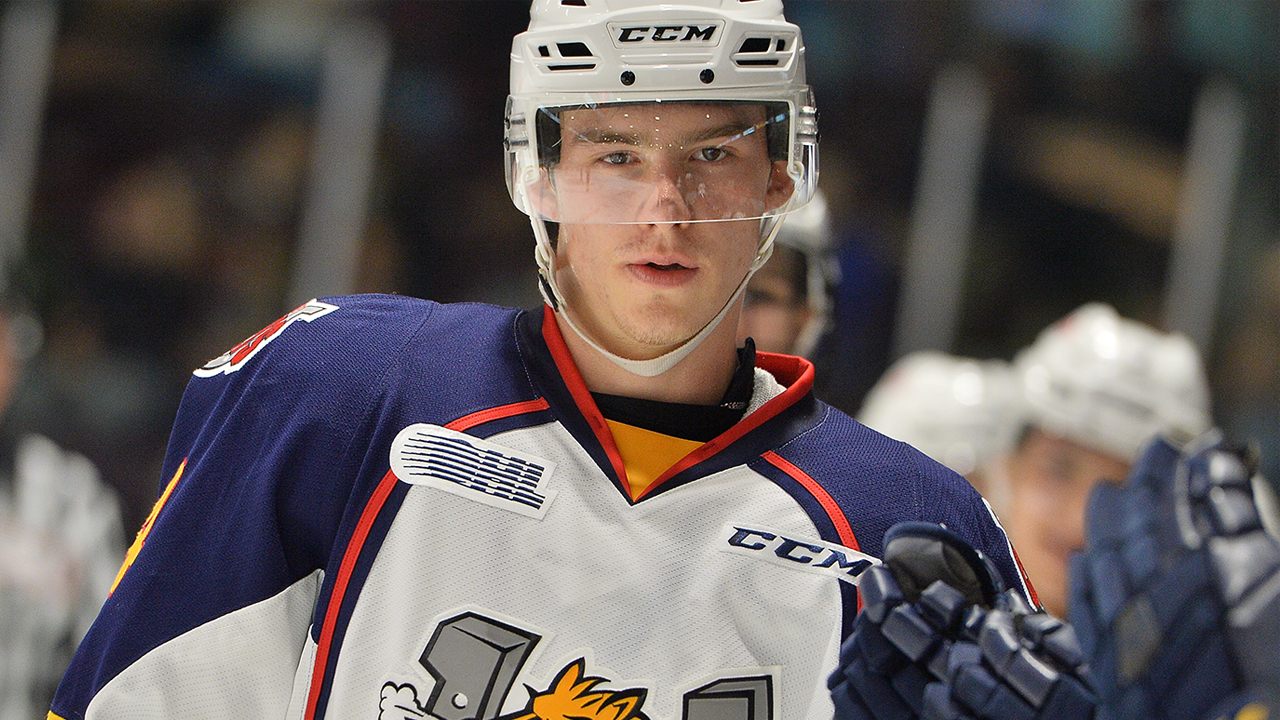 Regular-season series: Kingston 3-1
Series in a sentence: Duelling Good Kingston Boys™ Aaron Luchuk (OTT) and Gabriel Vilardi (LA), who won the Memorial Cup together in Windsor last season, will try to lead their offensively potent teams into Round 3.
Last playoff matchup: 2013, first round; Barrie won 4-0.
Last conference final berth: Barrie, 2016; Kingston, 1993.
Draft-eligible players
Barrie: RW Andrei Svechnikov, D Tyler Tucker, D Joey Keane
Kingston: RW Linus Nyman
Add seasoning (overages and 19-year-olds): Barrie 8, Kingston 10
Player to watch
Barrie: Top-ranked North American skater Andrei Svechnikov came back from a suspension, and after needing one game to get his playoff skating legs, put up five points in the first-round clincher against Mississauga.
Kingston: Vilardi notwithstanding, Sean Day (NYR) should be at full sail after the 19-year-old defenceman experienced winning a playoff round for the first time in his five seasons in the league.
#TheMoreYouKnow: Colts goalie Leo Lazarev faced a league-most 252 shots in the first round, fashioning a .925 save percentage.
How they match up: Both teams are deep up front and had a can-only-make-us-stronger challenge in the first round. For the Colts, that was being in peril of a 3-1 series deficit against Mississauga. Tucker got the overtime winner in Game 4 and they never looked back. Kingston needed almost 55 minutes of triple overtime against North Bay in the Game 5 clincher.
The Colts use Luchuk and Ryan Suzuki's lines to build tempo and get teams into a stressed state before the Jason Willms-centred third line jumps on and starts creating offensive turnovers. They wore out Mississauga with that formula, although Kingston is a deeper team. Other points in Barrie's favour include an airtight penalty kill (16 for its last 17) and a charismatic goalie in Lazarev.
Kingston might possess some more catalytic star power with Vilardi and the classic duo of Cliff Pu (BUF) and Jason Robertson (DAL) on the second line, along with having more NHL draft stock on the back end through Day, Jacob Paquette (NSH) and Eemeli Rasanen (TOR). The Frontenacs are not as consistent as the Colts, but potentially getting Max Jones (ANA) back from a broken finger at some point would provide an emotional lift.
Western Conference
(1) Sault Ste. Marie Greyhounds vs. (4) Owen Sound Attack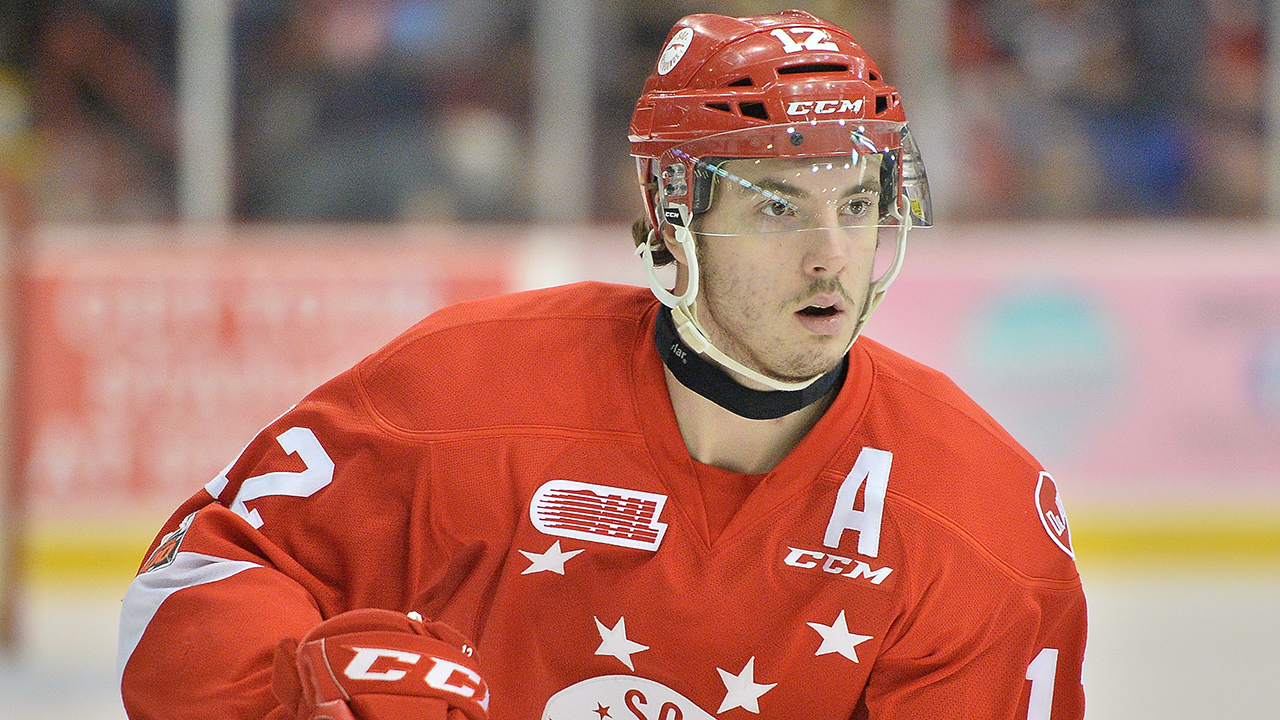 Regular-season series: Sault Ste. Marie 1-0-1
Series in a sentence: The 'Hound Machine might get its first serious test against Owen Sound's high-octane offence.
Last playoff matchup: Second round, 2017; Owen Sound won 4-2.
Last conference final berth: Sault Ste. Marie, 2015; Owen Sound, 2017.
Draft-eligible players
Sault Ste. Marie: C Barrett Hayton, D Rasmus Sandin, D Mac Hollowell
Owen Sound: C Aidan Dudas, D Sean Durzi, D Brady Lyle
Add seasoning (overages and 19-year-olds): Sault Ste. Marie 11, Owen Sound 11
Player to watch
Sault Ste. Marie: Take your pick, but No. 1 left wing Boris Katchouk (TB) had multi-point efforts in both regular-season games vs. Owen Sound, as well as all four playoff games.
Owen Sound: Jonah Gadjovich (VAN), a world junior gold medallist, was shut out during the sweep against London. The Attack need to change that stat.
#TheMoreYouKnow: Fourth Attack-Greyhounds playoff showdown in six seasons; Sault Ste. Marie coach Drew Bannister was an Owen Sound assistant coach for the first two.
How they match up: Sault Ste. Marie seems formidable from the goal out, while Owen Sound is on a 10-win streak after four one-goal wins against the London Knights. A determining factor might well be who runs a tighter ship in the D zone; the Greyhounds have a better track record in that department due to Morgan Frost (PHI) being very advanced as a two-way centre, while Conor Timmins (COL) anchors the back end. Being out in front all season has presumably created the luxury of being able to fine-tune the specialty teams, whereas as the Attack penalty kill struggled by times against London.
With the first three games bunched into four days, the Greyhounds will try to tax Owen Sound with their overall team speed. There is a lot of top-end talent on each side – hey there, Nick Suzuki (VGK) – but the Greyhounds should be fine if they remain tenacious and maintain the discipline that makes them the second-least penalized team that is still playing.
(2) Kitchener Rangers vs. (3) Sarnia Sting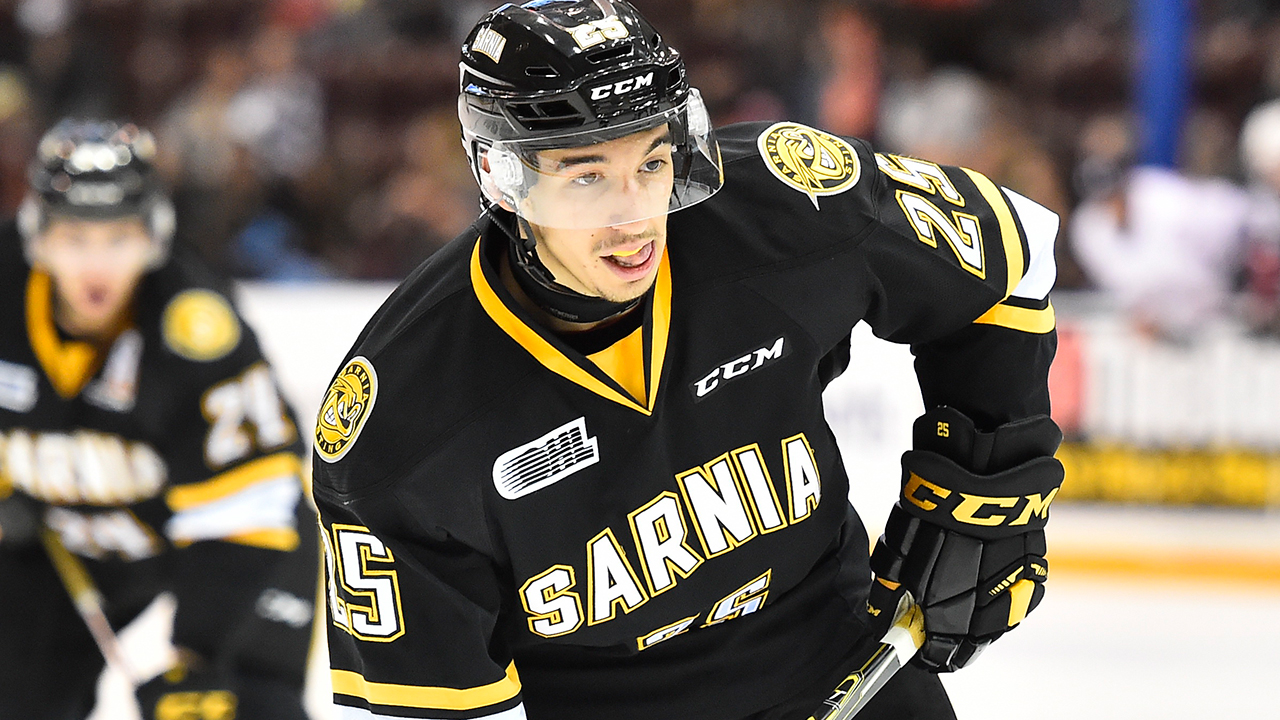 Regular-season series: Kitchener 3-0-1
Series in a sentence: A couple of late-season matchups created some bad blood and the team that channels that best will be the one advancing.
Last playoff matchup: 2008, second round; Kitchener won 4-0.
Last conference final berth: Kitchener, 2013; Sarnia, 1989 (as the Cornwall Royals).
Draft-eligible players
Kitchener: D Giovanni Vallati, C Riley Damiani, C Rickard Hugg, C Adam Liska
Sarnia: LW Hugo Leufvenius
Add seasoning (overages and 19-year-olds): Kitchener 11, Sarnia 12
Player to watch
Kitchener: C Logan Brown (OTT) was a fine facilitator during the first round with a league-leading 13 points.
Sarnia: RW Jordan Kyrou (STL) led the Sting with 25 shots during the first round against Windsor, but only had two points to show for the effort.
#TheMoreYouKnow: Including Sarnia's Derian Hatcher (1,045) and Kitchener's Jay McKee (802), the four coaches extant in the Western Conference bracket are all former NHL defencemen, with more than 3,000 games of combined experienced in the big league.
How they match up: The cliché du jour might be the one about how teams need their best players to be their best players. Between Brown, a more aggressive Adam Mascherin (FLA) and a late-series assertiveness from captain Connor Bunnaman (PHI), the Rangers were well spoken for in that regard against Guelph. The Rangers also have a big presence on the back end with defenceman Logan Stanley (WPG), although their depth is somewhat pegged to the status of Vallati (head hit during the Guelph series).
Two of Sarnia's top-end forwards, Kryou and Jonathan Ang (FLA), each had only one goal during their exercise in patience that was a series against the Windsor Spitfires and franchise goalie Michael DiPietro (VAN). While that's a concern, the Sting could be a little more balanced offensively than the Rangers, having relied on the Ryan McGregor (TOR)-Hugo Leufvenius-Sean Josling line to get them over against the Spitfires.
The last line of defence should the X-factor. Kitchener's Mario Culina and Sarnia's Justin Fazio are each 20-year-olds who seem to keep having to re-prove themselves to everyone outside of their respective dressing rooms. Culina was yanked once during the Kitchener-Guelph series, while Fazio had long stretches of inactivity while the Sting were besieging Fort DiPietro.