VANCOUVER–It was a simple story: the adoration of a big brother by a little brother.
In Sean Day's case, it was his older brother Scott, who he wanted to emulate growing up in Rochester, Mich.
"I remember watching my brother, Scott, play, and ever since then I wanted to be a hockey player," said Day. "He was my role model growing up. He's the reason I wear No. 4."
That simple story took a tragic turn in late October 2014. Scott was driving his pickup truck when it slammed into another vehicle just four miles from his family's home, killing a 62-year-old woman. The 23-year-old was charged by police, who found his blood-alcohol reading was twice the legal limit. Last summer, after pleading no contest, he was sentenced to prison for no less than 57 months and no more than 15 years.
---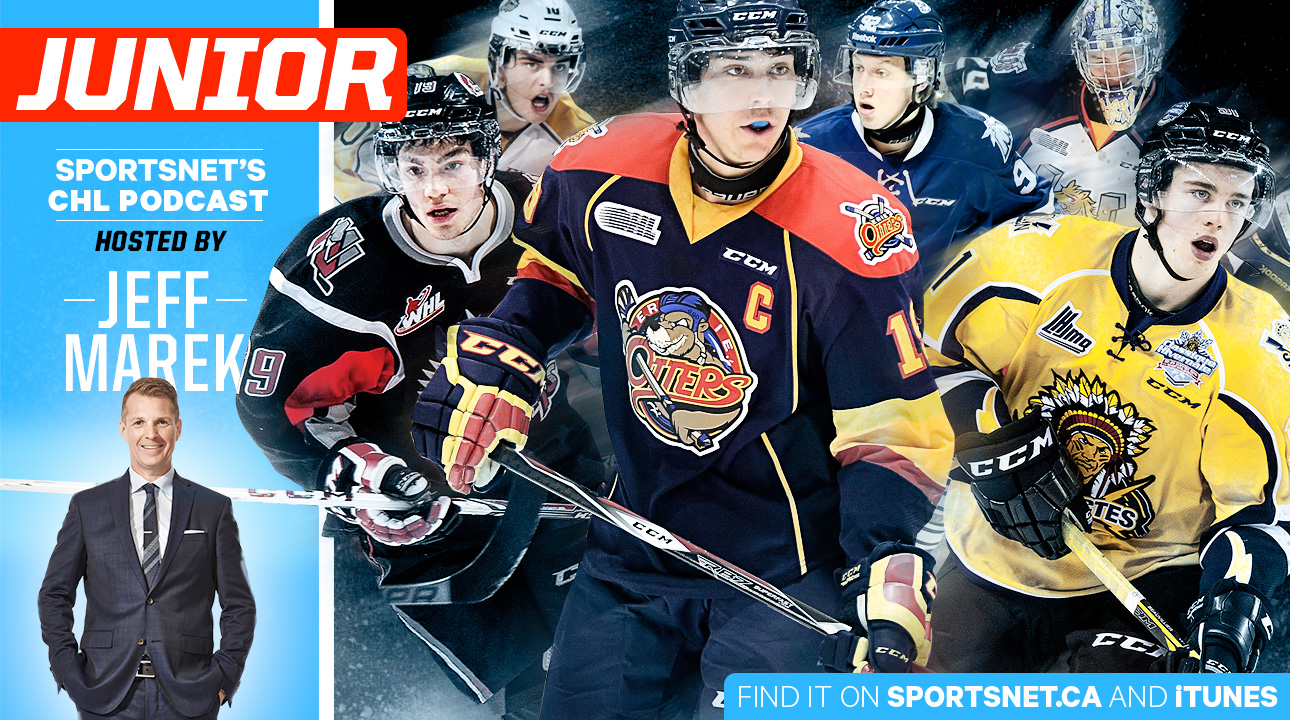 For more on Sean Day and everything that happened at the BMO Top Prospects Game, check out Jeff Marek's post-game podcast from the Pacific Coliseum in Vancouver.
Listen now | iTunes | Podcatchers
---
For his kid brother, a highly touted defenceman with the OHL's Mississauga Steelheads who could possibly be picked high in next summer's NHL draft, Scott's arrest and conviction had a profound impact.
"I got to see him [in jail] once. We kind of just reflected on a lot of the funny things we did," said Day in an interview with Sportsnet.ca this week. "We were a really close family. We have four sons in our family. All four of us grew up really close to each other. Definitely seeing him go away was sad."
Day is, in many ways, the enigma of next summer's draft. Scouts and fans watch him play and gasp at the extraordinary skating ability for a rearguard built like a linebacker. But at the same time they wonder why Day's performance hasn't always lived up to his skill set.
His first season as a 15-year-old "exceptional" player in the OHL went reasonably well, and the second started off very well. But then came his brother's arrest. Since, his play has been inconsistent, he's occasionally left the Steelheads to go back home and his draft stock has dropped.
"I think that's what the scouts … talk about me just not looking engaged. A lot of the time I wasn't," he said. "So, it's been tough. I went home for a little bit of the season and re-gathered my thoughts.
"That's why it's hard with my brother going away. He's the reason I play, and he's the reason I love [hockey], and he doesn't even get to see me play it anymore."
Day's mother, who suffers from lupus, was also hospitalized recently. Meanwhile, the Steelheads blueliner imagines the day years from now when Scott will be released.
"Maybe I'll be in the NHL and he can come and see me play," he said. "I don't use that stuff as an excuse. It is on my mind, so, it's there, and it's not going away."
Sometimes we forget these young men are teenagers, and not just budding professionals hoping to soon be earning massive amounts of money playing before NHL-sized crowds. Any team considering drafting Day in June will want to understand his life and experiences, rather than simply writing him off as a player unable to unlock his potential.
Day's closest friend is Max Jones, who plays for the London Knights. Jones was surprised Day chose to open up about his brother's incarceration.
"I've known him for years. I grew up hating him at first. I used to play against him, and one year we played on the same team, and the friendship just clicked," said Jones. "Ever since then it's pretty much been continued friendship. He pretty much lives at my house in the summer now. We train together, do everything together.
"He's been through hard times. Not many people know what he's been through. He's always looking forward, looking ahead, [at] what he needs to do. I'm proud of what he's been doing. It's been a tough road for him."
Many of Day's Steelhead teammates aren't aware of the turmoil in his life. "He's genuinely affected by it," said Mississauga head coach James Boyd. "We provide as much support as we can"
Day also admits to feeling the sting of the critics—those who say he has never lived up to the lofty status of an exceptional player.
"It's definitely tough hearing a lot of the stuff they say. Over the last year with Pat Brisson as my agent, he definitely helped me a lot, just talking to me, not letting it get to my head. I'm gonna be the player I'm going be no matter what anybody says about me," said Day. "Now that I look back on [the exceptional status], I think maybe it wasn't the best thing to do for my development, because now I don't even look at myself as that kind of player anymore. I just want to be known as another draft eligible—just a normal player.
"Looking back, I think I wasn't ready. I think I've had to catch up with what people thought I should be."
Day played in the CHL Top Prospects game on Thursday in Vancouver, along with Mississauga teammates Michael McLeod, Nathan Bastian and Alexander Nylander. Those three could all be NHL first rounders, and the open question is whether the multi-talented Day will be. Many NHL scouts went to Vancouver specifically to evaluate Day against elite competition.
Day says his current No. 43 ranking among North Americans helps him focus. "This is my year, my time to shine and show what I'm all about," he said.
"A lot of people question if I love the game of hockey and if I care enough. For me, I look back in the summer when I was 245 lbs., and now I'm down to 224 … I want to show I'm dedicated and I'll lose weight for myself and for the team that drafts me. I look at that and I look at a lot of stuff I've put into my game to make people notice that I care—whether it's getting to pucks even faster, being the first guy there, hitting everybody in sight, boxing out, whatever it is, then trying to put it in every shift I have. I feel it's doing me a lot of good."