The Ontario Hockey League has not had a No. 8 seed get out of the first round since 2002 and a No. 7 has not advanced since 2011, when Marcus Foligno and the Sudbury Wolves swept an injury-depleted Ottawa 67's side that did not even play on its usual home ice until trailed 3-0.
So, like Kobe Bryant, previewing the OHL playoffs series by series needed to retire years ago. A far better lead-in to the post-season is to have an idea of the human drama innate to knowing what each of the 16 teams is hoping to take out of the struggle.
It seems more realistic to run through the seeds, to have a sense of what's at stake for each team. And last but not the least, playoffs are imbued with some sweet sorrow, since every round means an exodus of players who have become familiar over their four or five seasons.
---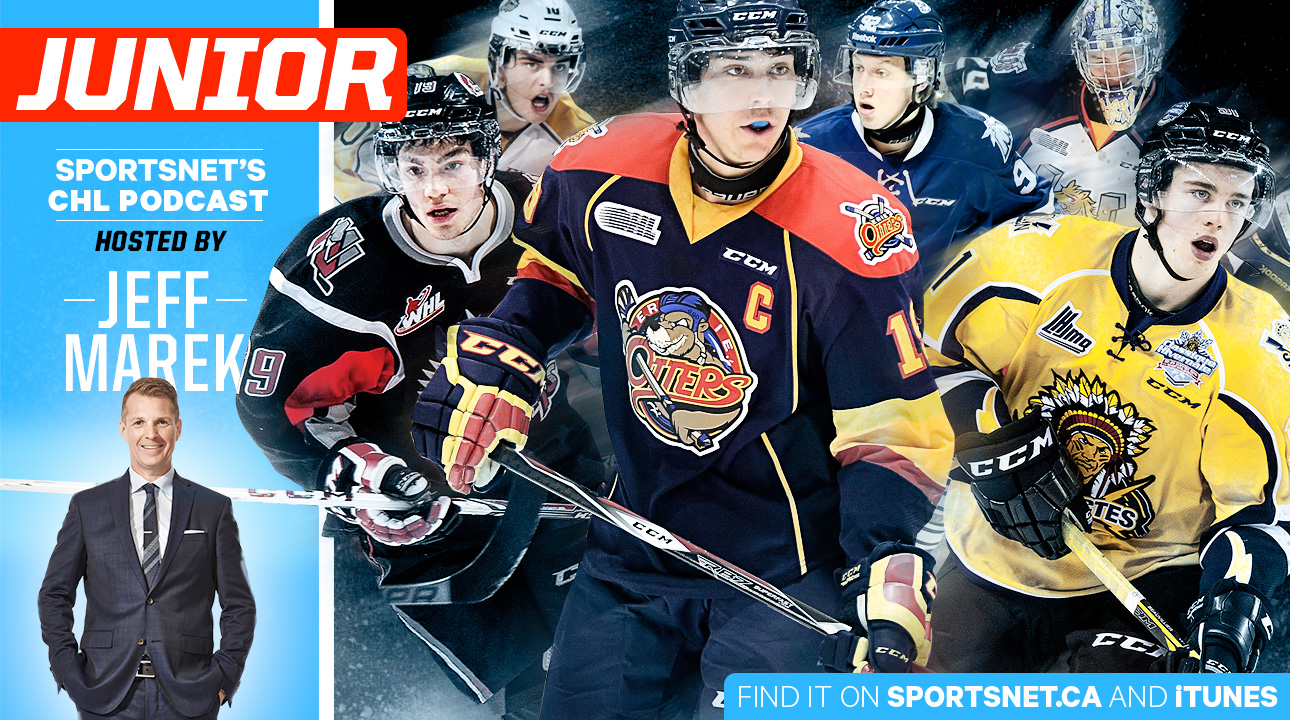 ---
Jeff goes deep on the OHL playoffs with Sam Cosentino and Neate Sager. Subscribe to the best CHL podcast going.
Listen now | iTunes | Podcatchers
---
Listen now | iTunes | Podcatchers
---
The playoffs begin Thursday. Check out the Eastern Conference preview here. Here's a look at the Western Conference:
(1) Erie Otters
Ceiling The OHL final again, if not farther, but only if goalie Devin Williams and the fourth through sixth D-men hold up
Floor Depends on blueliner Travis Dermott (Toronto) and a back end which was reinforced when 18-year-old T.J. Fergus returned from illness to play last nine regular-season games
Player to watch Centre Dylan Strome (Arizona) is out to take a team to the final in his age-18 season like Ryan Strome did in 2012—and not run up against a London wall, like the first 'Stromer' did with the 2012 IceDogs
You'll be missed Six-foot-four C Kyle Pettit (Vancouver) played a full season; his faceoff fluency would have helped in the five-game 2015 OHL final loss vs. Oshawa
(2) Sarnia Sting
Ceiling With their .727 point pct. since the Travis Konecny/Sam Studnicka trade, the Sting have some magic; taking out two of the Midwest heavyweights is too big an ask, but you never know
Floor Buy popcorn in bulk for the Derian Hatcher-Dale Hunter coaching matchup in Round 2
Player to watch Left wing Pavel Zacha (New Jersey) has 11 points in his past five games, and that Konecny fellow is semi-famous for being good
You'll be missed Matt Mistele (Los Angeles), another left winger, has been to at least the third round with his other two teams, Plymouth and Oshawa
(3) London Knights
Ceiling Mitch Marner (Toronto) and friends plan on reaching it in Red Deer in late May
Floor London won 3-of-4 in post-deadline matchups against likely second-round foe Sarnia, so no excuse if they fall to the Sting
Player to watch Promising goalie Tyler Parsons can be sporadic with his rebound control, and Hunter keeps everyone guessing with his playoff goalie choices
You'll be missed Centre Christian Dvorak (Arizona) could soon reunite with Max Domi in the desert
(4) Kitchener Rangers
Ceiling Good first season under the Mike Van Ryn/Jay McKee coaching team, but Western final is a long shot given post-deadline results versus Erie (1-1-0-1), Sarnia (0-2) and London (0-3)
Floor Anything less than winning one round is unacceptable to Rangers fans
Player to watch Right winger Jeremy Bracco (Toronto) has four goals in past nine regular-season games, and Rangers were able to give him rest for the series
You'll be missed Overage blueliner Miles Liberati, who been to at least the third round three times, will have to step it up
(5) Windsor Spitfires
Ceiling Deep into the second round, as first-season coach Rocky Thompson's nucleus gains experience for a turn as the likely 2017 MasterCard Memorial Cup host
Floor Just put some Ws back into Windsor; Spitfires bear the baggage of an 11-loss post-season skid dating to Ryan Ellis's last series in 2011
Player to watch Left wing Brendan Lemieux (Winnipeg), a chip off the ol' Claude block, in his last playoffs; you fear to watch, and yet you cannot look away
You'll be missed Overage right wing Connor Chatham (New Jersey) did not go more than one round during his two seasons with Plymouth
(6) Owen Sound Attack
Ceiling Making London sweat for six, maybe seven games
Floor A Ryan McGill-guided team with a raucous home crowd should not get swept—even one that hasn't defeated a conference playoff team since Feb. 17
Player to watch Goaltender Michael McNiven (Montreal); Habs-signed goalie against Leafs' bright hope Marner. McNiven and Attack have combined for four losses in a row to the Knights
You'll be missed Centre Josh Sterk will face his old London team
(7) Sault Ste. Marie Greyhounds
Ceiling As high as netminder Brandon Halverson (NY Rangers, U.S. world junior) can lift them; he has stopped 99-of-105 Sarnia shots in last three 'Hounds-Sting matchups
Floor With only one overage and two 19-year-old forwards, inexperience is an issue
Player to watch Right winger Zachary Senyshyn (Boston) scored 33 of his 45 goals at even strength
You'll be missed Overage centre Gabe Guertler has been a fine pivot over two seasons in the Soo
(8) Saginaw Spirit
Ceiling Under Moe Mantha, making Erie earn the win; Spirit haven't won two games in any round since Brandon Saad's last season, 2011-12
Floor Are 1-12-0 in the last three Round 1 losses and have been outscored 66-30; the bar is not high here
Player to watch Centre Mitchell Stephens (Tampa Bay) had a late 10-game point streak, and will face Team Canada 'mate Strome
You'll be missed Defenceman Will Petschenig was a pillar of Oshawa's 2015 title run, and took No. 65 this season, the number his late father wore as an offensive lineman for the Toronto Argonauts