ST. CATHARINES – If you liked Dylan Strome's celebration when he notched his fourth point of the game on Sunday to clinch the OHL's scoring title—arms in the air, a big grin, and a bunch of yelling—you should've seen (and heard) Sherry Bassin's.
The Erie Otters GM did a little more than a fist-pump up in the visiting owner's box. "It was overly dramatic—and expressive," a smiling Bassin said. "It was pretty clear; everybody around knew how I felt. And I'm not real proud of what I had to say. But it was mostly emotion. I was very excited and very proud of that young man."
You can't blame him, really. On an afternoon when boos rained down from the sold out crowd at the Meridian Centre upon the news that likely future No. 1 NHL draft pick Connor McDavid was a healthy scratch, and in a game that didn't matter to an Otters team that had locked up second overall in the West, Strome put on a show. Needing three points to tie his buddy Mitch Marner of the London Nights at 126 points for the scoring title, the six-foot-three, 187 lb.-centreman put up four goals and a pair of assists to finish with 129 points, a team record.
In 127 OHL games, he'd never had a hat-trick. Until Sunday. "I guess it's worth the wait," a grinning Strome said.
The 18-year-old emerged from the visitor's dressing room wearing the Otters' Super Player of the Game suit jacket, which is a real assault on the senses: Multi-coloured, it looks like it was pulled from a comic strip, with statements like "BOOM" and "POW" written all over it. There was no doubt who the Super Player of the Game was, of course. Strome was still a little shocked at what he'd just done in a game he said was more lacrosse than hockey, with an 8-7 finish in Erie's favour. "Obviously, it hasn't really sunk in," he said. "It's pretty unbelievable."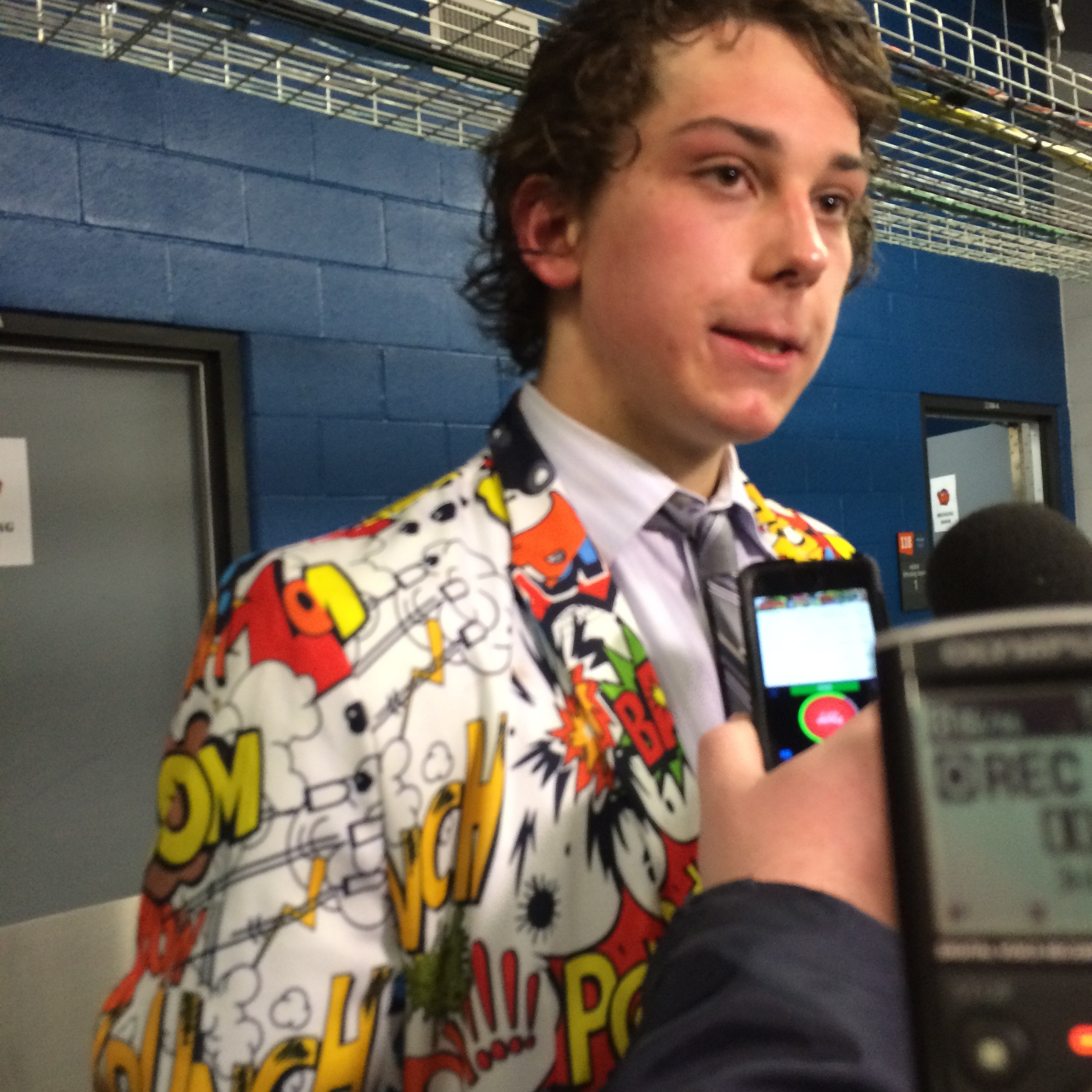 He scored on his first shot of the game, a wrister from the right wing. And that's sort of how this game went for No. 19. McDavid watched from the press box. He swore it wasn't painful to have to watch and not get to play, either. "It's nothing short of amazing," he said of Strome's six-point effort. "It was fun to be along for the ride, and watch the show."
Strome won't lie: The title was on his mind, even if he didn't talk about it much. He woke up Sunday thinking he needed two points to tie Marner. "I had an assist taken away this morning, so it was kinda on my mind that I needed two to tie," he said. "After this morning I needed three to tie. But I didn't think anything like this was gonna happen. It's pretty cool."
His older brother Ryan, a fifth-overall pick who now plays for the New York Islanders, was two points away from tying for the OHL scoring title in 2010-11 as a member of the IceDogs.
The younger Strome is a projected top-5 pick as well, though many scouts are torn as to whether they'd take Marner or Strome. Marner finished with two points per game compared to Strome's 1.89—Marner played just 63 games, Strome 68.
The two are close friends. Marner texted Strome earlier in the day and told him to have a good game, "but don't get too many points." Strome pulled his phone out of his grey dress pants pocket Sunday after the game, and there was another text from his buddy. "I'm not gonna read it now," he said, smiling, with a handful of microphones in his face. "I wouldn't do that to him."
Autograph-seekers screamed "Stromie!" and "Ryan!" as the Super Player of the Game walked down the hallway in his super suit, carrying his bag. "What a special player he is," Bassin said. "For him to take that challenge quietly—he never talked about it, never brags about it, never mentioned it to us today. But we all knew it. And on the ice, you could tell.
"That's what great athletes do. People say it's pressure, it's not pressure. It's opportunity. They look at it as opportunity. That's why he's such a great player."