ORCHARD PARK, N.Y. — Every winter, scores of Canadian families build an outdoor rink in their backyards. You go to the hardware store, get your tarps, throw them down, put up some sort of barrier around the perimeter, flood the thing, let it freeze, and just like that you're ready to skate around on the backyard pond.
But the rink Canadian forward Sam Steel and his family constructed in the backyard of their Sherwood Park, Alta., home was a bit different. Nearly a regulation-size surface, full boards with glass, two benches, overhead lights, a Zamboni (!!!), heated dressing rooms — the whole nine yards on one of the most legit backyard rinks you're ever going to see.
The Steel family — under the direction of Sam's father, Larry — first built the rink in November 2009, and has maintained and improved it every year since. Team Canada starting goaltender Carter Hart grew up about 15 minutes away, and remembers going over to the Steel house countless times to skate on the rink.
Hart and Steel first met when they were 10 and playing spring hockey in the Whitecourt Wolverines organization. As Steel began moving up the ranks of elite hockey, working with Alberta-based skills coach Ray Podloski, Hart would get calls all the time to come over and play net.
When Steel and Hart were just 11, the Regina Pats came over to run a backyard practice as they were preparing for an upcoming outdoor game. Years later, in 2015, after Steel was drafted by the Pats himself, they returned for another practice outside in the elements.
"I've been on that outdoor rink with Sammy a million times, probably," Hart said. "Whenever they needed a tendie out, I'd always come out there with them."
That experience should come in handy for both players Friday, when they take to an even more elaborate outdoor rink at New Era Field in Orchard Park, N.Y., where Canada and the United States will play a decisive game in pool A of the world junior championship. The winner of the game will likely win the pool and get a plum quarterfinal matchup against the fourth place team in pool B.
After the United States had their practice Wednesday, Team Canada skated on the outdoor rink Thursday, getting a feel for the ice, the sight lines, and, perhaps most importantly, the weather.
It wasn't quite as cold as it has been in recent days and the sun was out, which helped. But it was still -16 C, with the windchill making it feel like -22.
"It wasn't too bad," Hart said, admitting that he was wearing two layers of socks. "I did try wearing gloves under my hockey gloves. But it was just kind of too much. It wasn't too bad out there. The coldest thing was my feet. Thankfully I didn't get any in the toes because my toes probably would've broken off.
"I think it was just good that we got out there today to see the atmosphere and the environment and see what we're going to be facing tomorrow."
Hart said the ice was in decent shape, other than some choppy spots behind the net he was playing in. Canadian coaches circled the rink before their players arrived and laid down pylons over any problem areas they came across.
The setting sun was the biggest issue most Canadian players dealt with during their practice Thursday, with most wearing some form of eye black to combat the glare. But by the time the puck is dropped at 3 p.m. Friday, the sun will be almost entirely behind New Era Field's tall stands, which should eliminate that concern.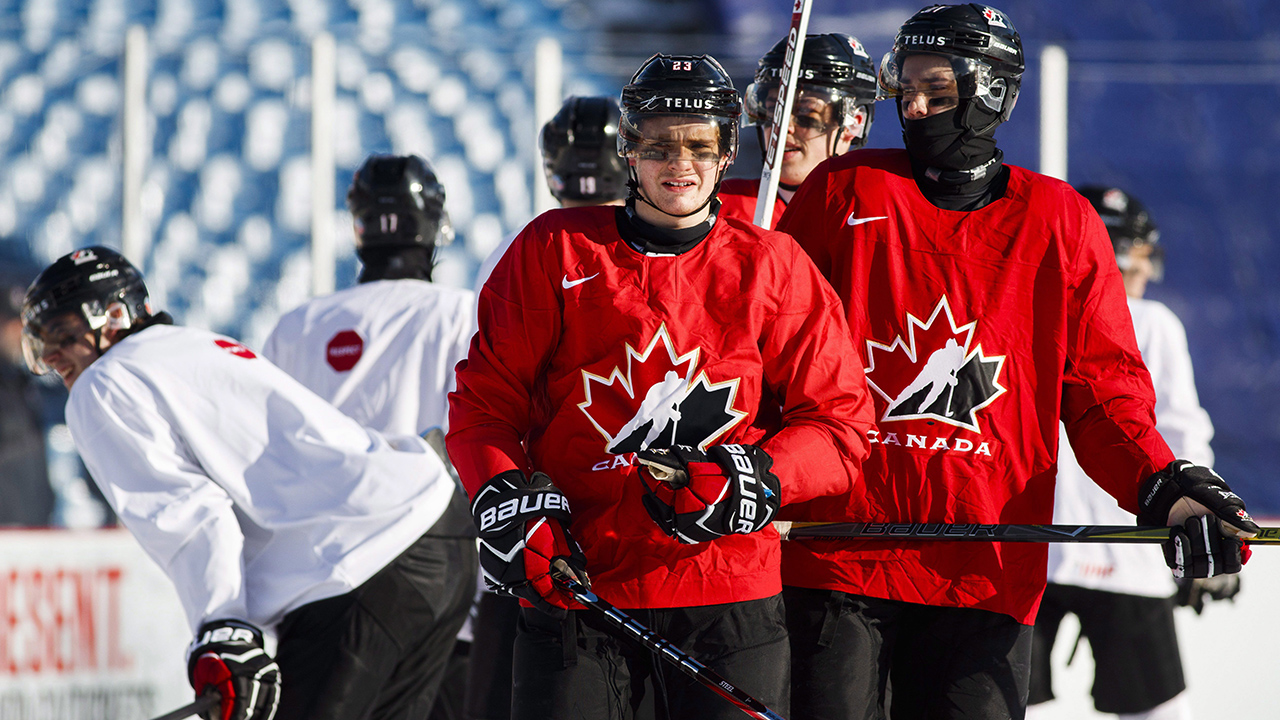 "Today was just jumping on and feeling it. The puck looked a little bit different out there with the sun but I think overall towards the end we looked pretty sharp," said Canadian captain Dillon Dube. "The conditions are going to be crazy. And we're going to expect that and just have fun with it no matter what happens."
Of course, the most important thing the Canadians are focusing on is winning a crucial game. Canada and USA's hockey rivalry is storied and well-told, but Friday's game will carry a little extra significance considering the U.S. defeated Canada — winning a shootout, no less — in the gold-medal game of this tournament a year ago.
Avenging that loss, and doing it during an outdoor game, would be extra special for the Canadians.
"It's a pretty big rivalry and we're pretty excited," Hart said. "It's a feeling like no other. It's incredible. And I've never been to an outdoor classic of any sort. So, to come here and experience that for the first time — it's pretty breathtaking.
"Even just when we first got here to step out onto the field, it brings back memories from the childhood days playing on the rink and feeling the cold air and runny noses and cold feet. Stuff like that. It was really cool."
Hart remembers those experiences well, of course, from the myriad days and nights he spent playing in the Steel backyard. Before Canada took the ice for practice, Steel and Hart's fathers both got to skate around beneath the tall stands that normally hold legions of Buffalo Bills fans.
It's a long way from that rink in Sherwood Park, Alta. But it's not all that different.
"Growing up with [Steel] and to be here at this event together with him, it's pretty cool to share it with him," Hart said. "Just talking with both of our dads, they're just as excited — probably more excited — than we are to be here. So, it's very cool for us and for our families."