REGINA – When Nick Henry potted a rebound in the slot with 32.6 seconds left in regulation to put the Regina Pats ahead, goaltender Max Paddock was overjoyed.
"Honestly, I kinda blacked out for a bit," he said. "I jumped in the air. It was crazy. It was awesome."
Why not be over the moon? The 17-year-old was chosen by his coach – and uncle – John Paddock to play on one of the biggest stages in junior hockey.
All he did was turned aside 31 shots and be one of the biggest reasons why the Mastercard Memorial Cup hosts opened the tournament with a 3-2 victory over the OHL's Hamilton Bulldogs.
"When he got the call to start, we believed in him," defenceman Josh Mahura said. "We had to play good in front of him. He weathered the storm a lot of out there. What's what we needed from him. It was awesome to see."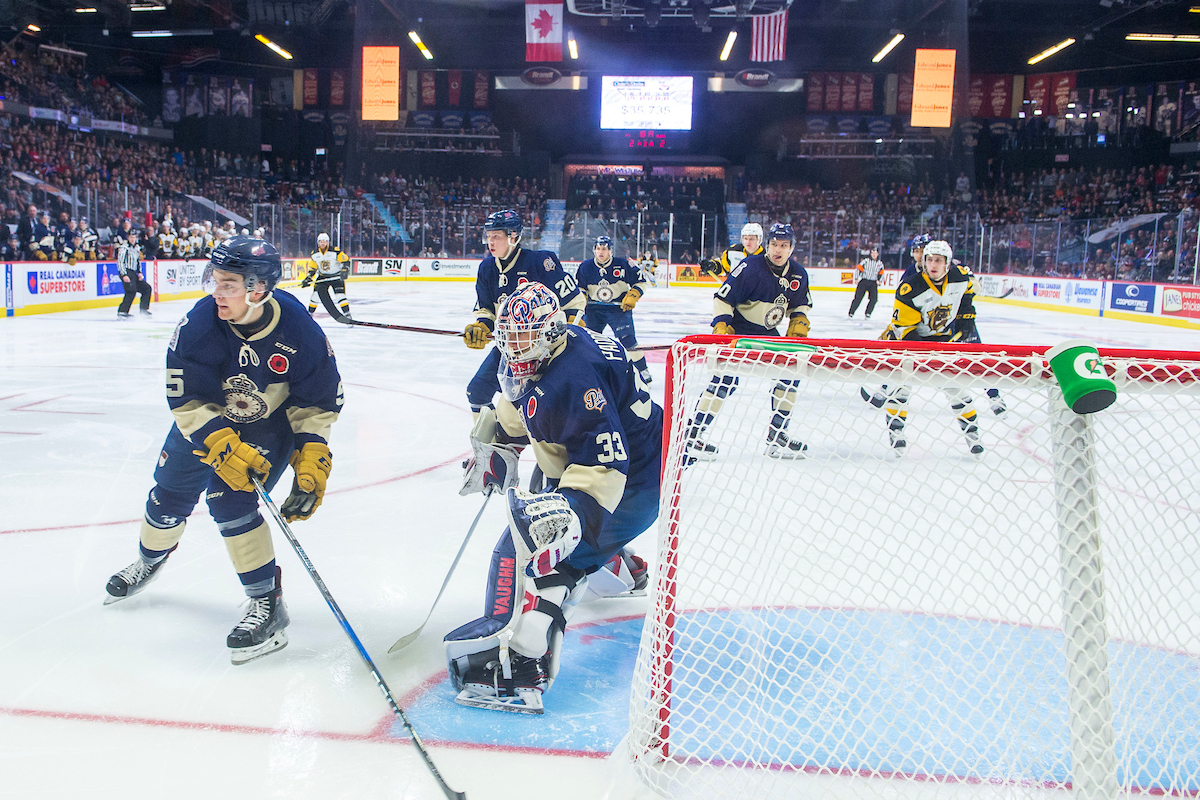 The decision to start the young netminder wasn't an easy one for the elder Paddock, or so he said.
As late as Wednesday, he hadn't decided – or at least wasn't willing to share – who he'd pick for the opening assignment.
He went with his nephew, who took over the crease in early February after veteran Ryan Kubic went down with an injury. Paddock won 12 of 15 games to close the season and finished the year with a 19-7-1-1 record, .904 save percentage and 2.90 goals-against average.
However, he sustained a groin injury in practice ahead of the playoffs and Kubic started all seven games of their first-round loss to Swift Current. It was a loss that left the Pats idle for 45 days.
Although, John said Kubic's play wasn't at fault, he cited Paddock's late-season run as the reason for the decision to start him on Friday. Referencing Nashville Predators goaltender Pekka Rinne getting pulled 10:47 into a Game 7 loss to Winnipeg in the last round of the Stanley Cup Playoffs, John said he told Kubic to be ready.
Paddock made sure his partner wasn't needed.
"Probably the biggest performance of my career so far," he said, flashing an aw-shucks smile.
Paddock was beaten on a clever tip by OHL playoff MVP Robert Thomas in the first period and on a Marian Studenic wrister that just got under the crossbar.
Other than that, he was flawless.
"We had a bunch of good chances. He made a bunch of good saves," Thomas said. "It just comes down to we have to be a lot better."
Paddock stopped Arthur Kaliyev after a pass from MacKenzie Entwistle midway through the second period. He then turned aside Will Bitten on a partial breakaway a few minutes later.
Being good also required being a bit lucky.
Entwistle kept on a 2-on-1 and hit the post in the third. The chance came just moments after Thomas sent a pass to Brandon Saigeon, which required Paddock to stretch to get the tip of his right pad on the shot.
"I didn't even see Saigeon there," Paddock said. "I was just focused on Thomas. He just slid it across to Saigeon and I slid over as well."
"Those are moments that make a goaltender great," Mahura said. "He was there for us."
Paddock was quick to credit his teammates for their work in front of him, too.
"Oh my God. They were amazing," he said. "They blocked so many shots. It was probably the most blocked shots I've seen out of them all season."
[relatedlinks]
Paddock's performance overshadowed what was a tremendous effort from his counterpart at the other end of the ice.
Bulldogs' Kaden Fulcher made 27 saves, including several outstanding ones.
He robbed Mahura in close after the Pats blueliner was gifted with a sneaky backdoor pass from captain Sam Steel in the first. Just as impressively, he thwarted Brady Pouteau by making the splits in the third.
However, goals by Steel, Mahura – both had two-point nights – and the backbreaker from Henry left him disappointed in his outing.
"I think, ultimately, I got outplayed," Fulcher, a Detroit Red Wings pick, said. "That's what happens when the other team wins. I'm looking forward to bouncing back.
"There's more I could have done out there. That's the way you feel when you're a goalie when you're on the wrong end of the score."
Bulldogs coach John Gruden didn't agree with Fulcher's self-assessment. What he did concur with Fulcher was that the team collectively could have been better.
For a group that prides itself on not being outworked, he felt that happened on Friday. He expects better when they play again Monday against Swift Current.
"That wasn't us," Gruden said. "We got what we deserved.
"We've got a couple days to reset and get back to being who the Hamilton Bulldogs are."
Gruden praised Paddock for his composure, but believed his players should have made things more challenging for him.
"I don't think we got much traffic," Gruden said. "He made the big saves when he had to and made them look fairly easy."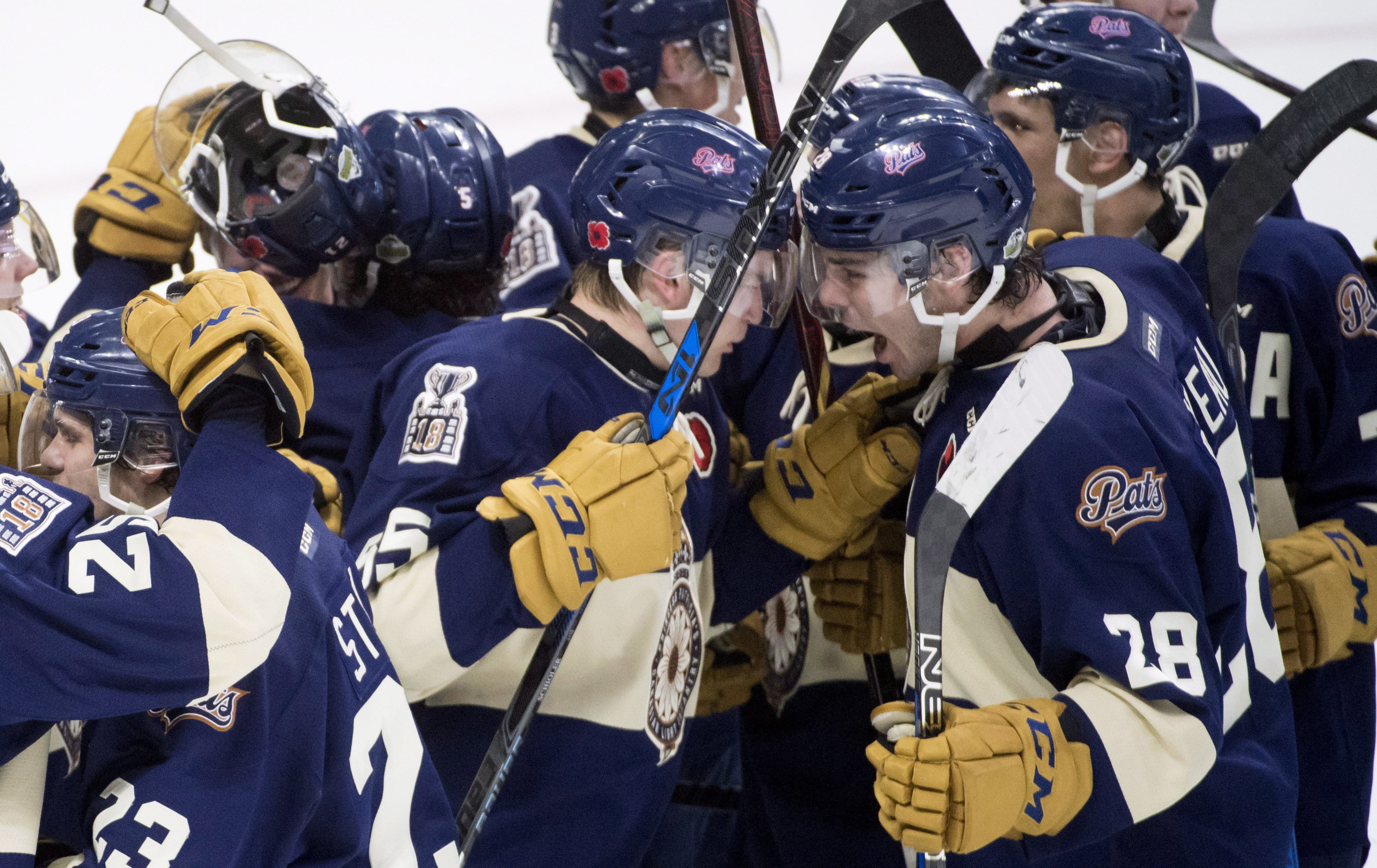 It couldn't have been a better start to the tournament for the Pats.
"There's a lot of work left to be done," Steel said. "But it's a great way to start it off after a big break."
There are no doubts who'll get the call for their next game now. That comes Sunday against the QMJHL's Acadie-Bathurst Titan.
For someone ranked 22nd among North American goaltenders in NHL Central Scouting's final rankings, Paddock picked a great time to shine his brightest.
But those closest to him weren't shocked by what happened.
"We see it every day in practice," Mahura said. "It's no surprise from us in the room."