KAMLOOPS, B.C. — Tim Hunter entered the Canadian consciousness as a Calgary Flames tough guy back in the '80s, who would amass 3,146 penalty minutes in 815 career NHL games.
He had 53 assists as a defenceman in his final year of junior hockey, but quickly found a new role and a new position while playing with the Central Hockey League's Birmingham Bulls at age 20.
"John Brophy told me, 'You have two chances of playing in the NHL," Hunter recounted in my book, The Battle of Alberta. "One, be the best winger in the Central Hockey League. Or two, be the meanest mother in the Central Hockey League. And I think the second one is your best choice."
Today, nearly 40 years later, Hunter is the head coach of Canada's national junior team, having served as an assistant for the past two WJHCs.
How does an NHL tough guy become the head coach of our most skilled juniors? We sat down here in Kamloops at the World Junior Showcase and asked the man himself.
Sportsnet — There is a certain demographic of hockey fans who have lost track of you since your playing days. They're going to turn on their TVs at Christmas, see you behind the Team Canada bench at the World Juniors, and they're going to say…?
Tim Hunter — I've been out of the game a long time now. I've coached more games as an assistant coach in the NHL (over 1,000) than I played (815 regular season, 132 playoffs). People remember me as a tough guy, and an honest player who had to work for everything he got. And they'll go, 'He's a coach through having all that experience. But what kind of coach would an NHL tough guy be?'
SN — There is that stereotype of NHL fighters. You've felt that?
TH — People always say when they meet us, 'We didn't realize you were such a nice guy. Such a bright guy.' Well, there's an evolving character of a tough guy. I was a star defenceman in junior hockey (WHL Seattle Breakers). I played 30 minutes a game. I wanted to be Bobby Orr, not a tough guy in the NHL. You figure things out. You find a way (to play 800 games). I think smart people do that.
SN — Your old teammate with the Flames, Colin Patterson, told me that you found a way to become a good penalty killer and checker. You found a way back in the '80s to be more valuable than simply a fighter. Is that accurate?
TH — So, translate that. How'd I figure that out? Well, the easiest thing I thought I could do was to be the fittest athlete. That's going to give me an edge. Then, to be the fittest tough guy. That's going to give me an edge. To study boxing, take boxing lessons. That's going to give me an edge.
Now, how do you become the best assistant coach in the NHL? Ron Wilson told me, 'Hunts, I'm not going to tell you how to do your job. But strive to be the best at what you do.' So I didn't just copycat the way other assistant coaches had done it, or the guys I played for. I did it my way, and I take the head coaching role the same way. A little bit from Bob Johnson. A little bit from Pat Quinn. Terry Crisp. But, it's my flavour. You have to have your own flavour.
The biggest thing in hockey is being ahead of the curve. Not being a copycat, but being innovative. And if it's not working, move on. But if you're not failing, you're not trying.
SN — As a player though, you couldn't afford to fail in a fight against Dave Semenko or some other tough guy.
TH — No, I tried new things. I remember fighting Rob Ray one time and I did this move I called 'The Pretzel Move' on him. He was totally dumbfounded. 'What just happened to me?' But I had really worked at it with a teammate in practice. I tried it in a real fight and it worked.
SN — You were an assistant coach for 14 NHL seasons. Then you go back to Moose Jaw to become a head coach. Why?
TH — Well, the last few years as an assistant coach I would get asked to interview for head coaching jobs. I talked to probably 10 different teams over three or four years, and the feedback I was getting was always the same. 'You need to have some head coaching experience. Get to the American League or the Western League. You need to run your own team, Tim.'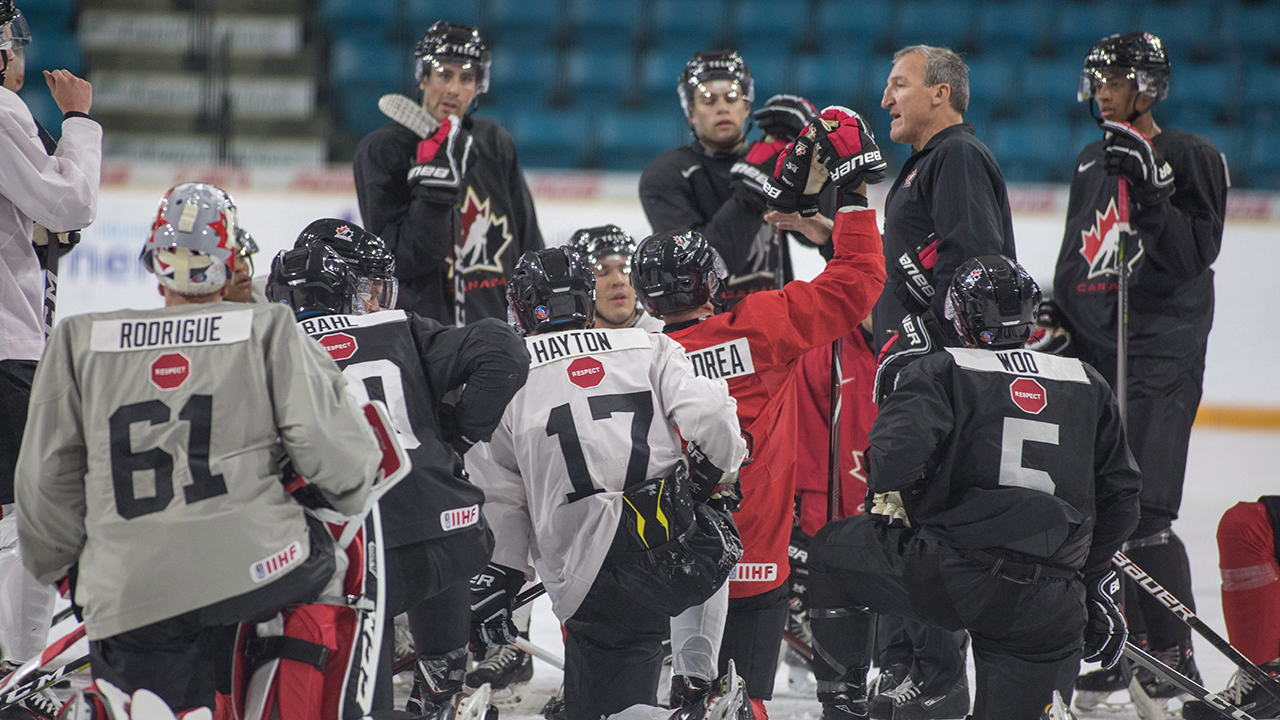 Team Canada head coach Tim Hunter gives some instructions during practice at the Sandman Centre in Kamloops, B.C.. (Jeff Bassett/CP)
SN — When is enough experience at the WHL level enough?
TH — When Hockey Canada asked me this year (to be the head coach), they said, 'We're not going to go get another coach when you take a pro job.' So, in early June that (quest) ended. Dom (Canadiens assistant Dominique Ducharme) did it last year. I think it's the way to do it.
SN — So, we'll see you as an NHL head coach next year?
TH — Everyone has those aspirations, but I look at it this way: Everyone winning Stanley Cups, they all have grey hair. Not many young guys walk right in and win. Dan Bylsma was in his late 40s when he won. Darryl Sutter. Joel Quenneville. Baseball managers — all older guys.
I study (Chicago Cubs manager) Joe Maddon. He's a brilliant guy. He's successful with his communication with players, how he bonds a team. I follow him closely. They call it a bouquet: You take a flower from here, a flower from there, and you build your own bouquet. And you can take things from one sport to another sport, an idea from baseball to hockey that works.
SN — At this age group, how much is it about developing the player and how much is it about developing the person?
TH — Both are equally important. They're going to be good players, it's getting them to play a certain way for a certain period of time. Take a simple thing like back tracking, or back checking. It's non-negotiable. Everyone has to do it. Star junior players (with their club teams)? It's, we'll get there when we get there. They take circuitous routes on the forecheck. Little things that can't work here. That's the part of selling the commitment. I sell it to them as, the more flexible you are as a player here… the better opportunity you'll have of becoming a good pro.
Brayden Point: His first World Junior he's the 13th forward, he's playing on the wing. Next World Junior, he's the captain and No. 1 centre. First year pro, he makes Tampa on the wing. Killing penalties. Second year pro he's playing centre and he's in the all-star game. Playing power play and penalty kill. All because he was willing to be flexible.
You play the wing, you understand the game better. You kill penalties, you understand the power play better."
* Hunter says he will play every Canadian player on a specialty team. But only "a couple of defencemen" will play both the penalty kill and power play during the tournament.
SN — Team Canada, playing the WJHC at home in Vancouver and Victoria will be both favoured, and the target of every team this Christmas. How do you take those expectations and channel them in the right direction?
TH — Humility and compassion. You show (the players) how good the other teams are. Make them respect the other teams, and know that we're not going to do anything unless we check all the boxes.
We have all our boxes — Canada's keys to success — and the one on the bottom is skill. Special teams. Work. Preparation. Team building. Our skill is the (lowest box). We don't get there unless we have all these other boxes checked off first. You have to respect your opponent. The moment you don't, that's when it goes downhill.