The Cape Breton Screaming Eagles are on a roll. The team has won five straight and only has two losses in its last 10 games. The late-season surge isn't enough to challenge Saint John for the Maritimes Division crown, but the seventh-place Screaming Eagles clinched home ice in the first round with a 4-1 win over the Acadie-Bathurst Titan on Saturday. The team's Est.FC% of 53.03 is fifth in the league and they're eighth with a PDO of 100.47 according to Prospect-Stats.com.
The November trade for Michael Joly from the Rimouski Océanic was a catalyst for change, adding secondary scoring and bringing a new dynamic to the offence. At the time of the trade, the Svechnikov-Lazarev-Dubois line was the hottest in the 'Q'. While that top-line has since been split up and more scorers were brought in over the trade period, Joly, 20, has brought balance to the group. In 37 games with Cape Breton, he has 59 points, and now has 84 points on the year, a career high.
---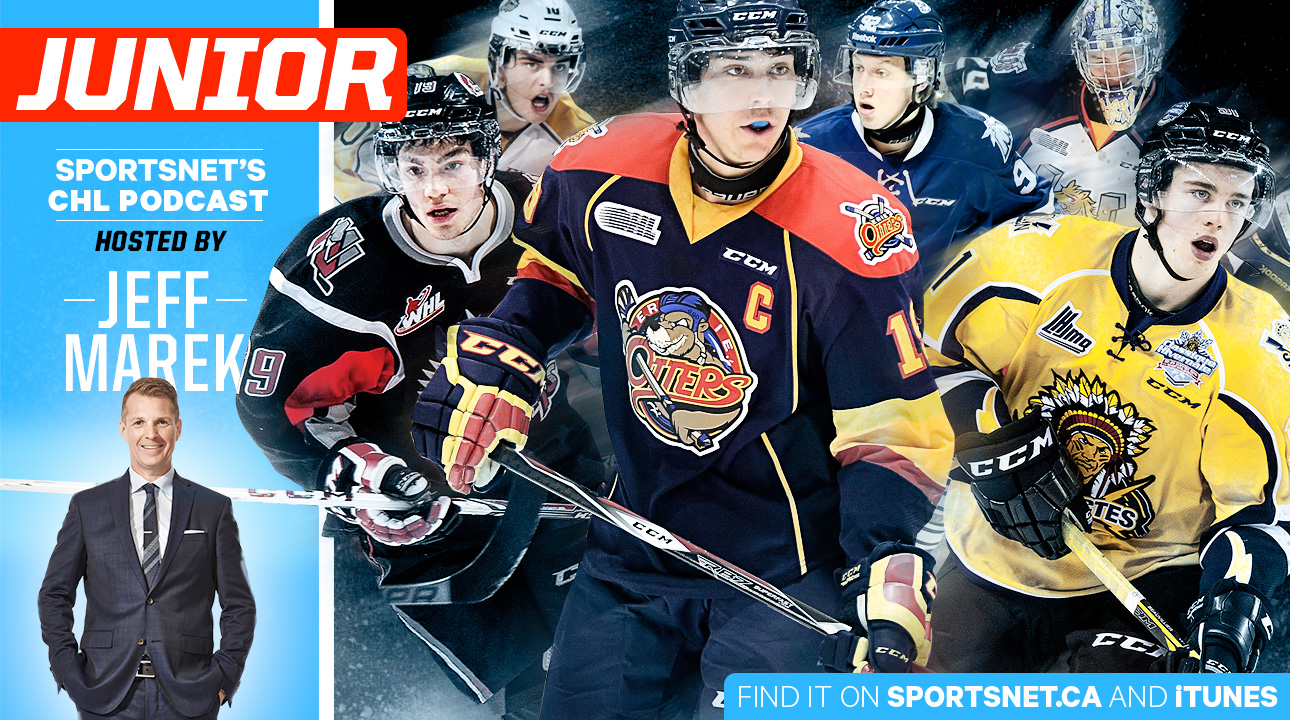 Jeff Marek hosts Sportsnet's weekly CHL podcast, a one-stop shop for news, analysis, opinion and interviews covering the WHL, OHL and QMJHL.
Listen now | iTunes | Podcatchers
---
Third-line center Clark Bishop, the team's captain and a Carolina Hurricanes prospect, had a Gordie Howe hat-trick Friday night in a 7-1 win over the Titan. His two goals and an assist brought the gritty player's point total to 38, surpassing last year's career high of 35. The fight also earned him a one-game ban from Saturday's rematch.
With scoring coming from all over the lineup, solid goaltending from Alexandre Bélanger (8-2-0 in his past 10 starts) and an experienced blueline should make the Screaming Eagles a tough opponent come playoff time.
Here's what's up around the 'Q':
Pour one out for the Mooseheads and Drakkar
Let's pause for a moment to reflect on the season that was for the only two teams to not make it to the post-season. With a 6-2 loss to the Moncton Wildcats on Friday, the Halifax Mooseheads were officially eliminated from the playoff race. It's an outcome that became apparent at the trade deadline when the team traded away everything but the kitchen sink. But June will be an exciting month for the team: they have three first-round picks in the QMJHL draft. Also, Finnish import Otto Somppi and Maxime Fortier could hear their names called in the NHL Draft. NHL Central Scouting has Somppi ranked 47th and Fortier 145th.
Scouts had to like what they saw from Otto Somppi last night. Blocking shots, D-zone awareness, and throwing hits. Playing a complete game.

— Kris Abbott (@EastlinkKris) March 12, 2016
Baie-Comeau has been firmly entrenched in last place virtually all season with very little to get excited about. They'll have one of the first two picks in the QMJHL draft and they picked up a first-rounder from Moncton in the Vaclav Karabacek trade. They also own Gatineau's first rounders in 2017 and 2018 from the Nicolas Meloche deal.
The rebuild in Baie-Comeau is still in its early stages so there's no guarantee they'll be a whole lot better next season. The team will get some new threads by unveiling a 20th anniversary sweater. While the new logo is cool, I'm not sold on it being featured as the main logo on the front—especially when your other options are a menacing Viking ship or a fire-breathing horse head.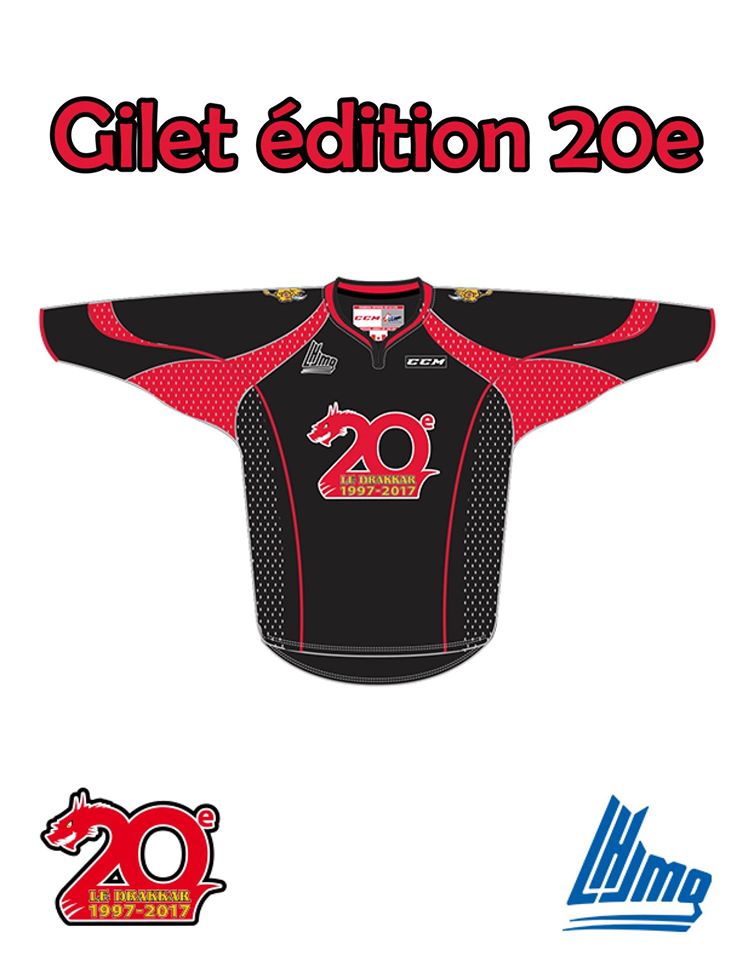 Courtesy the Drakkar's Facebook page.
Tough test for bottom dwellers
With the Mooseheads dropping out of the playoff picture, the Acadie-Bathurst Titan, Drummondville Voltigeurs, Sherbrooke Pheonix and Blaineville-Boisbriand Armada clinched post-season spots. And with the league's first versus worst format, the playoffs could be short for the four teams, especially considering none of them are playing .500 hockey in their past 10 games.
Goaltenders drop the mitts
Blaineville-Boisbriand Armada goaltenders Samuel Montembeault and Francis Leclerc teamed up for 20-save shutout of the Drakkar Thursday night. The Armada were up 1-0 midway through the second period when all hell broke loose.
Drakkar goalie Antoine Samuel went after an Armada player who got a little too close for comfort in the crease. Samuel emerged from a pileup then squared off Armada goalie Leclerc. In the 'Q', fighting a goalie comes with an automatic five-game suspension. Leclerc was handed an additional game for "continuing to hit the opposing goaltender while he was defenceless on the ice."
50-goal watch
No player has reached the 50-goal plateau yet this season, but there a couple players within striking distance. Chicoutimi's Nic Roy and Drummondville's Michael Carcone both have 47, Cape Breton's Joly is at 45 and Shawinigan's Alexis D'Aoust is a long shot with 43. Last season, Baie-Comeau's Maxime St-Cyr was the only 50-goal man with 54.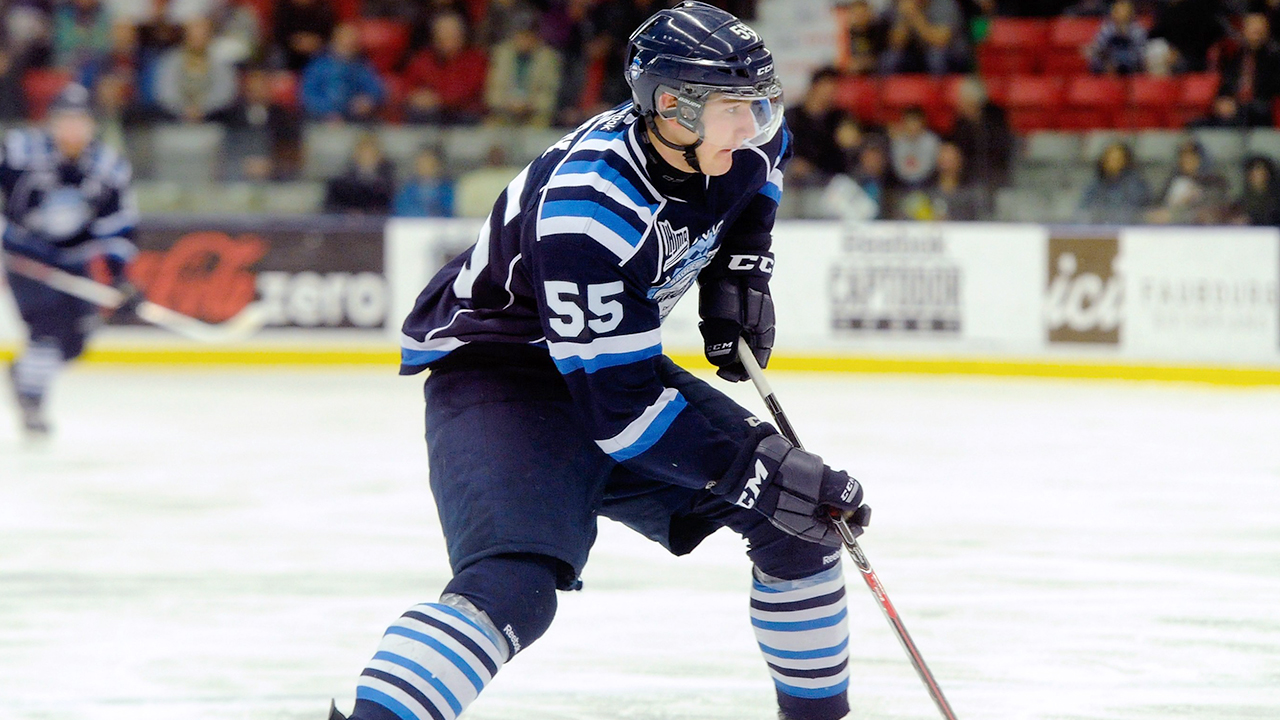 Where would Nicolas Roy have been drafted if he'd been a year older? (Getty Images)
According to Sportsbet's Elliotte Friedman, the NHL is considering bumping the age of draft-eligible players from 18 to 19. A guy like Nic Roy would have benefited from this. In his draft-year, he scored 16 goals and slipped from a projected first-rounder to the 96th overall pick by the Carolina Hurricanes.
Roy never looked comfortable last season but this year he's shown why the 6-foot-4, 202-pounder was the first-overall pick of the 2013 QMJHL draft. If the draft-eligible age was bumped by a year, Roy would be the talk of the town when it comes to 'Q' prospects.
Happy Birthday Conor Garland
Moncton Wildcats forward Conor Garland celebrated his 20th birthday in style with a two-goal, two-assist night in a 6-2 win over the Halifax Mooseheads. Garland now has 126 points on the season, best in the CHL.
Last season he finished with 129, sharing the CHL points lead with Dylan Strome. He's making a strong case to repeat as QMJHL MVP again this season, and with two games remaining, he's in position to match or surpass last season's totals.
Garland has 96 primary points according to Prospect Stats, second in the CHL behind Barrie Colt's Kevin Labanc's 98. Garland is also second in primary points per game with 1.6, just behind the 1.622 by Moose Jaw Warrior Brayden Point.