Entering the season, the Saint John Sea Dogs looked like they could potentially be Memorial Cup-bound. With two NHL-first rounders patrolling the blueline, scoring depth up front and the first player granted exceptional player status in the QMJHL, the team looked ready to contend.
The Sea Dogs were relatively quiet during the trading period. A few minor moves were highlighted by bringing in 20-year-old defenceman Matt Murphy. They've also quietly shot up in the standings, sitting in sixth with 57 points. In all, they've picked up eight wins in their past ten games, including two this weekend, 8-7 in overtime versus Charlottetown and 5-2 over Halifax.
It'll be tough for the Sea Dogs to catch the division-leading Moncton Wildcats (66 points), who riding a 10-0-1-1 streak. According to Prospect-stats.com, Saint John has an Est.FC% of 51.39, fifth in the league and marginally better than Moncton's 51.38. The Wildcats have a PDO of 101.34, sixth overall, just ahead of Saint John's 101.14. On special teams, Saint John is third in the league with an 82.2 penalty kill percentage. Their power-play unit needs to improve however, ranking 14th in the league at 19.3 per cent.
---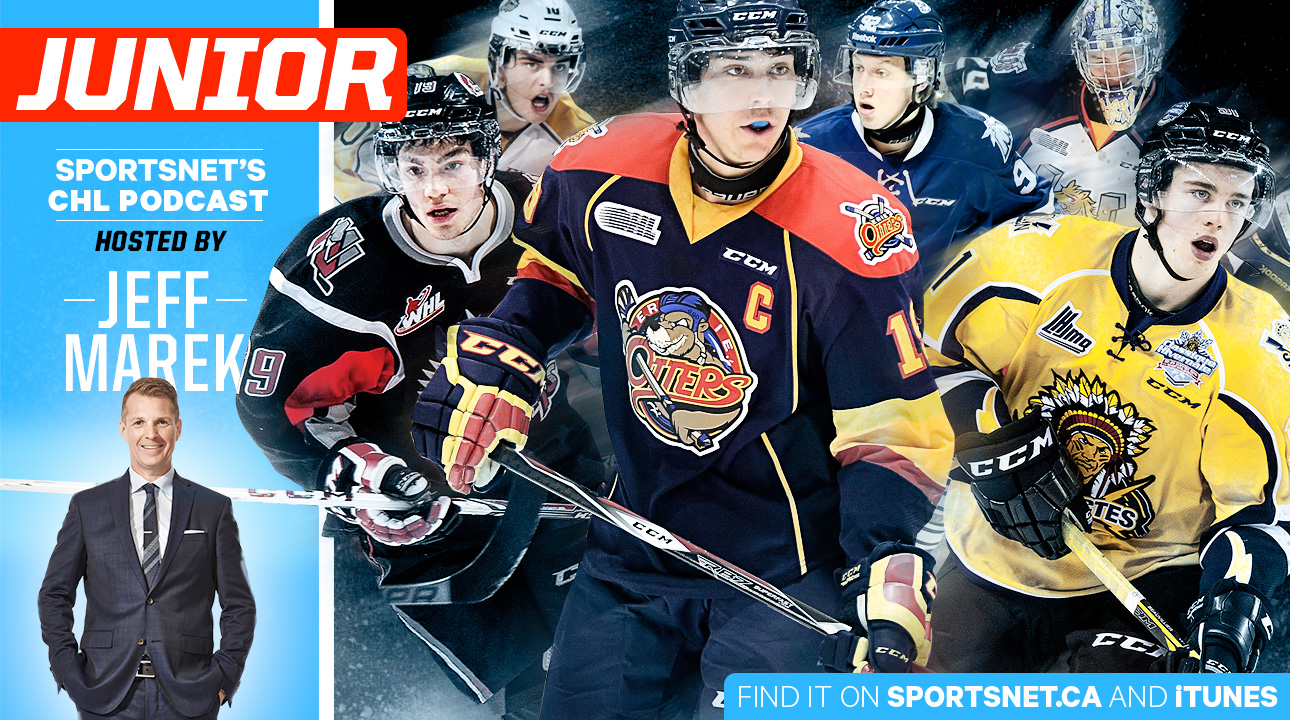 Jeff Marek hosts Sportsnet's weekly CHL podcast, a one-stop shop for news, analysis, opinion and interviews covering the WHL, OHL and QMJHL.
Listen now | iTunes | Podcatchers
---
Here's the news from around the "Q":
Mason McDonald's milestone win
It's been a weird return to the QMJHL for Mason McDonald. In his first game back after representing Canada at the world juniors, the Charlottetown Islanders goalie let in seven goals in a 7-5 loss to Gatineau. His next start, he had a 50-save night. But he allowed eight goals in a wild 8-7 overtime loss to Saint John.
Two nights later in Charlottetown, he had a less frantic night, a 19-save shutout of the Halifax Mooseheads in a 6-0 win. The Calgary Flames prospect also picked up his 50th career win in the QMJHL. He has eight wins and 14 losses in 22 games this season along with a 3.68 GAA and .889 save percentage.
That is McDonald's third career shutout. First of this season and first at home as an Islander. #CHAvsHAL

— Islanders Country (@IslesLive) January 17, 2016
Montembeault shuts the door
McDonald's WJC teammate, Samuel Montembeault, also had a shutout on Sunday. He made 26 saves to help the Blainville-Boisbriand Armada to a 3-0 win over Baie-Comeau. The shutout was his second of the season. The 77th-overall pick of the 2015 NHL Draft by the Florida Panthers has a 2.66 GAA, fourth best in the league.
All three goals in the win came from William Gignac, acquired during the trade period from the Val-d'Or Foreurs. The hat-trick bumped Gignac's goal total to 10, one shy of his career best set as a rookie in 2013-14 with Chicoutimi.
Goulet's good week
A change of scenery has sparked Alexandre Goulet. The winger was traded from Charlottetown to the Victoriaville Tigres and has nine goals in 10 games with his new team. Six of those came last week, including four goals in a 7-2 win over Blainville-Boisbriand. His scoring outburst earned him second-star of the week honours from the league.
Rafuse picks up first goal
The Foreurs are Memorial Cup contenders this season, but made a move for the future at the trade deadline sneding rookie Cole Rafuse to the Acadie-Bathurst Titan for a first-round pick in 2018. Rafuse (20th overall in the "Q" draft2015) picked up his first goal on Tuesday in the Titan's 7-3 win over Halifax. Two games later, Rafuse had a helper, bumping his point total to four in 43 games. Buried on the depth chart, the 6-foot-2, 208-lb. forward could turn into a dominant player when he earns more ice time.
Congratulations to Cole Rafuse on scoring his first @QMJHL goal!

— Titan AcadieBathurst (@ABTitan) January 13, 2016
Olympiques rookie on fire
Gatineau rookie Vitalii Abramov picked up his second hat-trick of the month Sunday in a 6-2 win over Chicoutimi. He now has 29 goals on the season, tops for rookies and sixth overall. January has been his best month of his season goal-wise with nine in eight games.
NHL Central Scouting rates him as a second- or third-rounder of the upcoming NHL Draft. One Eastern Conference NHL scout told me Abramov's draft stock could be negatively effected by his size (he's 5-foot-9, 170-lb.) and the Russian factor that sometimes scares off teams.
Scary incident in Bathurst
For the second time this season, a game was stopped after an on-ice injury. Sunday's contest between the Cape Breton Screaming Eagles and Acadie-Bathurst was called with 4:40 remaining after Cape Breton's Pierre-Luc Dubois collided with Acadie-Bathurst goalie Marc Audet.
The collision sent Audet to hospital via stretcher and left the Titan without a goalie on the road in Cape Breton. Reilly Pickard was injured the night before and the team wasn't able to bring in an emergency backup for the Sunday game (it's a seven hour drive from Bathurst to Sydney). The team's goalie situation along with an 8-2 lead for the Screaming Eagles factored into the early call.
Monday the Titan announced Audet has been released from the hospital and is in good spirits, but remains out indefinitely.
For those wondering, Reilly Pickard was injured in last night's game with a lower-body injury.

— Titan AcadieBathurst (@ABTitan) January 17, 2016