The Rimouski Océanic goalies were downright stingy this weekend, teaming up for back-to-back shutouts. First, Alexandre Lagacé shut the door on the most inept offence in the league with a 27-save, 5-0 drubbing of the Baie-Comeau Drakkar. Seriously, the Drakkar have only scored 94 goals this season, or 2.04 per game. The next worst team, the Blaineville-Boisbriand Armada, have 111 and average 2.36. But enough picking on Baie-Comeau. For Lagacé, this was his first shutout in a Rimouski sweater after a trade from Sherbrooke. On Saturday night, No. 1 goalie Louis-Philip Guindon turned 26 shots aside in a closely contested 2-0 win (the second goal was a shorthanded empty netter) over Chicoutimi.
---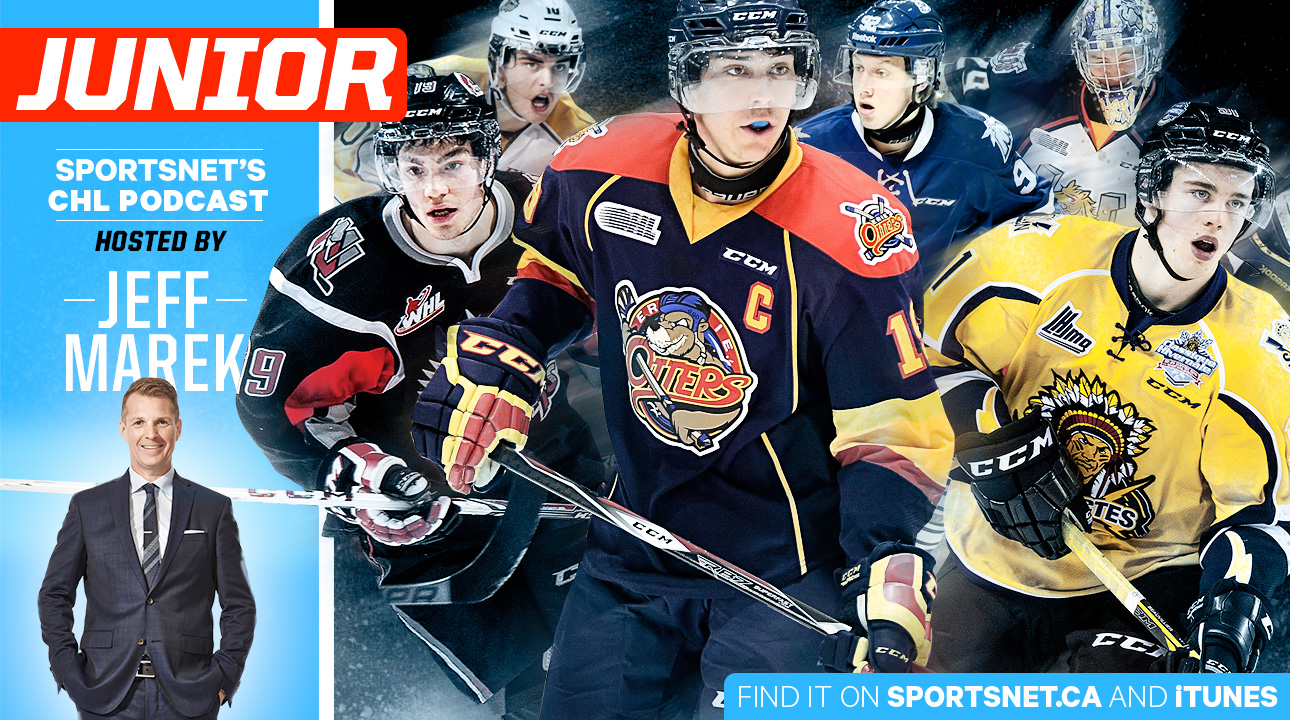 Jeff Marek hosts Sportsnet's weekly CHL podcast, a one-stop shop for news, analysis, opinion and interviews covering the WHL, OHL and QMJHL.
Listen now | iTunes | Podcatchers
---
The four points from the wins have Rimouski seventh in the standings—second in the East Division. The defending President Cup champs are quietly putting together a solid season despite losing most of their star players in the off-season and unloading Michael Joly to Cape Breton in November.
Goaltending has been a plus for sure. The Océanic have given up 141 goals, fifth-fewest in the league. Guindon is providing top-10 numbers with a 2.89 GAA (7th best) and 0.907 SV% (4th best). Those saves are a big part of why Rimouski owns a PDO of 100.83, seventh best in the league. However, possession has been an issue as they are 13th in the league with an Est.FC% of 47.43 according to Prospect-Stats.com. They also have a shot differential of minus-96, 10th in the league. The other six teams ahead of them in the standings have positive shot differentials.
Here's more news from around the QMJHL this week:
Schweri helps Sherbrooke in return
Sherbrooke's Swiss-made assist machine Kay Schweri returned to the lineup over the weekend. An injury knocked him out of action in mid-November, also preventing him from returning to the Swiss national team for the world juniors. Schweri had a pair of goals and an assist in his return, a convincing 7-1 win over Moncton. He has five goals and 20 assists in 15 games in his sophomore campaign. Last season, he was second in team scoring with 68 points, including 56 assists.
Another Sherbrooke sophomore, goaltender Evan Fitzpatrick, earned first-star honours in the league this week. He was instrumental in the Phoenix picking up five of a possible six points, thanks to a 30-save effort in the win over Moncton and a 20-save shutout of Blainville-Boisbriand.
Sea Dogs continue ascent
Saint John is shooting up the standings, sitting in 6th place with 62 points, narrowing the gap behind the Maritimes Division-leading Moncton Wildcats to five points. The Sea Dogs are sniffing at a CHL Top 10 ranking as well with an honourable mention in the weekly rankings.
The future looks even brighter with the team's top center, Samuel Dove-McFalls, returning. A knee injury limited the Philadelphia Flyers prospect (2015, 98th overall) to five games this fall. His numbers last season weren't flashy—34 points in 66 games—but the 6-foot-2, 205-pounder is a versatile and good in the faceoff circle and on special teams.
The Sea Dogs get another boost this week as well. Bokondji Imama has one game left to serve in his 15-game suspension. Once the Tampa Bay Lightning prospect returns, the Sea Dogs will have a high-octane, gritty team that could do some serious damage in the playoffs.
Draft rankings include 34 QMJHL players
NHL Central Scouting's midterm rankings came out last week. It's the point in the season where the rankings shift from letter grades—projecting which round a player will be drafted in—to a numerical ranking.
Thirty QMJHL skaters skaters and four goalies made the North American lists. Val-d'Or's Julien Gauthier (4) and Cape Breton's Pierre-Luc Dubois (7) are the cream of the crop, with Victoriaville's Pascal Laberge (31) next up. The highest-ranked defenceman is Chicoutimi's Frederic Allard (36), closely followed by Saint John's Luke Green (37) and Shawinigan's Samuel Girard (40). Sherbrooke's Evan Fitzpatrick (2) is the highest ranked goalie, distantly trailed by Baie-Comeau's Antoine Samuel (13).
The league's second-highest scorer, Vitalii Abramov of the Gatineau Olympiques, is ranked 56. He had eight points this weekend, boosting his January total to 22. He's having a terrific rookie season, but as this ranking shows, his 5-foot-9, 170-lb. frame hurts his ranking.
Garland passes century mark
Conor Garland is the first player in the Canadian Hockey League to hit 100 points this season. With two goals and three assists in three games, the Moncton Wildcats forward now has 103 points on the campaign. If you took his 30 goals away, he'd still be tied for the lead the league with 73 points. He's also the only player averaging more than two points per game with 2.34 Pt/G. The next best is Shawigian's Dmytro Timashov at 1.78.