Everything is even in the QMJHL semi-final with all four teams winning and losing a game this past weekend. The importance of goaltending always grows in magnitude in the post-season and can be the difference between fighting for hardware or heading home early.
The four starting goalies in Round 3 have all taken completely different paths to get to this point, including three of them being veterans who are finally getting a shot late in their junior careers.
Chase Marchand, Rouyn-Noranda Huskies
Marchand entered the third round of the playoffs with a 0.41 GAA after only allowing six goals while knocking out Drummondville and Blainville-Boisbriand. It included a league-record 223 shutout minutes, breaking the old record of 215. His GAA has now ballooned to 0.86 through two games against the Moncton Wildcats, including a 5-4 loss on Saturday.
Chase Marchand (@chasemarchand) just set a new #QMJHL Playoff record by not allowing a single goal in his last 215 minutes of play.

— QMJHL (@QMJHL) April 14, 2016
This season's Jacques Plante Trophy winner with a league best GAA of 2.42 has come by his success in a rather unorthodox manner. Originally selected 168th overall by the Cape Breton Screaming Eagles in 2012, Marchand failed to make the Eagles out of training camp that fall.
After starting the 2013-14 season in the Maritime Junior A League, Marchand was called up by Cape Breton in November. By January, he was the odd man out in a crowded crease and ended up in the OHL after the Mississauga Steelheads claimed him off waivers. In August 2014, Marchand was back in the QMJHL with the Charlottetown Islanders via a waiver claim. Weeks later, he was on the move again, claimed by the Victoriaville Tigres during the 19-year-old waiver draft. This season, he signed with the Huskies as a free agent when Jérémy Belisle left the team for personal reasons.
Despite being a 20-year-old, Marchand entered this year's playoffs with just four games of QMJHL post-season experience, four losses with the Victoriaville Tigres who were swept last year.
Keven Bouchard, Moncton Wildcats
For the first time in three seasons, Keven Bouchard is a starting goalie in the playoffs. He won a President Cup with Val-d'Or in 2014, but was relegated to backup duties thanks to the red-hot play of Antoine Bibeau (who went on to win playoff MVP and then went to the Toronto Maple Leafs in the sixth round after being passed over the previous draft. Bouchard was drafted the next season, 183rd overall by the Edmonton Oilers). After sharing the crease evenly with then-rookie Etienne Montpetit last year, it was the younger player who got the call in the post-season with Bouchard only appearing in mop-up duty.
A new start was needed, and Bouchard got just that after the QMJHL draft, when he was traded to the Baie-Comeau Drakkar for a second-round pick in 2017. He walked into a tire-fire of a situation, playing for a team destined to finish near the bottom of the league as it entered the start of rebuilding mode.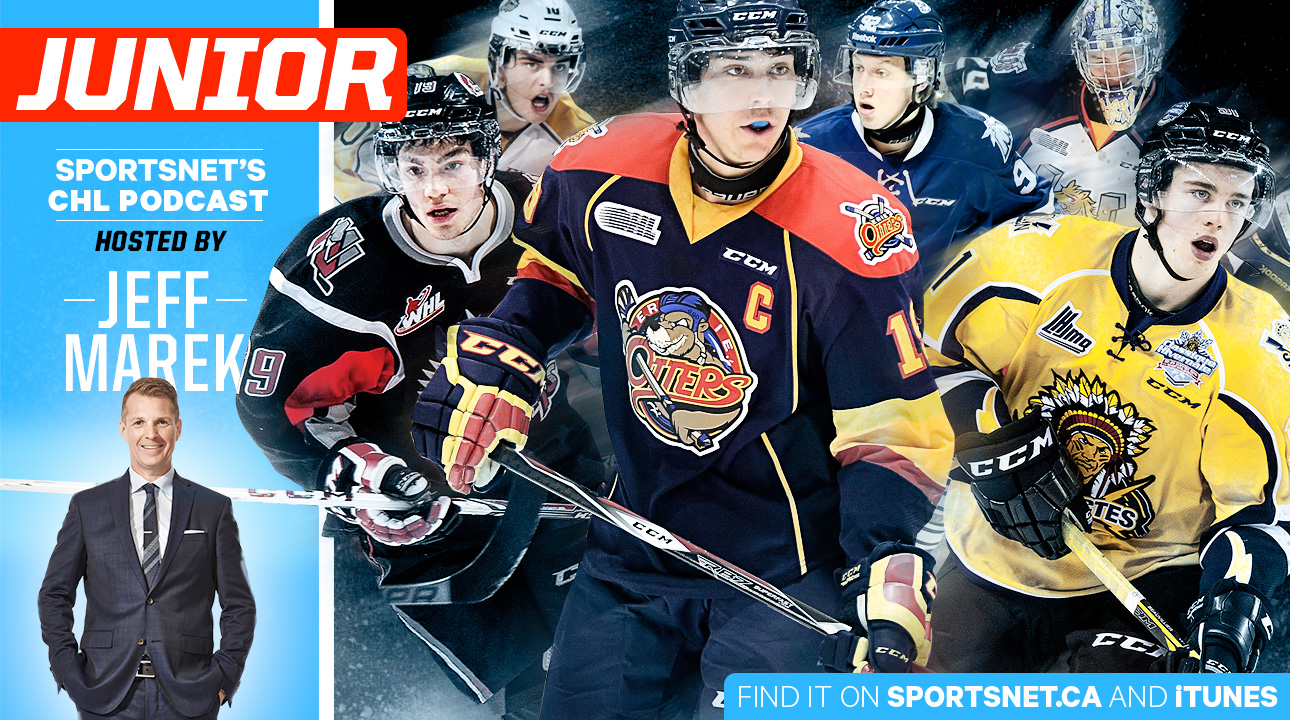 Jeff Marek hosts Sportsnet's weekly CHL podcast, a one-stop shop for news, analysis, opinion and interviews covering the WHL, OHL and QMJHL.
Listen now | iTunes | Podcatchers
After a 4-15 record with Baie-Comeau, Bouchard was traded to the Moncton Wildcats for a pair of second-round draft picks and change. In 20 games in the regular season, Bouchard had a mediocre 7-10 record along with a GAA of 3.35 and save percentage of 0.883.
But he's been better in the playoffs, rolling with a 2.78 GAA and 0.904 save percentage, and is a big reason why Moncton pulled off a six-game upset of the Gatineau Olympiques in the second round. Like Marchand, despite being around the QMJHL for a while, this is Bouchard's first shot in the playoffs as "the guy" and he's looked comfortable with the job.
Philippe Cadorette, Shawinigan Cataractes
Of the four starting goalies in the semis, Philippe Cadorette is the most experienced, reaching the President Cup final in 2013 and 2014 with the Baie-Comeau Drakkar. He owns the QMJHL record for most post-season appearances with 73, passing Zach Fucale's 69 games. He's also two wins away from matching Fucale's record of 46 wins.
The 20-year-old began the season with the Norfolk Admirals in the ECHL but returned to the QMJHL late in December just in time to be a trade commodity. Without making a start for the Drakkar this season, he was flipped to Shawinigan for Antoine Samuel and a second-round pick. The trade brought stability to an inexperienced crease featuring Samuel (who entered the season with 11 GP) and rookies Mikhail Denisov and Frédéric Foulem.
Cadorette finished the regular season with a 16-9 record, a career-low 2.66 GAA and a 0.914 save percentage. After a shaky Game 1 against Saint John in which he allowed six goals, he bounced back the next night with 26 saves in a 7-1 win. It's now or never for Cadorette who surely would rather be known as a President Cup winner rather than the guy who played a bunch of games but never won it all.
Marc-Antoine Turcotte, Saint John Sea Dogs
Overager Marc-Antoine Turcotte was acquired, along with a fourth-round draft pick, in June from the Blainville-Boisbriand Armada for a third-round pick. He was brought in to compete with Alex Bishop for the starting job that was up for grabs with veteran Sébastien Auger graduating from the junior ranks. Turcotte seized the opportunity, playing in 52 games and picking up 27 wins including seven in January when the Sea Dogs made a push for first in the Maritimes Division.
Turcotte was never drafted into the QMJHL. Instead he was invited to training camp in 2012 by the Armada. He made one playoff appearance, but spent the 2012-13 season in the Quebec College Hockey League. In 2013-14, he played just under 10 minutes in the QMJHL, spending the rest of the time in Quebec Junior AAA. As a 19-year-old last season, he landed his first QMJHL roster spot as a backup to Samuel Montembeault where he played in 18 games.
It's been an unconventional journey to a starting job in the 'Q', but Turcotte is getting the job done for the Saint John Sea Dogs as a 20-year-old. He starred in Saint John's Game 7 win over the Cape Breton Screaming Eagle, making 29 saves in the elimination game.
Other QMJHL playoff notes
The Saint John Sea Dogs have gone to extra time four times this playoffs and have won three of those games. The most recent came Friday night when Matthew Highmore locked up Game 1 in a 6-5 back-and-forth affair with Shawinigan.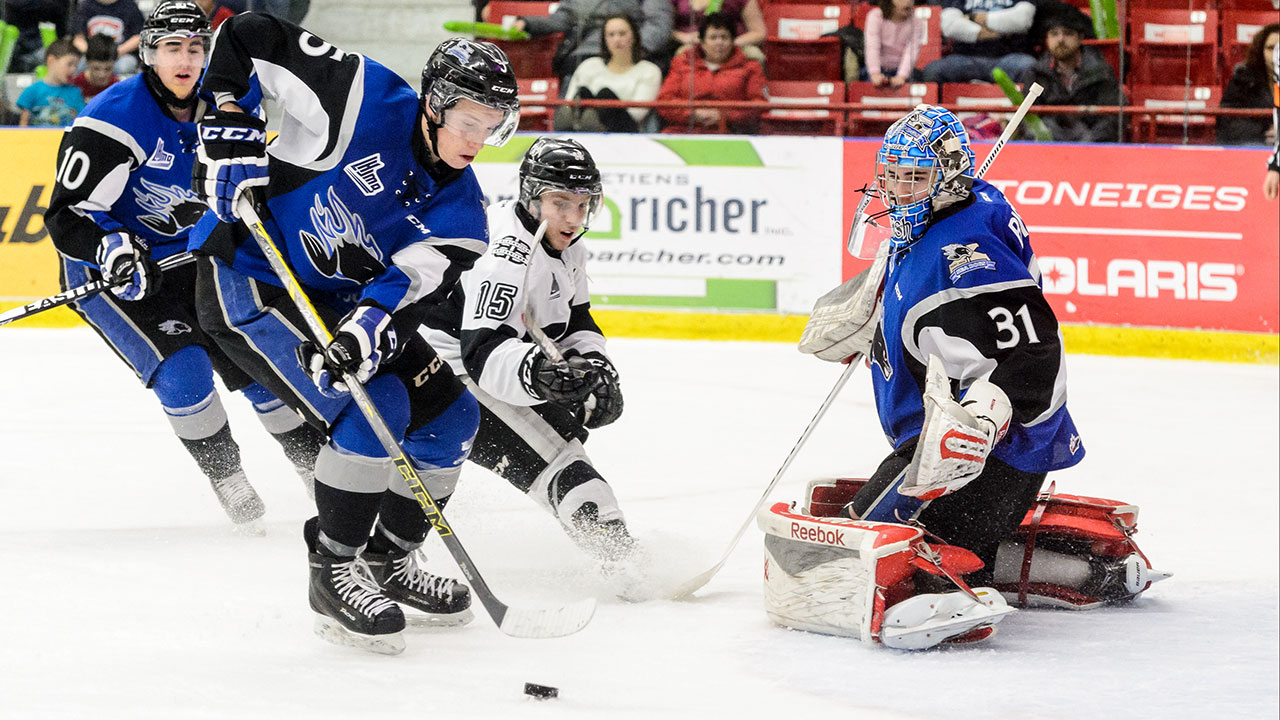 Saint John's Thomas Chabot was kicked out during the first period of Game 1 for a hit to the head of Gabriel Gagné, a fellow Ottawa Senator prospect. Gagné returned to the game and scored his seventh goal of the playoffs. Chabot did not receive supplementary discipline on the play.
Shawinigan's Dennis Yan reportedly will miss Game 3 with a suspension after a cross-check in Game 2. The Tampa Bay Lightning third-rounder has seven goals in the playoffs, including three in this series.
Les Cataractes devront se passer de Dennis Yan mardi. Suspendu un match pour double-échec. Les Sea Dogs avaient porté plainte

— steve turcotte (@steveturcotte) April 24, 2016
Rouyn-Noranda defenceman Jérémy Lauzon won't play in this series after taking a skate to the neck last round. His brother Zachary Lauzon, also a D-man, had a goal and assist in Game 2 against Moncton and was named the second star in a 5-4 loss.
Non-playoff QMJHL notes
Dominique Ducharme left his head coach job with the Halifax Mooseheads to be closer to his family. Out of work for a week, it's expected he'll be named the Drummondville Voltiguers new bench boss and GM. Drummondville is just under two hours from his hometown of Joliette, QC. That's approximately 10 hours closer than Halifax.
Dominique Ducharme will be annonced as new head coach and GM in Drummondville later today via @MLalancetteTVA

— Jérôme Bérubé (@Jerome_Berube) April 25, 2016
After three seasons as GM of the Charlottetown Islanders, Grant Sonier was fired last week. Head coach Jim Hulton will take over the GM duties. Hulton just wrapped up his first season with the Islanders after being the head coach and GM of the Tri City Storm of the USHL. He's also been a head man in the OHL with Mississauga, Belleville and Kingston and was an assistant for three season with the Florida Panthers.
Gatineau Olympique forward Yakov Trenin made his pro debut on April 23 with the Milwaukee Admirals, the AHL affiliate of the Nashville Predators who drafted him 55th overall last June. It was a shock considering he was knocked out of Game 1 of the Moncton series on April 8 and was supposed to 8-12 weeks with a broken wrist.