Despite playing on the Regina Pats together for parts of the last four seasons, Jake Leschyshyn never ceases to be amazed by Sam Steel.
"I've seen him make some incredible passes for wide-open tap-ins," Leschyshyn says of his captain. "Everyone's looking at him on the bench, wondering what just happened. That's a normal thing in his game, something a lot of guys wished they had."
Perhaps Leschyshyn should come to expect the unexpected more often from his longtime teammate. If Steel has proven anything during his time with the Pats, it's that he delivers when he's doubted or the pressure's on.
And that's as good a reason for optimism as any for a Pats team rebounding from a sluggish first half in their Memorial Cup–hosting season. Steel, the No. 1 centre for Canada's recently gold medal–winning world juniors team, will surely be a big reason for any turnaround.
That attempt continues this weekend with a home-and-home set against the Moose Jaw Warriors, which finishes up Sunday in Regina and coincides with a Rogers Hometown Hockey stop in the Saskatchewan capital.
This season, home is where the hockey is. Experience Rogers Hometown Hockey.
"Your captain doesn't have to be your best player, but it really helps if he is your best player," Pats coach-GM John Paddock says. "There's lots of positives about Sam being the captain of the team."
Steel grew up on an acreage outside of Sherwood Park, Alta., a suburb east of Edmonton. By the time he was 11, he had a beautiful, nearly full-sized outdoor rink to hone his skills on.
The rink, built mostly by his father, Larry, would evolve into a state-of-the-art design with all the bells and whistles. It would be used by future world juniors teammate Carter Hart and by Steel's older brother, Patrick.
"I was really lucky to have something like that," Steel says. "It really helped me grow into the player I am today."
Two years after the rink was first built, however, Steel and his family endured tragedy.
Patrick died in his sleep in 2011 while playing Junior A hockey in Camrose, Alta. His heart stopped in the middle of the night. He was 18.
Sam, then 13, vowed to assume the mantra created to serve as a legacy for his older brother: Finish the play.
"It was something that a good family friend came up with at the time. A lot of people really liked it," Steel says. "He didn't get the opportunity to do that. Not just hockey, but everyday life. Just live life to the fullest. That's what it's about."
With his brother in his thoughts, Steel emerged into a star prospect. He was selected second overall in the 2013 WHL bantam draft by the Pats after netting three points per game with the AAA Sherwood Park Flyers. It didn't take long for him to become the face of the Pats franchise.
The Pats were one of the league's better teams in the first half of 2014–15 — Steel's rookie season — but still were behind Brandon in the East Division. So, under new ownership and a new coach in John Paddock, the decision was made to deal veterans and retool with Steel as the centrepiece.
"You could see that he was a star player. He was a star player in every zone on the ice," Paddock says. "You try and take advantage of the situation when you have a player like him."
Paddock gave Steel responsibilities seldom given to 16-year-olds — such as manning the point on the power play and being the lone forward when the Pats were shorthanded two skaters. He finished the 2014–15 season with 54 points in 61 games.
"I couldn't be more happy to have John and the rest of the coaching staff and management and ownership put that much trust in me," Steel says. "You could see how we were building towards something."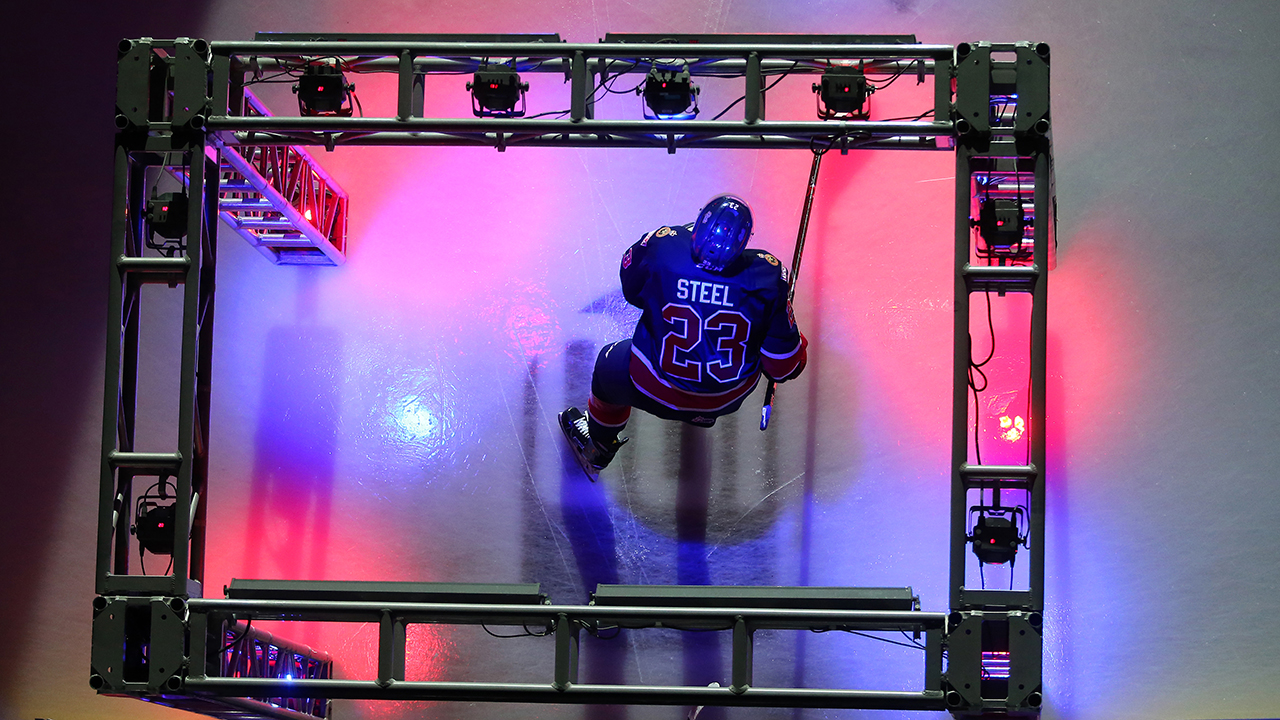 Steel followed up his freshman WHL campaign by recording 70 points. Then the Anaheim Ducks made him the last pick of the 2016 NHL Draft's first round, 30th overall.
The Pats were due to crest last season and, with Steel leading the way, that's exactly what they did. Regina didn't lose in regulation until its 19th game — clearly showing its dominance.
Steel, meanwhile, was invited to try out for the Canadian world juniors team. However, he was among the final cuts.
Ducks director of player development, Todd Marchant, spoke to Steel the day he landed back in Regina after getting the frustrating blow.
"How are you going to use that as a positive? The biggest thing you need to do is prove to Team Canada that they made a mistake," Marchant told him.
Marchant felt the cut "lit a fire under him."
Join Jeff Marek and Sam Cosentino for all the CHL and NHL prospect talk you can handle.
Steel wound up leading the CHL in scoring with 131 points, edging teammate and reigning WHL top point-getter Adam Brooks by one. With Brooks battling injuries in the post-season, Steel paced the Pats with 30 points in 23 games en route to a spot in the WHL final.
Although the Pats lost to Seattle, Steel and Regina teammate Josh Mahura were asked to join the Ducks during the Western Conference final against Nashville to skate with the team, watch games and soak in the atmosphere.
Steel was named captain before the start of this season, but 2017-18 has partly been about of overcoming obstacles.
After being a world juniors omission a year ago, Steel was a lock to make the 2018 team. He posted nine points in seven games as the top-line pivot as Canada won gold.
"It was everything I thought it would be — and more," he says.
In Regina, however, things haven't gone as smoothly — for him or the team.
The Pats had graduated a handful of key contributors to the pro ranks, highlighted by Brooks, the outgoing captain and a Toronto Maple Leafs prospect. Paddock felt that Brooks's absence meant teams were keying on Steel more. His production dropped to 1.3 points per game by the time he left for world juniors camp, compared to the two he averaged last season.
Then there's the fact the Pats spent the first half playing in one of the CHL's toughest divisions. The Warriors have been the class of the league all season – Paddock compares them to last year's Pats – and they've added world juniors defenceman Kale Clague. Swift Current hasn't been far behind and also made significant additions throughout the season.
It's left the Pats playing catch-up. Paddock has made his share of moves to revamp the roster, notably adding Cale Fleury (MTL) from the Kootenay Ice, former Pat Jesse Gabrielle (BOS) from Prince George and Libor Hajek (TB), Cameron Hebig (EDM) and goaltender Ryan Kubic from Saskatoon.
The Pats are slowly closing in on Brandon for a top-three East Division seed.
"It's a really good division. There's some really good teams. I think we're one of those teams," Steel says. "We're trying to build towards really peaking at playoff time."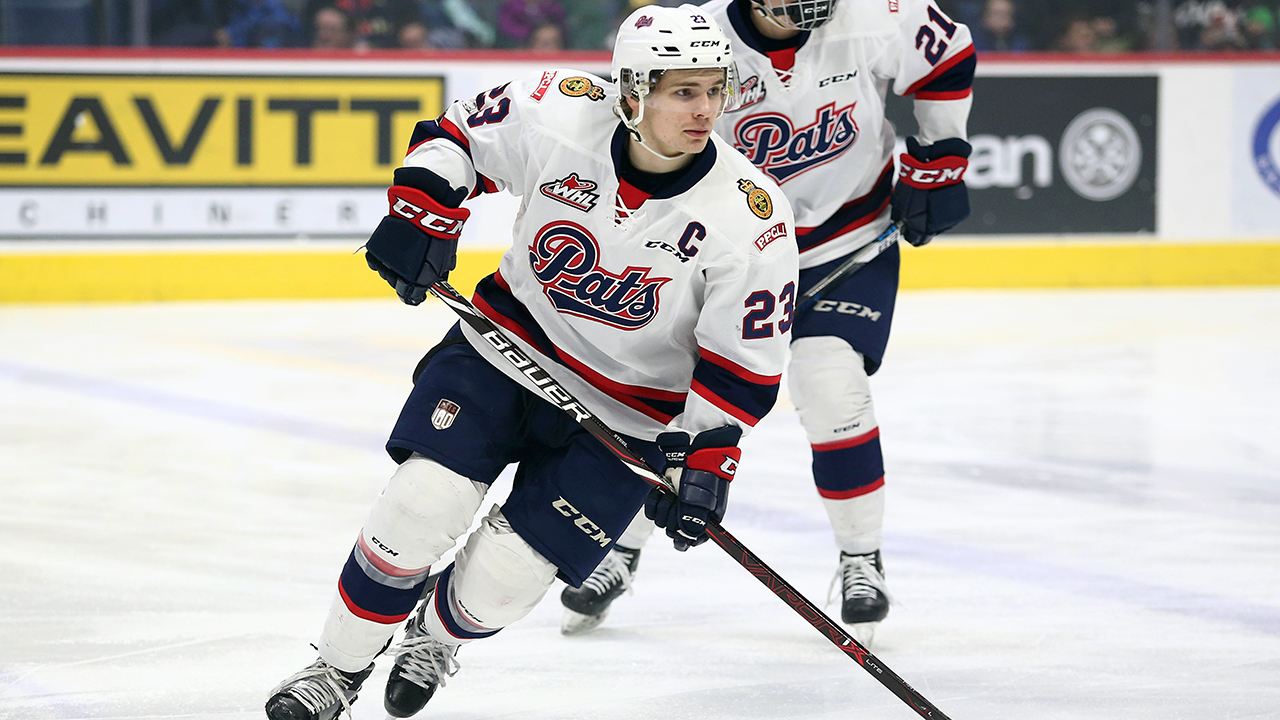 With better players now around him, Steel's production has increased since the trade deadline, and he continues to climb the Pats' all-time scoring list. Steel sits 13th with 318 points heading into Friday's game in Moose Jaw after recently passing Jordan Eberle. Steel has 63 points this season in 42 games.
"He's the guy who always seems to have the puck on his stick and always wants it," Leschyshyn says.
Having turned 20 earlier this month, Steel's time with the Pats will end after this season.
Paddock has no doubt he'll go on to have a long and successful NHL career. He likens Steel to former Ducks and Montreal Canadiens centre Saku Koivu and Philadelphia Flyers captain Claude Giroux – the latter of whom Paddock coached in the AHL for three months during the 2008–09 season.
"He's the most complete, all-around forward in the league," Paddock says of his six-foot, 184-pound centre.
Steel is a playmaker, plays a strong defensive game and is good in the faceoff circle. He doesn't project to be a superstar, but a cut below, Paddock says. Paddock feels he'll just need to learn to make decisions quicker with the puck at the next level. The adjustment shouldn't take long, the coach says.
Until then, Steel has more important things to be concerned about in Regina. The road will be a tough one in the WHL playoffs and in the Memorial Cup.
But Steel should be up to the job.
"Every level that he's gone, he seems to rise to the challenge, whatever the stage may be," Marchant says.