VANCOUVER — The hard truth:
With a sixth place finish at this World Junior Hockey Championship, Canada has now medalled in just three of the past seven tournaments.
"Canada?!? Are you sure?" asks Swiss coach Christian Wohlwend. "No… Is it in the men's world championships?"
No, Christian brother. It's the world juniors we're talking here. So, clearly, one of two things is happening:
Either the rest of the world is catching up to us, or we're falling back to the rest of the world. Which is it?
"That's a good question," said Tom Renney, the head of Hockey Canada, who was standing before the gathered media giving an autopsy on his team's performance about two days ahead of schedule.
"I think they're catching up," he decided. "It's hard for us to maintain that standard, because they're that good. Notwithstanding we want to be the best team playing this game. It doesn't always happen that way."
It doesn't happen often enough, one might say.
Look, we are the first to point out that, with the right calculator in the right columns, these days you can make hockey stats say almost anything you want them to. But when it comes to tournament placing, there is neither room nor need for interpretation.
Canada medalled 19 times in the 20-year period from 1993 to 2012. From 2002 to 2011 we split the decade perfectly: five gold medals and five silvers. However, upon failing to medal on home soil for the first time in the country's world junior history, from 2013 to today Canada has now medalled fewer times than the United States and Russia, and by Saturday could be tied with Finland — a country whose population is 5.5 million, compared to 37 million Canadians.
So, what's going on? Maybe we need to ask them.
"Everything is global," says Kimmo Oikarinan, the GM of Team Finland. "There are good leagues now in Germany, Switzerland, Finland, Sweden, and young players can be part of these leagues because the KHL is taking so many players. So, there is more space in these national leagues for the young players to come in and play in the men's level. So, they are more ready to play at the world junior level."
We have a rule in North American pro hockey that junior-aged players cannot play in the American Hockey League. That level is roughly on a par with many European leagues where their 19-year-olds can play.
Another place where the world has caught up is in the time, effort and money spent on the developmental levels. Take the United States, with its National Development Program. It's a hockey factory that churns out Top 5 NHL draft picks every year — far more exclusive than anything Hockey Canada does, but extremely successful in winning medals.
"Canada has by far the most amount of players, on this talent level. They will win — don't worry about Canada," consoled Wohlwend, the Montreal native who later would smile and say, "I'm the only Canadian coach in the semifinals."
"Nations like Switzerland, Denmark, Germany… They're doing a fantastic job, with this (small) amount of players," he continued. "Finland and Sweden have three times the players than us, and Canada maybe 100 times. But we have this know-how now in the other countries."
Switzerland meets the Finns in one Friday semifinal, while the USA takes on Russia. Both Sweden and Canada (upset in overtime by the Finns) failed to get there.
In the NHL, the overall numbers have shifted. As of a few years ago the percentage of NHL players from Canada fell below 50 per cent, with the number of Americans rising above 25 per cent. Each year they grow a little bit closer to each other.
As the other countries refine their processes at the U-20 level, the margin for error gets slimmer and slimmer for Canada. Maybe a few years ago a powerplay configuration that didn't work so well, or leaving a top WHL leading scorer like Trey Fix-Wolansky off the roster, is something Canada could get away with.
Today, we are wondering how it was that a team with an ineffective powerplay did not practice since Christmas Day? If a defence corps with a bunch of offensive-minded players was allowed to activate often enough? Or if another elite set-up man like Fix-Wolansky may have helped?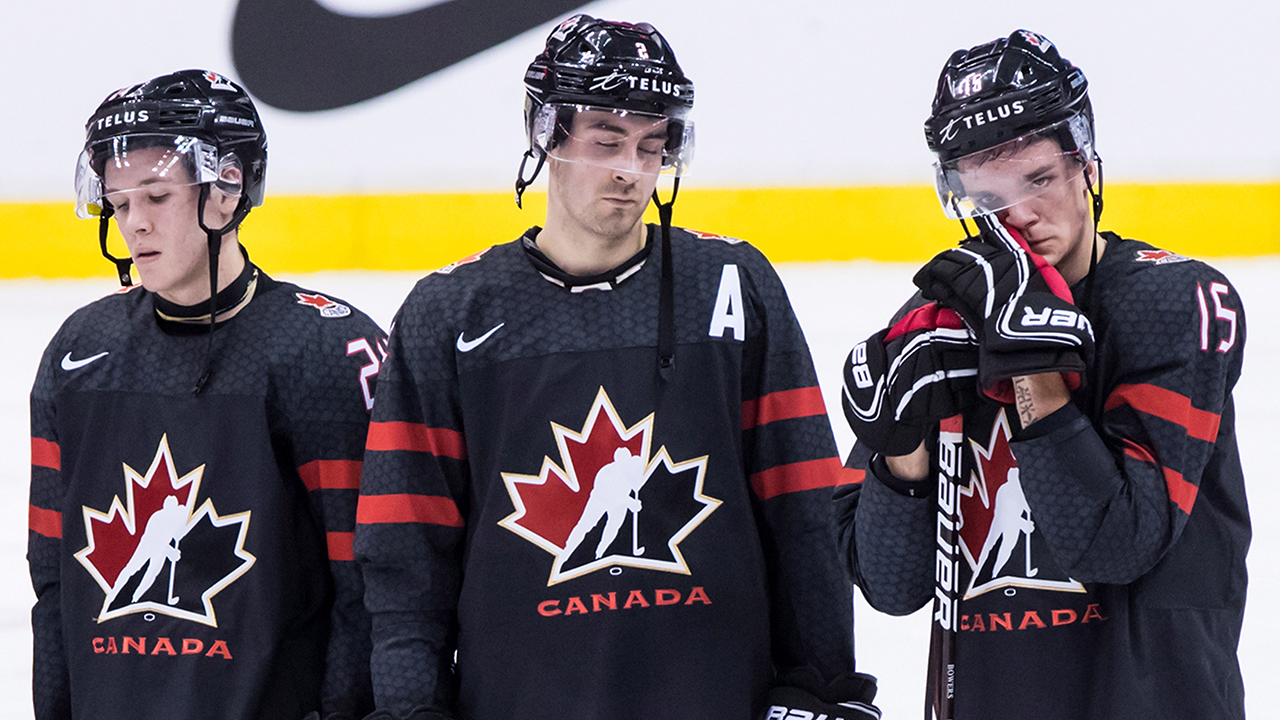 Canada's Ty Smith, left, Evan Bouchard, centre, and Shane Bowers look on after losing to Finland. (Darryl Dyck/CP)
Renney fielded all of those questions Thursday, starting with the practice habits of head coach Tim Hunter.
"We were together for 23 days and on the ice for 17. That's pretty tough," said Renney who referenced walk-throughs in hotels, video work and meetings that replaced practices. "I would share that sentiment had I not witnessed a very strong period (Wednesday) night. I thought we played well; we played hard.
"It's a fair question. I will tell you that we had enough gas to play the entire game, which is most important of all."
Of course, Canadian fans aren't really interested in hearing those words, and some even piled on team captain Maxime Comtois on social media to the point where his agent had to put out a statement condemning those merciless enough to degrade a 19-year-old for missing on a penalty shot.
This is what happens in Canada, when you score just one goal per game in your final two games, while barely playing 17-year-old Quebec phenom Alexis Lafreniere, and walking through your woeful powerplay in a hotel, while others are practicing their successful ones on a sheet of ice.
As Canadians, we are conditioned to finish down the ladder at international sporting events. As long as the sport is not hockey.
"I thought we worked really hard, we were organized — we did all the things we needed to do to give ourselves the best chance to win," surmised Renney. "At the end of the day you saw a bunch of teenagers doing everything they could possibly could, to do something special in their homeland, under real close scrutiny.
"This is about growing up, and measuring up to expectations. And there's nothing wrong with that."
As a sixth place finisher here, Canada didn't come close to measuring up.
It's becoming a bit of a trend, one that won't sit well with the sports fans in this country.
[relatedlinks]