Ken Appleby wasn't the most valuable player in the OHL playoffs in the spring of 2015. Even though his Oshawa Generals knocked off Erie in the final, the 99 Award went to Connor McDavid, who had 49 points in 20 games that post-season.
Nor was Appleby the MVP at the MasterCard Memorial Cup a couple of weeks later. Even though the Generals beat Kelowna in overtime in the final, the Stafford Smythe Memorial Trophy went to another guy playing with the Edmonton Oilers these days, Rockets star Leon Draisaitl.
No matter, those playoffs and that tournament were more valuable to Appleby than anyone on the ice. A run to a national title is as good as you can hope for when you're a major-junior goaltender playing for a pro job.
And that's exactly where Appleby found himself in the fall of 2014. "I really didn't get a chance to establish myself as a starter [in the OHL] until I was 19," Appleby says. "And at times along the way, I really wondered if I'd get a chance. I wanted to believe I would [and that] I'd do a good job given the opportunity. But some things are out of your control."


Not a scout? No worries. Jeff Marek's newest podcast is all you need.
Listen now | iTunes | Podcatchers
During his first two seasons in the league, he was a backup on a strong Oshawa team, going 6-4 with a .886 save percentage in his draft campaign and 11-7 with a .920 save percentage the next year. He backed-up Daniel Altshuller, who was a Carolina third-round draft pick 2012, and figured in only one playoff game. "I didn't get my hopes up as far as [getting drafted] goes," the North Bay native says.
At 19, the chance to start finally presented itself and Appleby ran with it as far as you can go: a 38-7-4 record with a 2.04 GAA a .924 save percentage during the regular season; 16-4-1 with a 2.24 and .920 in the OHL post-season; and, in the end, four wins in four starts with a .915 save percentage at the Memorial Cup in Quebec.
Okay, he didn't get drafted, but at least teams did notice.
"Chicago invited me to work out for them before the draft, some physical testing and on-ice work and interviews," Appleby says. "They didn't sign me, but I got invited to summer development camps with the [St. Louis] Blues and New Jersey. The Devils wound up inviting me to their main camp and I signed with them."
Appleby had wondered if he was going to get his shot in major junior, but since signing with New Jersey at least he's been getting into the games. "I knew that I was going to be the fifth guy [in the organization] and that meant I was going to play in the East Coast [Hockey League] and maybe get in some work with [the Devils' AHL affiliate in] Albany. What's good about that is the East Coast team is in Adirondack, which is about 45 minutes or so from Albany, so I get to work with the Devils' [development] goaltending coach Scott Clemmensen."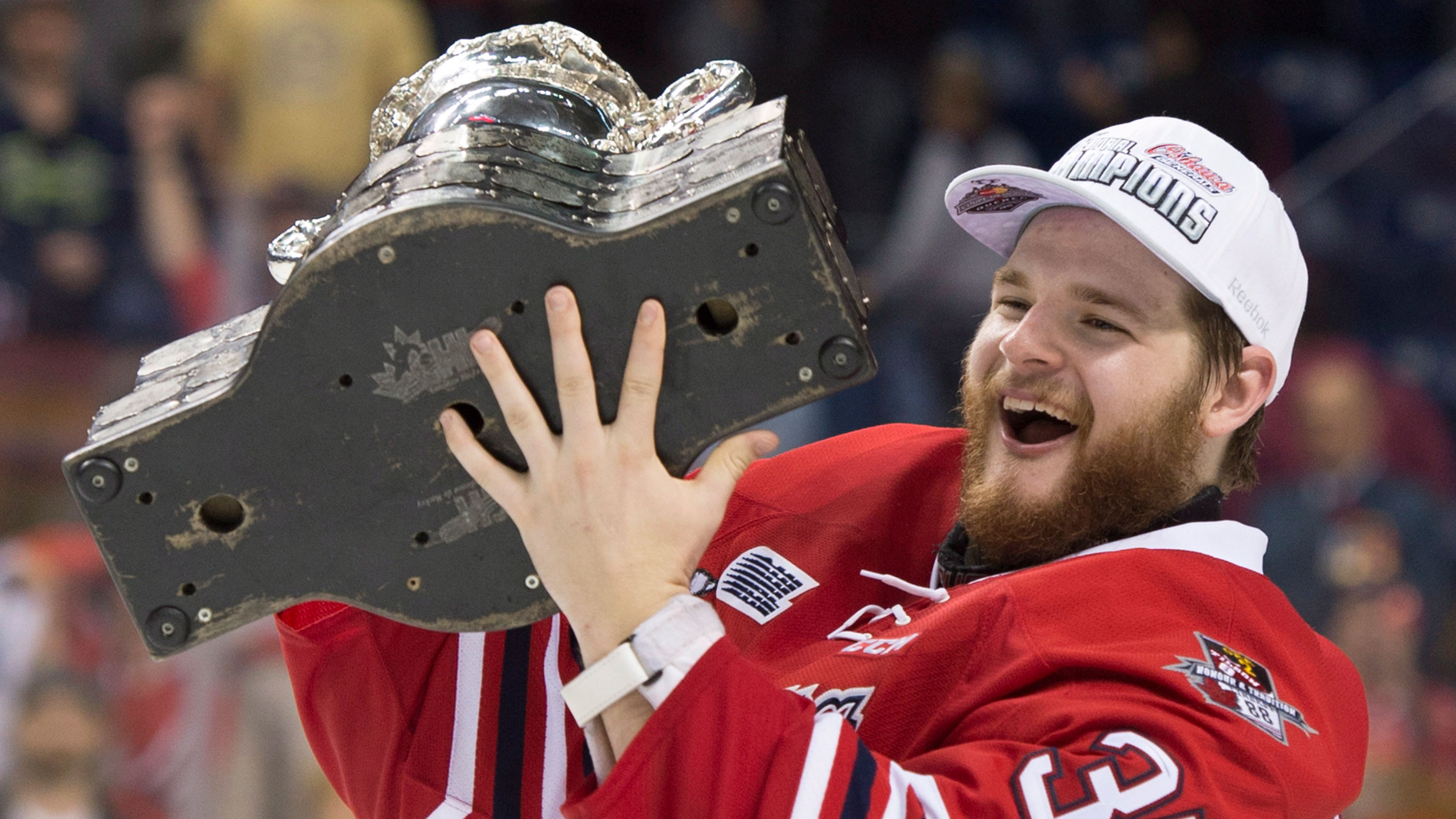 Appleby was named the 2015 Memorial Cup's most outstanding goaltender. (Jacques Boissinot/CP)
Appleby made an uncommon step for a netminder in his position—most undrafted goalies with only one major-junior season as starters on their CVs head back to their clubs for an overage year. Appleby went the other direction. "My agent and I talked about it a lot and really I don't think that another year in the OHL would have put me in a better position."
It wasn't just the idea that Appleby had climbed to the top of the mountain and done all you could in major-junior. More than that, his stock might have plateaued at best or slipped back in the OHL for an OA season.
Appleby split time between Adirondack and Albany as a rookie pro last winter. A .904 save percentage in his eight games with AHL was heartening for a 20-year-old, ditto a .924 save-percentage in 29 regular-season ECHL games. Throw in 12 games in the ECHL playoffs and he wound up with more work than in his first two OHL seasons combined.
"I like to think I could have played more as a 17- and 18-year-old, but that's how major-junior is for goaltenders," Appleby says. "You wait your turn and hope it comes. Is it the best for developing goaltenders? I don't know. That's behind me now. I'm focused on what I can do [in the Devils' organization]. I'm definitely in a better position than if I had stayed back for an OA year, getting to work with top coaches and a professional atmosphere."
| Season | Team | League | GP | W-L-T | GAA | Pct | SO |
| --- | --- | --- | --- | --- | --- | --- | --- |
| 2012-13 | Oshawa Generals | OHL | 18 | 6-4-2 | 2.7 | .886 | 0 |
| 2013-14 | Oshawa Generals | OHL | 24 | 11-7-3 | 2.48 | .920 | 3 |
| 2014-15 | Oshawa Generals | OHL | 50 | 38-7-4 | 2.08 | .924 | 6 |
| 2015-16 | Albany Devils | AHL | 8 | 3-3-2 | 2.59 | .904 | 1 |
| 2015-16 | Adirondack Thunder | ECHL | 29 | 17-9-2 | 2.24 | .924 | 3 |
| 2016-17 | Adirondack Thunder | ECHL | 6 | 4-1-1 | 1.98 | .915 | 1 |
| 2016-17 | Albany Devils | AHL | 5 | 4-1-0 | 1.59 | .930 | 0 |
The first two months of Appleby's sophomore pro season have been even more impressive. In five starts with Albany he has four wins with a sterling 1.59 GAA and a .930 save percentage. Combined, his pro stats compare favourably with Altshuller's (who has played six games with the Hurricanes' ECHL club and two with their AHL affiliate this season). Appleby is 6-foot-4 and athletic, has a good read of play and balks at being described as "just a blocker," a stealthy knock on a lot of goalies who've had some limited success.
Still, his story is instructive: He had one chance and made the most of it. If he had pulled a muscle, if the Generals had brought in an established starter back in 2014, Appleby might have looked for a pro job and found nothing in North America. He might have had to light out to Europe or looked to go another route entirely.
McDavid's and Draisaitl's futures were as secure as could be and it was Appleby playing just to stay in the game that proved to be their nemesis. Never under-estimate desire bordering on desperation to raise a kid's game.