Around this time in 2014, the Saint John Sea Dogs were focused on who to take with the first pick of the QMJHL draft after finishing in 17th-place and winning the lottery. Now the core of that young team is a group of veterans gearing up for a President Cup final against the Blainville-Boisbriand Armada.
"There's lots of expectations on our team, but at the same time we kind of grew up together," says Saint John leading scorer Mathieu Joseph, one of seven players on the current roster that was part of the losing 2013-14 season.
"We started as kids all together. Obviously, there's some additions here and there, but most of us are guys that came all together when we were 16 or 17 years old. They're like your brothers. They're like your family. So you really want to win for each other."
While this is the first crack at a QMJHL title for many players on the team, the Sea Dogs loaded up on previous winners at the trade deadline. Big winger Julien Gauthier (CAR) won the President Cup as a rookie with Val-d'Or in 2013-14. Defenceman Simon Bourque (MTL) won with Rimouski in a final against the 2015 against the Memorial Cup host Québec Remparts. In January, Saint John brought in goalie Callum Booth (CAR) who was a backup with that Remparts team.
And then there's Bokondji Imama (TB). The 20-year-old is in his third President Cup final but is still looking for the elusive championship.
"Fortunately, it's my third finals, so I know what it takes to get in the final. I lost twice and it's not going to happen for a third time," says Imama, who has seven goals and four assists in the playoffs this year.
"I think it's a group of guys, they all know what it takes. We know it's not going to be easy. For the rest of the guys, there's a lot of veterans in the room too that have been in Saint John for four years. At the time, they were not winning, so they're really hungry this year. I think it's the perfect mix actually. So we all come together and battle to win it."
The Sea Dogs square off against an Armada team that's already taken down two Maritimes Division opponents to get to the final for the first time in franchise history. After falling behind 1-3 against the Acadie-Bathurst Titan, the Armada ripped off three straight wins to take the series in seven. Facing the high-scoring Charlottetown Islanders, the Armada dropped Game 1, but won the next four.
"I feel like we acted like professionals all the way through," says Armada head coach and general manager Joël Bouchard.
"There was some adversity through the playoffs at times and I thought the guys managed their emotion and their composure very well when were down 1-3 against Bathurst."
In the regular season, the Armada and Sea Dogs only play each other twice. Bouchard says the Maritimes Division teams play a different style of hockey compared to the Quebec teams and, despite different players, there's a similar mentality.
"My thing is to make sure that we learn from the last two series and obviously we've watched Saint John and know they're a good team. We don't go there with an inferior complex. It's the final. It's two good teams that play. Let's see who finishes on top," says Bouchard.
Forwards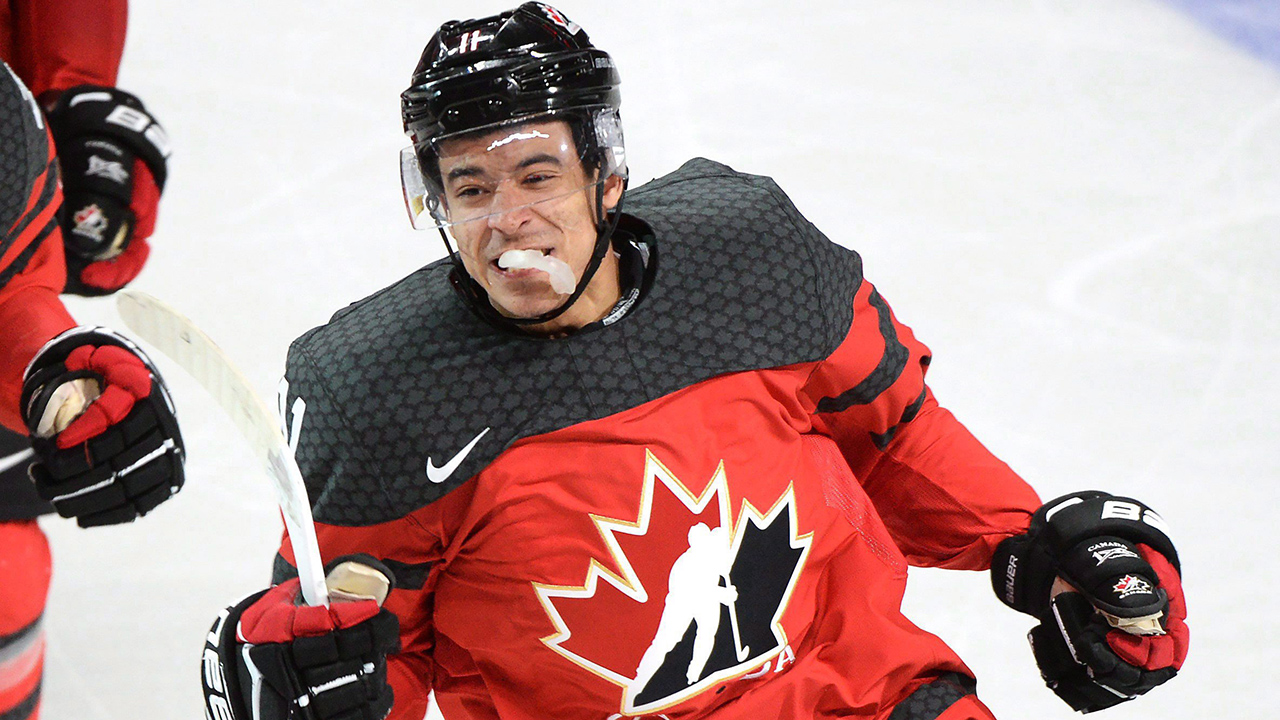 Saint John
Imama says the Saint John veteran core that's been together for four years is hungry and it shows on the scoresheet. Joseph leads the team in playoff points with 22. Spencer Smallman (CAR) and Matthew Highmore (CHI), both from that 2013-14 squad, are the next highest-scoring forwards with 16 points each.
After sweeping the first two rounds against Val-d'Or and Rimouski, it took six games to knock off the Chicoutimi Saguenéens. In the decisive Game 6, Saint John scored three goals in the third period including the game winner by Imama.
"I think we have a lot of character on our team and a lot of experience. When you combine that together, it just shows a team that doesn't panic a lot," says Joseph.
Gauthier had three goals and two assists against Chicoutimi and now has 11 points in 14 games, his most productive playoffs in his four-year junior career.
In total, there are seven NHL prospects playing up front for Saint John and centre Joe Veleno is a top prospect for the 2018 NHL draft.
Blainville-Boisbriand
When it was first reported the Armada were acquiring Pierre-Luc Dubois (CLB) from the Cape Breton Screaming Eagles, the team was tied for first place in the 'Q' with Saint John. Dubois — the third-overall pick of the 2016 NHL draft — along with fellow trade deadline acquisition Alex Barré-Boulet, finished the regular season first and second in team scoring. In the playoffs, Barré-Boulet leads the way with 14 goals and 29 points and Dubois is right behind with 21 points.
"We really believed in our group before they came in, meaning our guys that are heart and soul were our guys," says Bouchard, who orchestrated the trades.
"(Dubois and Barré-Boulet) needed to jump in and bring what they can bring without changing the team chemistry, which they didn't. The core is really solid and those guys bought into what we're doing and obviously they're adding to the success we're having right now so it's a lot of fun for them."
Outside of Dubois, the Armada lack the NHL prospect star power of the Sea Dogs, but receive balanced scoring. Draft-eligible forward Joël Teasdale has picked up his play in the post-season and has 15 points. Alexandre Alain, a centre who has received NHL camp invites the past two years, has 18 points.
Advantage
Saint John
Defencemen
Saint John Sea Dogs
Fans of the QMJHL have known Thomas Chabot (OTT) is a game-changing defenceman for years, but he put the rest of the junior hockey community on notice in January when he was named MVP at the world juniors. After going pointless in the first three games of the series against Chicoutimi, Chabot scored twice and added four helpers in the final three games. In Game 5, Chabot started with the puck from behind the Saint John net, took a shot, found his own rebound and scored a goal in a jaw-dropping sequence.
Bourque has 11 points and is off to his second President Cup final. Two-way defender Jake Zboril (BOS) adds a physical element to a blueline that is dangerous in both ends.
Blainville-Boisbriand
The Armada blue-line suffered a devastating blow in October when its most dangerous player, Jérémy Roy (SJ) suffered a season-ending injury. While the team lacks an elite scoring defenceman, 20-year-old TJ Melancon has stepped up his play. The late bloomer made the team as an 18-year-old as a tryout after playing Ontario Junior A. After a 44-point regular season, Melancon has 13 in the playoffs.
"He's a good example of guy never quitting and fighting through the process of being a hockey player," says Bouchard.
Advantage
Saint John
Goaltending
Saint John
This is the second time goalie Callum Booth has played in a President Cup final, but it's his first time as a starter. He leads the playoffs with a 1.85 GAA and has a .912 save percentage in 14 starts. He's faced 25 or fewer shots in all but one game. The lone exception came in a double-overtime loss against Chicoutimi where he faced 54 shots and was named second star. Booth has the experience and has stood tall when needed.
Blainville-Boisbriand
The importance of Samuel Montembeault (FLO) was apparent in the series against Acadie-Bathurst. He got banged up in Game 2, missed the next two games and the Armada lost all three time. To be fair, backup Francis Leclerc was dealing with a family emergency at the same time.
In the semifinal against Charlottetown, he stopped 17 pucks in the first period of Game 4 en route to a 34-save win. Game 5, it was a similar story as he made 31 saves and was named the first star.
"He's definitely a key player for us. He's a force. He's a good goalie. He's solid. He's big. He's quick. He reads the plays well," says Bouchard. "When he's on his game, it's impressive to see him play."
Advantage
Blainville-Boisbriand
The winner is …
Saint John in seven.
Saint John is a team stacked with NHL prospects, President Cup winners and experienced veterans and has been a favourite to win the league since the start of the year.
Blainville, meanwhile, has a group of players that pulled off the near-impossible task of erasing a three-game deficit and knocked off a the Islanders in five games. The core of this group was responsible for an upset last season when it knocked off Val-d'Or despite finishing with 40 fewer points in the standings. This is a team that can beat the odds no matter the situation.