The CHL on Sportsnet gets a rare Saturday night billing and it should not disappoint. We head back to B.C. for a provincial matchup with the Victoria Royals paying a visit to Kelowna to take on the Rockets.
Both teams are coming off big wins. The Royals beat league-leading Lethbridge Friday, ending the Hurricanes' 10-game win streak by holding them to just 17 shots on goal in a 3-1 win. Victoria now has points in seven straight games. The Rockets continue to roll after a 5-3 win over the Portland Winterhawks on home ice. Kelowna has been deadly at home with a 19-2-2-0 record and has won five straight.
---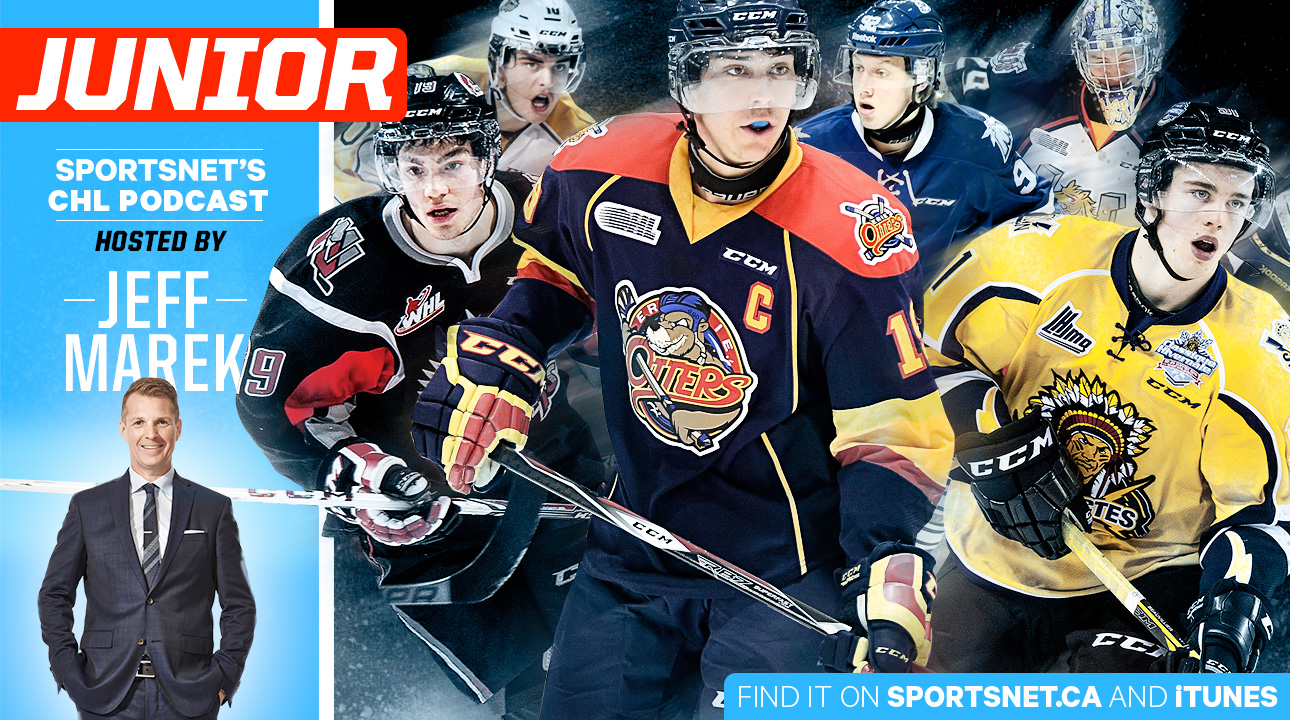 Sam Cosentino joins Jeff Marek every week on Sportsnet's CHL podcast, a one-stop shop for news, analysis, opinion and interviews covering the WHL, OHL and QMJHL. Saint John GM Darrell Young guests this week.
Listen now | iTunes | Podcatchers
---
VICTORIA ROYALS
Victoria is a young team that has exceeded expectations to this point in the season. Rather than sell off and acquire assets to compliment this young group for the future, general manager Cameron Hope didn't make any moves, in order to not break up the great chemistry that wasn't as evident a year ago.
Alex Forsberg continues to pace the Royals offence, tied for seventh in the WHL with 61 points. Sensational rookie Matthew Phillips leads the team with 26 goals, eight of which have been game-winners. Forsberg and Phillips are the only two players averaging more than a point per game, but there's nice balance throughout the rest of the lineup. Tyler Soy had a six-game goal streak snapped, but has been on fire in January, with 11 goals in 12 games played. Jack Walker, Dante Hannoun, Logan Fisher and Vladimir Bobylev provide more-than-adequate secondary scoring.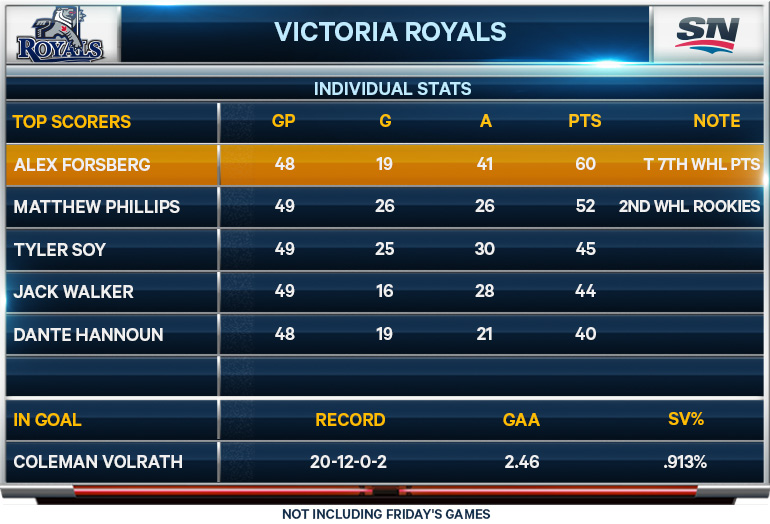 More offence is garnered on the backend with two-time world junior Joe Hicketts, who has just three goals, but 36 points in 37 games played. Victoria's defence on the whole, is underrated due to lack of star power. However, L.A. prospect Chaz Reddekopp, Ryan Gagnon, Ralph Jarratt and steady Marsel Ibragimov as a group are better than the sum of their parts.
In goal, over-ager Coleman Vollrath has been solid. Head coach Dave Lowry challenged him at the start of the year and he has responded well. Vollrath hit a rough patch at the end of December, and gave way to Griffen Outhouse, who's played more like he lives in the penthouse. Since he's had the net back, Vollrath has allowed four goals over his last three starts, albeit having faced just 59 shots in those three games.
---
KELOWNA ROCKETS
It doesn't seem to matter who's behind the bench, who graduates, or who is in goal for Kelowna, the Rockets just keep on winning games. Kelowna leads the Western Conference by six points over Victoria with three games in hand. There seems to be a championship mentality that permeates through the group that has been passed on by successful players of teams past.
In goal, an injury to starter Jackson Whistle has forced Michael Herringer into a starting role. Herringer battled Jake Morrissey to be the backup to Whistle last year and has been in that role this season as well. Herringer has started the last 10 games, winning seven of them and earning points in eight. He has started four of the six previous meetings between these two clubs.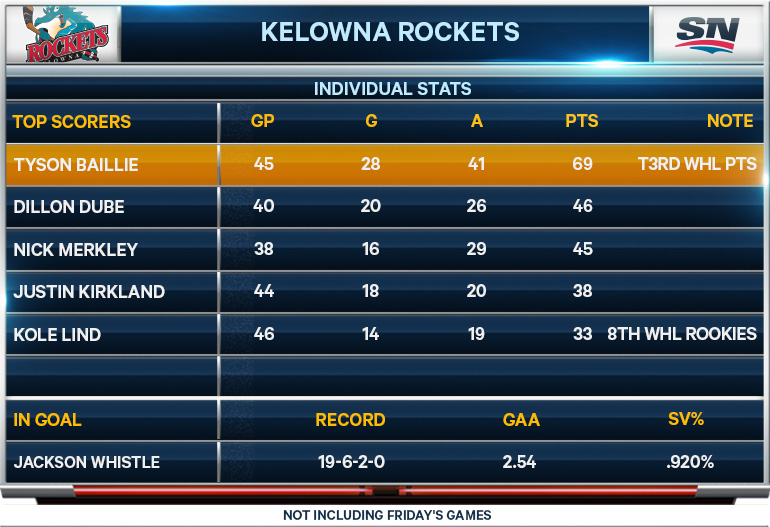 Kelowna has always had a reputation for producing top-notch defencemen and this year is no different. Buffalo prospect Devante Stephens and veteran Joe Gatenby anchor the group. Lucas Johansen is coming off an appearance in the Top Prospects Game and rookie Cal Foote looks like a rock star in the making. The depth continues with another rookie Gordie Ballhorn, who leads the team in plus/minus with a plus-22. Jonathan Smart and Braydn Chizen have split duties in the last pairing.
As much as Kelowna relies on defence, it rarely sacrifices offence to do so. The Rockets lead the lower-scoring Western Conference with 3.73 goals per game. Tyson Baillie continues to lead the way with 29 goals and 70 points. He's sniped six game-winners. Rourke Chartier has missed 30 games this season yet still has game-breaking ability. Top Prospect Dillon Dube, Justin Kirkland and rookie Kole Lind have performed well, while Swiss import Calvin Thurkauf has come on of late and Tomas Soustal is once again ranked by NHL Central Scouting.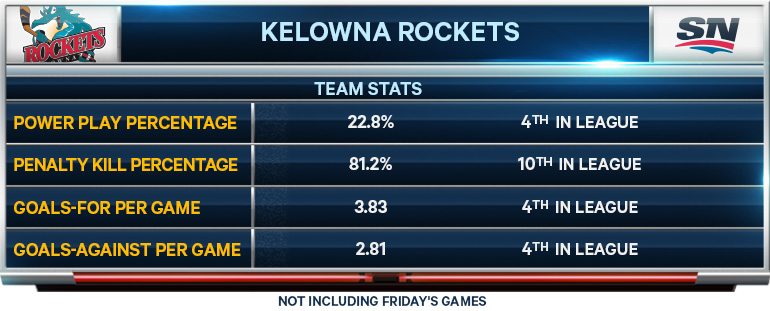 Kelowna was without a captain until recently when Rodney Southam was offered the job. He's a good choice as an over-aged player who's as honest as they come.