Two draft-eligible forwards with the Vancouver Giants bear watching when they take on Victoria Friday night on Sportsnet's broadcast.
Back at the start of the season, Tyler Benson was a fixture in the first round of every set of projections of the 2016 NHL Draft, including NHL Central Scouting Service's, which ranked the left winger from Edmonton as an "A" prospect in its preliminary rankings. This has been Benson's accustomed place in the conversation dating even farther back than his first-overall selection in the 2013 WHL Bantam Draft. Speculation floated around that he might apply for exceptional-player status to play in the Dub at 15. Benson and his family opted not to push the envelope and he played that year at the Kelowna Centre for Excellence.
Still, he was regarded as more than a mere prospect. He was labeled as a phenom and with numbers to back it up: 35 goals and 91 points in 46 games with the POE under-18 team at 15. Back then he was regarded by many as the best 15-year-old in Canada.
Yet in this, his NHL Draft year, a bit of the gloss has gone off Benson.
---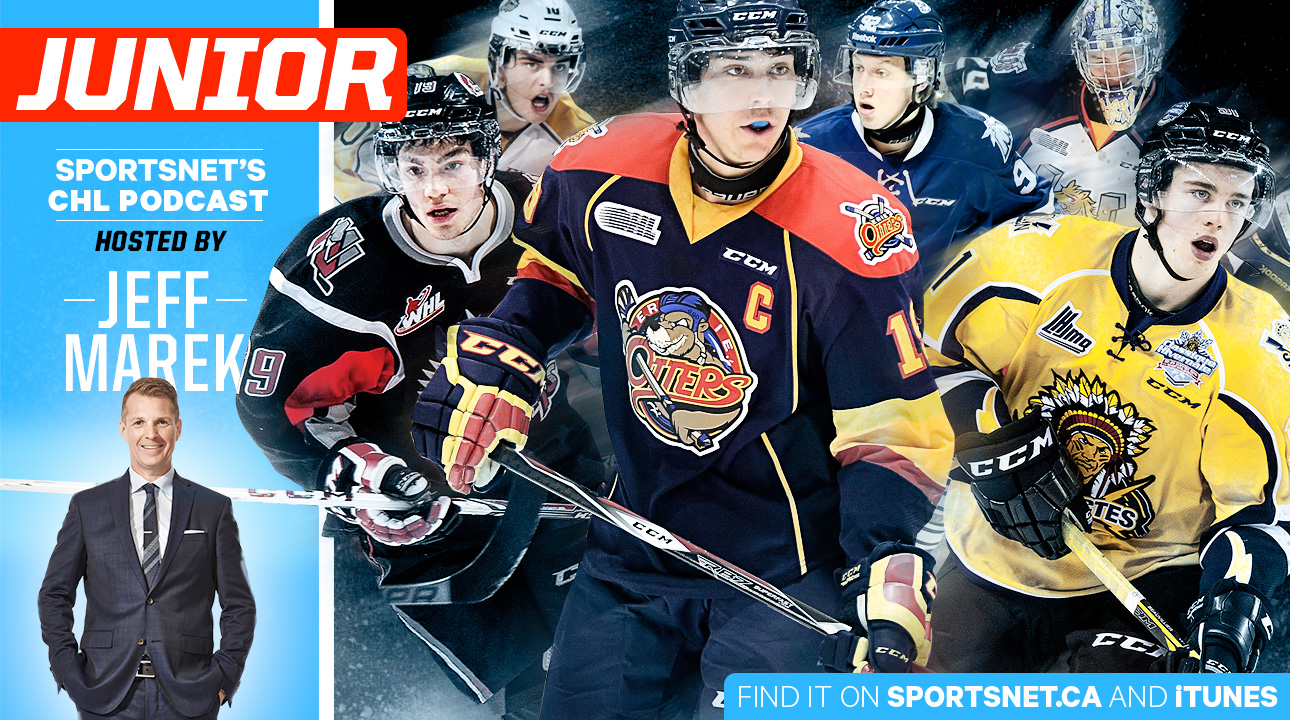 Jeff Marek hosts Sportsnet's weekly CHL podcast, a one-stop shop for news, analysis, opinion and interviews covering the WHL, OHL and QMJHL. Sam Cosentino, the CHL's top analyst/insider, joins Marek each week to discuss the latest from around the league, as do newsmakers from across the CHL. Couple that with NHLers remembering their days in junior hockey and regular updates on the latest risers and fallers for the NHL Draft, and there's really nowhere else fans need to go.
Listen Now | iTunes | Podcatchers
---
It started with so-so marks off his play at the Ivan Hlinka Under-18 tournament in August. Said one NHL scouting director who worked the tourney: "Benson was good but not great. It wasn't a question of effort. He played really hard and he makes smart decisions, shows some really solid hockey sense. But he has to if he's going to be effective, because, for me, his skating and hockey skills are not what you see in a top-10 or top-20 pick."
Then Benson missed 10 games early in the regular season when he had to undergo surgery to remove a cyst from the base of his tailbone. Still his seven goals and 12 assists in 20 games place him second in scoring on the Giants. Said the scouting director: "Some of our scouts like him more than I do, but he's not a priority player to watch. He is one of those players who has been talked about for so long that his story has taken on a life of its own. Some scouts will have him higher [on their lists] than I do simply because that's where he came into the league."
The scout did offer up one mitigating factor, though. "It might be that the cyst and the surgery have been bothering more than is known," the scout said. "That's something to follow up on. Then, you have to ask, 'How much of this can we mark down to playing hurt or recovering from surgery?'"
Benson might be a case of a wounded player in his draft year like Brandon Saad was in Saginaw back in 2011. Saad was a pre-season top-10 prospect but slid all the way to Chicago in the second round, his stock dropping because he played through a groin injury that put him way off form. "It's something that we'll have to follow up on," the scout said.
---

Download it now: iOS | Android | Windows
---
The other intriguing player in the Giants' lineup is their leading scorer, Ty Ronning, who is not just the son of former NHLer Cliff Ronning but also a virtual doppelganger for his father. "They're exactly the same sort of player," the scout said.
Cliff Ronning—a seventh-rounder in 1984—scored 85 points in his best season and played 1,137 NHL regular-season games, becoming something of a fan favorite with the Canucks. Despite the similarities to his father, Ty Ronning wound up as a "C" prospect on Central Scouting's list, suggesting that he'd be a long shot to play a single game in the NHL. No doubt, the major factor is his size: He's listed at 5-foot-8 and 160 lb.
Said the scouting director: "You look at him and say, 'He shouldn't be able to play at the next level.' But then again, that's exactly what everybody said about Cliff. And the fact is that Cliff played at a time when it was a lot tougher to at that size. I tell our guys, 'Don't tell me how his size limits [Ty] in the NHL. Don't make assumptions. Tell me how he plays and what he makes happen and let's work from there.'"