When Shawinigan Cataractes blueliner Samuel Girard steps onto the ice, the first thing that stands out is his skating. He's a silky smooth skater, patrolling the blueline, ready to pounce and join the rush. At times it's hard to tell he's a defenceman—when he gets the puck in an open lane, he looks like an offensively-minded forward who also back-checks hard and has strong positioning. While playing the role of power play quarterback, Girard will tap his stick on the ice, hungry for the puck. But as his 19 extra-man assists show assists show, he's looking for the puck to dish off to a teammate.
But one thing is inevitable: Questions about size. He's listed at 5-foot-9, but that's not completely accurate. "I'm not 5-9, I'm 5-10 now," says Girard.
---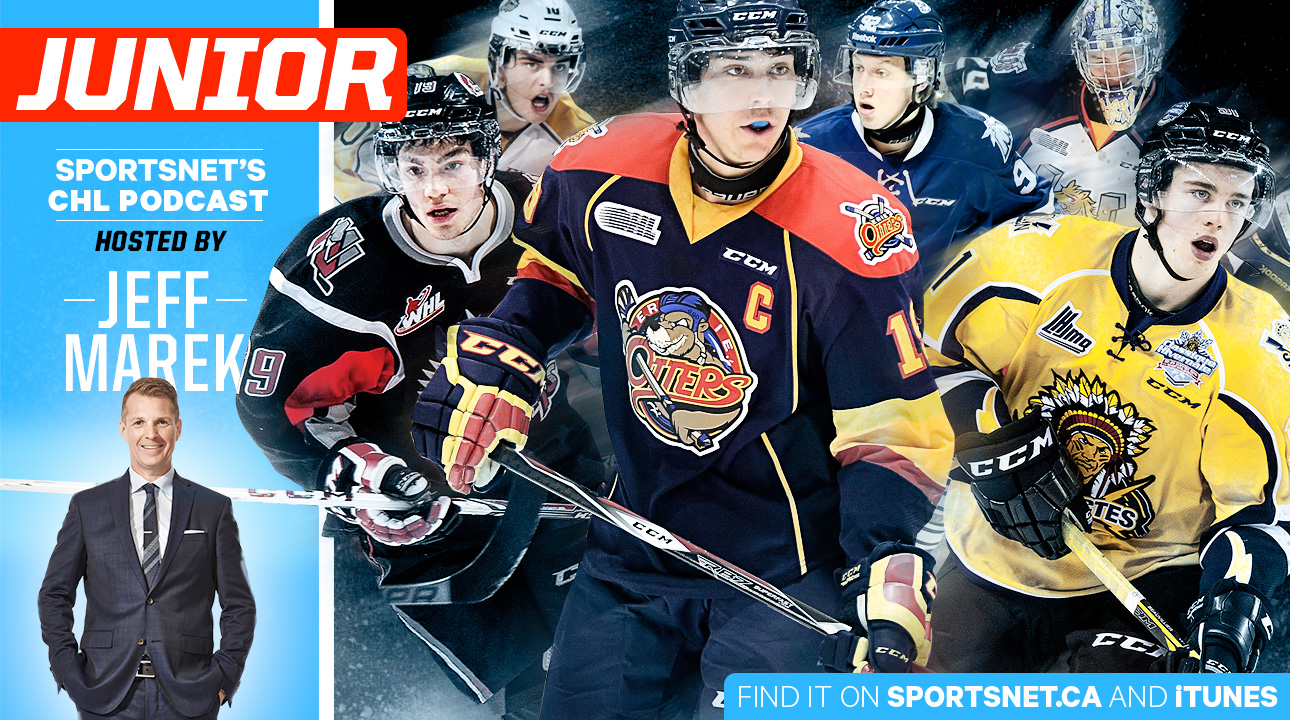 Jeff Marek hosts Sportsnet's CHL podcast, a one-stop shop for news, analysis, opinion and interviews covering the WHL, OHL and QMJHL.
Listen now | iTunes | Podcatchers
---
He's attracting a lot of buzz in his sophomore and NHL Draft season. He's been the top scoring defenceman in the QMJHL all season, and currently sits with 50 points in 50 games. He anchors Shawinigan's league-best power play. He was the youngest 'Q' player in the Canada Russia Series and was in the Top Prospects game in Vancouver last month. With Shawinigan aggressively making trades and taking a MasterCard Memorial Cup or bust attitude, don't expect Girard's name to go away any time soon.
When asked about his point total this season, Girard is quick to credit the star players around him and the league's best power play. It's nice to have a talented teammate like Anthony Beauvillier—a first-round pick of the New York Islanders scoring 1.71 points per game—but Girard has put up points while Shawinigan's studs have been away at NHL training camps and the world juniors.
"He's seriously a good passer, he can see the play very well," says Beauvillier, who has had six of his 25 goals assisted by Girard. "Everything he does on the ice, he does it well. He brings something, a big play or a scoring chance, every time he has the puck."
---

---
The off-season heading into Girard's draft-eligible year was jam packed. He attended Julie Robitaille's power skating school in Shawinigan, a program that's included NHL clients Patrice Bergeron, David Desharnais, Sean Couturier Mike Ribeiro and more. He also trained with pros in Los Angeles.
One of those pros, former-NHLer Daniel Brière, gave advice on handling the pressures of playing in front of scouts in your draft year. "He talked to me a lot. He said to not think about it, you'll be happy because an NHL team will believe in you," says Girard.
In August, he laced up for Canada's gold medal winning squad at the Ivan Hlinka tournament, finishing with a goal and plus-4. This came after a 43-point rookie season, a campaign that earned the 2014 QMJHL's third-overall pick the defensive rookie of the year award and a spot on the rookie all-star team.
Girard's made appearances in marquee events this season and knows more scouts are watching him and fellow draft hopefuls: "We have more pressure, but we have to control this pressure and be ready on the ice. If they chose me, it's because of how I play. They want me to play my game."
While the points have been there all season, Shawinigan's coach Martin Bernard has seen Girard's play away from the puck get better as the season has progressed. "He's improved a lot defensively," the coach says. "He's smarter. Because he's not a big defenceman when he's against big guys in the corner, he has a great stick."
---

Download it now: iOS | Android | Windows | Special Offer
---
At 5-foot-10, 165-lb.—we'll believe him on the height thing—Girard has a chance at joining a small group of 5-foot-10 or shorter defencemen to go in the first three rounds of the NHL Draft. In the past five years, that group is limited to six players. As sportsnet.ca's Stephen Burtch points out, height tends to trump offensive production when it comes to career longevity in the NHL, but there's an exciting wave of short and skilled defenders who could change that trend.
Girard is the 40th-ranked North American skater in NHL Central Scouting's midterm rankings. There are 13 other defenceman ranked ahead of him, and only one is under 6-foot: Chad Krys of the USNTDP is 5-foot-11 and ranked 30th.
"Size does hurt them at the draft," says an NHL scout with an Eastern Conference team. But there's more room for small defencemen in the league, the scout says, pointing to the examples of Torrey Krug with the Boston Bruins and Shayne Gostisbehere with the Philadelphia Flyers. "Sam, I think he's one of those guys. He's a great skater, he's a smart player, he doesn't try to do so much. I still think he'll go in the top three rounds."
A different scout projects Girard will go in the third round, seeing him potentially making the NHL down the road in a specialty role on the power play like Ryan Ellis in Nashville. He says NHL team prefer to only have a couple guys in that size category.
"He's an exceptional skater. At that size, you have to be very good with the puck. He's got that ability to slow the game down or pick it up. He moves the puck really well, he's a really good passer." says the scout. "Sometimes he gets overpowered in those one-on-one battles in the corner. As far as up and down the ice, as long as he stays in the lanes he's effective. With his size, you have to be skilled in those areas."
Over the trade period, Shawinigan loaded up on weapons making them Memorial Cup contenders. Up front, they brought in Toronto Maple Leafs prospect Dmytro Timashov (73 points), Danny Moynihan (63 points) and Ottawa Senators prospect Gabriel Gagné (21 points). On the blueline, San Jose Sharks free-agent signing Cavan Fitzgerald to bolster the power play and help Girard with his development.
"It's not easy for a young player to understand the other players come in to help, to release the pressure on him," coach Bernard says. "Before the trading period, he was the only guy who could run the power play. Now we have both Fitz and Girard."
And with that depth, the hope is the Cataractes can go deep in the playoffs, building off the lessons learned during a tough seven-game, first-round loss to the Halifax Mooseheads last year. If that is to to happen, a lot of it will have to do with Shawinigan's diminutive-but-dynamic defenceman.
"For Samuel, it's all about keeping his composure," says Bernard. "Not getting a point during a game, or two or three in a row. Keep your composure, stay calm, do your job, keep your game simple. It's all about that."