The big group of kids were all seated together in one end of the rink, wearing bright red shirts that signalled they were part of a club none of them asked to join.
But when Will Petschenig – the charter member of "A Heart Like Mine" – fired the puck in the net last week, their thoughts were a long way away from the unfortunate circumstances that brought them together.
"They were to my left in one of the upper levels and I just heard them cheering," Petschenig said. "I could hear them screaming."
It was a storybook moment for the Saginaw Spirit defenceman. The last of his 233 career Ontario Hockey League regular-season games and a night where 36 children he dubbed "Will's Warriors" had come out to honour him.
Of all the ways you would have expected Petschenig to mark the occasion, scoring a goal wouldn't be too high on the list. That was just the 11th of his OHL career.
"I think my dad was helping me out a little bit on that one," he said.
His dad – former Toronto Argonauts lineman Dan Petschenig – is never far from mind.
When Will was growing up as one of four kids in Manotick, Ont., the family's busy schedule basically revolved around sports. And his father often juggled the roles of coach, mentor and cheerleader.
"He was probably the best dad a kid could ever ask for," said Will. "He was my best friend."
Dan Petschenig died without warning at age 50 in October 2013, and it's a death the family is still in some ways coming to grips with. Doctors believe he succumbed to complications from a blood clot in one of his lungs.
Will was 18 at the time, living away from home and playing for the Oshawa Generals, and still vividly remembers their final conversation – in a parking lot after a game.
"He just told me how proud he was of me, he told me to keep going and that he loved me."
And so that is exactly what he's done, somehow balancing the tremendous demands of junior hockey and the grief he continues to deal with to this day.
He's also made it his mission to give back.
Petschenig won the Memorial Cup with Oshawa last year and got traded to Saginaw before his overage season. It was there he met Charley Porter, the Spirit's director of corporate sponsorships, and mentioned he wanted to start a program to help children who had lost a parent.
He had seen the "E:60" documentary on New York Islanders defenceman Travis Hamonic and hoped to become someone grieving kids could talk to.
What Petschenig never realized is how big of an impact that decision would have on his own life.
His program was named "A Heart Like Mine" and saw about 50 kids get a behind-the-scenes experience at a Spirit home game this season. However, what truly made it unique was the relationship each of them started with the defenceman didn't end there.
He made sure to return the favour.
"We've gone to plays, we've gone to practices, we've gone to games," said Porter, who administers the program. "We've taken a few kids out to lunch."
"I've probably gained about 50 new younger friends," said Petschenig.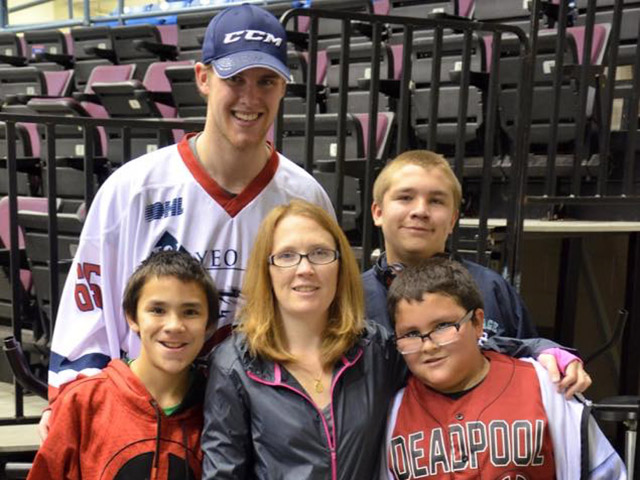 The one thing he made a point of doing was never forcing a conversation about the child's loss. But he would talk about his own experiences – perhaps mentioning he wears No. 65 because his father donned that number in the CFL, or showing his guest the message he writes on his sticks in honour of his dad – as a way to help them understand that grief can be an ongoing process.
Petschenig has grown quite close with a number of the kids in his program, seeing a few of them as often as once a week, and says "some of them I can almost call my little brother."
Even though he's spent just one year in Saginaw, he believes the memories made there will last a lifetime. The imprint he left on the organization is certainly one that will endure.
"He is one of the highest character young men that's come through our program in 15 years," said Spirit president Craig Goslin. "He has an intangible within him that very few people have. He's going to be a very successful person, whether that be a hockey player or whether that be in business.
"Whatever Will Petschenig decides to do with his life he's going to be very successful because of the type of character he has."
His OHL career is now winding down, with Saginaw currently facing Erie in a first-round playoff series, but plans are already afoot to ensure "A Heart Like Mine" continues after Petschenig heads to Switzerland next season to start his life in pro hockey.
A few current teammates have shown interest in taking up the mantle.
Porter also played a vital role in its development and will make sure it continues on with the same spirit Petschenig intended. She's been blown away by his level of commitment.
"He never once said no to me," said Porter. "We've always had guys that are very open and in the community, helping out in the community, but not the personal aspect that Will brought this year."
And so it was at Saginaw's Dow Event Center the evening of March 19, long after Petschenig had scored perhaps his final OHL goal.
The Spirit ended up squandering a 4-1 lead to Sarnia in the third period that night and lost 6-4, but the big blue-liner put the frustrations of that outcome aside when it came time to visit with his young friends afterwards.
It was something he had learned to do throughout the season and with so many of them there on this occasion it was especially important.
As usual, he delivered.
"This was 45 minutes after the game – there's very few people left in the building – and there's all 36 of these kids back down on the ice with Will," said Goslin. "Will's laying down on the ice, taking photos with them, giving them hugs, signing autographs for them. … I'll tell you something: I sat there from up in our suite and looked at that, and quite frankly I got a tear in my eye.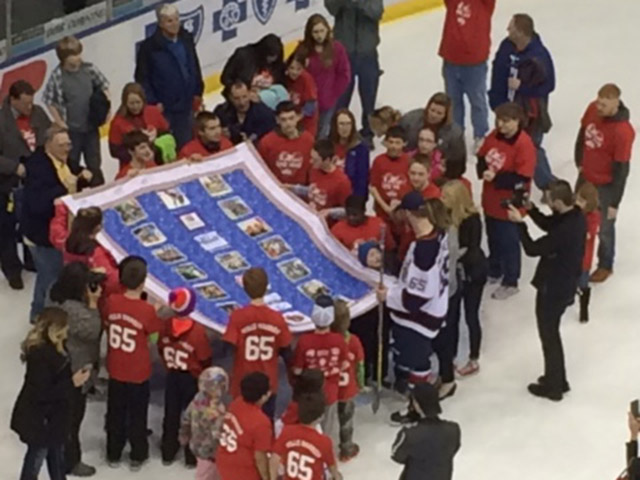 "I said 'that is special.' Hockey is important here and it's the vehicle, but nothing like that has touched the young kids lives like I've ever seen in our franchise history. It's just such an extraordinary thing that he's done."
The kind of thing that would make a father proud.