The good news for Jeff and Logan Brown is their teams only play twice per OHL season.
The Ottawa 67's coach-GM, does not hide his feelings about coaching against his son. Logan Brown is a 6-foot-6, 218-lb. centre who is a focal part of the Windsor Spitfires, who hold the Western Conference's No. 2 playoff seed and are bidding to host the 2017 MasterCard Memorial Cup next season. For what it is worth, Logan's Spitfires are 1-2 against the 67's ahead of a nationally televised matchup on Sunday.
"It's a pretty big event whenever we play them," says the younger Brown, who is NHL Central Scouting's 14th-ranked domestic skater. "All of our family is in Ottawa, so they come and I get to see them after all.
"We talk just the same amount. It's weirder for him. Once the puck drops it's just another game for me, but my dad, he's got to see me skating for the other team. He's so used to coaching me."
Jeff Brown became Ottawa's coach in June 2014 while Logan was awaiting a trade after being drafted by the Niagara IceDogs. The former NHL defenceman has said more than once that his ideal outcome for a Windsor-Ottawa game is a 4-3 67's win, with his second-born child scoring a hat trick. Oddly enough, the teams have traded 4-3 overtime wins in their Past two meetings.
"I don't like it," he said. "Because all you do is you cheer for your children your whole life. Right? And so, what's the most important thing? I think the answer is pretty clear: it's your son. So I cheer for him. It's hard not to, even when you're coaching against him. So I don't look forward to it because obviously I'm paid money to win hockey games for the Ottawa 67's."
---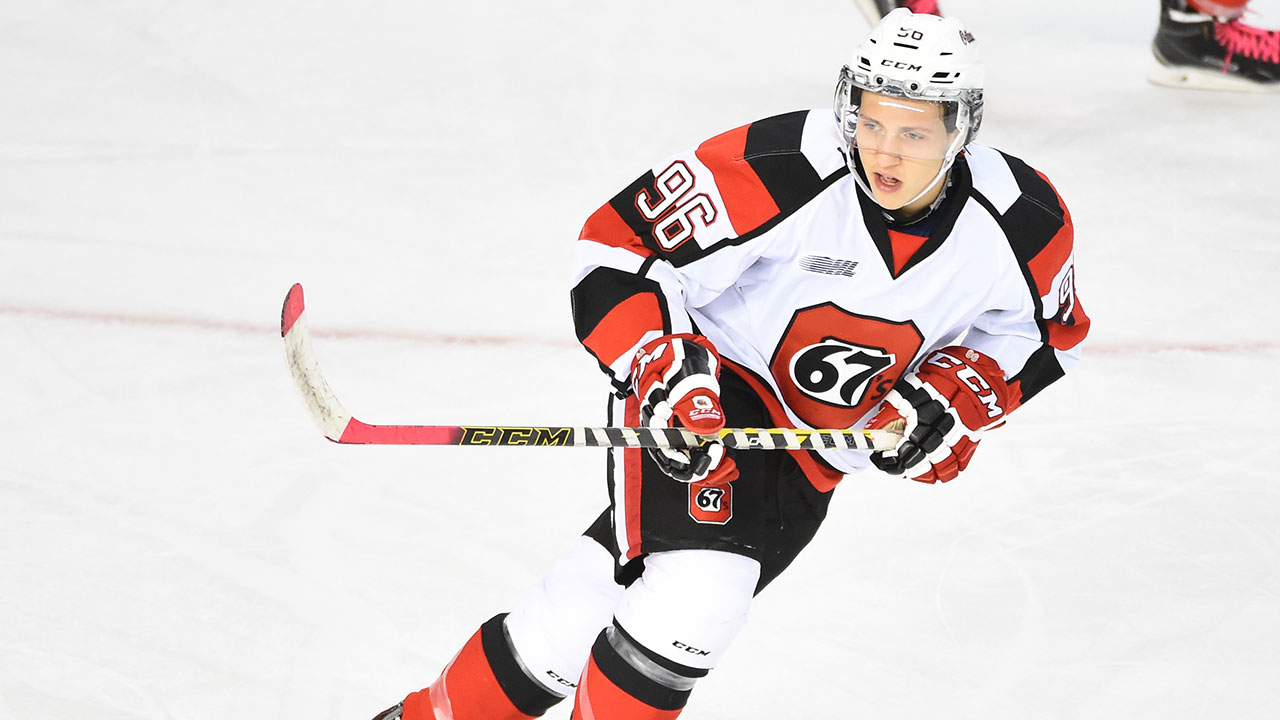 Dante Salituro, 19, leads Ottawa in scoring with 66 points in 50 games. (Aaron Bell/OHL Images)
---
Like many hockey dads who coach their daughters and sons, the two were inseparable throughout Logan's formative years. They even had their own Midwestern version of the classic Canadian backyard rink when Logan was about 10.
"The roller hockey rink in St. Louis was getting rid of its floor and my dad knew the owner and bought it off him and I had a mini-roller rink growing up," Logan said. "I was obviously pretty lucky to have it. It's extra time that maybe other kids don't have and was definitely a luxury to have. It really developed my love for the game, all that time being together with my dad."
There is always a curiosity about how second-generation elite hockey players forge their own identity. Hockey fans of a certain vintage fondly remember Jeff Brown as a puck-moving defenceman who was part of some solid early 1990s Blues teams and was a big cog in the 1994 Vancouver Canucks' playoff run.
But his son's positional preference was up front. "He was always a forward," Jeff Brown said. "I kept trying to make him a defenceman and he would say, 'Dad, it's boring back there.'"
---

Download it now: iOS | Android | Windows | Special Offer
---
Logan Brown tries to model his game after Joe Thornton—using his size and being a distributor in the offensive zone. Along with being a good playmaker, he credits Spitfires coach Rocky Thompson for enhancing his acuity in the defensive zone.
"With Rocky coming in, he's really taught a completely different game," said Brown, who has 10 goals and 48 points across 42 games for Windsor. "It's really a pro-style game and a pro-style attitude everywhere around the rink. Me being more mature and professional this year is all due to stronger 'D' zone play and showing patience everywhere around the rink.
"He's always willing to show you your shifts and compare them with clips of NHL players who maybe we could play like. He breaks down the game well. He's good at getting information across to you."
---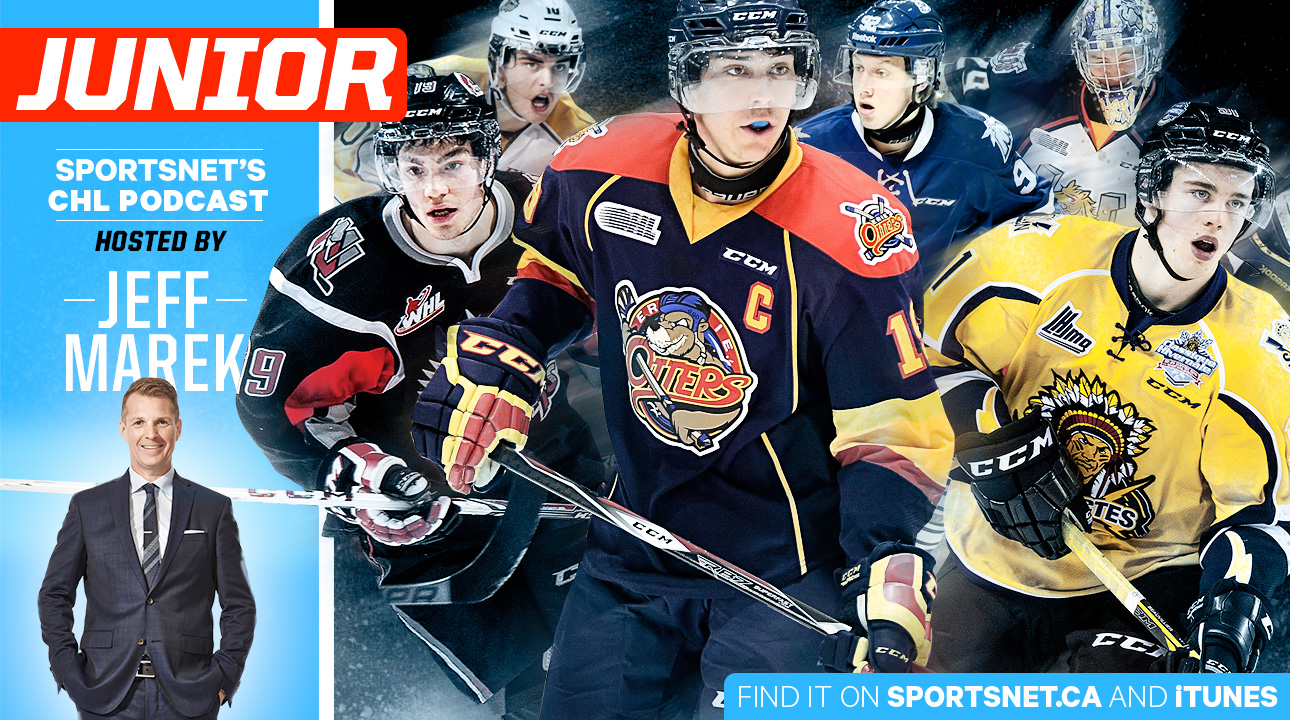 Jeff Marek hosts Sportsnet's CHL podcast, a one-stop shop for news, analysis, opinion and interviews covering the WHL, OHL and QMJHL.
Listen now | iTunes | Podcatchers
---
Coincidentally, there is a chance each Brown will soon be part of a Memorial Cup host team. The Spitfires were the first OHL team to publicly declare they are bidding for the 2017 tournament ahead of Wednesday's deadline to bid. Ottawa Sports and Entertainment Group president of sports Jeff Hunt also stated the 67's are interested in staging the '18 Cup, which the Canadian Hockey League wants to stage in a major market since it is the championship's centennial.
Also coincidentally, the Spitfires are being pushed for that No. 2 Western playoff seed by the Sarnia Sting, which paid Jeff Brown and the 67's a premium to load up by adding Travis Konecny and overage centre Sam Studnicka last month. While not by design, each development plays into Logan Brown learning how to lead, both by word and deed.
"We're still a pretty young team," he said. "I try to be vocal in the room and help the young guys. I was a 16-year-old last year and what that was like is still fresh to me.
"We're pretty excited about the bid," he added. "But at the same time there's still a long season ahead of us and we want to finish strongly."
Logan Brown has one assist in his three tries against Ottawa. But he has four goals in his past seven games, so if that hot streak continues he might bury one in front of his father and family on Sunday.
Which, as long as Ottawa comes out on top, will be just fine by his dad.