First off, congrats to the American U-20 team for its gold medal performance at the World Junior Hockey Championship. That was one of the most impressive WJC performances we've seen in some time and produced a final with Canada that ranks among the best ever at the tournament.
Normally the general rule at the world juniors is whomever has the best collection of 19-year-olds wins. And mostly that was a fair representation this year with the U.S. icing an elite level of '97s and '98s. But this is also a tournament that gives many fans and hockey observers their first chance to take in some of the crop of draft-eligibles whose names will be called early in that years draft.
So, before we get to the rankings let's take a quick look at how some of those kids fared.


Not a scout? No worries. Jeff Marek's newest podcast is all you need.
Listen now | iTunes | Podcatchers
Nico Hischier
And now the secret is out. When the gold-medal champion coach names the best player his team saw all tournament, you'd figure he'd be talking about a 19-year old WJC vet, but in this case Bob Motzko was talking about Switzerland's Hischier. And for good reason.
The phenom almost single-handedly bumped the U.S. out of medal contention and had fans in Montreal cheering and the player trending on Twitter. He centred Switzerland's top line and faced opponents' toughest, high-end defenders the entire tournament. The tournament's leading scorers—Kirill Kaprizov (MIN), Alex Nylander (BUF), Clayton Keller (ARI), etc.—all played seven games, but right in the thick of the scoring race was Hischier, despite playing only five contests.
Hischier is a legit top prospect who will hear his name called early at the draft and become the highest selected Swiss born player ever. And while he doesn't move up any spots on our list, he has closed the gap between himself and Nolan Patrick. Having said that, some scouts I've spoken to have him tops on their lists.
After coming back from the WJC, Hischier put up two goals and two assists in a 6-2 win against Moncton. He didn't miss a beat.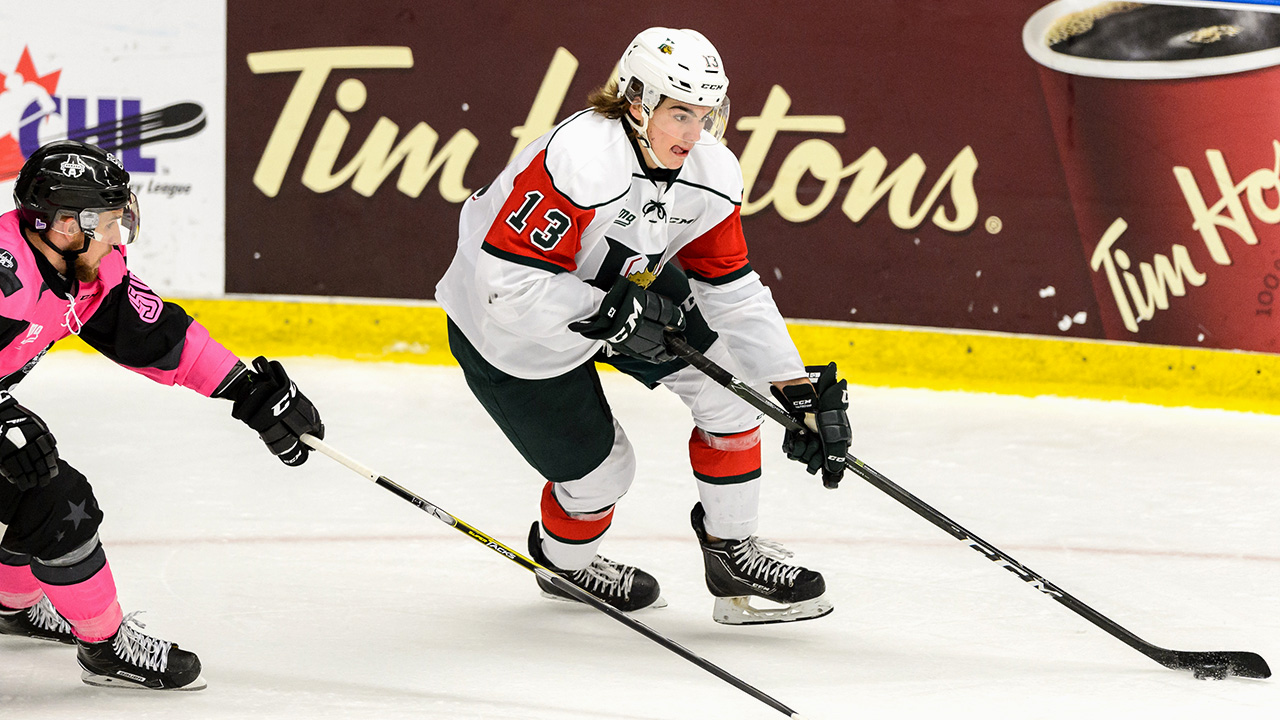 Hischier is leading the QMJHL with a 1.64 points-per-game average. (Minas Panagiotakis/Getty)
Finnish defencemen in Round 1
This wasn't the best tournament for the defending gold medallists—not winning a game in the round robin and then firing their coaching staff before the relegation round. Many suspected they'd take a step back after losing last year's top line of Patrik Laine, Sebastian Aho and Jesse Puljujarvi, but nobody thought they'd crash this hard.
But there was a bright spot: their defence was solid. Finland surrendered fewer goals than every team in the tournament save Sweden and the U.S. Miro Heiskanen saw some very limited power-play time (those roles were reserved for Vancouver prospect Olli Juolevi and Detroit's Vili Saarijarvi), Jusso Valimaki scored twice and Urho Vaakanainen, while not spectacular, was solid and scored a goal.
Eeli Tolvanen
He led the Finns in scoring with two goal and four assists in six games, but those expecting a Patrik Laine-type explosion were left a little disappointed. The skill is there, the shot is elite but this wasn't a tournament that cemented his Top-5 status.
Kristian Vesalainen
Only managed two WJC points but, again, Finland was a young squad and everybody on the team had a hard time getting the offence going. Despite the lack of production Vesalainen was really 'heads up' in his own zone and showed he wasn't a 'points-or-bust' type.
Martin Necas
Necas impressed scouts with both his hustle and ability to get involved in everything. This guy gets after it. Not the biggest player on the ice, but makes up for it with creativity and hard work. Tallied one goal and two assists.
Lias Andersson and Elias Pettersson
The pair started the tournament on line with Maple Leafs prospect Carl Grundstrom, a trio that found success in last November's Gothenburg tournament putting up 21 points in three games. By the end of the WJC, however, Grundstrom was bumped up to Alex Nylander's line.
Andersson put up three goals and impressed scouts with a hard and accurate shot. His main attribute is how complete a player he is with much attention paid to the defensive side of the puck. Perhaps the captain of this team at next year's tournament in Buffalo?
By his own admission, Pettersson didn't have the strongest start to the tourney but picked it up as the games went on. Many scouts still said they felt he looked a little overwhelmed at times.
Rasmus Dahlin
We should once again note the 16-year-old phenom who was chosen ahead of players like Timothy Liljegren and Erik Brannstrom for the Swedish back end. Although his deployment was intriguing (not used for long stretches at times), he did enough to get scouts drooling over next year's draft class, when he has a legit shot of going first overall. His creativity and physicality remind many of Erik Karlsson but with more bite. His ability to get out of trouble is almost without peer in his draft group.
As an aside next years' class already looks like a good one with Andrei Svechnikov, Bode Wilde, Ryan Merkley and Joe Veleno leading the conversation.
Also, here's the very latest on the pair we've had ranked 1-2 from the start of the season.
Nolan Patrick
Still coming back from an upper-body injury. The good news is he resumed skating last week and is eyeing a return this Friday against the Kootenay Ice. We're still not prepared to move him out of the top spot until he comes back and starts playing so we can assess where he's at. His body of work is such that even if he didn't play a single game for the rest of the season he'd still go first overall. That is, as long as the injury isn't something that will plague him his entire career, and many don't believe it will.
Timothy Liljegren
After missing two months while dealing with a bout of mono to start the season, the right-hand shot defenceman found himself playing in a situation where he saw limited ice time on a struggling team in Rogle in the SHL. Last week he was loaned to Timra where in his first three games he averaged north of 20 minutes of ice time and saw action on special teams.
Though Timra is in Sweden's second division, it does feel like a better fit for him at this point. He can get more playing time, use his creativity (including a nasty toe drag) and make up for some lost time. Timra is one of the most skilled teams in the Allsvenskan and he'll play alongside WJC players like Elias Pettersson, Jonathan Dahlen (an OTT prospect and Ulf's son) and Jens Looke (ARI).
Now on to this month's rankings, which are based on personal viewings along with conversations with scouts, GMs, coaches and analysts who cover the game globally.

1. (1) Nolan Patrick, C, Brandon (WHL)

2. (2) Timothy Liljegren, D, Timra (Allsvenskan)

3. (3) Nico Hischier, C, Halifax (QMJHL)

4. (4) Eeli Tolvanen, LW, Sioux City (USHL)

5. (5) Gabriel Vilardi, C, Windsor (OHL)

6. (9) Owen Tippett, RW, Mississauga (OHL)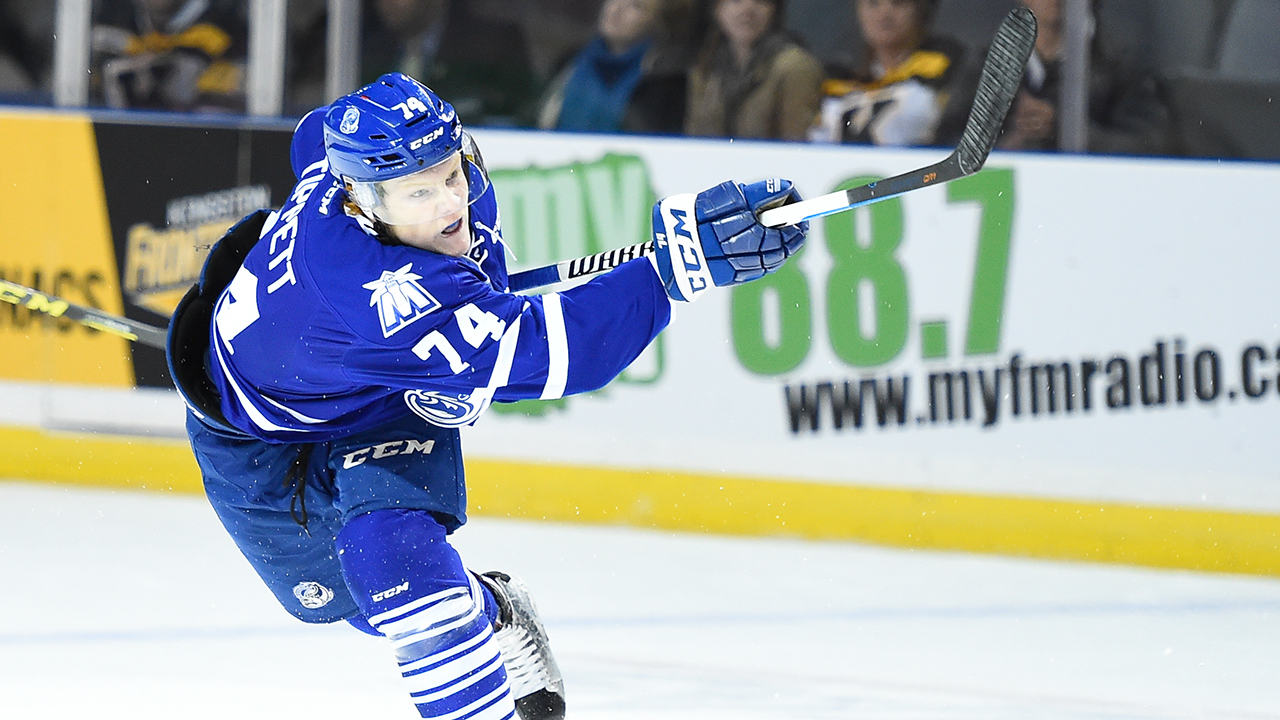 Tippett leads the OHL with 33 goals in just 39 games. (Aaron Bell/OHL Images)

7. (6) Klim Kostin, Balashikha (MHL)

8. (7) Casey Mittelstadt, C, Eden Prarie (Minnesota HS)

9. (15) Nic Hague, D, Mississauga (OHL)

10. (17) Martin Necas, C, HC Kometa Brno (Extraliga)

11. (10) Michael Rasmussen, C, Tri-City (WHL)

12. (NR) Cale Makar, D, Brooks Bandits (AJHL)

13. (11) Jusso Valimaki, D, Tri-City (WHL)

14. (23) Lias Andersson, C, HV71 (SHL)

15. (12) Maxime Comtois, LW, Victoriaville (QMJHL)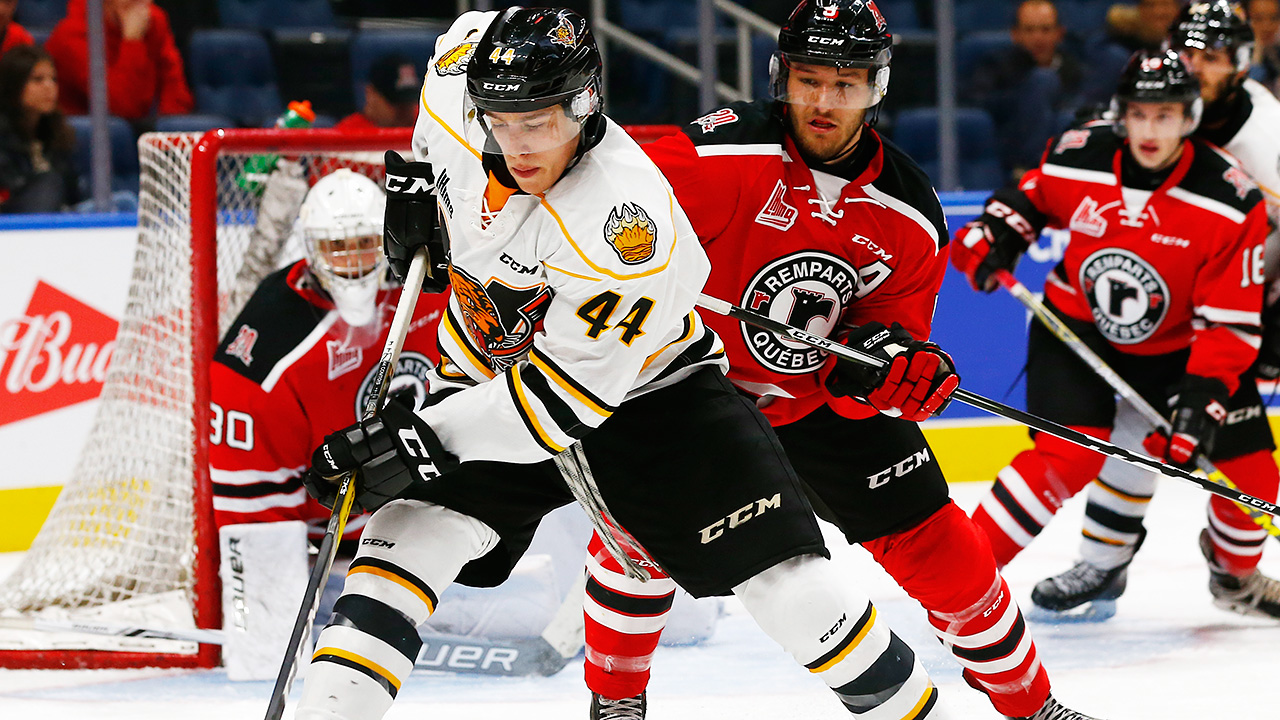 After averaging 0.97 points per game in 2015-16, Comtois has dropped to just 0.71 this season. (Mathieu Belanger/Getty)

16. (25) Cody Glass, C, Portland (WHL)

17. (8) Kristian Vesalainen, RW, Frolunda (SHL)

18. (24) Miro Heiskanen, D, HIFK (Liiga)

19. (22) Cal Foote, D, Kelowna (WHL)

20. (14) Erik Brannstrom, D, HV71 U-20 (SuperElit)

21. (13) Urho Vaakanainen, D, JYP (Liiga)

22. (16) Kailer Yamamoto, RW, Spokane (WHL)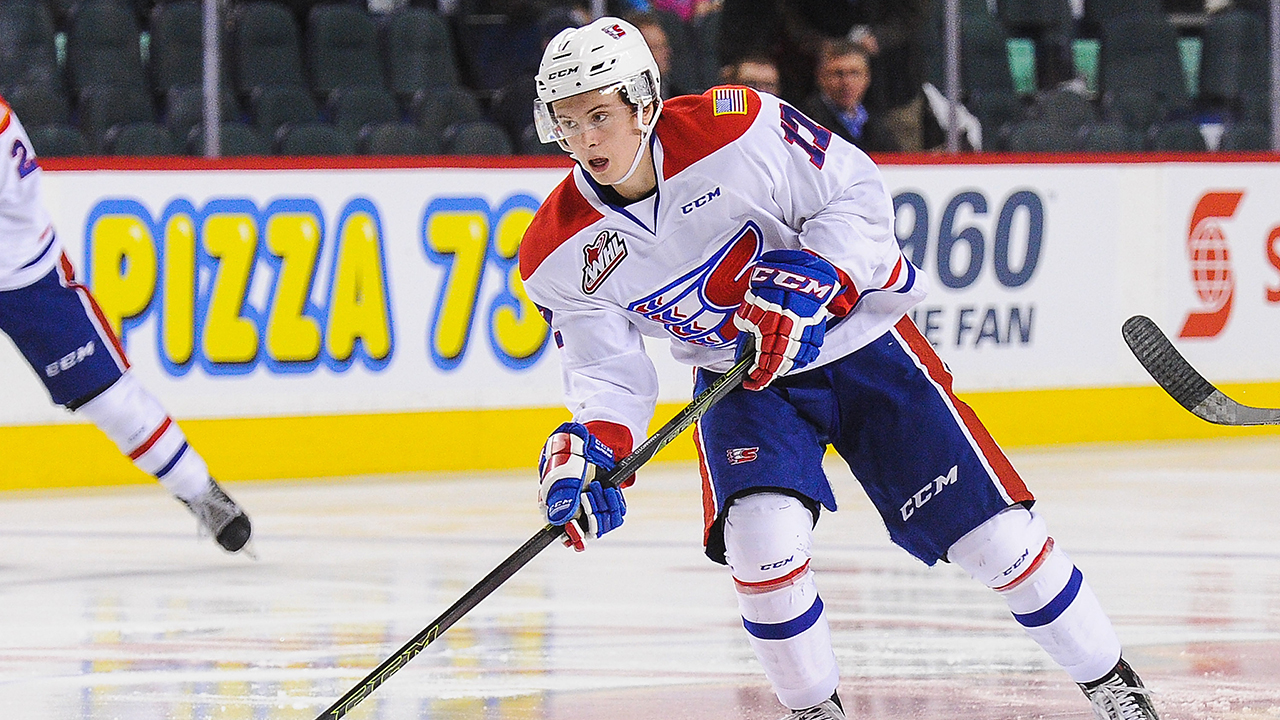 Yamamoto is eighth in WHL scoring with 54 points in 35 games. (Derek Leung/Getty)

23. (21) Ryan Poeling, C, St. Cloud State (NCAA)

24. (19) Shane Bowers, C, Waterloo (USHL)

25. (26) Nick Suzuki, C, Owen Sound (OHL)

26. (NR) Robert Thomas, C, London (OHL)

27. (28) Matthew Strome, LW, Hamilton (OHL)

28. (NR) Alex Formenton, LW, London (OHL)

29. (20) Nikita Popugaev, LW, Prince George (WHL)

30. (30) Elias Pettersson, C, Timra (SuperElite)

31. (31) Jake Oettinger, G, Boston University (NCAA)