Since our last rankings, and aside from regular season play, a few more events have taken place as we continue to build towards the June draft in Vancouver. The CHL and CJHL presented their top prospects in showcase games, while Russia hosted the U18 Five Nations Tournament.
Despite being unable to play in the U18 Five Nations due to injury, Jack Hughes still remains the top prospect in this draft class. The conversation, however, is not as one-sided as it once was. Kaapo Kakko continues to make his case to overtake Hughes, and Kakko's world junior play exhibited how dominant he can be against peers. He's taken that same game back to the Liiga in Finland where he continues to play big minutes as a producer for his club.
The USNTDP continues to dominate the conversation when it comes to a record-setting number of projected first-round picks. This month's list of projected first-rounders includes eight USNTDP players with others knocking on the door.
There are some other moving parts that may have an impact on the first round. In Anaheim, Bob Murray will be taken away from scouting now that he's going behind the Ducks' bench. Murray is normally well-traveled during the regular season, checking in on prospects worldwide. He'll have to lean heavily on his scouting staff moving forward. Meantime in Edmonton, Keith Gretzky now has the power to run the draft, but we shouldn't expect too much of a change in philosophy because Gretzky and ex-GM Peter Chiarelli worked together for long stints in Boston before they re-united in Edmonton.
One other date to keep an eye on is February 25, NHL Trade Deadline Day. The 2018 extravaganza saw five first-round picks change hands and those picks can definitely alter the landscape.
[snippet ID=3322139]
1. Jack Hughes, C, USNTDP, 5-foot-10, 168 pounds: There are some concerns over injuries that limited him in the WJC and forced him out of the U18 Five Nations. Top spot is still his to lose.
2. Kaapo Kakko, RW, TPS (Liiga), 6-foot-2, 194 pounds: Still the de facto No. 2, but the conversation will continue to open up as we move towards June.
3. Vasily Podkolzin, RW, SKA St. Petersburg (MHL), 6-foot-1, 190 pounds: He struggles in the strength department, but from a game perspective there aren't any holes.
4. Dylan Cozens, C, Lethbridge Hurricanes (WHL), 6-foot-3, 185 pounds: Point production has tailed off considerably over the past month, but the most important hockey of his career lies ahead with a loaded Lethbridge team all-in for a WHL title.
5. Peyton Krebs, C, Kootenay Ice (WHL) 5-foot-11, 180 pounds: He impresses enough with his play, but when looking for character he's plus-plus. Think Ty Dellandrea.
6. Bowen Byram, D, Vancouver Giants (WHL) 6-foot-1, 194 pounds: Not that he doesn't deserve top billing, but a premium on defencemen this year has elevated his stock.
7. Kirby Dach, C, Saskatoon Blades (WHL) 6-foot-3, 195 pounds: Right shot centre with a pro frame could benefit from being more selfish in his play.
8. Matthew Boldy, LW, USNTDP, 6-foot-1, 187 pounds: Super skilled, not quite at his best at the U18 Five Nations, but he's built a solid resume all season long based on an amazing set of mitts.
9. Alex Turcotte, C, USNTDP, 5-foot-11, 194 pounds: Strong showing at the U18 Five Nations event has him on pace to be a top 10 pick. Exhibits a solid two-way game.
10. Trevor Zegras, C, USNTDP, 6-foot, 166 pounds: His skill is comparable to Hughes, but the skating is not quite as dynamic. Thrived at the U18 Five Nations without Hughes in the lineup.
11. Arthur Kaliyev, RW, Hamilton Bulldogs (OHL), 6-foot-2, 190 pounds: Masterful performance at the Top Prospects Game, and while it's only one game, he showed just how good he can be when he's at his best.
12. Alex Newhook, C, Victoria Grizzlies (BCHL) 5-foot-11, 190 pounds: Absolute dominance in the BCHL, for the second straight season. Just five of his 34 goals have come on the power play, making him a force at even strength.
13. Raphael Lavoie, C/RW, Halifax Mooseheads (QMJHL) 6-foot-4, 198 pounds: One of the biggest enigmas in this draft class, his matter-of-fact attitude is displayed on and off the ice. It always comes back to skill and he has a lot of that to offer.
14. Philip Broberg, D, AIK (Allsvenskan), 6-foot-3, 203 pounds: Currently too good to play in the U20 Swedish League, but not quite there to have an impact in the Allsvenskan.
15. Thomas Harley, D, Mississauga Steelheads (OHL), 6-foot-3, 188 pounds: Continues to climb the charts due to his elite skating and puck-handling abilities. You'd much rather coach the wildness out of his game than have to encourage more of it.
16. Brett Leason, RW, Prince Albert Raiders (WHL) 6-foot-4, 198 pounds: Consistently in good position to produce points, yet his detractors will point to his slower feet as a reason for concern.
17. Ryan Suzuki, C, Barrie Colts (OHL), 6-foot, 178 pounds: Being overtaken as the top draft eligible prospect from the OHL has inspired him to some solid recent viewings by scouts.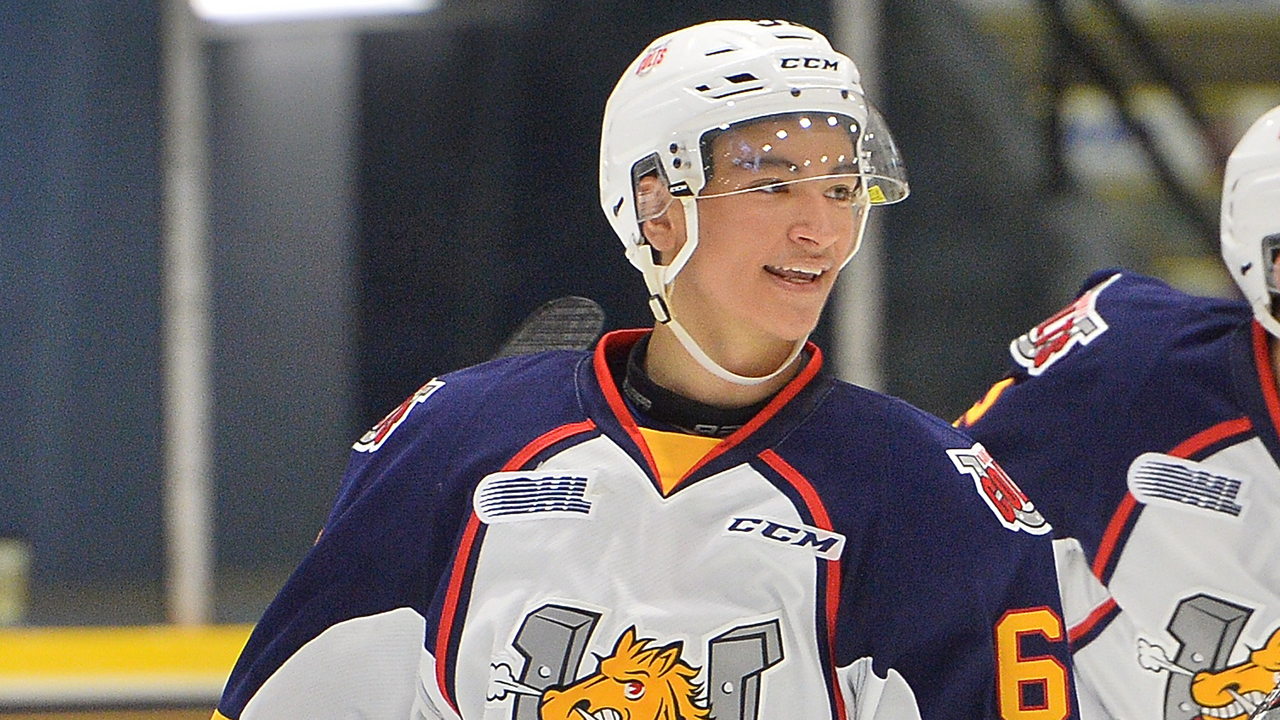 18. Jakob Pelletier, LW, Moncton Wildcats (QMJHL), 5-foot-9, 161 pounds: Scouts always ask themselves: does this player drive the play? With Pelletier the answer is always a resounding yes.
19. Cole Caufield, RW, USNTDP, 5-foot-7, 157 pounds: Has taken goal scoring to another level since the start of the calendar year. In all, he has 47 goals in 57 games.
20. Victor Soderstrom, D, Brynas (SHL), 5-foot-11, 176 pounds: Missed the U18 Five Nations event because he's getting 16:25 of average ice time playing in Sweden's SHL.
21. Spencer Knight, G, USNTDP, 6-foot-3, 198 pounds: Like Jake Oettinger in 2017, there's so much to like about this goalie that someone will jump on him. Could be aggressively pursued much earlier than this ranking.
22. Connor McMichael, C, London Knights (OHL), 6-foot, 170 pounds: On the typical London path to success in a manner similar to Liam Foudy last season.
23. Cam York, D, USNTDP, 5-foot-11, 172 pounds: Benefits from practicing against an amazing group of high-end forwards, which has accelerated his development. Strong showing at the U18 Five Nations.
24. Moritz Seider, D, Adler Mannheim (DEL) 6-foot-4, 198 pounds: Has gained a lot of traction amongst scouts for his solid play against men, and how he asserts himself when against his peers.
[snippet id=3816507]
25. Egor Afanasayev, LW, Muskegon (USHL) 6-foot-4, 201 pounds: Big body, loaded with skill, but there are concerns about his feet.
26. Nolan Foote, LW, Kelowna Rockets (WHL) 6-foot-3, 187 pounds: Scouts are looking for consistency in areas other than goal scoring. Blueprint game was Nov. 5 as a member of Team WHL versus Russia, where he didn't record a point.
27. Lassi Thomson, D, Kelowna Rockets (WHL), 6-foot, 187 pounds: His game exhibits all four seasons, but he's an especially amazing skater with a bomb for a shot and has pro passing ability.
28. Matthew Robertson, D, Edmonton Oil Kings (WHL) 6-foot-4, 201 pounds: In and out of the lineup with injuries hasn't allowed him to hit his stride.
29. Philip Tomasino, RW, Niagara IceDogs (OHL), 6-foot, 181 pounds: Good speed, excellent hands and goal-scoring ability. Playoffs will provide essential viewings.
30. Alex Vlasic, D, USNTDP, 6-foot-6, 192 pounds: Projects as a franchise anchor, not necessarily as a top-pairing defender, but one who will play a long time in a top-four role.
31. Ville Heinola, D, Lukko (Liiga), 5-foot-11, 176 pounds: Just back from WJC injury. Will look a little like the Henri Jokiharju pick made by Chicago in 2017.
[relatedlinks]