Last month we brought awareness to the conversation that Jack Hughes' grip on first overall was starting to change. That talk has not gone away as Kaapo Kakko continues to forge ahead.
While Hughes is the most dynamic player this draft class has to offer, he's not of the same ilk as a Connor McDavid or an Auston Matthews. Kakko went from WJC hero and transitioned right back to top form by being a top producer for TPS in Finland's Liiga. The fact he's playing in a very good professional league and that a successful blueprint has been laid out before him (Aleksander Barkov, Patrik Laine, etc.) has encouraged this conversation.
But would the team picking first have the intestinal fortitude to go down this road despite what conventional wisdom has been telling the fan base all season long? That's the million dollar question and one we'll revisit with a mock draft just before the real draft goes in June.
Sam Cosentino talks the top 3 prospects for the 2019 NHL Draft
January 10 2019
Until then, here are your latest rankings:
1. Kaapo Kakko, RW, TPS (Liiga), 6-foot-2, 194 pounds: Patrik Laine and Jesperi Kotkaniemi have paved the way with a similar career path. There is some thought Kakko could play centre, and if the team picking first believes that, he may very well bypass Hughes.
2. Jack Hughes, C, USNTDP, 5-foot-10, 168 pounds: If — and this is a big IF — he is a consolation prize, it will be like winning the lottery.
3. Vasily Podkolzin, RW, SKA St. Petersburg (VHL), 6-foot-1, 190 pounds: One scout deemed him a "special player." Some teams will be out on him for fear he won't come to North America or remain here, but buyer beware, he has star potential.
4. Dylan Cozens, C, Lethbridge Hurricanes (WHL), 6-foot-3, 181 pounds: Elite skating ability with size, while playing a premium position as a right shot — Cozens checks a lot of boxes. The question is if he's a true centre, or better suited to play the wing?
5. Trevor Zegras, C, USNTDP, 6-foot, 166 pounds: He's played with and without Hughes, and has succeeded at every turn. The skill set is similar to Hughes, but with a bit more size.
6. Bowen Byram, D, Vancouver Giants (WHL), 6-foot, 194 pounds: Competes like a demon and has played a huge part in the Giants rise to the top of the Western Conference. And by the way, he's in the 30-goal neighbourhood, which is rare for a d-man in any league.
7. Peyton Krebs, C, Kootenay Ice (WHL), 5-foot-11, 180 pounds: Works his tail off nightly, makes those around him better, and hasn't made any noise about a difficult situation with the Ice moving next season.
8. Alex Turcotte, C, USNTDP, 5-foot-11, 189 pounds: Started the season on the edges of the top five and has worked his way back into that position. An all-around, reliable centre with underrated skill.
9. Kirby Dach, C, Saskatoon Blades (WHL), 6-foot-3, 199 pounds: There's some background noise surrounding this player, but the package of things he can do is one that doesn't come around often.
10. Thomas Harley, D, Mississauga Steelheads (OHL), 6-foot-3, 188 pounds: It's better to rein in a wild pony than to try and create one.
[snippet ID=3322139]
11. Matthew Boldy, LW, USNTDP, 6-foot-1, 187 pounds: High skill, but a few recent dips in his play has led to him slipping in the rankings slightly.
12. Alex Newhook, C, Victoria Grizzlies (BCHL), 5-foot-10, 195 pounds: Consistency is a never-ending buzzword in the scouting industry and despite playing against what is considered a lesser level of competition, Newhook has been remarkably consistent for two seasons.
13. Victor Soderstrom, D, Brynas (SHL), 5-foot-11, 179 pounds: Has emerged as the top Swedish defenceman. Not spectacular in any one area, but there's a good two-way game to accent his arsenal.
14. Arthur Kaliyev, RW, Hamilton Bulldogs (OHL), 6-foot-1, 190 pounds: Once he matures physically and mentally there's no telling where his game might go — but that might factor will leave a lot of teams on the sidelines.
15. Cole Caufield, RW, USNTDP, 5-foot-6, 155 pounds: The name of the game is goal-scoring and he's right at the top of the list for this draft class, threatening Phil Kessel's program record of 104 goals over two seasons (he has 100 right now).
16. Connor McMichael, C, London Knights (OHL) 5-foot-10, 172 pounds: Steady growth to his game. Makes plays in tight spaces with good hands and great skating ability.
17. Cam York, D, USNTDP, 5-foot-11, 171 pounds: His defending is underrated, as is his offensive upside. York's current game translates to the next level, where he may become a Morgan Rielly-type.
18. Philip Broberg, D, AIK (Allsvenskan), 6-foot-2, 199 pounds: Ability to adjust his game depending on where he's playing is a great asset, but the question still remains: what is the offensive upside here?
19. Spencer Knight, G, USNTDP, 6-foot-3, 197 pounds: A team that holds multiple picks or a team with indifference after the first dozen selections may go with Knight, who could be the highest goalie selected since Jack Campbell was picked 11th overall in 2010.
What would it take to trade for first overall?
March 07 2019
20. Ryan Suzuki, C, Barrie Colts (OHL), 6-foot, 178 pounds: Thinks the game at an elite level and is a great playmaker with underrated shooting skills.
21. Raphael Lavoie, C/RW, Halifax Mooseheads (QMJHL), 6-foot-3, 191 pounds: On his best nights he is as dominating a player as this draft class has to offer. But there are just too many "OK" nights between his best ones.
22. Alex Vlasic, D, USNTDP, 6-foot-5, 193 pounds: Moves so well for a big man and has a great understanding of the game and where he fits in it. Will be happy to make his mark as a complementary D-partner while being patient to develop the offensive side.
23. Brett Leason, RW, Prince Albert Raiders (WHL), 6-foot-3, 200 pounds: Playing banged up for the second half will actually hurt his stock, but he's always around the puck getting or creating scoring chances.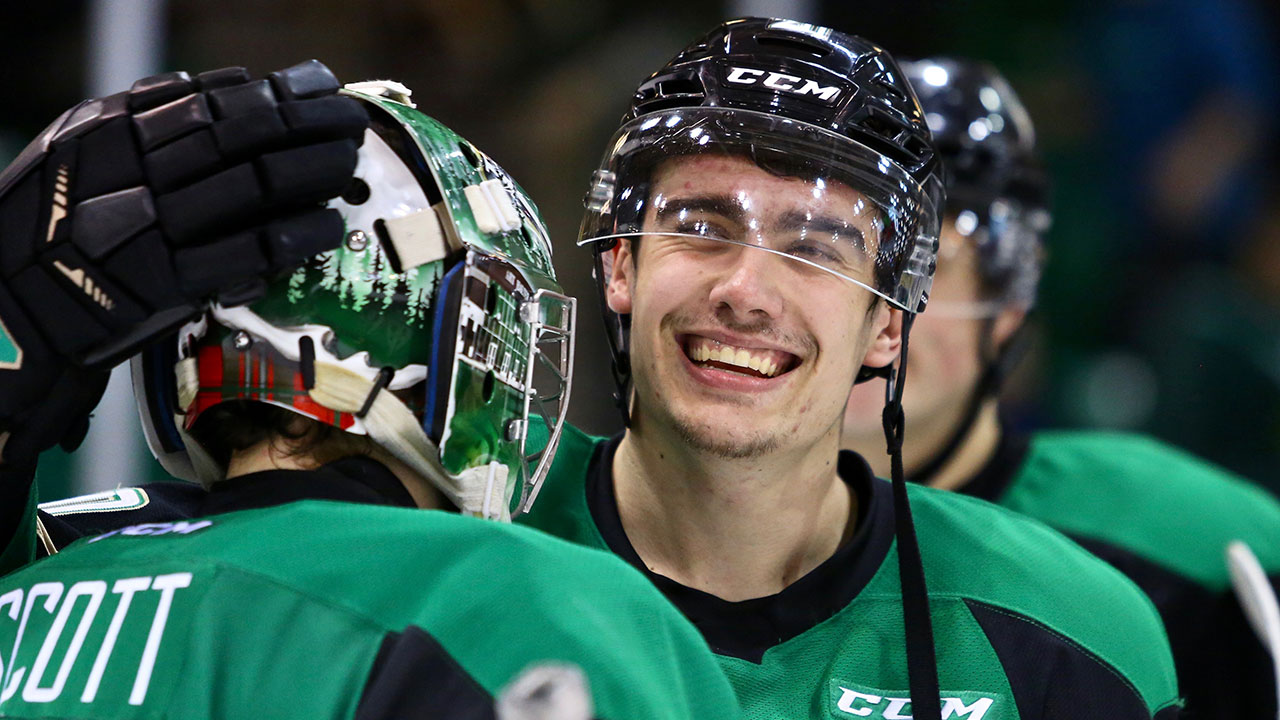 24. Moritz Seider, D, Mannheim (DEL), 6-foot-3, 183 pounds: Key benchmarks on his resume include being named the DEL Rookie of the Year.
25. Jakob Pelletier, LW, Moncton Wildcats (QMJHL), 5-foot-9, 161 pounds: Undersized but has high compete and makes those who play with him better.
26. Philip Tomasino, RW, Niagara IceDogs (OHL), 5-foot-11, 178 pounds: On a team full of stars and snipers, he leads the CHL with 12 game-winning goals.
27. Matthew Robertson, D, Edmonton Oil Kings (WHL), 6-foot-3, 201 pounds: Leaves you wanting more. With size and a great skating foundation, he'll be tough to pass on late in the first round.
28. Lassi Thomson, D, Kelowna Rockets (WHL), 6-foot, 188 pounds: Always a premium on right shooting defencemen. Possesses dynamic skating ability and a major league shot.
29. Samuel Poulin, RW, Sherbrooke Phoenix (QMJHL), 6-foot-1, 206 pounds: Has to work hard to score. Has taken on a leadership role with a young team, leading the group with an outstanding work ethic.
30. Nicholas Robertson, LW, Peterborough Petes (OHL), 5-foot-8, 162 pounds: An amazing backstory from birth, he takes nothing for granted and truly cherishes every day on the ice.
31. Ville Heinola, D, Lukko (Liiga), 5-foot-11, 178 pounds: Playing big minutes in the Liiga, exhibits an all-around game with a recent flair for production.
[relatedlinks]